Gore Announces Privacy Initiatives
(August 1, 1998) Vice President Al Gore, Commerce Secretary William Daley, and FTC Chairman Robert Pitofsky held a joint press conference Friday morning to announce a series of initiatives to protect privacy rights in the electronic age. Gore advocated legislation to prevent web sites from collecting data from children under 13 without parental consent, but stopped short of endorsing any other website restrictions.
Gore also stated that he supported industry self-regulation, and singled out the Online Privacy Association for commendation. The OPA is a large industry group which is trying to promote consumer confidence in electronic commerce through industry self regulation, and at the same time, head off government regulation.
The bulk of the Vice President's remarks were devoted to advocating legislative and regulatory solutions for protecting medical and financial records, and to criminalizing identity theft.
The Commerce Department and the Federal Trade Commission have been at odds over the best way to deal with online privacy problems. Commerce Secretary Daley has favored industry self-regulation, while the FTC, which would likely be the agency assigned to enforce any new Internet privacy laws, supports more legislation. The presence of both Daley and Pitofsky presented a picture of unity in the Clinton administration.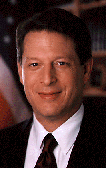 V.P. Al Gore
Gore began: "Let's begin with a simple principle, privacy is a basic American value, in the information age and in every age. It must be protected."
Gore advocated legislation to prevent websites from collecting data from children under thirteen without parental consent. The following is everything which Gore said about this:
"Third, the third area I want to talk about. We are taking new steps to protect our children's privacy. Last March the Federal Trade Commission found that 89% of children's websites surveyed collected personal information from children, but only 54% disclosed these practices, and fewer than one in ten sought approval from the parents of the children. Before children innocently forfeit personal information, parents should have a say. So today, I call on Congress to pass legislation that gives parents the right to say yes or no before information can be collected from children under the age of thirteen."
Gore did not propose any other legislative limitations on the collection of information by websites.
Gore also said that he supported industry efforts at self regulation. This is all of what he had to say:
"Fourth, I am renewing our call today for the private sector to continue its efforts to work towards self-regulation and enforcement. Since President Clinton issued this call one year ago, many companies have made a good faith effort to respond. For example, over fifty major companies and associations engaged in electronic commerce recently created the Online Privacy Alliance. We will continue to monitor the progress of the online industry to make certain that these commitments are kept, and to encourage even more companies to participate in these efforts. Again I applaud what the FTC is doing, and as Chairman Pitofsky has said the test of this private sector lead effort is how much participation occurs, and how meaningful is the enforcement."
Both Daley and Pitofsky spoke very briefly before Gore. Daley stated that:
"For many years in our country we have had a lively debate in our country on the subject of privacy. But for many years it has been proven a very hard issue to deal with. On the one hand, privacy is a fundamental America value. American's must have the final word on whether their personal information is disclosed or not. But the on the other hand, the idea of open government, a free flow of information, is a treasured American value. It is the American way. So we must find a balance, as technology becomes more sophisticated, it changes that balance, and it makes these decisions even more difficult."
Neither Gore, Pitofsky, nor Daley, mentioned the use of encryption to protect privacy.
The audience included many Members of Congress who are active on privacy legislation, including Sen. Richard Bryan (D-NV), Rep. Jim Leach (R-IO), Rep. Rosa DeLauro, Rep. Ed Markey (D-MA), and Rep. Bob Franks (R-NJ). Also present was European Union Ambassador Hugo Paeman. The EU's own privacy directive is scheduled to take effect on October 25, 1998.
Gore also praised Sally Kasser, Deputy Director of the National Economic Council, who was not present, for her efforts on this issue.
The event was held in the Roosevelt Room of the White House. Representatives of privacy advocacy groups were present. None of the speakers took questions from the media.