Al Gore's Address on 'Electronic Bill of Rights' Omits Encryption
(May 15, 1998) Vice President Al Gore used a commencement address at NYU on Thursday to announce a new administrative digital privacy policy initiative, which he called the "electronic bill of rights for this electronic age." However, neither Gore's address, nor a memorandum from President Clinton to department heads, contained any support for the right to encrypt data or communications.
Vice President Gore, speaking to graduating students at New York University stated that:
"New technology must not reopen the oldest threats to our basic rights, liberty, and privacy. But government should not simply block or regulate all that electronic progress. If we are to move full speed ahead into the Information Age, government must do more to protect your rights - in a way that empowers you more, not less. We need an electronic bill of rights for this electronic age."
Gore articulated a basic principle:
"You should have the right to choose whether your personal information is disclosed; you should have the right to know how, when, and how much of that information is being used; and you should have the right to see it yourself, to know if it's accurate."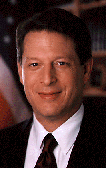 V.P. Al Gore
Gore cited two types of privacy violations: unauthorized use of medical records, and the sale of credit card purchase information to marketers. Gore also used this New York speech to list three components his "electronic bill of rights"
"First, this morning, the Federal Trade Commission is launching a new "opt-out" Website ..."
"Second, President Clinton is calling on the entire federal government to review its own record-keeping -- to make sure we are doing everything possible to protect your personal information, and to make it a permanent priority across the government."
"Third, ... Next month, our Commerce Department will convene a special Summit on these issues, to find new ways to empower consumers and protect our oldest values on-line."
On Tuesday, May 12, Senators Leahy (D-VT), Ashcroft (R-MO), and Burns (R-MT) introduced a bipartisan compromise "E-PRIVACY" bill covering encryption and privacy. Neither Gore nor Clinton mentioned this E-PRIVACY bill on Thursday. The White House and FBI have successfully blocked passage of all encryption rights legislation to date.
President Clinton's Memorandum to the heads of all executive departments pertained primarily to the handling of individuals' records by federal government agencies. Clinton wrote that:
"It shall be the policy of the executive branch that agencies shall ... assure that their use of new information technologies sustain, and do not erode, the protections provided in all statutes relating to agency use, collection, and disclosure of personal information."