TLJ News from December 11-15, 2011
---
House Judiciary Committee Begins Mark Up of SOPA
12/15. The House Judiciary Committee (HJC) began its mark up of HR 3261 [LOC | WW], the "Stop Online Piracy Act" or "SOPA". The HJC is considering an amendment in the nature of a substitute [71 pages in PDF], which is also known as the manager's amendment, and amendments thereto. See, full story.
---
Rep. Issa Introduces Research Works Act
12/14. Rep. Darrell Issa (R-CA) and Rep. Carolyn Maloney (D-NY) introduced HR 3699 [LOC | WW], the "Research Works Act", a bill to protect the proprietary interests and incentives of authors and publishers of research works when the government provides funding for that research.
This bill would provide that "No Federal agency may adopt, implement, maintain, continue, or otherwise engage in any policy, program, or other activity that (1) causes, permits, or authorizes network dissemination of any private-sector research work without the prior consent of the publisher of such work; or (2) requires that any actual or prospective author, or the employer of such an actual or prospective author, assent to network dissemination of a private-sector research work."
While this bill pertains to the exclusive rights of authors and publishers in works of authorship, for jurisdictional and political reasons, it does not use the word "copyright", and would not amend Title 17.
This bill addresses the same issue as a similar bill in the 111th Congress, HR 801 [LOC | WW], the "Fair Copyright in Research Works Act". That bill was sponsored by Rep. John Conyers (D-MI), and cosponsored by Rep. Issa and others. HR 801, in turn, was substantially similar to a bill with the same title that was introduced by Rep. Conyers late in the 110th Congress, HR 6845 [LOC | WW].
Those bills introduced in the 110th and 111th Congresses would have accomplished the same end as the just introduced HR 3699, but were drafted as an amendment to Title 17. This placed them within the jurisdiction of the House Judiciary Committee (HJC). In contrast, the just introduced bill is drafted to place it within the jurisdiction of the House Oversight and Government Reform Committee (HOGRC).
The issue that all of these bills address arose several years ago when the National Institutes of Health (NIH) adopted a policy titled "Public Access Policy". Then, the House Appropriations Committee (HAC) reported HR 2764 [LOC | WW] (110th Congress), the "Consolidated Appropriations Act, 2008". It mandated the NIH policy. It was enacted into law.
Initially, HJC members and some of its stakeholders argued that the HJC has expertise and jurisdiction regarding copyright, that the HAC usurped the HJC's role, and that the HJC should promote remedial legislation. However, the just introduced bill is a HOGRC bill. Rep. Issa, who has all along been a leading proponent of these bills, is both a member of the HJC and the Chairman of the HOGRC.
Moreover, the Congressional district represented by Rep. Lamar Smith (R-TX), the Chairman of the HJC, includes the University of Texas at Austin, a leading research university.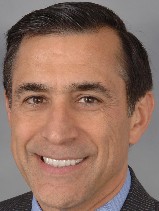 Furthermore, Rep. Issa (at right) and Rep. Smith have clashed repeatedly in the current Congress over major bills. For example, during the mark up in July of HR 1981 [LOC | WW], the data retention bill, sponsored by Rep. Smith, Rep. Issa was one of the leading and most vocal opponents. See, story titled "House Judiciary Committee Approves Data Retention Bill" and related stories in TLJ Daily E-Mail Alert No. 2,278, August 3, 2011.
Currently, the two are leaders of opposing camps on HR 3261 [LOC | WW], the "Stop Online Piracy Act" or "SOPA". Indeed, Rep. Issa's HOGRC announced, then postponed, a hearing on DNS blocking. That is, Rep. Issa is using the HOGRC to undermine Rep. Smith's efforts to advance his SOPA in its present form in the HJC.
Sandra Aistars, head of the Copyright Alliance (CA), stated in a release that HR 3699 "would overturn an unprecedented federal government taking of copyrights from certain authors and researchers".
She wrote that "Providing a federal grant to fund a research project should not enable the federal government to commandeer and freely distribute a subsequently published private sector peer-reviewed article. But a 2008 mandate at the National Institutes of Health requires just that -- disregarding the significant value added by the private-sector publisher whose activities are not funded by the government."
She argued that this "is not fair to other investors in the research", "arbitrarily limits the value of the copyright in the article for the author and publisher", and "harms the publisher's investments in ensuring a quality publication".
It also "results in reduced incentives for both these groups to publish peer-reviewed articles explaining the nature and results of government-funded research in a manner that ultimately harms society when the investment in publication dries up due to lack of ability to recover their costs", Aistars asserted.
The Association of American Publishers (AAP) and its Professional and Scholarly Division (PSP) support HR 3699. Tom Allen, head of the AAP, stated in a release that "America's PSP publishers are making more research information available to more people, through more channels, than ever before in our history. At a time when job retention, U.S. exports, scholarly excellence, scientific integrity and digital copyright protection are all priorities, the Research Works Act ensures the sustainability of this industry."
Rep. Issa and Others Propose USITC Based Approach to Web Sites Dedicated to Infringing Activity
12/14. Rep. Darrell Issa (R-CA), Rep. Zoe Lofgren (D-CA), Sen. Ron Wyden (D-OR), and others have announced, but not yet introduced, a competing bill to be titled "Online Protection & Enforcement of Digital Trade Act". This title provides a near acronym -- "OPEN Act". See, draft [18 pages in PDF].
Their summary of the draft states that their proposal would give new authority to the U.S. International Trade Commission (USITC) to deal with rogue foreign web sites.
The summary states that the USITC is already "an arbiter of whether imports violate U.S. intellectual property rights and should or should not be allowed into the U.S. Under current law, rightsholders can petition the ITC to investigate whether certain imports violate U.S. trademarks and copyrights. The ITC is authorized to not only investigate these issues but to initiate actions to prevent the imports in question from entering into the U.S."
See, full story.
Critics and Proponents Dispute Merits of SOPA
12/14. Proponents and critics of the SOPA have been waging intensified lobbying and advertising campaigns in the run up to mark up of HR 3261 [LOC | WW], the "Stop Online Piracy Act" or "SOPA"
A large group of individuals, who describe themselves as the people who "designed the Internet the first time", sent a letter to members of Congress on December 15 opposing the SOPA. The group includes Vint Cerf, who has worked for Google since 2005.
The letter states that "If enacted, either of these bills will create an environment of tremendous fear and uncertainty for technological innovation, and seriously harm the credibility of the United States in its role as a steward of key Internet infrastructure. Regardless of recent amendments to SOPA, both bills will risk fragmenting the Internet's global domain name system (DNS) and have other capricious technical consequences. In exchange for this, such legislation would engender censorship that will simultaneously be circumvented by deliberate infringers while hampering innocent parties' right and ability to communicate and express themselves online."
The Tech Freedom (TF), Competitive Enterprise Institute (CEI), Americans for Job Security (AJS), and Americans for Limited Government (ALG) sent a letter on December 14 to Rep. Lamar Smith (R-TX) and Rep. John Conyers (D-MI) in which they wrote that "While we applaud the manager's amendment proposed by Chairman Smith, there simply has not been time to properly evaluate its real-world consequences. Although the proposed changes would indeed improve the bill, they leave several legitimate objections unaddressed."
They wrote that there is a "massive grassroots campaign" against "Internet censorship", and "profound public skepticism". Hence, "If SOPA is ultimately enacted, any public perception that Congress failed to carefully balance the competing interests of copyright enforcement, free speech, due process, and Internet freedom will further erode public support not only for Congress, but also for copyright itself. The erosion of public respect for copyright is a primary factor behind the dramatic increase in infringement in recent years."
They urged the HJC to postpone the mark up, hold additional hearings, and allow sufficient time for preparation of proposed amendments.
The Internet Society (IS) announced on December 12 that its Board of Trustees "has expressed concern with a number of U.S. legislative proposals that would mandate DNS blocking and filtering by ISPs to protect the interests of copyright holders."
The IS wrote in a release that it is "concerned with provisions in both bills regarding Domain Name System (DNS) filtering. DNS filtering is often proposed as a way to block illegal content consumption by end users. Yet policies to mandate DNS filtering will be ineffective for that purpose and will interfere with cross-border data flows and services undermining innovation and social development across the globe."
The IS continued that "Filtering DNS or blocking domain names does not remove the illegal content -- it simply makes the content harder to find. Those who are determined to download filtered content can easily use a number of widely available, legitimately-purposed tools to circumvent DNS filtering regimes. As a result, DNS filtering encourages the creation of alternative, non-standard DNS systems."
"From a security perspective, DNS filtering is incompatible with an important security technology called DNSSEC. In fact, DNSSEC would be weakened by these proposals. This means that the DNS filtering proposals in SOPA and PIPA could ultimately reduce global Internet security, introduce new vulnerabilities, and put individual users at risk."
"Most worrisome", the IS concluded, "DNS filtering and blocking raises human rights and freedom of expression concerns, and often curtails international principles of rule of law and due process. Some countries have used DNS filtering and blocking as a way to restrict access to the global Internet and to curb free expression."
The Computer & Communications Industry Association (CCIA) stated in a release on December 14 that "All who value the economic and political freedom of the Internet need to join in opposing the overly broad Internet censorship and regulatory regime, which SOPA and PIPA would create. The fact that some in the House Judiciary Committee are so dismissive of the concerns of so many diverse stakeholders from cybersecurity experts and venture capitalists to human rights groups and tech industry leaders is perplexing."
Eric Schmidt, Executive Chairman of Google, spoke at an event in Washington DC on December 12. The moderator of the program asked him why he opposes this bill. He responded, "mostly because it criminalizes the intermediaries".
He stated that it provides that "we are going to criminalize the linking and structure of the internet itself". He said that this is "censorship of the internet links". Moreover, governments will also use this to censor speech. And, as a result, "the internet is going to get balkanized". See, video of event.
Rep. Smith responded to some of his critics, including Google. He wrote in a December 14 release that "It's disappointing that some critics of the Stop Online Piracy Act do not understand what the bill actually does. The manager's amendment introduced earlier this week narrows the scope of the bill to ensure that it only applies to foreign rogue websites. The bill defines rogue sites as foreign websites primarily dedicated to the sale and distribution of illegal or infringing material or foreign websites that market themselves as websites primarily dedicated to illegal or infringing activity. Lawful companies and websites like Google, Twitter, Yahoo and Facebook have nothing to worry about under this bill."
He continued that "Unfortunately, that has not stopped some of the bill's critics from spreading lies about the legislation in an attempt to stall efforts by Congress to combat foreign rogue websites. Companies like Google have made billions by working with and promoting foreign rogue websites so they have a vested interest in preventing Congress from stopping rogue sites."
Rep. Smith also raised the subject of Google's own illegal activities. "In August, Google paid half a billion dollars to settle a criminal case because of the search engine giant's active promotion of foreign rogue pharmacies that sold counterfeit and illegal drugs to U.S. patients. Their opposition to this legislation is self-serving since they profit from doing business with rogue sites that steal and sell America's intellectual property."
See also, story titled "Google to Pay $500 Million for Allowing Its AdWords Program to be Used to Promote Illegal Online Drug Sales" in TLJ Daily E-Mail Alert No. 2,292, August 24, 2011.
Michael O'Leary of the Motion Picture Association of America (MPAA), stated in a release that "Today, Google Executive Chairman Eric Schmidt again engaged in sky is falling rhetoric in attacking important legislation that targets criminals who profit from online piracy and counterfeiting. This legislation, the Stop Online Piracy Act and the PROTECT IP Act, offers needed tools to target criminals while preserving free speech, creativity and American jobs."
O'Leary wrote that "Schmidt's comment that the legislation ``criminalizes the intermediaries´´ is a new weapon in their arsenal of hyperbole. There is broad recognition that all companies in the Internet ecosystem have a serious responsibility to target criminal activity. This type of rhetoric only serves as a distraction and I hope it is not a delaying tactic."
Chris Dodd, head of the MPAA, gave a speech in Washington DC on December 13 in which he stated that "Hollywood is pro-Internet. We stand with those who strongly oppose foreign governments that would unilaterally block websites, and thus deny the free flow of information and speech. So I want to make it clear right at the outset that our fight against content theft is not a fight against technology. It is a fight against criminals. Nor is it a fight to protect a stagnant and outmoded business model. Indeed, it is fundamentally a fight to protect jobs."
Former Senator Dodd continued that "Contrary to piracy apologists, the operators of these fraudulent sites aren't overzealous film buffs or political activists making a statement about freedom of information. They are criminals, plain and simple: they don't innovate, they don't adhere to manufacturing standards, and they certainly don't pay taxes on the proceeds from their scams. They dupe honest consumers into accepting stolen -- and in many cases counterfeit and dangerous -- goods."
"Therefore", Dodd concluded, "I find absolutely reprehensible the comparisons some have made between efforts to shut down foreign rogue sites and the policies of repressive governments. We have not proposed, nor would we ever support, any efforts to block political websites, censor social media, or silence artists because of what they want to say. It's an outrageous false comparison."
A large collection of movie, record, book publishing and other content companies, as well as related unions, stated in an ad run in New York based newspapers that "illegal foreign websites are destroying American jobs and causing billions in lost revenue. They threaten the jobs of some of the best-known creative talent in the world, many of whom belong to New York guilds and unions. And they threaten the jobs of hundreds of thousands of musicians, songwriters, artists and professionals in entertainment companies, worldwide sports organizations and telecasters -- in New York and across America. That's why we all strongly urge you to protect the jobs and intellectual property of American citizens by supporting" the SOPA and PROTECT IP Act.
Maria Pallante, the Register of Copyright, stated at an event in Washington DC on December 12 that passage of this legislation is one of the two top priorities of the Copyright Office. The other is passage of orphan works legislation.
---
More News
12/13. A grand jury of the U.S. District Court (CDCal) returned an indictment that charges Kevin George Poe with unauthorized impairment of a protected computer in violation of 18 U.S.C. § 1030 in connection with his conducting a distributed denial of service (DDOS) attack the web site of Gene Simmons, a musician long affiliated with a rock band titled Kiss. Office of the U.S. Attorney (USAO) for the Central District of California stated in a release that "Poe and others linked to Anonymous allegedly conducted" this DDOS attack by "sending tens of thousands of electronic requests designed to overload the computer server and render the website useless. According to the indictment, Poe used a favorite software tool of the Anonymous collective -- a Low Orbit Ion Cannon, which is a computer program that is used to send extremely large numbers of "packets" or requests over a network in an attempt to overwhelm a target computer."
---
Rep. Smith Releases Revised Version of SOPA to Be Marked Up on December 15
12/12. Rep. Lamar Smith (R-TX), the sponsor of HR 3261 [LOC | WW], the "Stop Online Piracy Act" or "SOPA", released a revised version of his bill on Monday, December 12, 2011. See, amendment in the nature of a substitute [71 pages in PDF].
The House Judiciary Committee (HJC), which he chairs, is scheduled to mark up this bill on Thursday, December 15, 2011, at 10:00 AM. This bill is the only item on the agenda.
Rep. Smith also released a summary of this amendment.
The related bill in the Senate is S 968 [LOC | WW], the "Preventing Real Online Threats to Economic Creativity and Theft of Intellectual Property Act of 2011" or "PROTECT IP Act". The Senate Judiciary Committee (SJC) amended and approved this bill on May 26, 2011.
---