TLJ News from June 26-30, 2008
---
Copyright Office Releases Section 109 Report
6/30. The Copyright Office (CO) released a report [274 pages in PDF] titled "Satellite Home Viewer Extension and Reauthorization Act Section 109 Report".
This report does not examine §109 of the Copyright Act, regarding "Limitations on exclusive rights: Effect of transfer of particular copy or phonorecord". Rather, this is the report required by Section 109 of the Satellite Home Viewer Extension and Reauthorization Act of 2004 (SHVERA), which was enacted in 108th Congress, in late 2004, as one component of HR 4818, an omnibus appropriations bill. It became Public Law No. 108-447.
The SHVERA is also titled the "W. J. (Billy) Tauzin Satellite Television Act of 2004".
This report pertains to the three statutory licenses in the Copyright Act that govern the retransmission of distant and local over the air broadcast station signals, which are codified in §111 (Limitations on exclusive rights: Secondary transmissions), §119 (Limitations on exclusive rights: Secondary transmissions of superstations and network stations for private home viewing) and §122 (Limitations on exclusive rights: Secondary transmissions by satellite carriers within local markets) of the Copyright Act.
§111 license permits a cable operator to retransmit both local and distant radio and television signals to its subscribers who pay a fee for such service. §119 license permits a satellite carrier to retransmit distant television signals, but not radio signals, to its subscribers for private home viewing and to commercial establishments. §122 statutory license permits satellite carriers to retransmit local television signals into the stations' local market on a royalty free basis.
The report recommends that the "Congress move toward abolishing Section 111 and Section 119 of the Act."
It reasons that "The cable and satellite industries are no longer nascent entities in need of government subsidies through a statutory licensing system. They have substantial market power and are able to negotiate private agreements with copyright owners for programming carried on distant broadcast signals."
The report also states that "the Internet video marketplace is robust and is functioning well without a statutory license. The Office concludes that the distant signal programming marketplace could be equally successful if Section 111 and Section 119 were repealed. The Office nevertheless recommends the retention of a royalty-free local-into-local license because it promotes the general welfare of users, broadcasters, and the public."
The report also states that "the digital television transition in 2009 is likely to generate unanticipated signal reception problems". It therefore recommends "the establishment of a new statutory licensing system that would cover the retransmission of distant broadcast signals beginning on January 1, 2010 and ending on December 31, 2014. This will permit users of the license to serve the needs of their subscribers who may experience viewing disruptions."
Chapter V of the report (at pages 181-200) addresses new distribution technologies. It examines three models for open distribution over the internet: (1) streaming video content that may be accessed by anyone with internet access (as is currently done by YouTube), (2) delivering video content to end users is through server downloads (as is currently done by Apple's iTunes), and (3) delivering video content by peer to peer systems.
This chapter also examines Capitol Broadcasting Company's technology that permits the retransmission of television stations' signals by cable systems over the internet or through video delivery systems that use internet protocol.
This chapter also examines delivering video content with IP technology through a closed system available only to subscribers for a monthly fee (as is currently done by AT&T).
Finally, this chapter examines video content on mobile telephones and similar devices.
The report finds "that new systems that are substantially similar to those systems that already use Section 111, should be subject to the license. Thus, systems that use Internet Protocol to deliver video programming, but are the same in every other respect to traditional cable operators, should be eligible to use Section 111 to retransmit broadcast signals, provided that these systems abide by the same broadcast signal carriage statutory provisions and FCC exclusivity requirements currently applicable to cable operators."
The report also recommends that "businesses using the Internet to deliver video programming should not be eligible for a statutory license at least at this time. First, there are serious questions about signal security that need to be addressed. Second, the United States has entered into a number of Free Trade Agreements with several international trading partners that include provisions prohibiting statutory licensing for the retransmission of broadcast content over the Internet. Third, carriage of programming on the Internet has been subject to marketplace negotiations and private licensing with some degree of success. As such, there is no market failure warranting the application of a statutory license in this context. An Internet statutory license would likely remove incentives for individuals and companies to develop innovative business models."
The report states that its principal drafter was Ben Golant, Assistant General Counsel of the CO. Tanya Sandros, General Counsel of the CO was the program manager for this project. Numerous other persons at the CO also contributed.
9th Circuit Affirms Dismissal of Complaint for Malicious Prosecution Based on Failed Patent Infringement Action
6/30. The U.S. Court of Appeals (9thCir) issued its opinion [10 pages in PDF] in Fisher Tool Company v. Gillet Outillage, affirming the judgment of the District Court.
In a previous action, Gillet Outillage (GO), a French company that makes hose clamp pliers, filed a complaint in U.S. District Court against Fisher Tool Company and others alleging patent infringement. After the District Court narrowly construed GO's patent claims after a Markman hearing, the case was dismissed.
In the present action, Fisher and others filed a complaint in U.S. District Court (CDCal) against GO alleging (1) that the previous action constituted malicious prosecution under California law, (2) that the GO's public allegations of patent infringement violated section 43(a) of the Lanham Act and various California tort laws, and (3) that GO violated federal antitrust laws. The District Court granted summary judgment to GO on all claims.
The Court of Appeals affirmed.
The Court of Appeals wrote that there is no malicious prosecution where, as in the present case, the defendants show that they have in good faith consulted a lawyer, have stated all the facts to him, have been advised by the lawyer that they have a good cause of action and have honestly acted upon the advice of the lawyer.
The Court of Appeals next wrote that "the Federal Circuit has held that where Lanham Act claims and state tort claims are based on a defendant's representation that someone infringed his patent, plaintiff must show that defendant's representation was made in bad faith. ... We adopt these holdings." (Citations to Federal Circuit opinion omitted.)
However, the Court added in a footnote that "We do not consider whether plaintiffs would have to show bad faith in order to bring a Lanham Act or state tort claim against a third party who stated that a product infringed another's patent but who did not do so in concert with the patent-holder."
Finally, the Court of Appeals held that the antitrust claims are barred by the Noerr-Pennington doctrine. This doctrine arises from two Supreme Court opinions. See, Eastern R.R. Presidents Conference v. Noerr Motor Freight, Inc., 365 U.S. 127 (1961) and United Mine Workers v. Pennington, 381 U.S. 657 (1965).
This case is Fisher Tool Company, Inc., et al. v. Gillet Outillage, et al., U.S. Court of Appeals for the 9th Circuit, App. Ct. Nos. 06-55996 and 06-56165, appeals from the U.S. District Court for the Central District of California, D.C. No.CV-04-07550-ABC, Judge Audrey Collins presiding. Judge Alex Kozinski wrote the opinion of the Court of Appeals, in which Judges Diarmuid O'Scannlain and William Fletcher joined.
11th Circuit Issues En Banc Opinion in Greenberg v. National Geographic
6/30. The U.S. Court of Appeals (11thCir) issued its 7-5 en banc opinion [85 pages in PDF] in Greenberg v. National Geographic Society, a copyright case. Like the three judge panel, this en banc panel reversed the judgment of the District Court. This is a victory for the National Geographic Society (NGS) and publishers generally, and a defeat for photographers and authors.
This is a long running action involving copyright in works that have been licensed to a publisher of a collective work when that publisher decides to later include the copyrighted article or photograph in subsequent collective works, such as electronic databases, or CD versions of print publications.
TLJ published a story titled "11th Circuit Rules in Collective Work Copyright Case" in TLJ Daily E-Mail Alert No. 1,595, June 14, 2007. That story reviews the facts of the case, the applicable statutes, proceedings in the District Court, the 11th Circuit's opinions in Greenberg I and Greenberg II, the 2nd Circuit's opinion in Faulkner v. National Geographic Society, and the Supreme Court's opinion in New York Times v. Tasini.
The plaintiffs are Jerry Greenberg, an independent photographer, and his wife Idaz. The defendants are the NGS, National Geographic Enterprises, Inc., and Mindscape, Inc., a software company. Greenberg's photographs were published, pursuant to license, in four monthly issues of National Geographic magazine.
In 1997, National Geographic produced a 30 disc CDROM product titled "The Complete National Geographic" or CNG. It reproduced each monthly issue of the print magazine from 1888 through 1996, including Greenberg's pictures. However, he still holds the copyrights. The NGS did not obtain permission from Greenberg to include his pictures in CNG.
The en banc panel, like the three judge panel, followed the Supreme Court's opinion in New York Times v. Tasini and concluded that National Geographic is privileged to reproduce and distribute the CNG under the revision prong of 17 U.S.C. § 201(c).
The majority wrote that "The CNG -- albeit in a different medium than print or microform -- is a permissible reproduction of the National Geographic Magazine. Greenberg's photographs are preserved intact in the CNG and can only be viewed as part of the original collective works in which they appeared. Similar to the microforms of Tasini, which preserve the context of multiple issues of magazines, the CNG's digital CD-ROMs faithfully preserve the original context of National Geographic's print issues. The CNG's additional elements -- such as its search function, its indexes, its zoom function, and the introductory sequence -- do not deprive National Geographic of its § 201(c) privilege in that they do not destroy the original context of the collective work in which Greenberg's photographs appear."
The CNG has three components. First, there is the replica of the print issues. Second, there is a program created by Mindscape that compresses and decompresses the images and allows users to search an electronic index. The en banc opinion addresses these. However, there is also a third component -- a 25 second segment in which ten images of actual magazine covers from past issues, including Greenberg's January 1962 cover photograph, digitally fade into one another. The three judge panel held that this is not privileged under §201(c). The en banc panel adopted this holding.
Barkett wrote the opinion of the Court of Appeals, in which Judges Dubina, Black, Carnes, Marcus, Pryor and Kravitch joined. Judges Birch, Wilson, Edmondson, Anderson, and Tjoflat dissented.
This case is Jerry Greenberg v. National Geographic Society, et al., U.S. Court of Appeals for the 11th Circuit, App. Ct. No. 05-16964, an appeal from the U.S. District Court for the Southern District of Florida, D.C. No. 97-03924-CV-AMS.
4th Circuit Construes Class Action Fairness Act in Wireless Case
6/30. The U.S. Court of Appeals (4thCir) issued its opinion [11 pages in PDF] in Strawn v. AT&T Mobility, regarding removal of class action complaints to federal courts under the Class Action Fairness Act of 2005 (CAFA).
This case involves a class action complaint filed in state court in West Virginia alleging that Cingular Wireless (now AT&T Mobility) violated the West Virginia Consumer Credit and Protection Act by charging customers $2.99 per month for "Roadside Assistance" if they did not opt out of the program.
The CAFA, which is codified at 28 U.S.C. § 1453, has a threshold of an aggregate amount in controversy exceeding $5 Million
AT&T removed the action to the U.S. District Court pursuant to the CAFA. The District Court remanded the action back to the state court, stating that the $5 Million threshold is not met. The Court of Appeals reversed.
This case is Strawn, et al. v. AT&T Mobility LLC, et al., U.S. Court of Appeals for the 4th Circuit, App. Ct. No. 07-2084, an appeal from the U.S. District Court for the Southern District of West Virginia, at Charleston, D.C. No. 2:06-cv-00988, Judge John Copenhaver presiding. Judge Paul Niemeyer wrote the opinion of the Court of Appeals, in which Judges Karen Williams and Alexander Williams, sitting by designation, joined.
1st Circuit Upholds Warrantless Wiretap of Attorney with Consent of Client
6/30. The U.S. Court of Appeals (1stCir) issued its opinion in US v. Novak, holding that a wiretap of phone conversations between an attorney and a client in state prison, without a warrant, but with the permission of the client, does not violate the 4th Amendment, even when there is a state law prohibiting monitoring of conversations between prisoners and attorneys.
The Court of Appeals reversed the District Court, which had suppressed the recordings of phone conversations. This case was decided solely under the 4th Amendment (unreasonable searches and seizures); neither the 6th Amendment (right to counsel) nor 18 U.S.C. § 2511 (federal wiretap act) was at issue.
Scott Holyoke, who has prior convictions, was a prisoner in pretrial detention at the Barnstable County Jail in the state of Massachusetts on drug charges. The Court of Appeals opinion suggests, but does not expressly state, that Holyoke has expertise in gaming the criminal justice system.
Holyoke, who was already represented, sought further assistance from Lawrence Novak, an attorney. He contacted Novak by prison telephone. A state regulation prohibits monitoring of phone calls between an attorney and a client in state prison. The prison has an automatic monitoring system. Signs and recorded messages alert prisoners that calls are monitored and recorded. Prisoners can have their attorneys' phone numbers excluded from monitoring. Holyoke did not add Novak's number. The prison excludes from monitoring calls involving the numbers of members of the state bar. Nevertheless, calls from Holyoke to Lawrence Novak were recorded.
State employees listened to these recordings, even after hearing Novak state that he is an attorney. The government then obtained Holyoke's permission, but no court warrant, to continue to monitor the calls. The Court of Appeals opinion states that "Novak agreed to launder what he was told were the proceeds of drug trafficking, and to accept $60,000 of that money in payment". The opinion does not disclose whether or not this conversation pertained to payment of legal fees.
The US prosecuted Novak. He moved to suppress evidence obtained in wiretaps, citing the 4th Amendment ban on unreasonable searches and seizures. He did not argue the 6th Amendment's right to counsel (he was the counsel), or the federal wiretap statute (which allows phone surveillance with the consent of one party to the communication). The District Court suppressed the evidence in an opinion reported at 453 F. Supp. 2d 249.
The US brought the present appeal. The Court of Appeals reversed.
It wrote that "A telephone call can be monitored and recorded without violating the Fourth Amendment so long as one participant in the call consents to the monitoring."
"Furthermore, inmates and pretrial detainees who have been exposed to the sort of warnings that Holyoke saw here have been deemed to have consented to monitoring."
The Court of Appeals continued that "Here, there is no question that Massachusetts law was violated. That does not, however, invalidate Holyoke's consent for Fourth Amendment purposes. In the absence of the state regulations that Novak cites, we would find no Fourth Amendment bar to the monitoring of phone calls. The state regulation cannot alter Holyoke's consent."
It also wrote that "there is no evidence that Holyoke was aware of this state regulation, or that he believed his consent to monitoring of phone calls was limited only to non-attorney-client calls. We thus find no reason to believe that Holyoke's consent was vitiated by the prison officials' failure to abide by the applicable regulations."
The Court concluded that "Because Holyoke consented to monitoring of his calls, those calls -- including those made between Holyoke and his attorney -- can be introduced into evidence consistently with the requirements of the Fourth Amendment."
This case is USA v. Lawrence Novak, U.S. Court of Appeals for the 1st Circuit, App. Ct. No. 07-1826, an appeal from the U.S. District Court for the District of Massachusetts, Judge Reginald Lindsay presiding. Judge O'Connor wrote the opinion of the Court of Appeals, in which Judges Selya and Boudin joined.
---
US to Pay Hatfill in Anthrax Case
6/27. The Department of Justice (DOJ) announced in a release that it "has reached a settlement with Steven Hatfill to resolve pending civil litigation about the disclosures of information related to the investigation of the anthrax mailings in the fall of 2001."
This release states that the US admits no wrongdoing. It contains no apology.
The DOJ release adds that the US will pay Hatfill and his attorneys $2.825 Million and purchase for Hatfill an annual annuity of $150,000.
Christopher Wright and other attorneys at the law firm of Harris Wiltshire & Grannis (HWG) represent Hatfill in this and related cases. Wright is a former General Counsel of the Federal Communications Commission (FCC). HWG focuses on telecommunications matters.
HWG stated in a release that "Our journalists also failed us, by putting aside their professional skepticism and shoveling the leaked information all too willingly into publication without questioning the accuracy of the information, the motives of the leakers, or the fairness of the government's tactics. As an innocent man, and as our fellow citizen, Steven Hatfill deserved far better."
HWG's release does not comment on reporters who refused to testify, citing confidentiality.
See also, story titled "4th Circuit Reinstates Hatfill's Defamation Suit Against NYT" in TLJ Daily E-Mail Alert No. 1,185, August 1, 2005.
People and Appointments
6/27. The Senate confirmed Elaine Duke to be Under Secretary for Management for the Department of Homeland Security (DHS). See also, statement by Michael Chertoff.
---
Antitrust Division Chief Reflects on Oracle PeopleSoft Merger
6/26. Thomas Barnett, Assistant Attorney General in charge of the Antitrust Division, gave a speech titled "Current Issues in Merger Enforcement: Thoughts on Theory, Litigation Practice, and Retrospectives"
He discussed, among other things, the Antitrust Division's failed effort to block Oracle's acquisition of PeopleSoft.
On February 26, 2004, the DOJ and several states filed a complaint in U.S. District Court (NDCal) against Oracle alleging that its acquisition of PeopleSoft would lessen competition substantially in interstate trade and commerce in violation of Section 7 of the Clayton Act. The DOJ sought an injunction of the proposed acquisition. See, story titled "Antitrust Division Sues Oracle to Enjoin Its Proposed Acquisition of PeopleSoft" in TLJ Daily E-Mail Alert No. 846, March 1, 2004.
However, Oracle fought back, and won a prompt and decisive legal victory. The District Court held that the government failed to meet its burden of showing by a preponderance of the evidence that the proposed merger is likely substantially to lessen competition in a relevant product and geographic market. See, story titled "DOJ Loses Oracle Case" in TLJ Daily E-Mail Alert No. 974, September 10, 2004.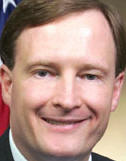 Barnett (at right) stated in his June 26 speech that the economy has evolved towards increased product differentiation, so that "the agencies may find it hard to provide a clear and succinct verbal or empirical description of the characteristics of the market".
He also said that "the sale of differentiated products may involve price discrimination, which can complicate traditional market definition by (1) making it harder to distinguish between products that are in and out of the market, because the distinction only applies to a subset of the parties' customers, and (2) implicating in more extreme cases the rarely-discussed substantiality issue, i.e., how many or what percentage of customers must a merger harm to constitute a Section 7 violation."
Section 7 of the Clayton Act is codified at 15 U.S.C. § 18.
For example, said Barnett, "Oracle could be viewed as a price discrimination case. Oracle and PeopleSoft sold largely the same product to thousands of customers, most of whom did not demand all of the functionality available in the software. For those that did not want the most sophisticated functionality, the government agreed that the relevant market included a number of competitors in addition to Oracle, PeopleSoft and SAP."
"The government argued that Oracle charged a price that depended in part on how much of the functionality that each customer needed. This complex competitive process was not easy to investigate or convey to the court", concluded Barnett.
He also discussed merger retrospectives. He said that "Because most merger decisions are prospective, they seem particularly well suited to retrospective study to inform our future decisions." He concluded that "such efforts are important and valuable", but "we need to be careful how we conduct such studies and how we interpreting any results."
Barnett also reviewed statistics for the last six years for Antitrust Division merger enforcement actions. Finally, he discussed electronic production issues.
6th Circuit Upholds FCC's Video Franchising Rules
6/26. The U.S. Court of Appeals (6thCir) issued its opinion [20 pages in PDF] in Alliance for Community Media v. FCC, upholding the Federal Communications Commission's (FCC) 2006 video franchising order.
Local franchising authorities (LFAs), groups that represent LFAs, and the National Cable Telecommunications Association (NCTA) filed petitions for review, arguing that the FCC lacked statutory authority, that its interpretation is not entitled to deference, and the order is arbitrary and capricious.
The Court of Appeals denied the petitions, concluding that "the FCC acted well within its statutorily delineated authority in enacting the Order and that there exists sufficient record evidence to indicate that the FCC did not engage in arbitrary-and-capricious rulemaking activity."
Background. Both the Congress and the FCC, and states and their LFAs, are involved in regulating cable services. New entrants, including telecommunications companies deploying and offering video, broadband and voice services over fiber optic cable, complained that some LFAs' video franchising processes were outdated, and resulted in unreasonable delays and burdens for new entrants.
There were efforts in the 109th Congress to enact a comprehensive communications reform bill that included video franchising reform. The House passed a bill. The Senate Commerce Committee passed a different bill. However, the legislation progressed no further, and those bills lapsed at the end of the 109th Congress.
The FCC has certain statutory authority with respect to LFAs. Section 621 of the Communications Act of 1934, which was added by the Cable Television Consumer Protection and Competition Act of 1992, is codified at 47 U.S.C. § 541.
Subsection (a)(1) provides that "A franchising authority may award, in accordance with the provisions of this subchapter, 1 or more franchises within its jurisdiction; except that a franchising authority may not grant an exclusive franchise and may not unreasonably refuse to award an additional competitive franchise. Any applicant whose application for a second franchise has been denied by a final decision of the franchising authority may appeal such final decision pursuant to the provisions of section 555 of this title for failure to comply with this subsection."
In addition, the FCC sometimes functions in a manner that has attributes of legislative action. For example, it sometimes is urged by members of Congress to promulgate rules following failed efforts by the Congress to enact legislation. Promulgating FCC rules requires only three out of five votes on one occasion. In contrast, enacting legislation involves getting past votes in both the House and Senate, in addition to votes in committees, filabusters, and other obstacles. In the case of video franchising reform, the FCC picked up where the Congress left off.
The FCC concluded that process of getting franchises from some LFAs was unreasonably difficult, and amounted to unreasonable refusal to award a competitive franchise within the meaning of Section 621.
The FCC's order also adopted rules governing the local franchising process. It established timing requirements for the award of franchises, established limits on build out requirements, limited franchise fees, and placed limits on public, educational, or governmental (PEG) access mandates.
The FCC also preempted local laws, regulations, and requirements, to the extent they impose greater restrictions on market entry than the FCC's rules.
The FCC adopted this order on December 20, 2006. See, story titled "FCC Adopts Order Affecting Local Franchising Authorities" in TLJ Daily E-Mail Alert No. 1,510, December 27, 2006. The FCC released the text [109 pages in PDF] on March 5, 2007. See, story titled "FCC Releases Text of Video Franchising Order and Further NPRM" in TLJ Daily E-Mail Alert No. 1,548, March 7, 2007. The order is FCC 06-180 in MB Docket 05-311.
FCC Commissioner Jonathan Adelstein dissented from this original order. He wrote then that the FCC "goes out on a limb in asserting federal authority to preempt local governments, and then saws the limb off with a highly dubious legal and policy scheme that substitutes our judgment as to what is reasonable for that of local officials -- all in violation of the franchising framework established in the Communications Act." See, story titled "Adelstein Opposes Franchising Order" also in TLJ Daily E-Mail Alert No. 1,510, December 27, 2006.
FCC Commissioner Michael Copps also dissented. In contrast, the three Republicans voted for the report and order.
The FCC also adopted a Second Report and Order on October 31, 2007. See also, story titled "FCC Adopts 2nd Report and Order on Video Franchising" in TLJ Daily E-Mail Alert No. 1,668, November 2, 2007.
Court of Appeals Opinion. The opinion first contains a long summary of the history of regulation of the cable industry. It then reviews the FCC's rule making process in this proceeding, and the content of the report and order.
Section 621(a)(1) bars unreasonable refusals to award additional franchises, but says nothing about the FCC.
The Court rejected the petitions' argument that the FCC lacked statutory authority under Section 621. It wrote that the petitioners are "correct in noting that, while the text expressly references franchising authorities, it is silent as to the agency's role in the process of awarding cable franchises. Where petitioners' argument falls short, however, is in equating the omission of the agency from section 621(a)(1) with an absence of rulemaking authority."
The Court noted that the last sentence of 47 U.S.C. § 201(b) provides that the FCC has authority to "may prescribe such rules and regulations as may be necessary in the public interest to carry out the provisions" of the Communications Act. And, Section 621 is a part of this.
It therefore wrote that "we are bound by this plain meaning and thereby conclude that, pursuant to section 201(b), the FCC possesses clear jurisdictional authority to formulate rules and regulations interpreting the contours of section 621(a)(1)."
The Court also noted that Section 621 provides a judicial remedy. It then concluded that "the availability of a judicial remedy for unreasonable denials of competitive franchise applications does not foreclose the agency's rulemaking authority over section 621(a)(1)."
Next, the Court concluded that the FCC's conclusions are entitled to judicial deference under the Supreme Court's 1984 opinion in Chevron USA v. Natural Resources Defense Council, 467 U.S. 837, as to all challenged rules.
Finally, the Court rejected the petitioners' arbitrary and capricious argument.
Reaction. FCC Chairman Kevin Martin stated in a release that "I am pleased that the Court recognized and unanimously supported the Commission's authority and our rules. Over the last ten years, cable rates have more than doubled. Consumers need greater choice and more competition to help address the soaring price of cable television. This ruling helps ensure that new competitors to cable are not subjected to unreasonable delays, build-out requirements and fees when trying to compete with the incumbent cable operators."

Martin (at right) also wrote that "when we adopted this item Dissenting Commissioner Adelstein publicly criticized the Bureau for having insufficient record evidence. I am particularly pleased that the Court directly addressed his claims, unanimously finding that there exists sufficient record evidence to indicate that 'the administrative record fully supported the agency's rulemaking and belies any claims of arbitrary or capricious regulatory activity'."
FCC Commissioner Robert McDowell, who also voted for the original order, wrote in a release that "I am pleased that the U.S. Court of Appeals for the Sixth Circuit upheld the Commission's legal authority to encourage fair and full competition among video service providers. No governmental entities, including those of us at the FCC, should have any thumb on the scale to give a regulatory advantage to any competitor. Providing regulatory certainty to all market players is the best way to enhance video competition, accelerate broadband deployment and produce lower rates for consumers."
Joe Savage, head of the Fiber to the Home Council, stated in a release that this opinion "will help expand competition in video and broadband services in areas where, currently, companies that want to compete with established cable TV operators are forced to contend with the onerous process of obtaining individual franchises from each city or county. The more streamlined process envisioned in the FCC order, and supported today by the Court, will mean more choices for consumers in their video and broadband services, thereby keeping prices fair and services robust as providers upgrade their networks to compete."
Deborah Vinsel, head of the Alliance for Community Media, stated in the ACM web site that "We are very disappointed with the court's decision which represents a loss for the public interest served by PEG and local franchising. We will be consulting with our allies in the proceeding to determine what next steps may be advisable."
She added that "There are a couple of relatively small bright spots in the decision, however. While the decision affirms the FCC's finding that capital costs required by a franchise to be paid for PEG access facilities are exempted from the definition of franchise fees (as to which a maximum 5% of gross revenues can permissibly be charged), the court makes clear that such capital costs are not limited to the construction of facilities but may also include equipment. The court's decision also makes clear that nothing in the FCC's order prevents local franchise authorities from increasing PEG obligations upon renewal of incumbent franchises." (Parentheses in original.)
This case is Alliance for Community Media, et al. v. FCC, petitions for review of a final order of the FCC, App. Ct. Nos. 07-3391, 3569, 3570, 3571, 3572, 3573, 3574, 3673, 3674, 3675, 3676, 3677, and 3824. Judge Guy Cole wrote the opinion of the Court of Appeals, in which Judges Gibbons and Suhrheinrich joined.
7th Circuit Advocates Judicial Modesty and Deference in National Security Cases
6/26. The U.S. Court of Appeals (7thCir) issued its opinion in Rahman v. Chertoff, reversing the District Court's certification of two classes in a constitutional challenge to the delay of US citizens when entering the US because they are on watch lists maintained by the Department of Homeland Security (DHS).
Akifur Rahman and others filed a complaint in U.S. District Court (NDIll) against Michael Chertoff, the Secretary of Homeland Security, and others, alleging violation of their Constitutional rights. They seek class action status to represent persons who assert that they should not be on the lists, persons who are not on lists but are nevertheless stopped because of similarity or identicality of names, and persons who are on lists and contend that they should have low risk classifications.
The District Court certified two classes, and denied the government's motion to dismiss. The government brought the present appeal. However, the only issue on appeal is class certification.
The Court of Appeals reversed. However, it wrote an opinion that treads beyond the issue on appeal.
The Court of Appeals wrote that the underlying merits of the action are not at issue in this appeal because the denial of the motion to dismiss was interlocutory and non-appealable.
Nevertheless, the Court engaged in a sweeping discussion of national security, border security, false negative identifications, and false positive identifications. It also articulated a very narrow role for the judiciary in Constitutional challenges when national security is involved.
Judge Frank Easterbrook (at right) wrote the opinion of the Court of Appeals, in which Judges Michael Kanne and John Tinder joined.
Judge Easterbrook wrote that "modesty is the best posture for the branch that knows the least about protecting the nation's security and that lacks the full kit of tools possessed by the legislative and executive branches. Presidents, Cabinet officers, and Members of Congress can be dismissed by the people if they strike an unwise balance between false positives and false negatives, between inconvenience today and mayhem tomorrow; judges are immune from that supervision and must permit those who bear the blame for errors (in either direction) to assume the responsibility for management." (Parentheses in original.)
The plaintiffs argue that the government has violated their Constitutional rights. The Constitution is the law. And, as former Chief Justice John Marshall wrote, "It is emphatically the province and duty of the judicial department to say what the law is." See, the Supreme Court's 1803 opinion in Marbury v. Madison, 5 U.S. 137.
To defer to the government in this case on the basis that this matter is best left to the executive or legislative branches would be to depart from the Constitutional function that was envisioned by Marshall, and that is now a foundational principle of the judiciary.
Easterbrook did not elaborate on his statement on "modesty" and deference to other branches of government. Perhaps the gist of his statement is that the courts should only refrain from reviewing the Constitutionality of statutes and executive actions in matters involving "the nation's security". If courts were to defer in all Constitutional challenges, there were be few challenges left, because Constitutional protections limit governmental action.
And, perhaps he is also suggesting that the courts should restrict themselves to judicial review of statutes and regulations, and refrain from oversight of lesser administrative actions, such as practices of customs officials.
This case is Akifur Rahman, et al. v. Michael Chertoff, et al., U.S. Court of Appeals for the 7th Circuit, App. Ct. No. 07-3430, an appeal from the U.S. District Court for the Northern District of Illinois, Eastern Division, D.C. No. 05 C 3761, Judge Ronald Guzmán presiding.
Judges Easterbrook and Kanne were appointed to the Court of Appeals by former President Reagan. Judge Tinder was appointed to the District Court by Reagan, and elevated to the Court of Appeals by President Bush in 2007. Judge Guzman, whose judgment is reversed, was appointed to the District Court by former President Clinton.
6th Circuit Rules on Compelled Forensic Imaging in E-Discovery Disputes
6/26. The U.S. Court of Appeals (6thCir) issued its opinion [12 pages in PDF] in John B. v. Goetz, granting a petition for writ of mandamus to the District Court regarding discovery of electronically stored information (ESI).
Introduction. The District Court issued orders that, among other things, compelled the forensic imaging and production of computer hard drives. The Court of Appeals held that the District Court erred in compelling forensic imaging.
This opinion contains a long and detailed discussion of the appropriateness of compelled forensic imaging of hard drives in discovery disputes. And, the Court of Appeals overturned orders compelling such discovery. However, in future cases parties seeking discovery might argue that this case is of limited applicability in civil litigation between private parties because of facts peculiar to this case.
The defendants are officials of a sovereign state, and the discovery orders extended to the computers of high ranking state officials who are not defendants in the case. Failure to overturn parts of the orders could have embarrassed the federal judiciary in the event that these court orders created a stand off between federal marshals and state officials and police, and resulted in federal court orders being publicly and successfully defied.
Nevertheless, all parties, including private litigants, against whom compelled forensic imaging orders are sought may cite this opinion as authority in support of their opposition to intrusive electronic discovery.
Background. This is a class action case, filed in 1998 on behalf of children in state of Tennessee in the U.S. District Court (DMTenn) regarding the state's managed health care system titled TennCare. The parties reached a settlement, and the District Court entered a Consent Decree in 2000.
The present dispute pertains to compliance with that Consent Decree. The plaintiffs sought and obtained leave to conduct discovery. Discovery disputes ensued. The District Court issued two orders, that are the subject of this opinion, regarding the defendants' duty to preserve and produce electronically stored information relevant to the litigation.
The Court of Appeals wrote that the first "directed plaintiffs' computer expert and a court-appointed monitor to inspect the state's computer system and the computers of 50 key custodians to ascertain whether any relevant information has been impaired, compromised, or removed." The second directs that the first order be executed forthwith.
Moreover, "Both orders allow plaintiffs' computer expert to make forensic copies of the hard drives of identified computers, including not only those at the work stations of the state's key custodians, but also any privately owned computers on which the custodians may have performed or received work relating to the TennCare program."
Court of Appeals Opinion. Tennessee initiated the present mandamus proceeding. The Court of Appeals granted the motion.
The Court of Appeals "set aside those portions of the orders that call for the forensic imaging of all hard drives and other devices that contain relevant ESI" and expressed no opinion "with respect to other provisions in the orders that can be executed in a manner consistent with this opinion".
First, the Court of Appeals noted that "the mere imaging of the media, in and of itself, raises privacy and confidentiality concerns. Duplication, by its very nature, increases the risk of improper exposure, whether purposeful or inadvertent", and that "these orders cannot be executed without some disruption of state business".
The Court wrote that a party to civil litigation has "a duty to preserve relevant information, including ESI" when it "has notice that the evidence is relevant to litigation" or "should have known that the evidence may be relevant to future litigation"
It continued, however, that there is less clarity "surrounding the question of a district court's authority to compel the forensic imaging and production of computer hard drives as a means by which to preserve relevant electronic evidence. Because litigants are generally responsible for preserving relevant information on their own, such procedures, if at all appropriate, should be employed in a very limited set of circumstances."
The Court of Appeals noted that other courts have compelled forensic imaging. But, it wrote that "even if acceptable as a means to preserve electronic evidence, compelled forensic imaging is not appropriate in all cases, and courts must consider the significant interests implicated by forensic imaging before ordering such procedures."
In the present case, the Court of Appeals concluded that "the media at issue will almost certainly contain confidential state or private personal information that is wholly unrelated to the litigation", and that in issuing its orders the District Court failed "to account properly for the significant privacy and confidentiality concerns".
The Court of Appeals elaborated that "Although the risk of improperly exposing such information, standing alone, might not preclude the employment of forensic imaging in all cases, the forensic imaging must be premised on an interest significant enough to override that risk. Such an interest is not demonstrably present in this case."
The Court added that "this case raises other obvious issues that counsel against the forensic imaging procedures ordered by the district court" including federalism and comity issues. That is, the federal order extended to forensic imaging of computers of state officials, and included sending federal law enforcement officials into the offices and homes of high ranking state officials.
The Court opined that "state officials are not immune from complying with federal discovery mandates", but "where less intrusive means are available to address the perceived discovery violations of state parties, those means should be employed before resorting to inherently intrusive measures like forensic imaging, especially in cases where there is no evidence of purposeful or intentional destruction of relevant ESI."
Judge Cole wrote a concurring opinion in which he praised the efforts of the District Court, and the majority's opinion, and added that the District Court's order "may lead to confrontations between federal marshals and state officials".
Case Information. This case is John B., et al. v. M.D. Goetz, et al., U.S. Court of Appeals for the 6th Circuit, App. Ct. No. 07-6373, an petition for writ of mandamus to the U.S. District Court for the Middle District of Tennessee at Nashville, D.C. No. 98-00168, Judge William Haynes presiding.
Judge Rogers wrote the opinion of the Court of Appeals, in which Judge Gibbons joined. Judge Cole wrote a concurring opinion.
GAO Reports on DHS Planning for Communications Disruptions
6/26. The Government Accountability Office (GAO) released a report [PDF] titled "Critical Infrastructure Protection: Further Efforts Needed to Integrate Planning for and Response to Disruptions on Converged Voice and Data Networks".
The report, which was prepared for the House Homeland Security Committee (HHSC), addresses the status of efforts by the Department of Homeland Security (DHS) to integrate the activities of two of its components, the National Cyber Security Division (NCSD) and the National Communications System (NCS), and to prepare for and respond to disruptions on converged voice and data networks.
The report states that the DHS "has taken the first of three steps toward integrating its centers responsible for planning for and monitoring the communications infrastructure, including voice and data networks, and the security of data and applications residing on these networks. Specifically, in November 2007, it moved the operations center for communications infrastructure -- NCC Watch -- to office space adjacent to the center for data and applications -- US-CERT. This close proximity allows the approximately 41 coordination center and 95 readiness team analysts to, among other things, readily collaborate on planned and ongoing activities."
In addition, the two components now have "common software tools to identify and share physical, telecommunications, and cyber information related to performing their missions".
However, the report continues, the DHS has not performed two other steps. It "has not organizationally merged the two centers or invited key private sector critical infrastructure officials to participate in the operation of the proposed joint center."
Rep. James Langevin (D-RI), Chairman of the HHSC's Subcommittee on Emerging Threats, Cybersecurity, and Science and Technology stated in a release that "The lack of progress ... is unacceptable". He added that "We must make the security of these networks a top priority, and it is clear that this has not been the case up to now."
More News
6/26. The U.S. Court of Appeals (1stCir) issued its opinion in US v. Stoupis, affirming the sentence imposed by the District Court in a criminal case involving wire fraud and mail fraud case. The defendant, Nicholas Stoupis, worked for Northrup Grumman (NG), which purchased equipment directly from Cisco. Stoupis placed orders with Cisco, which he had delivered to himself, and then auctioned via eBay. He was caught, and pled guilty. However, he challenged the length of his sentence, which, under the U.S. Sentencing Commission's Sentencing Guidelines, were calculated as a function of the value of his theft. He argued that the District Court overvalued his theft, and therefore, imposed too long of a sentence. He offered several theories for valuing the theft, including either the replacement cost, or the total of his eBay auction receipts -- $515,000. Instead, the District Court estimated the value at $4,700,000, based upon Cisco's retail prices for large purchasers such as NG. This case is USA v. Nicholas Stoupis, U.S. Court of Appeals for the 1st Circuit, App. Ct. No. 07-1410, an appeal from the U.S. District Court for the District of Massachusetts, Judge Richard Stearns presiding.
6/26. The U.S. Court of Appeals (1stCir) issued its opinion in US v. Conley, affirming a conviction that was obtained following the introduction into evidence of recorded phone calls between the defendant, Christopher Conley, and another person. There was no court warrant for the intercepts. However, the second party, an incarcerated person, consented to monitoring and recording. The District Court denied Conley's motion to suppress this evidence. The federal wiretap act, which is codified at 18 U.S.C. § 2510, et seq., prohibits intercepts of wire, oral, or electronic communications without a warrant. However, § 2511 provides that "It shall not be unlawful under this chapter for a person acting under color of law to intercept a wire, oral, or electronic communication, where such person is a party to the communication or one of the parties to the communication has given prior consent to such interception." The courts held that consent arose from recorded messages stating that calls are subject to monitoring, signs on prison walls, and similar circumstances. Moreover, the Court or Appeals rejected the argument the evidence should be suppressed on the grounds that the purpose of the monitoring, prison security, was unrelated to Conley's criminal acts. This case is USA v. Christopher Conley, U.S. Court of Appeals for the 1st Circuit, App. Ct. No. 07-2587, an appeal from the U.S. District Court for the District of Maine, Judge Brock Hornby presiding.
People and Appointments
6/26. The Senate confirmed William Lawrence to be a Judge of the U.S. District Court for the Southern District of Indiana by a vote of 97-0. See, Roll Call No. 159.
6/26. The Senate confirmed Murray Snow to be a Judge of the U.S. District Court for the District of Arizona. See also, statement of Sen. Patrick Leahy (D-VT), Chairman of the Senate Judiciary Committee (SJC).
6/26. President Bush nominated Peter Kann and Michael Meehan to be members of the Broadcasting Board of Governors (BBG) for the remainder of terms expiring on August 13, 2010. See, White House release and release. Kann was the long time CEO of Dow Jones, owner of the Wall Street Journal (WSJ), until just prior to Rupert Murdoch's announcement of his offer to purchase Dow Jones. If confirmed by the Senate, Kann will replace James Glassman, who resigned from the BBG, and has been Under Secretary of State for Public Diplomacy and Public Affairs since June 10. Meehan is the head of BGR Public Relations, the PR arm of BGR Holding, Inc., which is also known as Barbour Griffith & Rogers. Before that he worked in various positions on Capitol Hill, including on the staffs of former Sen. Tom Daschle (D-SD), Sen. Maria Cantwell (D-WA), Sen. John Kerry (D-MA), and the Kerry presidential campaign. President Bush also announced the withdrawal of the nomination of Jeffrey Hirschberg. This would have been a reappointment. Bush nominated Meehan in Hirschberg's place.
---