TLJ News from February 11-15, 2006
---
9th Circuit Affirms Dismissal of Class Action Suit Against Directv for Sending Signal Theft Demand Letters
2/15. The U.S. Court of Appeals (9thCir) issued its opinion [34 pages in PDF] in Sosa v. Directv, affirming the judgment of the District Court dismissing a class action lawsuit brought against DBS provider Directv alleging violation of the RICO for sending demand letters to likely signal thieves. The Court of Appeals held that the First Amendment based Noerr Pennington doctrine precludes RICO claims in this situation.
Directv is a direct broadcast satellite (DBS) service provider. It broadcasts electronically scrambled signals. Consumers purchase electronic equipment from third party vendors, and an access card, or smart card, provided by Directv, to descramble the signal.
In previous anti signal theft related litigation against sellers of smart card programming technology, Directv obtained names and addresses of individuals who purchasers from these defendants. Directv then sent letters to these purchasers accusing them of violating a federal criminal statute, and threatening civil legal action unless they forfeited the equipment to Directv and settled with Directv for an unspecified sum.
Some recipients of the demand letter filed a complaint in state court in California, which the trial court dismissed. The state intermediate appeals court affirmed, and the state Supreme Court declined to review the case.
Rod Sosa, and others, filed a complaint in U.S. District Court alleging violation of the federal Racketeer Influenced and Corrupt Organizations Act (RICO), which is codified at 18 U.S.C. §§ 1961-1968. They alleged as predicate acts extortion and mail and wire fraud. They also sought class action status.
The District Court dismissed the federal action pursuant to the Noerr Pennington doctrine. See, Eastern R.R. Presidents Conference v. Noerr Motor Freight, Inc., 365 U.S. 127 (1961) and United Mine Workers v. Pennington, 381 U.S. 657 (1965).
The Court of Appeals ruled that the disposition of the state court action does not bar the federal action under the doctrine of res judicata, but only because the state court judgment was not final at the time of the judgment in the federal action.
The Court of Appeals then affirmed the judgment of the District Court on the merits. The RICO claim is barred by the Noerr Pennington doctrine.
The Court of Appeals wrote that "Our decision today makes clear that the Noerr-Pennington doctrine requires that, to the extent possible, we construe federal statutes so as to avoid burdens on activity arguably falling within the scope of the Petition Clause of the First Amendment. Prelitigation communications demanding settlement of legal claims must be afforded Noerr-Pennington protection when we construe statutes asserted to regulate them. RICO does not unambiguously include the presuit demand letters in this case within the scope of conduct it enjoins, so we decline to give it such a broad construction."
This case is Rod Sosa, et al. v. Directv, Inc., et al., U.S. Court of Appeals for the 9th Circuit, App. Ct. No. 04-55036, an appeal from the U.S. District Court for the Central District of California, D.C. No. CV-03-05972-AHM, Judge Howard Matz presiding.
Marsha Berzon wrote the opinion of the Court, in which Judge Ferdinand Fernandez joined. Judge Owen Panner wrote a concurring opinion. He argued briefly that the court did not need to address the Noerr Pennington issue. That is, if it affirmed, the case would be dismissed. If it reversed, the case would also be dismissed, because the state court judgment is now final, and has res judicata effect.
Senate Approves Bill to Criminalize Trafficking in Counterfeit Marks
2/15. The Senate amended and approved HR 32, the "Stop Counterfeiting in Manufactured Goods Act", by unanimous consent. This bill amends the Criminal Code with respect to trafficking in counterfeit marks, including wrappers, boxes and stickers.
The House approved an earlier version of the bill on May 24, 2005, by voice vote. See, story titled "House Approves Bill Regarding Trafficking in Counterfeit Marks" in TLJ Daily E-Mail Alert No. 1,141, May 24, 2005. One House Judiciary Committee staff member told TLJ on February 21 that he expects the House to take up the Senate version, "as early as next week".
Sen. Arlen Specter (R-PA) stated in the Senate that this bill "addresses a problem that has reached epidemic proportions as a result of a loophole in our criminal code: the trafficking in counterfeit labels. Criminal law currently prohibits the trafficking in counterfeit trademarks ``on or in connection with goods or services.'' However, it does not prohibit the trafficking in the counterfeit marks themselves. As such, there is nothing in current law to prohibit an individual from selling counterfeit labels bearing otherwise protected trademarks within the United States. This loophole was exposed by the Tenth Circuit Court of Appeals in United States v. Giles, 213 F.3d 1247 (10th Cir. 2000)."
Both the House and Senate versions of this bill make changes to 18 U.S.C. § 2320, which pertains to "Trafficking in counterfeit goods or services". For example, the bills both amend § 2320(a) to impose criminal liability upon anyone who "intentionally traffics or attempts to traffic in labels, patches, stickers, wrappers, badges, emblems, medallions, charms, boxes, containers, cans, cases, hangtags, documentation, or packaging of any type or nature, knowing that a counterfeit mark has been applied thereto, the use of which is likely to cause confusion, to cause mistake, or to deceive".
Then, the bills provide that "The following property shall be subject to forfeiture to the United States and no property right shall exist in such property: ... (B) Any property used, in any manner or part, to commit or to facilitate the commission of a violation of subsection (a)." This "subsection (a)" is a reference to § 2320(a), as amended.
This gives federal prosecutors broad authority to seize things. Sen. Arlen Specter (R-PA) and Sen. Patrick Leahy (D-VT), the Chairman and ranking Democrat on the Senate Judiciary Committee, stated in the Senate, for the benefit of prosecutors and judges interpreting this statute, that this broad forfeiture authority is intended to apply to the counterfeiters, and counterfeit things, and not to innocent auction web sites, search engines, and internet service providers whose servers and services may be used by counterfeiters.
The bill, as approved by the Senate, also provides that "The provisions of chapter 46 of this title relating to civil forfeitures, including section 983 of this title, shall extend to any seizure or civil forfeiture under this section. At the conclusion of the forfeiture proceedings, the court, unless otherwise requested by an agency of the United States, shall order that any forfeited article bearing or consisting of a counterfeit mark be destroyed or otherwise disposed of according to law." (Emphasis added.)
The Senate added the phrase "including section 983 of this title" to the language contained in the House version. 18 U.S.C. § 983 is titled "General rules for civil forfeiture proceedings". Subsection 983(d) contains the innocent owner defense. It provides, in part, that "An innocent owner's interest in property shall not be forfeited under any civil forfeiture statute. The claimant shall have the burden of proving that the claimant is an innocent owner by a preponderance of the evidence." That is, this change clarifies that innocent auction web sites, search engines, and ISPs may rely upon the language of § 983(d) in any government § 2320 forfeiture action.
Sen. Leahy also discussed the relationship between counterfeiting and terrorism. He said that "Perhaps most disturbingly, the U.S. Customs Service reports that terrorists have used transnational counterfeiting operations to fund their activities: The sale of counterfeit and pirated music, movies, software, T-shirts, clothing, and fake drugs ``accounts for much of the money the international terrorist network depends on to feed its operations.´´''
The companion bill in the Senate was S 1699.
One of the differences between the House and Senate versions of HR 32 is the definition of "traffic".
The U.S. Chamber of Commerce stated in a release that "The Senate added an important provision to the bill to change the definition of ``traffic,´´ to that contained S. 1095, the Protecting American Good and Services Act, to ensure that all transfers of counterfeit goods may be penalized, even if the transfer occurs without the exchange of value."
The Chamber's Mike Zaneis stated in the release that "This modification would eliminate ambiguity in the current statute that allows counterfeiters to avoid punishment when they transfer counterfeit goods in exchange for some future benefit".
Effect Upon Internet Companies. Sen. Specter and Sen. Leahy discussed how the bill might affect internet companies.
(In the Congressional Record transcript, the Senators confusingly refer to the above quoted provision regarding forfeiture as "Section 2(bbb)(1)(B)" and "Section 2(b)(1)(B)". This language is found in Section 2 of the House version of the bill, and provides amended language for subsection (b)(1)(B) of 18 U.S.C. § 2320.)
Their discussion creates a legislative history that provides evidence of the intent of the Congress that the forfeiture provisions are not to be applied against innocent auction sites, search engines and internet service providers whose property is used to facilitate counterfeiting, or trafficking in counterfeit labels.
Sen. Specter stated that "When this legislation was sent over to the Senate from the House, concerns were raised to Senator LEAHY and myself about the language in Section 2(bbb)(1)(B) of this bill pertaining to the forfeiture authority of the U.S. Department of Justice. In focusing our attention to this section, we discussed the scope of the facilitation language, which parallels the drug and money laundering forfeiture language in 21 U.S.C. 853 and 18 U.S.C. 982, respectively, and how it might relate to Internet marketplace companies, search engines, and ISPs. Specifically, we were aware of concerns regarding the potential misapplication of the facilitation language in Section 2(b)(1)(B) to pursue forfeiture and seizure proceedings against responsible Internet marketplace companies that serve as third-party intermediaries to online transactions."
Sen. Leahy then responded that "Section 2(b)(1)(B) authorizes U.S. Attorneys to pursue civil in rem forfeiture proceedings against ``any property used, in any manner or part, to commit or to facilitate the commission of a violation of subsection (a).´´ The intent of this language is to provide attorneys and prosecutors with the authority to bring a civil forfeiture action against the property of bad actors who are facilitating trafficking or attempts to traffic in counterfeit marks. The forfeiture authority in Section 2(b)(1)(B) cannot be used to pursue forfeiture and seizure proceedings against the computer equipment, website or network of responsible Internet marketplace companies, who serve solely as a third party to transactions and do not tailor their services or their facilities to the furtherance of trafficking or attempts to traffic in counterfeit marks. However, these Internet marketplace companies must make demonstrable good-faith efforts to combat the use of their systems and services to traffic in counterfeit marks. Companies must establish and implement procedures to take down postings that contain or offer to sell goods, services, labels, and the like in violation of this act upon being made aware of the illegal nature of these items or services."
The two Senators engaged in a similar colloquy in the Senate on November 10, 2005, when the Senate approved S 1699. See, Congressional Record, November 10, 2005, at Page S12716.
4th Circuits Holds that Governors Can Blacklist Reporters Without Violating Section 1983
2/15. The U.S. Court of Appeals (4thCir) issued its opinion [16 pages in PDF] in Baltimore Sun v. Ehrlich, affirming the District Court's dismissal of a Section 1983 complaint against Maryland Governor Robert Ehrlich for instructing state officials not to talk to two newspaper writers.
Robert Ehrlich, the Governor of the state of Maryland, issued an executive order that no state department or agency shall speak with one news reporter and one columnist employed by the Baltimore Sun, a daily newspaper. Gov. Ehrlich took no other actions against the two, or their newspaper.
The Baltimore Sun and others filed a complaint in U.S. District Court (DMd) against Ehrlich alleging violation of 42 U.S.C. § 1983 in connection with his allegedly unconstitutional retaliation for exercising of First Amendment speech and press rights.
The District Court dismissed the complaint for failure to state a claim upon which relief can be granted. The Court of Appeals affirmed.
Section 1983 provides, in part, that "Every person who, under color of any statute, ordinance, regulation, custom, or usage, of any State or Territory or the District of Columbia, subjects, or causes to be subjected, any citizen of the United States or other person within the jurisdiction thereof to the deprivation of any rights, privileges, or immunities secured by the Constitution and laws, shall be liable to the party injured in an action at law, suit in equity, or other proper proceeding for redress, except that in any action brought against a judicial officer for an act or omission taken in such officer's judicial capacity, injunctive relief shall not be granted unless a declaratory decree was violated or declaratory relief was unavailable."
The Court of Appeals wrote that "As speech reflecting the Governor's own views and intent, the directive is not actionable because it is only the Governor's opinion and because he himself need not talk to reporters. As an internal directive, it extended only to the official conduct and speech of others in the executive branch. Because it neither communicated a threat to The Sun, nor divulged private information in its function as an internal directive, it is not actionable."
This case is The Baltimore Sun Company, et al. v. Robert Ehrlich, U.S. Court of Appeals for the 4th Circuit, App. Ct. No. 05-1297, an appeal from the U.S. District Court for the District of Maryland, at Baltimore, Judge William Quarles presiding, D.C. No. CA-04-3822-1-WDQ. Judge Niemeyer wrote the opinion of the Court of Appeals, in which Judges Luttig and Traxler joined.
House Commerce Committee Seeks Information from Phone Data Brokers
2/15. The House Commerce Committee (HCC) sent letters to thirteen operators of data broker web sites that offer to sell customers' confidential phone records. The letters, which are in the nature of written interrogatories, request detailed information from the recipients of the letters about their business operations.
For example, the letters ask the data brokers for a description of methods used to acquire personal cell phone records, including whether the data brokers "pose as customers seeking information about their own accounts (``pretexting´´) to obtain the data being purchased", or "obtain access to cell phone company databases through computer hacking, impersonation of phone company employees or government agents, or other unauthorized and fraudulent means".
The letter also asks which businesses provide the data brokers with information. And, it asks the data brokers to name their top twenty customers, by annual revenue, for every year since 2000.
The letters were signed by Rep. Joe Barton (R-TX), Rep. John Dingell (D-MI), Rep. Ed Whitfield (R-KY), and Rep. Bart Stupak (D-MI). They are the Chairman and ranking Democrats of the full Committee, and the Subcommittee on Oversight and Investigations.
FCC Fines Behringer USA for Making Unauthorized Digital Audio Devices
2/15. The Federal Communications Commission (FCC) issued a Notice of Apparent Liability for Forfeiture (NAL) to Behringer USA, Inc. that proposes to fine the company $1 Million for making and marketing unauthorized radio frequency devices.
The NALF states that Behringer USA "marketed 50 models of unauthorized radio frequency devices specifically, digital audio music devices, in apparent willful and repeated violation" of 47 U.S.C. § 302 and the FCC's implementing regulations.
The NALF does not allege that any of these devices ever actually interfered with any radio services. Rather, the NALF states that Behringer USA failed to test and certify that each of its devices did not cause interference.
The FCC stated in a release [PDF] that the size of the fine is a result of circumstances that Behringer USA "marketed the unauthorized devices for more than five years overall and for almost a year after it was on notice of the FCC's investigation".
This NAL is FCC 06-13.
AG Gonzales Discusses DOJ Activities
2/15. Attorney General Alberto Gonzales gave a speech to Department of Justice (DOJ) employees in which he reviewed the activities and operations of the DOJ. See also, DOJ release summarizing the speech.
IPR Enforcement. He said, without further discussion, that "Protecting intellectual property will help preserve our nation's economic security and our competitive advantage in the world. And I will continue to advocate energetically for adequate resources so that we can accomplish all of these objectives."
Creation of National Security Division. He stated that "we expect to continue to be aided by the USA Patriot Act, which Congress is poised to renew. We will then be able to stand up the new National Security Division to better coordinate our anti-terrorism efforts here within the Department of Justice."
Currently, there is a National Security Division within the FBI, which is a component of the DOJ. However, there is no National Security Division within the DOJ. This statement by Gonzales reflects plans to reorganize the DOJ.
The DOJ has a Criminal Division, which includes a Counterterrorism Section, Counterespionage Section, and other units that handle national security related matters. The DOJ also has an Office of Intelligence Policy and Review (OIPR). The OIPR is responsible for, among other things, applications for electronic surveillance and physical search under the Foreign Intelligence Surveillance Act (FISA).
Cybercrime. He said that "In addition to the fight against terrorism, the Justice Department will focus on five priority areas in the coming year: violent crime, drug trafficking, cyber crime, civil rights, and public and corporate corruption." He spoke at length about internet crimes against children, but otherwise did not elaborate on computer or cyber crime.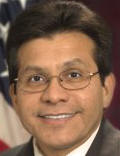 Gonzales (at right) said that "I'm pleased today to announce a major initiative, Project Safe Childhood. The goal of Project Safe Childhood is to prevent the exploitation of our kids over the Internet, to clean up this new neighborhood, just as we work to reduce gun crime on our city streets. We'll do it using the same successful approach as Project Safe Neighborhoods, with unprecedented coordination by law enforcement at every level."
He continued that the DOJ, and its U.S. Attorneys offices, will work with, and share resources and information with, local law enforcement agencies. He added that "This effort will also be coordinated with ongoing nationwide operations. When the Criminal Division or the FBI takes down a commercial Web site or server, for instance, they uncover hundreds or thousands of leads that local Project Safe Childhood task forces can track down in their own districts."
"Sometimes this work requires specialized techniques, and Project Safe Childhood will help facilitate training for officers and prosecutors, with assistance from the National Center for Missing and Exploited Children, the ICAC program, and others", said Gonzales. And, the DOJ will work to "raise awareness and to equip parents and children with the tools and information they need to become responsible Internet users ..." See also, DOJ release regarding Project Safe Childhood.
Bernanke Testifies Regarding Tech and Economy
2/15. Ben Bernanke, the new Chairman of the Federal Reserve Board (FRB), testified before the House Financial Services Committee (HFSC) regarding the FRB's semiannual Monetary Policy Report to the Congress [29 pages in PDF].
Bernanke (at right) wrote in his prepared testimony that, last year, "Investment in high-tech equipment rebounded, its increase spurred by further declines in the prices of high-tech goods. Expenditures for communications equipment, which had fallen off earlier this decade, showed particular strength for the year as a whole."
The FRB's Report offers more detail. It states that "Real investment in high-technology equipment rose 17 percent in 2005, as further declines in prices provided a substantial incentive for firms to step up their outlays on such items; the increase was 5 percentage points faster than in 2003 and 2004 and about in line with the average annual gain over the past twenty-five years. Spending on communications equipment was exceptionally strong last year, as telecom service providers rolled out major new fiber-optic systems and third-generation wireless gear. Business spending for computing equipment rose roughly 30 percent in real terms, a pace close to its historical average, while spending on software posted its largest increase in several years."
The FRB report also addressed the impact of information technology upon productivity. It states that "Labor productivity in the nonfarm business sector continued to advance in 2005. Last year's increase in output per hour of 2¼ percent was noticeably below the average annual gain over the preceding four years. But taking the longer view, growth in labor productivity over the past five years has averaged 3¼ percent per year, nearly ¾ percentage point faster than the already impressive gains posted between 1995 and 2000. Productivity appears to have received considerable impetus in recent years from a number of factors, including the rapid pace of technological change and the growing ability of firms to use information and other technology to improve the efficiency of their operations. Increases in the amount of capital per worker, especially high-tech capital, have also helped to spur productivity growth over the past few years, although apparently by less than was the case during the capital spending boom in the late 1990s."
House Subcommittee Holds Hearing on Electronic Payments System
2/15. The House Commerce Committee's (HCC) Subcommittee on Telecommunications and the Internet held a hearing titled "The Law and Economics of Interchange Fees".

Former Federal Trade Commission (FTC) Chairman Timothy Muris (at right) testified against government regulation of the rates that merchants pay for access to the electronic payment infrastructure of the payment card networks. See, prepared testimony [PDF]. He now works for the law firm of O'Melveny & Myers, and represents the Electronic Payments Coalition.
Karen Kerrigan, head of the Small Business and Entrepreneurship Council, wrote in her prepared testimony [PDF] that the electronic payments system is beneficial to small businesses, and that government imposed price controls could harm small businesses through the reduced use of electronic payments.
Edmund Mierzwinsky, of the U.S. Public Interest Research Group, wrote in his prepared testimony [PDF] that banks engage in anticompetitive practices to collect billions of dollars of excessive interchange fees from merchants accepting credit or debit cards.
Henry Armour, head of the National Association of Convenience Stores, wrote in his prepared testimony [PDF] that "credit card companies charge about 5 cents in interchange on a gallon of gas". He said that these fees are "unfair", and that the market is "broken".
Library of Congress to Examine Digital Copying Under Section 108
2/15. The Library of Congress (LOC) published a notice in the Federal Register announcing that its Section 108 Study Group will hold two public round table meetings, in Washington DC and Los Angeles, California. The LOC notice further requests public comments regarding possible changes to Section 108 of the Copyright Act to address copying in digital media.
The notice does not mention Google by name, or any lawsuits for copyright infringement currently pending against Google. However, while the Section 108 Study Group is examining several issue areas, one of these relates to the Google Print for Libraries (GPL) program.
See, Federal Register, February 15, 2006, Vol. 71, No. 31, at Pages 7999-8002.
Background on Section 108. 17 U.S.C. § 108, titled "Limitations on exclusive rights: Reproduction by libraries and archives", provides exemptions from liability for infringement for libraries and archives. Section 108 applies to "libraries and archives" and employees acting within the scope of their employment. Neither Section 108, nor Section 101, the definitional section of the Copyright Act, define either "library" or "archive".
The Section 108 Study Group adopted a Mission Statement in May of 2005 that states that its purpose "is to conduct a reexamination of the exceptions and limitations applicable to libraries and archives under the Copyright Act, specifically in light of the changes wrought by digital media. The group will study how Section 108 of the Copyright Act may need to be amended to address the relevant issues and concerns of libraries and archives, as well as creators and other copyright holders. The group will provide findings and recommendations on how to revise the copyright law in order to ensure an appropriate balance among the interests of creators and other copyright holders, libraries and archives in a manner that best serves the national interest. The findings and recommendations will be submitted by mid-2006 to the Librarian of Congress." See, LOC release.
The LOC published in its web site a paper [32 pages in MS Word] titled "Overview of the Libraries and Archives Exception in the Copyright Act: Background, History, and Meaning". It is dated April 14, 2005.
Its authors are Mary Rasenberger (Policy Advisor for Special Programs in the Office of Policy and International Affairs of the Copyright Office and Office of Strategic Initiatives, LOC) and Chris Weston (Attorney-Advisor, Copyright Office and Office of Strategic Initiatives, LOC). Rasenberger and Weston are also identified on the LOC's notice in the Federal Register.
The paper contains a long and detailed history, and then concludes that "the provisions of section 108 were the product of extensive negotiations among the various interests, all prior to the full advent of digital media as we know it today".
The use of the word "full" in this sentence should not be overlooked. The Congress has addressed exemptions for libraries in the context of digital media.
Section 108 was amended by the Digital Millennium Copyright Act (DMCA). The debates leading up to enactment of the DMCA focused on digital copyright issues. Section 108 now includes three exemptions that apply to digital reproduction of copyrighted works. For example, subsection 108(b)(2) gives libraries permission to make digital reproductions for preservation purposes.
Also, the Library of Congress, as instructed by the DMCA, issued a report on updating the distance education exemption in the context of internet and digital media. This exemption is codified at 17 U.S.C. § 110(2). The LOC report recommended that the Congress pass legislation, which the Congress ultimately did. This was S 487 (107th Congress), the "Technology, Education, and Copyright Harmonization Act of 2001" (TEACH Act). It was enacted as a part of HR 2215 (107th Congress). It is now a part of Public Law No. 107-273. However, in the process, the Congress rejected efforts by the library lobby to expand Section 110(2) to include libraries.
There are provisions in the Copyright Act, and in the LOC's implementing regulations, that fail to provide any guidance for how those provisions apply to digital and internet based copying. But, Section 108 is not one of them. In is current form, it was written after the advent of digital media. However, it was written before the "full advent" of digital media, to the extent that it does not address certain manners of digital copying, such as Google's book scanning and search program.
Background on Google's Digital Copying. Google began as a company that provides web search. It now has a Google Print for Libraries (GPL) program that involves the scanning of books in the collections of five large libraries: University of Michigan (UM), Oxford, New York Public Library (NYPL), Harvard and Stanford.
The UM has stated that it will make available for scanning all books, including those under copyright. UM wrote in its web site that "We get a copy of the digital files with no significant constraints on our ability to use them in ways that are consistent with copyright law." Oxford and the NYPL have stated that they will allow Google to scan only those works that are in the public domain.
On October 19, 2005, five book publishing companies filed a complaint [35 pages in PDF] in U.S. District Court (SDNY) against Google alleging that its GPL infringes copyrights. The plaintiffs are McGraw Hill, Pearson Education, Penguin, Simon & Schuster, and John Wiley & Sons. All are members of the Association of American Publishers (AAP).
See also, story titled "Major Book Publishers Sue Google for Digitizing Copyrighted Books" in TLJ Daily E-Mail Alert No. 1,237, October 20, 2005. This case is McGraw Hill Companies, Inc., Pearson Education, Inc., Penguin Group (USA) Inc., Simon & Schuster, Inc. and John Wiley & Sons, Inc. v. Google Inc., U.S. District Court for the Southern District of New York, D.C. No. 05-CV-8881.
On September 20, 2005, the Author's Guild and others filed a similar complaint in the same District Court against Google alleging copyright infringement in connection with the same GPL. The plaintiffs in that action seek class action status. See, stories titled "Author's Guild Sues Google for Copyright Infringement" in TLJ Daily E-Mail Alert No. 1,218, September 21, 2005, and "University Publishers Accuse Google of Systematic Infringement of Copyright on a Massive Scale" in TLJ Daily E-Mail Alert No. 1,142, May 25, 2005.
Neither the UM, nor the other libraries, are named as defendants.
See also, story titled "Google, Publishers and Authors Debate Google's Print for Libraries Program" in TLJ Daily E-Mail Alert No. 1,239, October 25, 2005.
LOC Seeks Comments on Google Type Programs. The LOC notice asks for comments on questions regarding whether the library partners of Google should qualify for Section 108 immunity, and whether Google itself should qualify.
For example, the LOC notice asks, "Should non-physical or ``virtual´´ libraries or archives be included within the ambit of section 108?"
The library partners of Google are not providing the digitization and organization of their works. They are outsourcing this to Google. Although, they will receive digital copies. Hence, the LOC notice asks, "How can the issue of outsourcing be addressed? Should libraries and archives be permitted to contract out any or all of the activities permitted under section 108? If so, under what conditions?"
The notice also asks, "Should further definition of the terms ``libraries´´ and ``archives´´ (or other types of institutions) be included in section 108, or additional criteria for eligibility be added to subsection 108(a)?" It also asks "Are there other types of institutions that should be considered for inclusion in section 108?"
It also asks, "Should eligible institutions be limited to nonprofit and government entities for some or all of the provisions of section 108?"
Web Site Copying. Another issue addressed by the LOC notice is copying of entire web sites, and software associated with the operation of the web site, without authorization of the copyright holder.
The notice asks, "should a special exception be created to permit the online capture and preservation by libraries and archives of certain website or other online content?"
It also asks "If libraries and archives are permitted to capture online content, should there be any restrictions on public access?"
Finally, it asks, "Should there be an opt-out provision, whereby an objecting site owner or rights-holder could request that a particular site not be included?" The notice does not inquire about opt-in programs.
Dates and Deadlines. On March 8, 2006, from 8:30 AM - 4:00 PM PST, the LOC's Section 108 Study Group will hold the first of two round table meetings at the UCLA School of Law, Room 1314, Los Angeles, California.
On March 16, 2006, from 9:00 AM - 4:30 PM, the LOC's Section 108 Study Group will hold the second of two round table meetings in Room 2237 of the Rayburn Building on Capitol Hill.
Public comments are due by 5:00 PM on April 17. The LOC also asks that comments not be submitted until March 17. That is, it does not want to receive written comments before the two round table meetings.
More News
2/15. The House Homeland Security Committee held a hearing titled "The State of Interoperable Communications: Perspectives from the Field". See, prepared testimony [PDF] of Casey Perry (National Troopers Coalition), prepared testimony [PDF] of Tim Bradley (National Volunteer Fire Council), prepared testimony [PDF] of Diane Linderman (American Public Works Association), prepared testimony [PDF] of William Moroney (United Telecom Council), and prepared testimony [PDF] of William Pinsky (American Hospital Association).
---
FCC Rulemaking Proceeding on CPNI May Extend to Internet Protocol Services
2/14. The Federal Communications Commission (FCC) released the text [34 pages in PDF] of its Notice of Proposed Rulemaking (NPRM) that addresses the practice of pretexting to obtain consumers' confidential phone records. The FCC adopted and announced this NPRM on February 10, 2006. The NPRM, but not the FCC's February 10 release [PDF], discloses that the FCC may expand its regulation of phone number privacy to include regulation of internet protocol (IP) enabled service providers, including voice over internet protocol (VOIP) service providers, e-mail service providers, instant messaging services, online gaming, and web browsing. The scope of the underlying statute is limited to "telecommunications carriers". See, full story.
USTR Release Report on Trade with China
2/14. The Office of the U.S. Trade Representative (USTR) released a report [29 pages in PDF] titled "U.S.-China Trade Relations: Entering a New Phase of Greater Accountability and Enforcement: Top-to-Bottom Review".
Rob Portman, the USTR, wrote in a release summarizing the report that "Despite three consecutive years of growing U.S. exports to China, our bilateral trade relationship with China today lacks equity, durability and balance in the opportunities it provides ... The time has come to readjust our trade policy with respect to China."
The report states that "there is concern that the U.S.-China trade relationship lacks balance in opportunity, as well as equity and durability, with China's focus on export growth and developing domestic industries not being matched by a comparable focus on fulfilling market opening commitments and on the protection of intellectual property and internationally recognized labor rights."
It states that "Specific U.S. concerns include: continued Chinese barriers to some U.S. exports; failure to protect intellectual property rights" and "unreported and extensive government subsidies and preferences for its own industries".
It finds that "For the past 20 years, U.S. trade policy was focused principally on encouraging market-based reforms in China and bringing China into the international trading system." It recommends that now "U.S. trade resources and priorities should be readjusted to meet new challenges. Specifically, in addition to strengthening our current focus on China's WTO compliance and adherence to international norms, this report urges that more focus be put on ensuring that: (1) the bilateral trade relationship offers more balanced opportunities and is equitable and durable; (2) U.S. trade policymaking is more proactive and informed by more comprehensive information regarding China's economic trends and developments and stronger coordination within the Executive branch and between the Executive and Congressional branches; (3) China participates more fully in the global trading system as a responsible trading partner; ..."
The report also identifies a number of actions to be take by the Bush administration, including "Expanding U.S. trade policy and negotiating capacity in Beijing and other resources in China to more effectively pursue top priority issues, especially the protection of intellectual property rights", and "Increasing coordination with other trading partners on China trade issues of common interest, such as enforcement of intellectual property rights".

The USTR Portman (at right) also sent a letter [2 pages in PDF] to Rep. Charles Rangel (D-NY), the ranking Democrat on the House Ways and Means Committee.
He wrote that "Chinese exporters have benefited enormously from the openness of the U.S. market -- more than U.S. exporters have benefited from China's WTO accession. The disparity in opportunities is due in part to China's failure to honor certain commitments, including its failure to enforce intellectual property rights, its protection and support for certain domestic industries, and its refusal to fulfill certain market opening commitments, which have contributed to the record bilateral trade deficit."
Portman continued that "I believe we require a more vigorous enforcement effort with respect to China, and the dedication of resources to make such an effort effective. To that end, the report announces the creation of a China Enforcement Task Force at USTR, headed by a new Chief Counsel for China Trade Enforcement. Although unprecedented at USTR, I believe this kind of dedicated, country-specific enforcement team is needed to improve China's compliance with it obligations."
Sen. Charles Grassley (R-IA), the Chairman of the Senate Finance Committee (SFC), stated in a release that "I welcome today's report. There's a growing impatience in Congress with China's slowness in addressing key issues, such as currency reform and the enforcement of intellectual property rights. More and more, members are introducing legislation to deal with these and other issues. I've said that I'll refrain from endorsing any specific legislation on China until the results of the top-to-bottom review are released. I'm in the process of evaluating various ideas to develop a comprehensive legislative approach for enhancing our trade relations with China and the rest of the world. The top-to-bottom review will be an important resource for me as I consider the direction to take."
He concluded that "The key point is that China must live up to its commitments and to its responsibilities as a major beneficiary of the global trading system. Any legislation that I endorse will be based on this guiding principle. U.S. farmers, manufacturers, and service providers deserve to enjoy the full benefits of a mature trade relationship with China."
Sen. Grassley also stated that he will question USTR Portman about this report at the SFC hearing scheduled for 10:30 AM on Thursday, February 16, 2006.
More News
2/14. Federal Communications Commission (FCC) Chairman Kevin Martin gave a speech [2 pages in PDF] in Washington DC at a convention of the Association of Public Television Stations. He praise public television stations for broadcasting information related to Hurricane Katrina.
---
Sen. Stevens Discusses State and Local Regulation and Franchising
2/13. Sen. Ted Stevens (R-AK) gave a speech in Washington DC to the National Association of Regulatory Utility Commissioners (NARUC). He suggested that on some subjects, state and local regulation and franchising raise the cost of providing services, delay competition, and harm consumers, and "border on extortion".
But, he told his audience of state and local regulators, "I do hope that I don't cause you too much consternation".
Sen. Stevens, who is the Chairman of the Senate Commerce Committee (SCC), said that "Communications industries across the board have complained that the patchwork of American laws created by 50 state legislatures, 50 state PUCs, 30,000 franchise authorities, and even more municipalities -- not to mention Congress and the FCC -- make it nearly impossible to enter this business.
He said that "In the video marketplace there are 50,000 communities with cable franchises and 30,000 franchise authorities. Verizon recently told me it takes about a year to negotiate one of these agreements. If one franchise agreement is signed each day, it will still take 40 years and tens of millions of dollars to complete the franchising process."

Sen. Stevens concluded that "When new entrants have to negotiate with 30,000 franchising authorities, competition is delayed and consumers pay the price."
He continued that "Some cities have required cable operators to build playgrounds, fix street lights, and install traffic signals in order to get a franchise. Such demands border on extortion and ought not be permitted as part of any negotiation. Other cities have demanded a large number of public channels -- up to 14 in some cases. To me that hardly makes sense when even New York City has only four or five."
The SCC will hold a hearing titled "State and Local Issues and Municipal Networks" at 10:00 AM on Tuesday, February 14. It will hold a hearing titled "Video Franchising" at 10:00 AM on Wednesday, February 15.
Sen. Stevens also addressed state regulation under the rubric of consumer protection. He said that "One option our Committee has discussed with your leadership is the idea of creating Joint Boards to work out common national standards on key issues. A Joint Board made up of the FCC and state regulators could develop a national standard outlining how cell phone bills should be printed. The FCC could adopt the standard but leave it to the states to enforce it at the local level."
He also discussed VOIP services. "The FCC has already taken the position that VoIP -- Voice over Internet Protocol -- is an interstate service and should be regulated at the federal level. That decision could be reversed by the Courts, so Congress may have to clarify exactly how VoIP should be regulated. Our VoIP hearing will explore this issue and how consumers and providers can be protected at the same time."
Sen. Stevens also discussed proposals to extending universal service subsidies to broadband, and intercarrier compensation.
WTO Appellate Body Upholds Panel Report on AJCA
2/13. The Appellate Body of the World Trade Organization (WTO) released a report [47 pages in PDF] titled "United States -- Tax Treatment for ``Foreign Sales Corporations´´ Second Recourse to Article 21.5 of the DSU by the European Communities". It upholds the September WTO panel report that found that certain provisions of the American Jobs Creation Act of 2004 (which is also known as the Jobs Act and AJCA) still constitute illegal export subsidies in violation of the US's WTO obligations.
This is a long running set of proceedings. Previously, a WTO dispute settlement body (DSB) found fault with the Foreign Sales Corporation (FSC) and Extraterritorial Income (ETI) tax regimes. The Congress enacted the AJCA in 2004. The AJCA repealed the FSC/ETI provisions of US law, but also included transitional language, and some grandfathering. The EU again complained to the WTO.
See, WTO's September report [34 pages in PDF]. See also, story titled "WTO Concludes AJCA Still Violates DSB's FSC/ETI Rulings" in TLJ Daily E-Mail Alert No. 1,225, October 3, 2005.
Among the possible consequences of this is that the EU might impose retaliatory tariffs that would adversely impact trade between the U.S. and Europe, including technology related trade.
Specifically, the Appellate Body just found as follows:
"(a) upholds the Panel's finding, in paragraph 7.87 of the Panel Report, that Section 5(c)(1)(B) of the FSC Repeal and Extraterritorial Income Exclusion Act of 2000, grandfathering prohibited FSC subsidies, was within its terms of reference176; and
(b) upholds the Panel's finding and conclusion, in paragraphs 7.65 and 8.1 of the Panel Report, that "to the extent that the United States, by enacting Section 101 of the American Jobs Creation Act of 2004, maintains prohibited FSC and ETI subsidies through [the] transitional and grandfathering measures, it continues to fail to implement fully the operative DSB recommendations and rulings to withdraw the prohibited subsidies and to bring its measures into conformity with its obligations under the relevant covered agreements."
Sen. Charles Grassley (R-IA) stated in a release that "I've said many times how disappointed I am by the European Commission's insistence on perpetuating this dispute. The United States Congress worked for years to come into compliance with our WTO obligations. And, the Europeans seemed to have appreciated and accepted our compliance efforts on FSC/ETI. That's until we raised the issue of Airbus subsidies in the WTO. Their blatant linkage of WTO disputes is a dangerous precedent."
He added that "I'm not the only one who feels this way. I understand that few in the European business community favor perpetuation of this dispute or any resumption of trade sanctions, especially now when we're trying to work together to enhance U.S.-EU cooperation both bilaterally and within the World Trade Organization. I want to underscore this point. If sanctions are resumed, they'll only disrupt our bilateral economic relations. I doubt Congress will revisit this legislation. That's especially so since the two-year transition is over at the end of this year. After that, any benefits from the grandfathering provisions will be small. I hope the Europeans will reconsider their decision to re-authorize sanctions. The Airbus/Boeing disputes will be decided on their own merits. There's just no reason to aggravate tensions by dragging FSC/ETI on any longer."
People and Appointments
2/13. Marvin Barth was named Chief Economist for International Affairs and Director of Research and Risk Analysis at the Department of the Treasury. See, Treasury release.
2/13. President Bush nominated James Lambright to be President of the Export-Import Bank of the U.S. for the remainder of a four-year term expiring January 20, 2009. He is currently the acting President. See, White House release and release.
2/13. President Bush announced his intent to appoint Oliver Baker (Jefferson Lab), Sally Mason, Robert Moore (professor of psychiatry and neuroscience at the University of Pittsburgh), and Harvey Rosen (economics professor at Princeton University) to be members of the President's Committee on the National Medal of Science, for the remainder of three year terms expiring on December 31, 2008. See, White House release.
2/13. President Bush nominated Donald DeGabrielle to be the U.S. Attorney for the Southern District of Texas for a term of four years. See, White House release.
More News
2/13. The Securities and Exchange Commmission (SEC) announced that it has extended to March 10, 2006, the deadline for companies to join the SEC's interactive data test group. See, SEC release.
2/13. The Government Accountability Office (GAO) released a report [57 pages in PDF] titled "Information Technology: Agencies Need to Improve the Accuracy and Reliability of Investment Information".
2/13. The Government Accountability Office (GAO) released a report [160 pages in PDF] titled "Media Contracts: Activities and Financial Obligations for Seven Federal Departments". The GAO examined contracts at the Department of Commerce, Department of Defense, Department of Health and Human Services, Department of Homeland Security, Department of the Interior, Department of the Treasury, and Department of Veterans Affairs. It found that these seven departments have entered into "343 media contracts, for which they incurred obligations of $1.62 billion, from fiscal year 2003 through the end of the second quarter, fiscal year 2005. The most contracts were with advertising agencies".
---