News from November 21-25, 2004
---
FTC Finds No COPPA Violation by Amazon
11/24. Federal Trade Commission (FTC) wrote a letter [3 page PDF scan] to the Electronic Privacy Information Center (EPIC) and others stating that Amazon has not violated the Children's Online Privacy Protection Act (COPPA), as previously alleged by the EPIC and others.
The FTC wrote that "After careful review of the relevant websites and other information, it appears to the Commission staff that the ``Toy Store´´ portion of the Amazon website is not directed to children and that Amazon is not collecting information from visitors with actual knowledge that they are children under 13. Accordingly, the FTC staff has determined not to recommend that the Commission take formal action in response to your complaint."
The COPPA, which is codified at 15 U.S.C. § 6501 through § 6506, and the FTC's rules thereunder, bar the operators of web sites that are targeted at children from collecting personally identifiable information from children under 13 without parental consent.
On April 22, 2003, the EPIC, and other groups, submitted a complaint to the FTC. See, story titled "EPIC Asserts Amazon Product Reviews Violate COPPA" in TLJ Daily E-Mail Alert No. 646, April 22, 2003.
This complaint asserted that Amazon's "Toy Store" is targeted at children. The information collected by Amazon that the complaint alleged violates the statute is online product reviews that are authored by children.
Amazon does not have a web form with fields for personal information. Rather, it allows users to write product reviews. The FTC also noted that Amazon requests that product reviewers not include their e-mail addresses or names. Some children post product reviews, and contrary to Amazon's instructions, include personal information. Amazon personnel remove these.
The FTC wrote that while the Amazon web site includes a "Toy Store", it is directed at adults who buy toys for children. The FTC reached this conclusion after reviewing the language, vocabulary, and activities in the web section.
The FTC letter was signed by Mary Engle, Associate Director.
FCC News
11/24. The Federal Communications Commission (FCC) extended from December 7, 2004 to December 21, 2004, the deadline to submit reply comments in response to its Notice of Proposed Rulemaking and Declaratory Ruling (NPRM & DR) [100 pages in PDF] regarding imposing Communications Assistance for Law Enforcement Act (CALEA) obligations upon broadband internet access services and voice over internet protocol (VOIP). This NPRM is FCC 04-187 in ET Docket No. 04-295. The FCC adopted this NPRM at its August 4, 2004 meeting, and released it on August 9. See, story titled "Summary of the FCC's CALEA NPRM" in TLJ Daily E-Mail Alert No. 960, August 17, 2004. See, notice in the Federal Register, September 23, 2004, Vol. 69, No. 184, Pages 56976 - 56987, and notice of extension [PDF].
11/24. Federal Communications Commission (FCC) Chairman Michael Powell commented on the FCC's completion of Auction 37, the FCC's first open auction of FM radio spectrum. He stated in a release [PDF] that "We are in new territory with this groundbreaking auction, introducing new owners into the radio market and bringing increased diversity through new FM radio stations to cities and towns that have not had their own local stations. By placing small businesses on equal footing with other bidders at the auction stage, our policies ensure that more owners have the opportunity to become pioneers in the dynamic media marketplace."
11/24. Federal Communications Commission (FCC) Chairman Michael Powell commented on the one year anniversary of the institution of local wireless number portability. He stated in a release that "One of the primary reasons for the great success of the mobile telephone industry has been competition, and wireless LNP has stimulated competition on wireless carriers providing quality service and greater consumer choice." See also, FCC release [PDF].
IP News
11/24. The U.S. Patent and Trademark Office (USPTO) published a notice [PDF] in its web site regarding increases in patent fees, pursuant to the HR 4818, the omnibus appropriation bill, that was approved by the House and Senate on November 20, 2004. President Bush has not yet signed the bill into law. See also, story titled "Congress Approves Omnibus Appropriations Bill" and story titled "Appropriations Bill Provides $1.54 Billion for USPTO, Temporary Fee Increases, But No End to Diversion" in TLJ Daily E-Mail Alert No. 1,023, November 22, 2004. The USPTO notice states that "The Consolidated Appropriations Act, 2005, will take effect on the date it is signed by the President. The USPTO anticipates the Consolidated Appropriations Act, 2005, to be enacted sometime in the near future."
11/24. PCTEL, Inc. and 3Com Corporation announced that they have settled their patent litigation pertaining to modem technology. The companies stated that "Pursuant to the settlement, PCTEL and 3Com will each receive a license to the other company's modem technology patents that were asserted in the litigation. Also, as part of the settlement, 3Com has agreed to business arrangements with PCTEL regarding certain wireless software and antennas." See, 3Com release and similar PCTEL release.
---
House Approves Bill that Includes the Commercial Spectrum Enhancement Act
11/23. The House approved HR 5419, a composite bill that includes the "Commercial Spectrum Enhancement Act", the "ENHANCE Act", and the "Universal Service Antideficiency Temporary Suspension Act", on Saturday afternoon, November 20, 2004, by unanimous consent, without debate.
Rep. Fred Upton (R-MI), the Chairman of the House Commerce Committee's Subcommittee on Telecommunications and the Internet, introduced this bill earlier in the day. See, text of bill.
Title I of HR 5419 is titled the "Ensuring Needed Help Arrives Near Callers Employing 911 Act of 2004" or "ENHANCE 911 Act". Rep. Chip Pickering (R-MS), the Vice-Chairman of the House Commerce Committee, stated in the House that this bill will "improve, enhance, and promote the Nation's homeland security, public safety, and citizen activated emergency response capabilities through the use of enhanced 911 services". He added that it will "further upgrade Public Safety Answering Point capabilities and related functions in receiving E-911 calls" and "support in the construction and operation of a ubiquitous and reliable citizen activated system". See, Congressional Record, November 20, 2004, at Page H10219.
Title II of the bill is the "Commercial Spectrum Enhancement Act". Rep. Pickering stated that this bill will "amend the National Telecommunications and Information Administration Organization Act to facilitate the reallocation of spectrum from governmental to commercial users".
See also, HR 1320, also titled the "Commercial Spectrum Enhancement Act". The House passed its version of HR 1320 on June 11, 2003. See, story titled "House Passes Commercial Spectrum Enhancement Act" in TLJ Daily E-Mail Alert No. 679, June 12, 2003. The Senate Commerce Committee passed its version of HR 1320 on June 26, 2003. The Senate version included a provision exempting from auction spectrum for fixed terrestrial services in the 12.2-12.7 GHz band, also known as the NorthPoint amendment. (This amendment is not in HR 5419.) See, story titled "Senate Commerce Committee Approves Commercial Spectrum Enhancement Act" in TLJ Daily E-Mail Alert No. 689, June 27, 2003.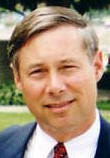 HR 1320, which is also sponsored by Rep. Upton (at right), changes the process for reallocating spectrum from federal users to commercial users, such as wireless broadband services. For example, the Department of Defense (DOD) currently uses spectrum in the 1710-1755 MHz band. The National Telecommunications and Information Administration (NTIA) and Federal Communications Commission (FCC) have identified this band for reallocation. The DOD will incur expenses to relocate to other spectrum bands. The bill creates a Spectrum Relocation Fund, funded by auction proceeds, to compensate federal agencies for the cost of relocating. The bill replaces the current role of the House and Senate Appropriations Committees.
Bruce Josten of the U.S. Chamber of Commerce praised the House action. He wrote in a release that "Opening up more spectrum is good for business and good for our economy ... Releasing these licenses will open the gates of investment into the ailing telecommunications market, create tens of thousands of jobs, and benefit American consumers."
Title III of the bill is the "Universal Service Antideficiency Temporary Suspension Act". Rep. Pickering stated that this bill will "provide that funds received as universal service contributions under section 254 of the Communications Act of 1934 and the universal service support programs established pursuant thereto are not subject to certain provisions of title 31, United States Code, commonly known as the Antideficiency Act".
Also on November 20, Rep. Ed Markey (D-MA) introduced HR 5420, which addresses the Antideficiency Act issue.
On November 23, the Leadership Council on Civil Rights (LCCR) issued a statement, and the American Library Association (ALA) issued a statement, urging the Senate to approve HR 5419 and HR 5420, on the grounds that they will exempt the schools and libraries e-rate subsidy program from the Antideficiency Act. The LCCR and ALA state that these bills will "get the funds flowing again".
Meanwhile, on November 23, the Federal Communications Commission (FCC) announced in a release [PDF] that its Universal Service Administrative Company (USAC), which administers the FCC's e-rate subsidy program, has "approved $24.2 million in new funding for projects and services", and sent 194 commitment letters on Monday, November 22, 2004 to schools and libraries receiving funding.
The FCC added that the "USAC had issued $764 million in commitment letters for funding year 2004 before new letters were suspended in August. Letters to be sent near the end of November will be for additional Funding Year 2004 commitments that have been approved for funding and for which cash is available. Additional Funding Year 2004 commitments will be issued in the future as money is available."
FCC Fines Viacom $3.5 Million
11/23. The Federal Communications Commission (FCC) released an Order and Consent Decree [12 pages in PDF] that resolves all but one of the FCC's proceedings relating to alleged violation of the indecency statute and rules by Viacom, including its subsidiaries CBS Broadcasting, UPN, and Infinity Broadcasting, and their subsidiaries and affiliated entities.
It provides that "Viacom will make a voluntary contribution to the United States Treasury" of $3,500,000.00. It further provides that "Viacom will adopt and implement a company-wide compliance plan for the purpose of preventing the broadcast of material in violation of the Indecency Laws". And, it states that "Viacom will purchase and install, for use in connection with its owned television stations and the CBS and UPN Television Networks, delay systems" and "audio delay equipment" for radio broadcasting.
This does not terminate the FCC's proceeding regarding the broadcast on February 1, 2004 of a halftime performance by Janet Jackson and others during a football game.
FCC Commissioner Michael Copps wrote in a separate statement [PDF] that "I am concerned about the effect of today's decision on the Commission's license renewal process. The totality of a broadcasters' record is pertinent and should be considered when licenses are renewed. Today's decision takes an entire part of the record off the table." See also, FCC release [PDF], separate statement [PDF] by Commissioner Kevin Martin and separate statement [PDF] by Commissioner Jonathan Adelstein.
People and Appointments
11/23. CompTel/ASCENT announced that Russell Frisby will step down as CEO in 2005, remaining until a successor is found. See, release.
11/23. John Swainson was named P/CEO of Computer Associates International. He was also elected to the Board of Directors. He previously worked for IBM. See, CA release.
More News
11/23. The Federal Communications Commission (FCC) released its Report and Order and Further Notice of Proposed Rulemaking (FNPRM) [54 pages in PDF] regarding the children's programming obligations of digital television broadcasters. The FCC announced, but did not release, this item at its meeting back on September 9, 2004. This item is FCC 04-221 in MM Docket 00-167. It states that comments are due by March 1, 2004, and that reply comments are due by April 1, 2004. See, story titled "FCC Adopts Report and Order Re Children's Programming Obligations of DTV Broadcasters" in TLJ Daily E-Mail Alert No. 975, September 13, 2004.
---
FCC to Fine Seller of Unauthorized Radio Transmitters
11/22. The Federal Communications Commission (FCC) released a Notice of Apparent Liability for Forfeiture (NAL) [7 pages in PDF] against Pilot Travel Centers for apparently willfully and repeatedly offering for sale radio frequency devices without the required FCC equipment authorizations. This NAL proposes to fine Pilot $125,000.
Pilot sells Amateur Radio Service (ARS) transmitters that are easily converted by consumers into Citizens Band (CB) radio transmitters. Radio frequency devices that transmit solely on ARS frequencies are not subject to FCC equipment authorization requirements prior to manufacture or marketing. However, CB radios are subject to equipment authorization requirements. Moreover, the FCC's rules provide that CB radios include "a transmitter that operates or is intended to operate at a station authorized in the CB".
The FCC issued numerous citations to Pilot over several years. Pilot continued to market its devices. The NAL also notes that "The proliferation of non-certified CB transmitters may result in interference to certified CB transmitters and other devices, thereby undermining the effectiveness of our technical rules."
Pilot is a travel center business, not a business that focuses on consumer electronics. That is, its retail operations, which are located on major highways, provide gas, meals, groceries, and services, including internet kiosks, check cashing, money orders, laundry, game rooms, pay phones with data ports, wireless internet, audio book rentals, Western Union, and pre-paid phone cards.
On October 28, 2004, the FCC's Enforcement Bureau (EB) released an Order and Consent Decree [8 pages in PDF] that fines TON Services, Inc. $40,000 for violating the universal service reporting and contribution requirements of 47 U.S.C. § 254, and the FCC's rules thereunder. TON Services does not focus telecommunications. It provides services to truck drivers and other travelers. It provides load/equipment posting, freight matching, advertising services, truck insurance, flower bouquet ordering, and other truck driver related services. It also provides access to pre-paid calling cards, payphones, WiFi access and data jacks at truck stops.
This NAL is FCC 04-272. The FCC adopted this item on November 18, 2004, and released it on November 22, 2004. See also, FCC release [PDF].
New European Commissioners Take Office
11/22. The Council of the European Union appointed the President and Members of the Commission of the European Communities, effective November 22, 2004. See, list [PDF].
José Barroso was appointed President.
Neelie Kroes was appointed to replace Mario Monti as Commissioner for Competition Policy. She is a member of the Liberal Party in the Netherlands.

Kroes (at left) gave a speech [9 pages in PDF] on her appointment in which she stated that "New economies are emerging quickly; new technologies mean our network economy moves ever quicker. We need to ensure that Europe can retain and increase its competitive edge. Based on the triangle of knowledge, entrepreneurship and access to finance, innovation and competition can take on new dimensions to meet these challenges. I want to ensure that European rules allow all three elements of this triangle to flourish."
She also said that "I think more should be done to remove obstacles to competition in recently liberalised sectors, such as telecommunications, postal services, energy and transport, and to stimulate innovation and new ideas."
Peter Mandelson was appointed to replace Pascal Lamy as Commissioner for Trade. He is from the United Kingdom, and is a member of the Tony Blair's Labour Party.

Mandelson (at right) gave a speech on October 4, 2004 in which he stated that "If confirmed, I hope to achieve the following ... First and foremost, complete the Doha Round: to open markets for industrial goods, services and agriculture, including between developing countries. In the face of globalisation, the Round should make trade's rule book fair for all, integrate development goals into trade policies, and benefit the poor. The Hong Kong ministerial must make a critical advance."
He also addressed the "transatlantic agenda". He said that "We should find new ways to move forward by reducing the scope for conflict between our regulatory approaches and by forging closer cooperation. There is no more important partnership for the world's prosperity and security than that between Europe and America. We need to strengthen it further. We need dialogue between EU and US civil society, and I intend to be a good listener. I will do all I can to manage and resolve the inevitable disputes, so that they do not undermine the wider relationship."
Viviane Reding was appointed to replace Erkki Liikanen as Commissioner for Information Society. She is from Luxembourg.
---
More News
11/21. President Bush signed HJRes 114, which makes continuing appropriations for FY 2005 through December 2, 2004. See, White House release.
11/21. Hewitt Pate, Assistant Attorney General in charge of the Antitrust Division, gave a speech in Sydney, Australia titled "International Anti-Cartel Enforcement". He said that collusive behavior is "the supreme evil of antitrust" and "our core priority". He discussed U.S. anti-cartel enforcement, convergence of amnesty programs, and criminalization of conduct by individuals and corporations.
---