11/14. President Obama nominated Valerie Caproni to be a Judge of the U.S. District Court (SDNY). See, White House news office release and release.
Summary of this article:
Introduction.
Caproni's Biography.
FBI Violation of Surveillance Laws on Caproni's Watch.
2010 House Judiciary Committee Hearing.
Rep. John Conyers on Caproni.
Rep. Jim Sensenbrenner on Caproni.
Caproni Seeks CALEA Regulation of Facebook and Twitter.
Caproni's Written Record.
Senate Confirmation Process.
Analysis.

Introduction. Caproni (at right) was General Counsel of the Department of Justice's (DOJ) Federal Bureau of Investigation (FBI) from 2003 through 2011. She presided over the FBI's Office of General Counsel (OGC) while the FBI engaged in the illegal surveillance activities that the DOJ's Office of the Inspector General (OIG) disclosed in three reports released in 2007, 2008 and 2010.
The DOJ/OIG surveillance reports are as follows:
January 20, 2010 redacted report [306 pages in PDF] titled "A Review of the Federal Bureau of Investigation's Use of Exigent Letters and Other Informal Requests for Telephone Records",
March 13, 2008, report [PDF] titled "A Review of the FBI's Use of National Security Letters: Assessment of Corrective Actions and Examination of NSL Usage in 2006",
March 9, 2007, report [PDF] titled "A Review of the Federal Bureau of Investigation's Use of National Security Letters",
Caproni was responsible for the training of FBI special agents on use of the statutes authorizing surveillance, and overseeing legal compliance with the law. For years, during her tenure, FBI agents systematically and blatently violated surveillance laws. Moreover, the FBI issued hundreds, and perhaps thousands, of letters, which the FBI named "exigent letters", to phone companies to acquire records, without any statutory authority at all. To date, Caproni and other DOJ and FBI officials have escaped pubic disclosure of the nature and extent of their involvement in this illegal surveillance.
Her role has not been publicly disclosed. Hypothetically, she could have could have identified and counseled against the violations as they occurred, but was overridden by more senior officials, and kept her opposition within the DOJ and FBI, even when she testified before Congress. At the other extreme of possibilities, she could have been the architect of the illegal surveillance practices identified by the DOJ/OIG, and others.
Ordinarily, someone who has presided over the systematic violation of federal law is a more viable candidate for a prison cell than a federal judgeship. On the other hand, there are terrorists bent on destroying the US by violence, and the FBI is one of the agencies tasked with detecting and disrupting their plans via surveillance. Many in law enforcement, intelligence, and the Congress believe that too many legal restraints are imposed on the good work of dedicated law enforcement and intelligence professionals. Many probably do not care if an otherwise law abiding official has violated surveillance laws to protect her country, and would therefore support, or at least not oppose, her appointment to the District Court.
Most of Caproni's work at the FBI is not a matter of public record. However, there is a record of her efforts late in her tenure at the FBI to have the 1994 Communications Assistance for Law Enforcement Act (CALEA) expanded to cover new information technology services, such as Facebook and Twitter. The FBI's CALEA proposals, always vague and fluctuating, would have a devastating economic impact upon service providers, deaden innovation, create new security risks, and reduce privacy.
The FBI and other law enforcement and intelligence agencies have long supported various expansions of the CALEA. The Congress has constantly balked. However, the Federal Communications Commission (FCC), by administrative fiat, essentially rewrote the statute in 2005 to include facilities based broadband service providers and interconnected VOIP providers.
Caproni's Biography. Caproni is currently Deputy General Counsel at Northrop Grumman Corporation. While Northrop Grumman is best know for making aircraft and missiles, it also provides communications equipment, systems and services. Its web site states that is makes "networked communications products", "intelligence, surveillance and reconnaissance systems", and "911 public safety systems". (Northrop Grumman did not promptly respond to inquiries from TLJ.)
She has connections to the Southern District of New York (SDNY), the judicial district for which she has been nominated, but not of the extent that is typical of District Court nominees. She grew up in Georgia, went to college in Louisiana at Tulane, went to law school at the University of Georgia, and clerked for a judge of the U.S. Court of Appeals (11thCir), which includes Georgia.
She then worked as an associate at Cravath Swain in New York City, in several positions in the U.S. Attorneys Office for the EDNY, and as General Counsel of New York state's Urban Development Corporation (now known as the Empire State Development) in the 1980s and 1990s.
She then headed the Securities and Exchange Commission's (SEC) Pacific states office in San Francisco, California. She was hired, not because of any securities law expertise, but to bring her prosecutorial background to bolster coordination between the DOJ and SEC on criminal and civil enforcement. She then briefly worked at Simpson Thacher & Bartlett in New York City, before becoming General Counsel of the FBI in Washington DC for eight years.
Her stints in the private sector have been short, but this is not uncommon for District Court nominees. Moreover, these private sectors jobs -- Cravath Swain just after an Appeals Court clerkship, Simpson Thacher just after the SEC job, and Northrop Grumman just after the FBI job -- is consistent with the common practice of persons with senior governmental careers in taking brief high paying private sector jobs to supplement lower paying government incomes.
Many District Court nominees have judicial experience either as a state court judge, or a federal magistrate judge. Indeed, at the same time that President Obama nominated Caproni, he also nominated Analisa Torres, who has been a New York state judge since 2000, to be a judge of the SDNY.
Many District Court nominees have significant experience as trial lawyers. But, Caproni does not fit this mold either. Caproni's career most resembles another common path to appointment to the District Court -- that of career federal prosecutor.
Caproni's most significant criminal case was the 1996-7 prosecution of Lemrick Nelson in the EDNY for violation of federal civil rights laws. Nelson had killed Yankel Rosenbaum in 1991 during a race riot in the Crown Heights neighborhood of Brooklyn, New York. He was tried, but acquitted of murder in state court, before Caproni headed a second prosecution in federal court. Caproni's trial ended with a verdict of guilty. However, that verdict was vacated. Nelson was tried again, with a different prosecutor, found guilty, and served 10 years in prison.
The most significant SEC west coast enforcement action during Caproni's tenure involved the Mark Jakob Emulex internet news release fraud. See, SEC release and release, and story in TLJ Daily E-Mail Alert No. 11, September 1, 2000. The DOJ also criminally prosecuted Hart. And, there was class action litigation. See, complaint and story, TLJ, September 5, 2000.
A member of Sen. Kirsten Gillibrand's (D-NY) office told TLJ that Sen. Gillibrand and Sen. Charles Schumer (D-NY) alternate in selecting District Court nominees for judicial districts in the state of New York, and that Caproni was Sen. Gillibrand's pick.
This staffer added that "Senator Gillibrand has prioritized putting more women on the bench".

Sen. Gillibrand (at right) stated in a release that "Valerie Caproni and Judge Torres are both highly experienced and exceptional legal minds ... Their breadth of experience and knowledge make them ideal to serve on the federal bench. Both are fair-minded women dedicated to public service. I am confident they would serve with the highest integrity."
The SDNY is home to many large corporations, financial institutions, and exchanges. Hence, it is the forum for many major commercial cases. Some attorneys include New York forum selection clauses in contracts. The SDNY has also been the forum for some major criminal prosecutions of terrorists.
It might be noted that there is also a federal body, created by 50 U.S.C. § 1803, titled the "United States Foreign Intelligence Surveillance Court" or "FISA Court". It is made up of 11 U.S. District Court judges. However, the President has no authority to appoint its members. Rather, members are selected by the Chief Justice of the United States, who is currently John Roberts. However, Caproni's experience in surveillance might make her a candidate for appointment.
The FISA body does not have jurisdiction over cases or controversies. Rather, it merely has jurisdiction over one ancillary matter, "to hear applications for and grant orders approving electronic surveillance" under the FISA.
FBI Violation of Surveillance Laws on Caproni's Watch. The DOJ/OIG released three reports that disclosed long running, egregious and patently obvious disregard by the FBI for surveillance laws. (These reports did not also address whether or not other federal agencies ran an illegal wiretapping program. That issue has not been adjudicated, and the Congress gave retroactive civil and criminal immunity to the participating communications companies.)
These DOJ/OIG reports do not disclose the names of the communications companies that were parties to the violations. These reports do not attach copies of FBI opinion letters, memoranda or directives that approved, or purported to justify, any of these violations, or who wrote or approved these documents.
These reports add that the FBI did not even save many of the National Security Letters (NSLs) and "exigent letters" involved. So, while the DOJ/OIG found over 700 illegal "exigent letters", there may have been thousands.
The DOJ/OIG reports do not disclose the extent of Caproni's involvement and/or misconduct. However, the multitude of violations of law occurred while she was the chief legal officer and responsible for assuring compliance with surveillance laws.
One area where the DOJ/OIG found improper conduct was in the FBI's use of NSLs. NSL authority exists under federal statute. See, 18 U.S.C. § 2709. NSLs do not require a warrant or other prior court authorization, and hence, are inherently subject to abuse. They enable the DOJ's FBI to obtain records, including subscriber, billing and call records of phone companies and ISPs. NSLs also apply to libraries to the extent that they are providing an electronic communication service (ECS).
ECS is a term created by the 1986 Electronic Communications Privacy Act (ECPA), based upon technology as it existed prior to the enactment of the ECPA. The application of this and other 1986 terms to current technologies is no longer clear, and in the hands of FBI lawyers, is quite elastic and expansive. Indeed, many key provisions of the quarter century old ECPA are hopelessly vague in light of technologies developed since 1986. ECS is defined at 18 U.S.C. § 2510.
The statute provides that only certain high ranking DOJ officials can authorize NSLs. But, the OIG found "improper or illegal use" of NSLs by issuance without proper authorization.
NSLs can only be be issued for authorized information. But, the OIG found issuance with proper authorization but for information that was not authorized. The OIG also found improper requests, and unauthorized collectio of telephone and e-mail transaction records.
Another area where the DOJ/OIG found improper conduct was in the use of Section 215 authority. Section 215 of the 2001 USA PATRIOT Act rewrote Section 501 of the Foreign Intelligence Surveillance Act (FISA), which is codified at 50 U.S.C. § 1861. This is the section of the FISA that provides for "Access to Certain Business Records for Foreign Intelligence and International Terrorism Investigations".
This 215/501/1861 authority enables the FBI to obtain from a judge or magistrate an order requiring the production business records, including library and bookseller records.
This section further provides that if the government submits an application to the court that states that there are "reasonable grounds to believe that the tangible things sought are relevant to an authorized investigation", then the "judge shall enter an ex parte order as requested". This is a very low standard, and the judge is left with no discretion.
A third area where the DOJ/OIG found improper conduct by the FBI was in the use of "exigent letters" to obtain phone records from communications companies to, among other things, "target" reporters at the Washington Post and New York Times, which first reported the National Security Administration's (NSA) warrantless wiretap program. (See, report at pages 250-252.)
The NYT was the first to report this NSA program. It published a story by James Risen and Eric Lichtblau on December 16, 2005, titled "Bush Lets U.S. Spy on Callers Without Courts". It stated that "President Bush secretly authorized the National Security Agency to eavesdrop on Americans and others inside the United States to search for evidence of terrorist activity without the court-approved warrants ordinarily required for domestic spying, according to government officials." See also, story titled "President Bush Discloses Interception of Communications Without Court Approval" in TLJ Daily E-Mail Alert No. 1,275, December 19, 2005, and story titled "Bush, Gonzales & Hayden Discuss Presidential Intercepts and PATRIOT Act" in TLJ Daily E-Mail Alert No. 1,276, December 20, 2005.
The concept underlying the use of these "exigent letters" was that the FBI could access records by issuing a letter to communications companies in the event of an emergency, that specified the emergency, and the records sought. These involved no court approval, no notice to affected individuals, and hence, no opportunity to bring legal challenges. However, unlike NSLs and Section 215 orders, for which statutory authority exists, there was no statutory basis for these "exigent letters". The FBI fabricated legal authority out of thin air.
Thus, in the case of issuance of "exigent letters", the failure to follow the law arose, not out of misconstruing a complicated statute, but in applying a non-existent authority as if it existed.
The OIG found, of course, that the mere use of "exigent letters" violated the law. But moreover, the OIG found that the FBI then proceeded to violate its own purported basis for these letters. For example, it issued "exigent letters" when there was no emergency.
The FBI did not save many "exigent letters". Moreover, many "letters" were not even letters. They were conversations, emails, or post it notes. Furthermore, the OIG found that the communications companies colocated within the FBI, worked as part of their "team", and wrote some of the "exigent letters".
2010 House Judiciary Committee Hearing. The House Judiciary Committee's (HJC) Subcommittee on the Constitution, Civil Rights and Civil Liberties held a hearing on April 14, 2010, at which Caproni testified. See, hearing record and transcript.
Caproni did not disclose how many "exigent letters" were issued, or how many were destroyed before the OIG conducted its investigation. She conceded only that the OIG had found "over 700 exigent letters". Nor did she disclose what she knew, and when she knew it.
She dismissed the FBI's use of "exigent letters", as "a failure of internal controls at the FBI". She also said that the "law did not get sufficiently inculcated into our workforce".
Caproni is a former DOJ prosecutor and SEC enforcer. Her defendants were not afforded the insufficient inculcation defense, or failure of internal controls defense.
She said that the DOJ/OIG provided a "wake up call", and that the FBI has "improved its policies" for accessing information protected by the ECPA.
Neither the OIG, nor Caproni in her April 14 testimony, disclosed the companies or officials that conspired with the FBI to violate surveillance laws. However, Rep. Hank Johnson (D-GA), who participated in the April 14 hearing, stated that "Through exigent letters, companies such as AT&T, Verizon, and MCI have provided the FBI with telephone records on American citizens". Caproni did not admit or deny this.
Glenn Fine, the Inspector General at the time, also testified at the April 14 hearing. He said that "Our report found that from March 2003 to November 2006, FBI personnel in the Communications Analysis Unit (CAU), issued at least 722 exigent letters for more than 2,000 telephone records to the three telecommunications service providers located at the FBI. We found that, contrary to the statements in the letters, emergency circumstances were not present when many of the letters were issued. Also contrary to the letters, in most cases subpoenas had not been sought for the records. In addition, our investigation found widespread use of even more informal requests for telephone records in lieu of appropriate legal process or qualifying emergency. For example, rather than using national security letters, other legal process, or even exigent letters, FBI personnel frequently sought and received telephone records based on informal requests they made to the onsite telecommunication employees by e-mail, by telephone, face to face, and even on Post-it notes. FBI personnel made these kinds of informal requests for records associated with at least 3,500 telephone numbers, although we could not determine the full scope of this practice because of the FBI's inadequate record-keeping."
Fine added that "Our report concluded that the exigent letters and other informal requests for telephone records represented a significant breakdown in the FBI's responsibility to comply with the law, Attorney General guidelines, and FBI policy."
In an exchange with Rep. Johnson, Fine said that "There is a ECPA statute that they needed to follow. They didn't follow it. They simply used this process, and when people had questions about it, they didn't adequately address the questions. They just simply went on with the process, and it was improper, it was inappropriate, and it was wrong."
The OIG provided only limited information in the three reports. The publicly released versions were redacted. And, Fine stuck to the content of the reports in his testimony.
What is also notable is what is not in the reports, and what did not happen at the hearing. The reports did not disclose the three companies that cooperated with the FBI, why they did so, what legal opinions they received from the FBI, what were there own legal interpretations of the legality of their actions, what promises of immunity they received, and what else they got in return. Conspicuously, no representatives of the phone companies testified at the hearing.
Equally conspicuous was the absence from the witness table of any of the special agents of the FBI whose job it was to obtain records with Section 215 orders, NSLs, and "exigent letters". Hence, no agents testified regarding what legal training, instructions or advice they received from Caproni or the FBI Office of General Counsel.
No one asked Caproni, or the non-present phone company witnesses, for example, what impact phone company cooperation on NSLs, "exigent letters", warrantless wiretaps, and other surveillance matters has had on DOJ antitrust merger reviews, DOJ recommendations on Section 271 applications, the award of government contracts, or DOJ decisions to prosecute phone company officials. No one asked if phone companies, or internet service providers, have received disparate enforcement, regulatory, prosecutorial, or procurement treatment according to the level of their assistance on surveillance related matters.
Also, no one asked Caproni, or the absent phone company representatives, regarding the meaning of supervisory silence in FBI surveillance operations. That is, if an agent informs his superiors that he or his unit will engage in a course of action, and is not countermanded, then should that agent take that silence as approval. The concept is common to many types of institutions. Moreover, the concept is ancient. Qui tacet consentire videtur, ubi loqui debuit ac potuit. However, the concept is rejected by other institutions.
Hypothetically, it is possible that the FBI was not populated with rogue agents who knowingly violated the ECPA. Rather, these agents were keeping their superiors informed of what they intended to do, and in fact did, with NSLs and "exigent letters", but were never countermanded, and took this silence as legal approval. It is further possible that Caproni relied upon this understanding, did nothing, created no paper record, and thereby led agents to believe they were acting in accordance with law and FBI policy. And then, when she appeared before the HJC she pretended that she was shocked shocked to learn that ECPA violations is going on in here. But, no one asked her the relevant questions.
Rep. John Conyers on Caproni. Rep. John Conyers (D-MI) expressed outrage at the April 14 hearing.
He was Chairman of the House Judiciary Committee (HJC) in 2010. However, Rep. Jerrold Nadler (D-NY) presided at the April 14 hearing as the then Chairman of the Subcommittee on the Constitution.
Many Democrats were critical of government surveillance practices during the Bush administration, but ceased their criticism when it became apparent that the Obama administration would be indistinguishable from the Bush administration on surveillance. In contrast, Rep. Conyers has remained consistent across administrations in his criticism of surveillance abuses, in his opposition to expansion of federal surveillance powers, and in his advocacy of ECPA reform.
Also, many Republicans and Democrats have openly opposed certain government surveillance related activities when information and communications technology (ICT) companies are economically burdened by these activities, or their business models or international competitiveness are threatened, and have organized in opposition. A smaller group, including Rep. Conyers, remains active on those surveillance issues that impact only the privacy and liberty interests of politically unorganized individuals.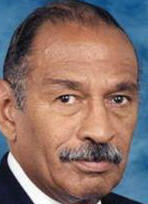 Rep. Conyers (at left) said at the April 14 hearing that "I am outraged that somebody in the FBI would invent the term ... --"exigent letters" -- invent it. It is not in the PATRIOT Act. It never has been. And its use, perhaps coincidentally, began in the same month that Ms. Valerie Caproni began her work as general counsel."
"I think that there may be grounds for removal of the general counsel of the FBI. And certainly, there has obviously got to be some disciplinary action from the Office of Professional Responsibility."
"What is this?", he asked rhetorically. He answered that this was "illegal conduct", and not an "accident", "mistake" or "oversight" problem.
He concluded that the use of "exigent letters" was "an invented, illegal act".
Rep. Jim Sensenbrenner on Caproni. Rep. Jim Sensenbrenner (R-WI) was the Chairman of the HJC during the 107th, 108th and 109th Congresses. Rep. Conyers was the ranking Democrat during this time period.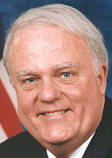 Rep. Sensenbrenner (at right) assumed the Chairmanship of the HJC in January of 2001. Terrorists struck later that year, on September 11. Rep. Sensenbrenner then forcefully pushed the USA PATRIOT Act through the House in just over three weeks in October. Title II of the bill greatly expanded federal surveillance powers. This bill, HR 3162, became Public Law 107-56 on October 26, 2001.
He was also the Bush administration's point man in pushing subsequent surveillance bills through the House in the following years of his Chairmanship, over Rep. Conyers' opposition.
Rep. Sensenbrenner stated at the April 14 hearing that "I was the author of the PATRIOT Act and the PATRIOT Act reauthorization of 2006, and I withstood the assaults of my friend seated to my right in both of those cases. And I am seeing a pattern that the FBI really wants to get around various restrictions that the PATRIOT Act put on their activities." (Rep. Sensenbrenner probably meant to say "2005". See, "USA PATRIOT Improvement and Reauthorization Act of 2005". The Senate approved the conference report, and President Bush signed it, in 2006. It is Public Law No. 109-177.)
He spoke first about FBI use of NSLs and Section 215 orders. He then said, "So then what happens is we get these exigent letters that were never authorized by any kind of statute, and it took a big stink to stop those".
"Now, Ms. Caproni, you were the general counsel of the FBI during most of this period of time, and I imagine that you either initiated or signed off on a lot of these procedures that were designed to do things that the FBI didn't like in the PATRIOT Act and its reauthorization, because they were not approved by Congress. And, you know, as a result, ordinarily I don't agree with going on a witch hunt, but I certainly am not unsympathetic to the comments made by my distinguished successor as Chairman of the full Committee about what is going on in your office."
Caproni said in another exchange with Rep. Sensenbrenner that "The Office of General Counsel did not sign off on the exigent letters. ... The Counterterrorism Division did." (Since 2005, the Counterterrorism Division has been a part of the FBI's National Security Branch.)
Rep. Sensenbrenner also stated that "I lived in this for 6 or 7 years as I was trying to pass the Bush administration's counterterrorism legislation. And I had to defend what the Bush administration was doing against my Democratic friend. That is why I said I feel betrayed, because every time we tried to patch up a hole in what the FBI was doing, you figured out to put another hole in the dike. And this little Dutch boy has only got 10 fingers to plug holes in the dike."
Caproni attempted to pass off FBI violations merely as a "failure of internal controls". Rep. Sensenbrenner responded that "I am not feeling so charitable about that, because I did the fighting with the FBI. I know administrative subpoenas, section 215 authority, which I defended, and then I find out after defending it, instead of using section 215, you used national security letters, you know, where there is no right for the recipient to go to court. And I put the rights for the recipients to go to court in, and then when that happened, then the exigent letters, you know, started."
"I am extremely disappointed that every time Congress has tried to plug potential civil rights and civil liberties violations in our counterterrorism activities, the FBI seems to have figured out a way to get around it. You know, I came to this whole issue as your friend, more than my Subcommittee and full Committee Chairs, and I feel betrayed."
It was also his responsibility, as Chairman of the HJC, to ensure that nothing within the jurisdiction of his Committee would jeopardize the re-election prospects of the other Republican members of the House. Yet, beginning in 2005, Democrats astutely exploited public concerns about surveillance, and effectively associated the practices with Bush, Cheney and Republicans, for upcoming elections. This was just one of many issues, but Democrats won control of the House and Senate in 2006, and many of Rep. Sensenbrenner's colleagues lost their seats. Rep. Sensenbrenner had let them down.
It is fortunate for Caproni that the Senate, and not the House, votes to confirm judicial nominees.
(continued in column 2.)