5/2. The Office of the U.S. Trade Representative (OUSTR) released it report [53 pages in PDF] titled "2011 Special 301 Report" on the adequacy and effectiveness of other nations' protection of intellectual property rights.
Outline:
1. Summary of Special 301 Process.
2. Summary of 2011 Special 301 Report.
3. Notorious Markets.
4. PRC: Indigenous Innovation.
5. PRC: Online Piracy.
6. PRC: Enforcement and Private Rights of Action.
7. PRC: Standards Development and Patents.
8. Canada
9. Italy
10. India.
11. Reaction of IP Based Industries.
12. Criticism of the Report.
1. Summary of Special 301 Process. This is an annual report, required by statute, prepared by the OUSTR, following the receipts of written comments. The OUSTR also held a public hearing this year, on March 2, 2011.
Large companies, and groups that represent the interests of copyright based industries, and as well as some affected nations, provide comments and information to the OUSTR. Recently, US based interest groups that advocate exceptions to, and limitations upon, intellectual property rights (IPR) have also been participating in the Special 301 report drafting process.
Copies of comments submitted to the OUSTR in this proceeding are published in the federal government's regulations.gov web site. This OUSTR proceeding is numbered USTR-2010-0037.
U.S. law provides for the protection of certain IPR. The U.S. also endeavors to incent other nations to protect the interests of US IPR based industries, through statutory protection, government enforcement, civil remedies, and other means.
The Special 301 process, which was created by the Trade Act of 1974, requires the executive branch to identify countries that fail to protect the IPR and market access of US companies, and take certain actions against those countries. These Special 301 provisions are codified at 19 U.S.C. § 2411, et seq.
Under the Special 301 provisions, the OUSTR identifies other countries that deny adequate and effective protection of IP or deny fair and equitable market access to U.S. artists and industries that rely upon IP protection. It does this primarily in annual reports. However, it also conducts out of cycle reviews (OCRs).
The statute then provides that if the OUSTR determines that "the rights of the United States under any trade agreement are being denied", then the OUSTR "shall take action". For example, it may "impose duties or other import restrictions", or "suspend, withdraw, or prevent the application of, benefits of trade agreement concessions to carry out a trade agreement with the foreign country".
Others tools for obtaining protection for US intellectual property based industries abroad include enforcement of multilateral agreements through the World Trade Organization (WTO) dispute settlement process, urging nations to implement existing agreements, and negotiating of new multilateral treaties, such as the Anti-Counterfeiting Trade Agreement (ACTA), and bilateral free trade agreement with IPR provisions, such as the US Korea FTA.
See, stories titled "ACTA Draft Released", "Summary of ACTA", and "Reaction to ACTA" in TLJ Daily E-Mail Alert No. 2,140, October 11, 2011. See also, story titled "Update on US Korea FTA" in TLJ Daily E-Mail Alert No. 2,230, May 2, 2011.
2. Summary of 2011 Special 301 Report. This report finds that "increased availability of broadband Internet connections around the world ... has also made the Internet an extremely efficient vehicle for disseminating copyright-infringing products".
The report again singles out one nation for lengthy discussion -- the People's Republic of China.
This report also announces that the OUSTR "invites any trading partner appearing on the Special 301 Priority Watch List or Watch List to work with the United States to develop a mutually agreed action plan designed to lead to that trading partner's removal from the relevant list". (See, page 5.)
Ron Kirk, the U.S. Trade Representative, stated in a release on May 2 that "This year's Special 301 Report comes with a call to action for our trading partners. We are ready to work intensively with you to stop intellectual property theft that threatens IP-related jobs in the United States and other countries".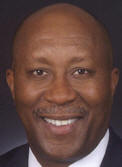 Kirk (at right) added that "Today's report is a springboard for ambitious and collaborative partnerships in the coming year to strengthen protection for the innovation and creativity that drive jobs and exports for the United States and our partners around the world."
The 2011 report places 12 nations on its Priority Watch List: Algeria, Argentina, Canada, Chile, China, India, Israel, Indonesia, Pakistan, Russia, Thailand, Venezuela.
It places 29 nations on its Watch List: Belarus, Bolivia, Brazil, Brunei, Colombia, Costa Rica, Dominican Republic, Ecuador, Egypt, Finland, Greece, Guatemala, Italy, Jamaica, Kuwait, Lebanon, Malaysia, Mexico, Norway, Peru, Philippines, Romania, Spain, Tajikistan, Turkey, Turkmenistan, Ukraine, Uzbekistan, Vietnam.
It also states that there will be an OCR for Italy, "to monitor progress on IPR protection and enforcement, in particular in the area of piracy over the Internet", and an OCR for "notorious markets". The report adds that the "USTR may conduct additional OCRs in consultation with a trading partner as circumstances warrant."
This report states that "Piracy over the Internet is a significant concern with respect to a number of trading partners, including Brazil, Canada, China, India, Italy, Russia, Spain, and Ukraine."
For example, "Unauthorized retransmission of live sports telecasts over the Internet continues to be a growing problem for many trading partners, particularly in China, and ``linking sites´´ are exacerbating the problem. In addition, piracy using new technologies is an emerging problem internationally."
It adds that "U.S. copyright industries also report growing problems with piracy using mobile telephones, tablets, flash drives, and other mobile technologies. In some countries, these devices are being pre-loaded with illegal content before they are sold. In addition to piracy of music and films using these new technologies, piracy of ring tones, ``apps´´, games, and scanned books also occurs."
"Recent developments include the creation of ``hybrid´´ websites that offer counterfeit goods in addition to pirated copyrighted works, in an effort to create a ``one-stop-shop´´ for users looking for cheap or free content or goods."
3. Notorious Markets. Recent OUSTR Special 301 reports have addressed notorious markets. The OUSTR now conducts a separate review for these marketplaces that deal in infringing goods. See, story titled "OUSTR Announces Separate Notorious Markets Process" in TLJ Daily E-Mail Alert No. 2,138, October 4, 2010.
The OUSTR's 2010 Special 301 report [54 pages in PDF], released on April 30, 2010, addressed notorious markets at pages 43-45.
The just released report characterizes its notorious markets review as an OCR.
However, the just released report states that the US "will encourage trading partners to enhance enforcement efforts including, for example, through ... strengthening enforcement against major channels of piracy over the Internet, including notorious markets".
Also, in its discussion of the PRC, the report addresses some of the notorious markets in that country. For example, it states that the US "is also encouraged by media reports that Baidu, recently listed for the fifth year in a row in the USTR Notorious Markets report, will be launching a licensed music search service soon. At this moment it appears that a licensing agreement has only been reached with Chinese rights holders."
It adds that the US "urges Baidu to reach a similar agreement with U.S. rights holders, and eliminate all pirated music from their site. Recent reports also indicate that Baidu has removed 2.8 million items from an online library after Chinese authors complained it was distributing their works without permission. However, the publishing industry continues to report problems involving unauthorized distribution of electronic journals in libraries."
This report does not discuss legislative proposals in the US Congress that relate to notorious markets. Late in the 111th Congress, Sen. Patrick Leahy (D-VT) and others introduced, and the Senate Judiciary Committee (SJC) amended and approved, S 3804 [LOC | WW], the "Combating Online Infringement and Counterfeits Act". Sen. Leahy and others have announced that they will introduce similar legislation in the 112th Congress.
See, story titled Senators Introduce Bill to Enable DOJ to Shut Down Web Sites Dedicated to Infringement", "Bill Summary: Combating Online Infringement and Counterfeits Act", and "Commentary: Combating Online Infringement and Counterfeits Act" in TLJ Daily E-Mail Alert No. 2,132, September 21, 2010.
4. PRC: Indigenous Innovation. The just released report devotes almost seven pages to the PRC, far more than for any other country. As expected, the PRC remains on the Priority Watch List. As in prior reports, it acknowledges commitments from PRC officials, and states that the US looks forward to further progress in IPR protection.
The report expresses concern over the PRC's "indigenous innovation" policy, and policies that "require or encourage U.S. parties to transfer their IPR to Chinese parties or to Chinese subsidiaries of U.S. firms".
It adds that some PRC regulations "call for technology transfer, and in certain cases, condition, or propose to condition, eligibility for government benefits or preferences on intellectual property being owned or developed in China, or being licensed, in some cases exclusively, to a Chinese party".
The report urges the PRC to "abandon" these policies and practices.
It argues that "Innovation will produce greater societal and global gains when market participants, irrespective of their nationality or the places where they may own or develop intellectual property, are able to enjoy the fruits of their investments without the danger that their efforts, including in developing and commercializing intellectual property, will be undermined, or shared with others who did not undertake the initial risk. The United States encourages China to adopt policies that eliminate improper government intervention in intellectual property licensing and other lawful contractual business arrangements, and that welcome exports to and investments in China, irrespective of where the intellectual property in the products and services is owned or developed."
Hu Jintao
EOP Photo,
January 19, 2011
The report also notes that at the US China Joint Commission on Commerce and Trade (JCCT) meetings in 2010, at meetings of the JCCT IPR Working Group, and at the meeting in January of 2011 between President Obama and President Hu Jintao (at right), the US "raised its concerns regarding China's indigenous innovation product accreditation system. Notably, President Hu stated that ``China will not link its innovation policies to the provision of government procurement preferences.´´"
The report states that "This is a very important commitment, and the United States looks forward to full implementation of this commitment in all Chinese central, provincial and municipal laws, regulations, rules and regulatory documents that link innovation policies to the provision of government procurement preferences."
5. PRC: Online Piracy. The report also addresses online piracy in the PRC. It states that "It is estimated that there are 457 million Internet users in China, as compared with 223 million in the United States" and that "99% of all music downloads in China are illegal". However, the report documents progress in some areas, particularly online video distribution.
Neil Turkowitz, of the Recording Industry Association of America (RIAA), stated in a release that "The Chinese marketplace, long dominated by piracy, has evolved in precisely the wrong manner. The physical market was decimated by piracy, and digital distribution promised a new beginning. Unfortunately, the digital market now closely resembles its physical counterparts, with theft levels well above 90 percent, fueled principally by the deep-linking, unlicensed music services by companies such as Baidu, Sohu and Xunlei who, as major actors in the Internet space, should know better."
However, Turkowitz acknowledged that the PRC "has recently undertaken some enforcement actions against Baidu, and has committed to reform its legal structure to ensure that those who facilitate copyright infringement like Baidu are held to be as equally liable as those who directly engage in this theft."
6. PRC: Criminal Enforcement and Private Rights of Action. The OUSTR report also addresses the lack of government criminal enforcement actions in the PRC against sellers of counterfeit goods. It references high thresholds for bringing actions, and adds that "fines lack deterrent effect".
On February 15, 2011, the US China Business Council (USCBC) submitted a comment to the OUSTR in which it offered a gloomy perspective of civil remedies in the PRC. It wrote that "companies remain skeptical about the viability of China's courts as an option for battling IPR infringement. Last year, 43 percent of respondents said that China's courts were still not a viable option in any cases, while 54 percent said that they would be viable in some cases. Even when companies are successful, however, fines and punishments for administrative IPR enforcement cases and court cases are often too low to serve as adequate disincentives."
The USCBC comment also reported the results of a survey of its membership. It wrote that "companies report that the overall IPR picture has shown steady improvement, though at a slow pace."
The USCBC also offered recommendations for the PRC for dealing with internet based infringement. It recommended "Drafting and enforcing new rules to define and regulate IPR on the Internet, including use of trademarks on websites, use of websites as platforms for goods, and trademark-related aspects of domain name registration; Increasing the monitoring of Internet sales and distribution channels to crack down on counterfeiting; and Strengthening intermediary liability rules on the Internet for both trademark-infringing goods and copyright piracy."
7. PRC: Standards Development and Patents. The OUSTR report also expresses concern about the PRC's "proposed treatment of patented technology in connection with domestic standards development processes".
It states that the PRC has proposed to "establish the general principle that mandatory national standards should not incorporate patented technologies. However, the draft measures provide that when mandatory national standards incorporate patented technologies, there is the possibility of a compulsory license if a patent holder does not grant a royalty-free license."
The OUSTR report explains that "This differs from the typical practice of accredited standards developing organizations in other countries, which require disclosure of intellectual property in the standards development process and support ``reasonable and nondiscriminatory´´ (RAND) licensing policies with respect to intellectual property that is incorporated into a standard. RAND policies require concerned patent rights holders to make any intellectual property incorporated into the standards that these bodies develop available to all interested parties on RAND terms. Within the standards development process, licensing terms are typically negotiated between the right holder and parties interested in implementing the standards."
8. Canada. Canada is an anomalous nation. It is a developed nation, with intellectual property based industries, and a party to ACTA negotiations. However, it continues draw the ire of US IP based companies for its failure to protect their IPR.
The report maintains Canada on the Priority Watch List for the third year. It notes that "Canadian efforts in 2010 to enact long-awaited copyright legislation were unsuccessful." The report urges Canada to "to make the enactment of copyright legislation that addresses the challenges of piracy over the Internet, including by fully implementing the WIPO Internet Treaties, a priority for its new government".
The RIAA's Neil Turkowitz stated in a release on May 2 that "Canada is virtually alone in the developed world in failing to bring its copyright standards into line with accepted international standards for the digital age. As a direct result, it has become a haven for many unscrupulous individuals and companies wishing to cash in from providing access to illegal content. We hope that Canada's new government, when installed, will move quickly to address this harmful anachronism." See also, Turkowitz's February 15 comment.
However, concerns extend beyond online copyright infringement. For example, Intel submitted a comment on February 15, 2011, in which it urged the OUSTR to keep Canada on the Priority Watch List because of its failure to protect well know marks.
9. Italy. The report puts Italy on the Watch List, and states that it will be the subject of an OCR.
The report states that "Italy continued to make progress in improving its IPR protection and enforcement in 2010, including by increased cooperation among law enforcement officials and improved enforcement actions against certain types of IPR violations. The United States remains concerned that, overall enforcement against copyright piracy continues to be inadequate and that piracy over the Internet continues to grow, severely damaging the legitimate market for distribution of copyrighted works."
The Entertainment Software Association (ESA) stated in a release that "Italian Internet subscribers were responsible for more P2P file sharing of member titles than any other country in 2010".
The OUSTR report also expresses concern about a "ruling prohibiting the monitoring of peer-to-peer networks".
10. India. The report again puts India on the Priority Watch List.
It states that "India continued to make incremental progress in 2010 to address its IPR legislative, administrative, and enforcement issues. Improvements in 2010 included the introduction of a Copyright Amendment Bill, which may assist in addressing some aspects of the widespread piracy of copyrighted materials on the Internet. However, the bill may not fully implement the WIPO Internet Treaties."
It also urges India to adopt "stronger patent protection" and to "strengthen its criminal enforcement regime".
11. Reaction of IP Based Industries. The groups that represent the interests of US IP based industries, including movies, music, software, and games, praised the OUSTR and its report, and articulated the harms of lack of IPR protection.
Chris Dodd (at left), head of the Motion Picture Association of America (MPAA), stated in a release that "The USTR's Special 301 report is a stark reminder of the challenges facing the strongest and most reliable American exporters -- the creators of filmed entertainment. Movie theft, especially online, is a growing threat -- not only to the 2.4 million men and women working in the motion picture and television community, but also to the health of the American economy as a whole."
Robert Holleyman, head of the Business Software Alliance (BSA), stated in a release that the OUSTR report "underscores the severity of the problem that the software industry faces with rampant piracy in the world's fastest-growing markets ... Prominent on the Administration's watch lists are countries such as China, Russia, Indonesia, and many others where the IT hardware market is growing rapidly but software piracy is unacceptably high."
He continued that "I applaud the Obama Administration for its ongoing efforts to focus attention on the need for robust intellectual property protection and enforcement to spur technological innovation and economic growth. Given the scale of software piracy around the world, governments must take concrete steps to curb this theft in all its forms. We need to see sustained efforts and a roadmap for progress. That's why a particularly important element of this year's Special 301 report is US Trade Representative Ron Kirk's call to other governments to come forward with concrete action plans. BSA applauds this initiative."
Michael Gallagher, head of the ESA, which represents computer and video game companies, stated in a release that "One of the fastest ways to get our economy back on track is to incent and reward high value intellectual property like video games ... We thank Ambassador Kirk for his leadership and urge outlying countries to elevate laws and enforcement practices to protect copyrighted works."
Eric Smith, of the International Intellectual Property Alliance (IIPA), stated in a release that the USTR "recognizes the devastating impact copyright piracy -- both online and physical -- has on the continued viability of creative industries in both developed and emerging markets".
He wrote that this report "signals strongly the Administration's commitment to protect our nation's creative industries abroad through strong copyright protection, reducing piracy through more effective enforcement, and toppling market access barriers, steps that will help boost U.S. exports, create good jobs here at home, and contribute to U.S. economic growth, in line with the Administration's goals.
He also wrote that the "IIPA is particularly pleased that in today's announcement, USTR Ron Kirk commits to pay special attention to Internet piracy issues in the coming year." See also, the IIPA's February 15 comment.
12. Criticism of Report. Rashmi Rangnath, of the Public Knowledge (PK), stated in a release that "We are disappointed with the latest Section 301 report."
She wrote that the OUSTR "declined generally to adopt our recommendations that the policy prescriptions be more specific and that countries not be required through the Special 301 process to implement agreements and treaties with which they disagree, such as World Intellectual Property Organization (WIPO) copyright treaty and the Anti-Counterfeiting Trade Agreement (ACTA)."
Rashmi Rangnath
Copyright PK
Rangnath (at right) added that "We are also skeptical about the proposal for the 'mutually agreed upon solution' for intellectual property enforcement with other countries to be taken off of the watch list. The question is how much pressure would be brought to bear on countries to agree to such a solution. We don't know what the process was before nor much about how it would work under this new procedure."
Previously, Rangnath wrote in a comment submitted to the OUSTR on March 9, 2011, that "rights holder comments have typically viewed intellectual property laws only as a means of providing them with exclusive rights, and regarded skeptically any country's limitations and exceptions to those rights. However, U.S. law, as well as the laws of many other countries, not only protect owners' rights but also provide users with rights intended to advance culture, learning, and innovation. Protection of intellectual property rights or fair market access are not inconsistent with these limitations and exceptions."
She expressed particular concern about the inclusion of Canada, Chile and India on the Priority Watch List.
The PK and Electronic Frontier Foundation (EFF) submitted a joint comment on February 15, 2011, in which they argued that "the USTR should consider the economic effects of its determination on all constituencies, not only large copyright holders."
They continued that "constituents as varied as libraries, teachers, students, individual innovators, documentarians, and cover artists are all able to contribute to society by utilizing the limitations and exceptions in U.S. copyright law. By pressuring other countries to omit limitations and exceptions in their domestic copyright law, the USTR prevents U.S. constituencies from marketing their works internationally and from making lawful uses of foreign works domestically." (Footnote omitted.)
See also, February 15, 2011, comment submitted by Knowledge Ecology International.