MacArthur Foundation Study Finds Youth Use of Online Spaces is Valuable
11/21. The MacAthur Foundation published a study [58 pages in PDF, 2 MB] titled "Living and Learning with New Media: Summary of Findings from the Digital Youth Project". It finds value in youth use of online networking sites, and other online spaces, and criticizes blunt efforts to limit use, such as web site blocking, technical barriers, time limits, and prohibitions.
This report has a large number of academic authors, investigators, researchers, and contributors. It relies much on the research methodologies, approaches and language of academic sociology and cultural anthropology.
It examines how persons from 8 to 20 use new online spaces. It is based upon interviews, focus groups, and watching young people use online spaces. It then offers some policy implications of its findings. It makes no legislative recommendations.
It finds that many adults do not understand, and malign, the use of new online spaces by young people. It finds that these new online spaces are valuable, and that these values should be recognized and encouraged. It faults schools, libraries and parents who block access to certain web sites, or who impose other blunt prohibitions.
Mizuko Ito, the lead author of the report, stated in a MacArthur Foundation release that "It might surprise parents to learn that it is not a waste of time for their teens to hang out online".
She added that "There are myths about kids spending time online -- that it is dangerous or making them lazy. But we found that spending time online is essential for young people to pick up the social and technical skills they need to be competent citizens in the digital age."
The report finds that the new online spaces, including social networking web sites, video sharing web sites, online gaming, iPods, and cell phones, enable youth to connect with their peers in two new ways -- extending friendships and exploring interests.
The report states that "Most youth use online networks to extend the friendships that they navigate in the familiar contexts of school, religious organizations, sports, and other local activities. They can be ``always on,´´ in constant contact with their friends via texting, instant messaging, mobile phones, and Internet connections. This continuous presence requires ongoing maintenance and negotiation, through private communications like instant messaging or mobile phones, as well as in public ways through social network sites such as MySpace and Facebook. With these ``friendship-driven´´ practices, youth are almost always associating with people they already know in their offline lives."
The report states that "A smaller number of youth also use the online world to explore interests and find information that goes beyond what they have access to at school or in their local community. Online groups enable youth to connect to peers who share specialized and niche interests of various kinds, whether that is online gaming, creative writing, video editing, or other artistic endeavors. In these ``interest-driven´´ networks, youth may find new peers outside the boundaries of their local community. They can also find opportunities to publicize and distribute their work to online audiences and to gain new forms of visibility and reputation."
It finds that "New media allow for a degree of freedom and autonomy for youth that is less apparent in a classroom setting. Youth respect one another's authority online, and they are often more motivated to learn from peers than from adults. Their efforts are also largely self-directed, and the outcome emerges through exploration, in contrast to classroom learning that is oriented toward set, predefined goals."
It also finds that "while hanging out online, youth are picking up basic social and technological skills they need to fully participate in contemporary society".
Also, "contrary to fears that social norms are eroding online, we did not find many youth who were engaging in behaviors that were riskier than what they did in offline contexts. Youth online communication is conducted in a context of public scrutiny and structured by shared norms and a sense of reciprocity".
The report argues that all this is relevant to education policy.
It states that "We are concerned about the lack of a public agenda that recognizes the value of youth participation in social communication and popular culture. When kids lack access to the Internet at home, and public libraries and schools block sites that are central to their social communication, youth are doubly handicapped in their efforts to participate in common culture and sociability."
It also states that "A kid who is highly active online, coupled with a parent who is disengaged from these new media, presents the risk of creating an intergenerational wedge. We do not believe that educators and parents need to bear down on kids with complicated rules and restrictions and heavy-handed norms about how they should engage online, particularly if they are not attuned to the norms that do exist among youth. Simple prohibitions, technical barriers, or time limits on use are blunt instruments; youth perceive them as raw and ill-informed exercises of power."
Obama Picks Greg Craig to Be White House Counsel
11/19. President elect Obama's transition office announced in a release that Greg Craig will be Counsel to the President in the Executive Office of the President. The position does not require Senate confirmation.
He has worked for the Obama campaign on, among other issues, electronic surveillance, and amendment of the Foreign Intelligence Surveillance Act (FISA).
Previously, Craig worked on numerous high profile criminal defense matters. He defended former President Clinton in connection with his House impeachment and Senate trial.
He defended John Hinckley, who attempted to assassinate former President Reagan. He represented Sen. Ted Kennedy (D-MA) in connection with the criminal trial of William Smith for rape; Sen. Kennedy was not charged, and Smith, Kennedy's nephew, was acquitted.
He also represented Kofi Annan, a former Secretary General of the United Nations, while the Volker Commission uncovered rampant corruption at the United Nations during his tenure.
More Obama Appointments

11/21. President elect Obama has not yet named Timothy Geithner (at left) to be Secretary of the Treasury. Obama is not yet President. Nor has his transition office publicly announced the appointment. However, various persons and entities have reacted to the prospective nomination. For example, Sen. Charles Grassley (R-IA), the ranking Republican on the Senate Finance Committee (SFC) issued the following statement: "As the Ranking Member of the Senate committee that must approve this nomination, I look forward to reviewing the nominee's background and having a dialogue with him about the Trouble Asset Relief Program, tax policy, expanding America's access to foreign markets, and bringing the country's fiscal house in order. The Treasury Secretary has enormous powers in ordinary times and even greater powers in these troubled times, so the Finance Committee owes the American people all due care and diligence in considering this nomination. The relationship between the Treasury Department and the Finance Committee is also important because of the fiscal policy roles played by both, and the responsibility needs to be taken seriously." Geitner is the P/CEO of the Federal Reserve Bank of New York.
11/21. President elect Obama has not yet nominated Lawrence Summers to be head of the White House National Economic Council. Summers is an economist who was Secretary of the Treasury late in the Clinton administration. He was President of Harvard University from 2001 through 2006. He resigned after left wing radicals on the faculty voted to express "no confidence" in him. He is now a professor at Harvard's Kennedy School of Government.
11/22. President elect Obama's transition office announced in a release that Ellen Moran will be Director of Communications, Robert Gibbs will be Press Secretary, and Dan Pfeiffer will be Deputy Director of Communications. These positions in the White House office do not require Senate confirmation.
11/21. President elect Obama's transition office announced in a release that Patrick Gaspard will be Director of the Office of Political Affairs in the White House office. He was previously an EVP of the 1199 SEIU, United Healthcare Workers East. The position does not require Senate confirmation.
11/19. President elect Obama's transition office announced in a release that David Axelrod will be Senior Advisor to the President in the White House office. The position does not require Senate confirmation. He is a political campaign consultant. Most recently, he worked on the 2004 and 2008 Senate and Presidential elections of Obama.
11/19. President elect Obama's transition office announced in a release that Chris Lu will be Cabinet Secretary in the White House office. The position does not require Senate confirmation. Lu has worked for the Obama campaign, Obama's Senate office, Rep. Henry Waxman (D-CA), and the law firm of Sidley Austin.
11/19. President elect Obama's transition office announced in a release that Lisa Brown will be Staff Secretary in the White House office. The position does not require Senate confirmation.
11/21. President elect Obama's transition office announced in a release that Cynthia Hogan will be Counsel to the Vice President. She previously worked for Biden on the Senate Judiciary Committee staff. The position does not require Senate confirmation.
Congress Considers Protection of U.S. Auto Makers
11/20. Rep. Steny Hoyer (D-MD), the House Majority Leader, stated in a release on November 20, 2008, that "We are working with leaders from both parties, and with representatives of the automakers and their employees, in an effort to protect this vital industry from collapse."
He added that the Congress has asked automakers to provide the Congress with a plan by December 2, 2008, and that "both the House and the Senate are prepared to return to consider legislation by December 8th".
Rep. Nancy Pelosi (D-CA), the Speaker of the House, and Sen. Harry Reid (D-NV), the Senate Majority Leader, sent a letter to the chief executives of GM (Rick Wagoner), Ford (Alan Mulally) and Chrysler (Robert Nardelli) regarding federal bailouts. They wrote that "We recognize the importance of the domestic automobile industry and are committed to working with you to ensure its viability in the years to come."
They added that the Bush administration and the Federal Reserve Board (FRB) are not "assisting the auto industry". They wrote that "Notwithstanding existing authorities, this Congress is prepared to consider additional legislation that would give the assistance you seek, provided that you submit a credible restructuring plan".
Rep. Pelosi and Sen. Reid did not address or ask about the likely consequences of federal protection of the U.S. auto companies on foreign direct investment (FDI) in the U.S. by automakers such as Toyota. Nor did they address the likely impact upon FDI in other industries, or the effect upon FDI created jobs and tax revenues.
Nor did the two address the reciprocal protectionist actions of other countries that may result from an auto industry bailout and other U.S. acts of protectionism, and how this may affect U.S. exporters.
Also, Sen. Arlen Specter (R-PA) wrote in a letter on November 17 that "If the auto-makers are bailed out, it is a virtual certainty that Congress will next hear bailout requests from other sections of the economy."
WTO's Lamy Analyzes Economics and Politics of Trade
11/17. Pascal Lamy, Director General of the World Trade Organization (WTO), gave a speech in Barcelona, Spain regarding international trade, technology, and globalization.

Lamy (at left) said that "the case for an open trading system is as strong as ever".
"But as technology improves and intensifies global interdependence, national policymakers and the global community are confronted with an increasingly pressing need to demonstrate imagination, leadership and a willingness to face up to new demands."
He devoted much of his speech to a review of two centuries of economic analysis of international trade.
He then offered a political analysis of trade related policy making.
He said that "trade creates winners and losers", and that "the politics of trade have to be properly managed if societal gains are to be realized."
First, he stated that "Anthony Downs, in his theory of democracy, shows that political competition will lead politicians to propose and enact the policy preferred by the voter with median policy preferences. The application of this theory to trade policy suggests that increasing inequality will be associated with an increase in opposition to trade and, ultimately, with more restrictive trade policies. Greater inequality will lead to increased calls for protectionism." See, Down's book [Amazon] titled "An Economic Theory of Democracy".
Second, Lamy stated that there is a collective action problem. "The gains from trade opening tend to be distributed widely within societies and individual gains from trade opening may be relatively small. But the losses from trade reform tend to hit relatively small groups, and are often heavily concentrated. The losers from greater trade opening have a higher incentive to lobby against trade reforms than the winners. This may slow down or reverse the process, even though overall gains exceed overall losses."
Third, he discussed voter uncertainty. He said that "Voters tend to prefer the status quo -- that is, they will vote against trade reform -- as they may not know in advance whether they will be among the winners or losers from reform. The fragmentation of production implied by off-shoring intensifies uncertainty and public reticence to embrace change that is beneficial overall."
He concluded that "disregard for rising public concern about some aspects of globalization would threaten to undermine the legitimacy of governments and imperil social support, as would neglect of the gains from trade. The answer to this tension lies in a balance between open markets and complementary domestic policies, along with international initiatives that manage the risks arising from globalization."
Bush Warns Against Protectionism at APEC Conference
11/22. President Bush gave a speech at the Asia Pacific Economic Cooperation (APEC) conference in Lima, Peru. This may be his last foreign trip, and one of his last major speeches. He used the occasion to advocate free trade and free markets.
He said "One of the enduring lessons of the Great Depression is that global protectionism is a path to global economic ruin."
Bush argued that "our nations must maintain confidence in the power of free markets. Now, I know in the wake of the financial crisis, free markets have been under very harsh criticism from the left and from the right."
He said that following the financial turmoil of the last few months it is "essential that nations resist the temptation to overcorrect by imposing regulations that would stifle innovation and choke off growth. The verdict of history is unmistakable: The greater threat to prosperity is not too little government involvement in the market -- it is too much."
"No region of the world demonstrates the power of free markets more vividly than the Asia Pacific. Free markets helped Japan grow into the world's second-largest economy. Free markets helped South Korea make itself one of the most technologically advanced nations on Earth."
He explained that "When nations open their markets to trade and investment, businesses and farmers and workers find new buyers for their products. Consumers benefit because they have more choices and better prices. Entrepreneurs get their ideas off the ground with funding from anywhere in the world."
Bush continued that "Trade is seen as controversial in some places, but here in the Asia Pacific region its benefits are beyond doubt. Trade transformed the economies of the ``Asian Tigers´´ -- Singapore, South Korea, Hong Kong, and Taiwan -- into global powerhouses. Trade fueled the rise of a new generation of Tigers -- nations like Malaysia, Indonesia, Thailand, and Vietnam. And in the most dramatic case of all, trade helped lift China out of isolation and poverty -- and into three decades of rapid economic growth and closer engagement with the world."
He also said that "We concluded agreements with Colombia, Panama, and South Korea. And it is extremely disappointing that the United States Congress adjourned without passing these three agreements. And I urge all those who support free trade to continuing pressing the case for the Congress to pass free trade agreements with Colombia and Panama and South Korea."
Also, "In addition to negotiating these free trade agreements, my administration supported the accession of China, Taiwan, and Vietnam into the World Trade Organization. We're negotiating bilateral investment treaties with China and Vietnam. We're discussing similar agreements with Taiwan, Indonesia, and Russia."
President Bush has consistently advocated free trade. However, in this speech he returned to some of the themes that he articulated early in his first term, such as the interdependence of economic and political freedom, and that free markets provide the incentives to innovate.
Paulson Argues That Financial Reforms Should Include Free Trade and Open Investment
11/20. Henry Paulson, the outgoing Secretary of the Treasury, gave a speech in California in which he stated that financial reforms should also include avoiding protectionism and promoting free trade and open investment.
He said that the United States "must lead global financial reform efforts, and we must start by getting our own house in order".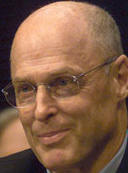 Paulson (at right) discussed a wide range of financial reforms. Then, he said that "A final reform priority must be consistent liberalization of policies on trade and investment, with an emphasis on avoiding new protectionist measures and achieving a breakthrough in the Doha round of global trade talks."
He continued that "In this time of anxiety and uncertainty, we must not lose sight of the importance of free trade and open investment in spurring economic growth. Expanding markets through trade promotes investment that fuels economic dynamism and innovation, as well as deployment of new technologies that raise productivity".
He added that "we need to support trade policies that will help lower trade barriers, create market access for developing countries and a path to prosperity for the world's poor. In the United States, this means finalizing already negotiated trade agreements and supporting free trade policies in the future. Especially during such a difficult economic period, we must resist the pressures to turn inward and we must ensure that our international colleagues share this strong commitment."
Democrats in Congress continue to block approval of concluded trade agreements, such as the U.S. Korea free trade agreement.
Rep. Boehner Criticizes Selection of Rep. Waxman to Chair Commerce Committee
11/20. Rep. John Boehner (R-OH), the House Republican Leader, commented on the House Democratic Caucus's selection of Rep. Henry Waxman (D-CA) to be Chairman of the House Commerce Committee (HCC).
Rep. Boehner (at right) stated in a release that the Democrat caucus "increasingly seems to be pulled leftward by radical special interests".
Rep. Boehner stated that "This decision sends a troubling signal from a Majority that has promised to govern from the center. They moved away from Chairman Dingell because he is committed to approaching energy and environmental issues in a manner that protects American jobs. It is a disturbing sign that the leaders of the next Congress will be making decisions based not on what is best for the country, but for well-funded special interests whose priorities are far different from those of the vast majority of Americans."
He added that "there are few Members of the House as skilled and principled as my friend from Michigan."
See also, stories titled "Dingell Deposed by Waxman" and "Rep. Waxman's Record on Technology and Communications Issues" in TLJ Daily E-Mail Alert No. 1,860, November 20, 2008.
In This Issue
This issue contains the following items:
• MacArthur Foundation Study Finds Youth Use of Online Spaces is Valuable
• Obama Picks Greg Craig to Be White House Counsel
• More Obama Appointments
• Rep. Boehner Criticizes Selection of Rep. Waxman to Chair Commerce Committee
• Congress Considers Protection of U.S. Auto Makers
• WTO's Lamy Analyzes Economics and Politics of Trade
• Bush Warns Against Protectionism at APEC Conference
• Paulson Argues That Financial Reforms Should Include Free Trade and Open Investment
Monday, November 24
The Senate will meet in pro forma session.
The House will not meet. It will next meet on the week of December 8, 2008.
12:15 - 1:30 PM. The Federal Communications Bar Association's (FCBA) Intellectual Property Practice Committee will host a brown bag lunch titled "The Copyright Royalty Board: Recent Decisions". The speakers will be Bruce Joseph (Wiley Rein), David Oxenford (Davis Wright Tremaine), Robert Garrett (Arnold & Porter), and Tom Perrelli (Jenner & Block). Location: Dow Lohnes, 1200 New Hampshire Ave., NW.
Extended deadline to submit comments to the Copyright Office (CO) in response to its request for comments regarding its proposal to raise fees for registration of claims, special services and Licensing Division services. See, original notice in the Federal Register, October 14, 2008, Vol. 73, No. 199, at Pages 60658-60662, and notice of extension in the Federal Register, October 31, 2008, Vol. 73, No. 212, at Pages 64905-64906. See also, story titled "Copyright Office Proposes to Raise Registration Fees" in TLJ Daily E-Mail Alert No. 1,843, October 15, 2008.
Tuesday, November 25
10:30 AM. The Heritage Foundation will host an event titled "Taiwan, Democracy, and the Rule of Law". The speakers will be Ching Jyh Shieh (Former Deputy Minister of the National Science Council, Republic of China) and Stephen Yates (Heritage). Location: Heritage, 214 Massachusetts Ave., NE.
Wednesday, November 26
Deadline to submit initial comments to the Federal Communications Commission (FCC) in response to the FNPRM portion of its November 5, 2008, Order on Remand regarding universal service, IP enabled services, intercarrier compensation, and other topics. See, notice in the Federal Register, November 12, 2008, Vol. 73, No. 219, at Pages 66821-66830. The FCC adopted and released this Order on Remand and Report and Order and Further Notice of Proposed Rulemaking [430 pages in PDF] on November 5. FCC Chairman Kevin Martin offered this explanation in his statement associated with this item: "Today we tell the U.S. Court of Appeals for the D.C. Circuit and the Federal-State Joint Board on Universal Service that, after years of deliberation, we are still unready to move forward with comprehensive reform of intercarrier compensation and universal service. Instead, we issue another open-ended Further Notice of Proposed Rulemaking on a variety of approaches for comprehensive reform, and my colleagues promise to act on it by December 18." This item is FCC 08-262 in WC Docket No. 05-337, CC Docket No. 96-45, and WC Docket No. 03-109, WC Docket No. 06-122, and CC Docket No. 99-200, CC Docket No. 96-98, and CC Docket No. 01-92, CC Docket No. 99-68, and WC Docket No. 04-36.
Thursday, November 27
Thanksgiving Day. See, Office of Personnel Management's (OPM) list of 2008 federal holidays.
Friday, November 28
Deadline to submit comments to the U.S. Department of Agriculture's (USDA) Rural Utilities Service (RUS) regarding its proposed rules regarding standards and specifications for timber products acceptable for use by Rural Development Utilities Programs' electric and telecommunications borrowers. See, notice in the Federal Register, September 29, 2008, Vol. 73, No. 189, at Pages 56513-56528.
Monday, December 1
Deadline to submit nominations to the Federal Communications Commission's (FCC) Wireline Competition Bureau (WCB) for six different positions on the Board of Directors of the Universal Service Administrative Company (USAC). See, FCC notice [PDF]. This item is DA 08-2487 in CC Docket Nos. 96-45 and 97-21.
Deadline to submit comments to the U.S. Patent and Trademark Office (USPTO) regarding the process by which it awards the National Medal of Technology and Innovation. See, notice in the Federal Register, October 2, 2008, Vol. 73, No. 192, at Pages 57337-57338.
Deadline to submit comments to the Department of Commerce's (DOC) Bureau of Industry and Security (BIS) regarding its new rules pertaining to foreign made items that incorporate controlled U.S. origin items. See, notice in the Federal Register, October 1, 2008, Vol. 73, No. 191, at Pages 56964-56970.
Deadline to submit comments to the Department of Homeland Security (DHS) regarding revising the National Infrastructure Protection Plan (NIPP). See, notice in the Federal Register, November 14, 2008, Vol. 73, No. 221, at Pages 67532-67534. The DHS seeks comments on, among other things, "Publishing the Sector Specific Plans (SSPs)". There are SSPs titled Communications [132 pages and 3MB in PDF] and Information Technology [11 MB in PDF].
More News
11/21. The National Telecommunications and Information Administration (NTIA) announced in a release that it gave $1.65 Million to the Leadership Conference on Civil Rights' (LCCR) LCCR Education Fund to "help vulnerable populations transition to digital television with the TV Converter Box Coupon Program".
11/21. The Progress & Freedom Foundation's (PFF) Adam Thierer wrote a short essay regarding recent Washington Post and Wall Street Journal articles reporting on consumers who acquire video programming, by the program, from sources such a Hulu, Netflix, and iTunes. Thierer opines that this is relevant to debates over federal regulation of other video distribution models, including television, cable and satellite. He wrote that "someone forgot to tell the folks in Washington about all this. They're still busy obsessively regulating broadcast TV and radio as if the 1950s never ended. And they've increasingly expanded their regulatory coverage to include cable and satellite even though they are now struggling to keep people from moving to the completely unbundled, a la carte world of online video. It's an old story, really: Technology advances; regulation stands still."
11/21. The Government Accountability Office (GAO) released a report [16 pages in PDF] titled "Federal Judgeships: General Accuracy of District and Appellate Judgeship Case-Related Workload Measures". The Senate Judicial Committee (SJC) scheduled a hearing on this matter for June 17, 2008. However, there was an objection on the Senate floor, and the hearing was suspended. This report would have been prepared testimony of the GAO for that hearing. The methods used to calculate district and circuit workloads may affect future determinations to create new judgeships for district and circuits, and hence, is subject to controversy. This report recommends developing a new methodology for estimating the workloads of appellate circuits. The Judicial Conference disagrees.
About Tech Law Journal
Tech Law Journal publishes a free access web site and a subscription e-mail alert. The basic rate for a subscription to the TLJ Daily E-Mail Alert is $250 per year for a single recipient. There are discounts for subscribers with multiple recipients.
Free one month trial subscriptions are available. Also, free subscriptions are available for journalists, federal elected officials, and employees of the Congress, courts, and executive branch. The TLJ web site is free access. However, copies of the TLJ Daily E-Mail Alert are not published in the web site until two months after writing.
For information about subscriptions, see subscription information page.
TLJ is published by David Carney
Contact: 202-364-8882.
carney at techlawjournal dot com
P.O. Box 4851, Washington DC, 20008.
Privacy Policy
Notices & Disclaimers
Copyright 1998-2008 David Carney. All rights reserved.