FCC Releases Broadcast Flag Rule
11/4. The Federal Communications Commission (FCC) adopted and released a Report and Order Further Notice of Proposed Rulemaking [72 pages in PDF] in its proceeding titled "In the Matter of Digital Broadcast Content Protection". This item promulgates rules that include a broadcast flag mandate. The FCC's interest in copyright protection is promoting a transition to DTV.
A broadcast flag is digital code embedded into a digital broadcasting stream. It signals digital television (DTV) reception equipment to limit redistribution. For it to be effective, DTV equipment must give effect to a broadcast flag. Hence, this report and order contains technology mandates for equipment manufacturers.
This report and order concludes that "the potential threat of mass indiscriminate redistribution will deter content owners from making high value digital content available through broadcasting outlets absent some content protection mechanism."
And, it states that "Of the mechanisms available to us at this time, we believe that an ATSC flag-based regime will provide content owners with reasonable assurance that DTV broadcast content will not be indiscriminately redistributed while protecting consumers' use and enjoyment of broadcast video programming."
The report and order provides the following summary. "Pursuant to the doctrine of ancillary jurisdiction, we adopt use of the ATSC flag as currently defined for redistribution control purposes and establish compliance and robustness rules for devices with demodulators to ensure that they respond and give effect to the ATSC flag. We decline to adopt similar compliance and robustness rules for devices with modulators as the record in this proceeding does not reflect a need for regulation in this sphere to protect the viability of over-the-air television. Finally, we defer decision on a permanent approval mechanism for content protection and recording technologies to be used in conjunction with device outputs. We initiate a Further Notice of Proposed Rulemaking to examine these issues in greater detail. As an interim procedure, however, we will allow proponents of a particular content protection or recording technology to certify to the Commission that such technology is an appropriate tool to give effect to the ATSC flag, subject to public notice and objection."
FCC Chairman Michael Powell wrote in a separate statement [PDF] that "The digital television transition rolls on. The Commission's adoption of the ``broadcast flag´´ represents another important step in the digital television transition. Today's decision strikes a careful balance between content protection and technology innovation in order to promote consumer interests."
The five Commissioners supported this item, although Commissioners Copps and Adelstein expressed reservations about certain items, and dissented from other items. They both wrote long statements in which they addressed the lack of privacy protections, and the failure to provide exceptions for works that are in the public domain, and for "news".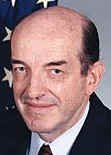 FCC Commissioner Michael Copps (at right) wrote in a separate statement [4 pages in PDF] that "Commission action here strikes me as warranted because we are fast approaching a situation wherein new technologies will provide arguably too much power to those who would infringe and pirate the rights of digital creativity. Such digital chaos benefits neither the creators nor the consumers of what is sure to be dramatic new content."
He continued that "Given digital media's susceptibility to indiscriminate mass online distribution, content producers may have significantly greater incentives to broadcast high-value content if there are in place at least basic protection technologies. If denied such protection in one medium (e.g., free, over-the-air broadcast television), they will migrate their new content to other media (e.g., subscription cable television). Such a result would likely discourage new digital content in the broadcast medium and also retard the statutorily-mandated transition to digital television. Neither outcome is acceptable." (Parentheses in original.)
But, he added, "Granting a small set of companies the power to control all digital video content through a government-mandated technology in order to promote digital television is neither necessary nor wise. A broadcast flag mandate that lacked adequate protections and limits would be reprehensible public policy."
"I dissent in part, first, because the Commission does not preclude the use of the flag for news or for content that is already in the public domain", said Copps. "Second, I dissent in part because the criteria we adopt for accepting digital content protection technologies fail to address some critical issues. For example, we do not expressly consider the impact of a technology on personal privacy. Improper use of the technologies could arguably allow such things as tracking personal information. The broadcast flag should be about protecting digital content, not about tracking Americans' viewing habits."
FCC Commissioner Jonathan Adelstein wrote in a separate statement [5 pages in PDF] that "Without question, the indiscriminate mass redistribution of copyrighted works over the Internet may well violate our nation's copyright laws and strikes at the core economic equation for creators." However, he also wrote that "our action should not give content providers a sense of complacency to avoid actively seeking out new and evolving business models that embrace exciting new technologies and unleash opportunities for eager consumers."

Adelstein (at left) cautioned that "We must be careful not to cut off through preemptive regulation innovation that would lead to products and technologies that benefit consumers, manufacturers, and the creative community alike."
He elaborated that "My fear with today's action is that one technology could become the gatekeeper across various communications platforms and could curtail technological innovation."
He also raised the DMCA. "Given the possibility that the Digital Millennium Copyright Act might apply, content protection technologies have the potential to override lawful uses of digital content. With the case-specific and evolutionary nature of fair use, it is a hard concept to define technologically and not impact it legally. Yet the Commission has no authority to do the latter."
He dissented in part "because I believe we fail to protect the public interest in some key ways. First, I must dissent from the unlimited scope of today's protection regime. The Order does not rule out the use of the flag for content that is in the public domain." He added that "While the item professes not to affect copyright law, by mandating a technological protection regime that can be used to restrict the flow of content that is in the public domain, or is not subject to copyright protection for other reasons, I am not convinced that we have adhered to our well-meaning pronouncements."
He also addressed "news" content. "Nor do I take lightly a government-required protection regime that could restrict the free flow of news or public affairs programming which is at the heart of public discourse in our society. ... Nor do I see a persuasive reason to restrict the free flow of political speech which yields important societal benefits."
And he dissented on the privacy issue.
See also, separate statement [2 pages in PDF] of FCC Commissioner Kathleen Abernathy and FCC release summarizing the Report and Order [4 pages in PDF].
This item is FCC 03-273 in MB Docket 02-230. This item also includes a Further Notice of Proposed Rulemaking (FNPRM). Comments are due by January 14, 2004. Reply comments are due by February 13, 2004. For more information, contact Rick Chessen rchessen@fcc.gov or Susan Mort at smort@fcc.gov or 202-418-7200.
Edward Fritts, P/CEO of the National Association of Broadcasters (NAB), stated in a release that "The FCC's 'broadcast flag' adoption represents another advance in the digital transition and ensures that consumers continue receiving the very best in free, over-the-air television programming. It is equally important that the Commission recognized that news and public affairs aired by local stations receive the same copyright protection as other programming. With approval of DTV 'plug and play' rules, a DTV tuner mandate and now the broacast flag, the FCC is poised to enact cable DTV carriage rules that guarantee consumer access to the highest quality broacast programming available anywhere in the world."
Jack Valenti, P/CEO of the Motion Picture Association of America (MPAA) stated in a release that "The FCC scored a big victory for consumers and the preservation of high value over-the-air free broadcasting with its decision on the Broadcast Flag. This puts digital TV on the same level playing field as cable and satellite delivery. All the way around, the consumer wins, and free TV stays alive."
Robert Sachs, P/CEO of the National Cable & Telecommunications Association (NCTA) stated in a release that "The FCC's action represents another significant step in moving the digital transition forward. The cable industry has consistently supported the goal of preventing the unauthorized redistribution of free, over-the-air broadcast programming over the Internet."
Gigi Sohn, President of Public Knowledge stated in a release that "We commend the Commission for deviating from the movie studios' proposal, by offering more time for manufacturers to develop Flag-compliant technologies. But we are troubled that the FCC unfurled the Flag at all. Consumer advocates will need to be vigilant to ensure that Hollywood isn't able to lock in all of the anti-consumer features they tried to get in the first round. And consumers will need to be vigilant to make sure the Flag doesn't tread on their reasonable uses of content".
Ninth Circuit Holds Sound Recording Sampling is De Minimis Copying
11/4. The U.S. Court of Appeals (9thCir) issued its split opinion [PDF] in James Newton v. Beastie Boys, a copyright infringement case.
Background. James Newton is an accomplished jazz flutist. In 1978 he composed a song titled "Choir," a piece for flute and voice intended to incorporate elements of African-American gospel music, Japanese ceremonial court music, traditional African music, and classical music, among others. He is also a professor in the music department at California State University at Los Angeles, and a former Guggenheim fellow.
The Beastie Boys are a group of aging pop rappers whose career reached its artistic apex with the 1986 release of the song titled "(You Gotta) Fight For Your Right (To Party!)" (Parentheses in original.)
The Beastie Boys engage in the practice of sampling, or, the incorporation of short segments of other musical recordings into their own recordings. They used a six second sample from Newton's "Choir" in their song, "Pass the Mic". The lyrics are unremarkable. This song looped, or repeated, the sample forty times.
The Beastie Boys obtained license to use the sound recording, but not the underlying composition. ECM Records holds all rights in the sound recording. Newton retained all rights in the composition. Both are protected by copyright.
District Court. Newton filed a complaint in the U.S. District Court (CDCal) against each of the Beastie Boys and various other involved entities alleging infringement of his copyright in the music composition, as well as Lanham Act violations for misappropriation and reverse passing off.
The District Court dismissed the Lanham Act claims, and granted summary judgment to the Beastie Boys on the grounds that the short sample lacked sufficient originality to merit copyright protection, and because the copying was de minimis. Newton appealed.
Court of Appeals. The Court of Appeals affirmed in a split opinion. It held that the sample is original, and qualifies for copyright protection, but that it constitutes de mininis copying. Both the majority and dissent concluded that sampling is de minimis only if an average audience would not recognize the appropriation. They differed as to whether there was a question of fact to be submitted to the jury on this issue.
Judge Mary Schroeder wrote the opinion of the Court. Judge David Thompson joined. Judge Susan Graber dissented.
This case is not about the moral rights of authors, for the simple reason that, except in the case of certain visual art works, the Copyright Act does not implement the moral rights provisions of the Berne Convention.
Article 6bis of the Berne Convention provides that "Independently of the author's economic rights, and even after the transfer of the said rights, the author shall have the right to claim authorship of the work and to object to any distortion, mutilation or other modification of, or other derogatory action in relation to, the said work, which would be prejudicial to his honor or reputation."
Perhaps composers who find themselves in Newton's position have a claim that sounds in the nature of a violation of their moral rights not to have their works distorted or mutilated. But, this right does not exist in the U.S., so composers are left to protect the integrity of their work with copyright infringement and Lanham Act remedies that are designed to address economic harms.
This case is James Newton v. Michael Diamond, Adam Horowitz, Adam Yauch, dba Beastie Boys, Capitol Records, et al., U.S. Court of Appeals for the 9th Circuit, No. 02-55983, an appeal from the U.S. District Court for the Central District of California, D.C. No. CV-00-04909-NM, Judge Nora Manella presiding.
Senate Committee Holds Hearing on Database Security
11/4. The Senate Judiciary Committee's Subcommittee on Terrorism, Technology and Homeland Security held a hearing titled "Database Security: Finding Out When Your Information Has Been Compromised".
Sen. Patrick Leahy (D-VT), the ranking Democrat on the full Committee, wrote in his opening statement that "As technology has advanced, and particularly since the terrorist attacks of September 11th, there has been a surge in government and private sector efforts to create large databases that compile extensive personal information, often through so-called data-mining. The Bush Administration has done this in the name of homeland security, and private companies have argued that gathering this information is essential to their commercial ventures."
He continued that "Administration projects like the Total Information Awareness initiative threatened to violate privacy and other civil liberties and provoked an overwhelming outcry from the public. Just recently we learned that a DOD contractor, Torch Concepts, obtained an airline passenger database without those passengers' knowledge, used it in ways not admitted to the airline, and publicly released the personal information of one of those unsuspecting passengers."
He concluded that "I am particularly concerned that criminals view these databases as virtual goldmines for illegal activities, most notably identity theft."
Sen. Dianne Feinstein (D-CA) discussed S 1350, the "Notification of Risk to Personal Data Act", which she introduced on June 26, 2003. It would require government agencies, commercial entities or individuals that own or license electronic databases containing personal information to notify individuals whose information is stored in those databases when the security of the database is breached.
See also, story titled "Sen. Feinstein Introduces Bill to Require Disclosure of Unauthorized Access to Electronic Data" in TLJ Daily E-Mail Alert No. 691, July 1, 2003.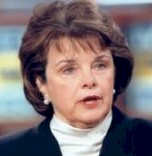 Sen. Feinstein (at right) wrote in her opening statement that "Unfortunately, data breaches are becoming all too common and current law does not require notification to consumers when these breaches occur."
She said that "If individuals are informed of the theft of their Social Security numbers or other sensitive information, they can take immediate preventative action. They can place a fraud alert on their credit report to prevent crooks from obtaining credit cards in their name; They can monitor their credit reports to see if unauthorized activity has occurred; They can cancel any affected financial or consumer or utility accounts; They can change their phone numbers if necessary; Prompt notification will also help combat the growing scourge of identity theft."
David McIntyre P/CEO of TriWest Healthcare Alliance, a health care company, wrote in his testimony about a burglary of a TriWest office that resulted in the theft of computer equipment and files containing personal information of 500,000 people, including names, addresses and social security numbers.
He said that it is important to notify customers promptly after a breach. He stated that "Health care professionals talk about the ``Golden Hour´´ when they refer to the window in which it is critical that heart attack victims receive medical attention if they are to have high odds for survival and a reasonable quality of life. What I quickly discovered is that there is a ``Golden Hour´´ when it comes to aiding consumers in protecting themselves against identity theft as well. The experts told me that if it we wanted the best chance of protecting our customers from identity theft, we had no more than a couple of weeks to reach our customers and assist them in contacting the credit bureaus so they could act to place fraud flags on the credit files."
Evan Hendricks, the Editor of Privacy Times, identified several threats to data security and privacy in his prepared testimony. He wrote that "identity theft continues as one of the fastest growing crimes".
Second, he said that "there is a community of hackers constantly probing and testing data security. We still do not know the percentage of hackers that are hacking for malicious purposes. However, we do know that there is a community of ``Carders,´´ that is, hackers who specialize in obtaining and trafficking in credit card numbers."
Third, he said that "there is not a strong organizational culture of data security throughout many organizations, even though they maintain or have access to the personal data of millions of Americans. This is due in part to the relative ``newness´´ of the electronic data age, but in my opinion, more attributable to the absence of long-standing and well-known law and policy that would require organizations to take seriously the issues of data security and privacy."
Finally, he said that "Another concern is the trend towards outsourcing data processing chores to overseas firms in lower-wage countries, including The Philippines, India, Pakistan and Jamaica."
He wrote that S 1350 is a good starting point, but that legislation should also include a private right of access to data, include a private right of action, and curtail the use of social security numbers as personal identifiers.
Mark MacCarthy, an SVP at Visa USA, also testified. He wrote in his prepared testimony that it is "a top priority" at Visa to "protect consumers from the effects of information security breaches".
Washington Tech Calendar
New items are highlighted in red.
Wednesday, November 5
The House will meet at 10:00 AM for legislative business. See, Republican Whip Notice.
9:00 AM. Federal Communications Commission (FCC) Commissioner Kathleen Abernathy will host an event titled "general press briefing". For more information, contact Matt Brill at 202-418-2400. Location: FCC, 445 12th Street, SW, Room 8B-115.
9:00 AM - 5:00 PM. The North American Numbering Council (NANC) will meet. Location: Federal Communications Commission (FCC), 445 12th Street, SW, Room TW-C305.
10:00 AM. The Senate Commerce Committee will hold a hearing on aviation security. The witnesses will include Stephen McHale (Deputy Administrator, Transportation Security Administration), Penrose Albright (Assistant Secretary Plans Programs, Budgets, Science and Technology Directorate, Department of Homeland Security), William Parrish (Acting Assistant Secretary Information Analysis, Information Analysis and Infrastructure Protection), and Cathleen Berrick (General Accounting Office). The hearing will be webcast. See, notice. SJC Press contact: Rebecca Hanks (McCain) at 202 224-2670 or Andy Davis (Hollings) at 202 224-6654. The DHS states that there will also be a hearing from 9:30 - 10:00 AM that is closed to the public, and that in addition, James Loy (TSA Administrator) will participate. Location: Room 253, Russell Building.
12:30 PM. The Federal Communications Bar Association (FCBA) will host a lunch. The speaker will be Federal Communications Commission (FCC) Chairman Jonathan Adelstein. RSVP by Friday, October 31. See, registration form. Location: J.W. Marriott Hotel, 1331 Pennsylvania Ave., NW.
2:00 PM. The Senate Governmental Affairs Committee will hold a hearing to examine the report of the Presidential Commission on the U.S. Postal Service. On July 31, 2003, the President's Commission on the United States Postal Service issued a report [208 pages in PDF] titled "Embracing the Future, Making the Tough Choices to Preserve Universal Mail Service". See, story titled "Presidential Commission Reports on USPS and E-Mail" in TLJ Daily E-Mail Alert No. 710, August 4, 2003. Location: Room 342, Dirksen Building.
6:00 - 8:15 PM. The Intellectual Property and other sections of the D.C. Bar Association will host a CLE course titled "Secrets of the Uniform Trade Secrets Act". Prices vary. For more information, call 202 626-3488. Location: D.C. Bar Conference Center, 1250 H Street NW, B-1 level.
The Trade Policy Staff Committee (TPSC) will hold a hearing on negotiations with Bahrain on a free trade agreement (FTA). The TPSC seeks comments and testimony to assist the Office of the U.S. Trade Representative (USTR) on many topics, including "Relevant trade-related intellectual property rights issues that should be addressed in the negotiations" and "Existing barriers to trade in services between the United States and Bahrain that should be addressed in the negotiations". See, notice in the Federal Register, August 25, 2003, Vol. 68, No. 164, at Pages 51062 - 51064.
TIME? The U.S. Court of Appeals (3rdCir) is scheduled to hear oral argument in Prometheus Radio Project v. FCC, and numerous other consolidated petitions for review of the Federal Communications Commission's (FCC) media ownership order. See, scheduling order [PDF]. Location: Philadelphia, PA.
Thursday, November 6
The House will meet at 10:00 AM for legislative business. See, Republican Whip Notice.
9:30 AM. The U.S. Court of Appeals (DCCir) will hear oral argument in BDPCS v. FCC, No. 02-1369. Judges Randolph, Roberts and Williams will preside. Location: 333 Constitution Ave. NW.
9:30 AM. The House Commerce Committee's Subcommittee on Telecommunications and the Internet will hold a hearing titled "Computer Viruses: The Disease, the Detection and the Prescription for Protection". The hearing will be webcast. Press contact: Ken Johnson or Jon Tripp at 202 225-5735. Location: Room 2123, Rayburn Building.
9:30 AM. The Senate Judiciary Committee will hold an executive business meeting. The agenda includes consideration of several judicial nominees, and consideration of James Comey to be Deputy Attorney General. See, notice. Press contact: Margarita Tapia (Hatch) at 202 224-5225 or David Carle (Leahy) at 202 224-4242. Location: Room 226, Dirksen Building.
9:30 - 10:30 AM. Federal Communications Commission (FCC) Commissioner Michael Copps will host an event titled "Press Breakfast". RSVP to Betty Morris at Betty.Morris@fcc.gov. Location: FCC, 445 12th Street, SW, Suite 8-A302.
10:00 AM. Two of the House Government Reform Committee's subcommittees will hold a joint hearing titled "Public Safety Interoperability". The witnesses will include William Jenkins (Director of the GAO's Homeland Security and Justice Issues), Marilyn Ward (Chairman, National Public Safety Telecommunications Council), Aldona Valicenti (National Association of State Chief Information Officers), Marilyn Praisner (Councilwoman, Montgomery County, MD), George Ake (Capital Wireless Integrated Network), Karen Evans (E-Gov/IT Director at OMB), David Boyd (Department of Homeland Security), John Muleta (Chief of the FCC's Wireless Bureau), and Edmond Thomas (Chief of the FCC's Office of Engineering and Technology). Location: Room 2154 Rayburn Building.
10:00 - 11:30 AM. The Federal Communications Commission's (FCC) Media Security and Reliability Council (MRSC) will hold a meeting. See, notice in the Federal Register, May 29, 2003, Vol. 68, No. 103, at pages 32038 - 32039. Location: FCC, Commission Meeting Room (TW-C305), 445 12th St., SW.
3:00 - 5:30 PM. The Department of Justice's (DOJ) Antitrust Division (ATR) will host a ceremony and reception commemorating the 100th anniversary of the appointment of the first Assistant Attorney General (AAG) with antitrust responsibilities. AAG Hewitt Pate will speak. In addition, the ATR will give an award to Judge Richard Posner of the U.S. Court of Appeals (7thCir). The DOJ has stated both that the event is open to current and former ATR employees only, and that "Media interested in attending the event should contact, in advance, Luke Macaulay, Office of Public Affairs, 202-514-2007." See, ATR notice, OPA notice, and ATR notice of Posner award. Location: Great Hall, DOJ Main.
4:00 PM. Barton Beebe (Cardozo Law School) will present a draft paper titled "Search and Persuasion in Trademark Law". See, notice. For more information, contact Robert Brauneis at 202 994-6138 or rbraun@law.gwu.edu. Location: George Washington University Law School, Faculty Conference Center, Burns Building, 5th Floor, 716 20th Street, NW.
6:00 - 8:15 PM. The D.C. Bar Association will host a CLE course titled "How to Litigate an Intellectual Property Case Series: Part 1 How to Litigate a Copyright Case". Prices vary. For more information, call 202 626-3488. Location: D.C. Bar Conference Center, 1250 H Street NW, B-1 level.
Friday, November 7
12:15 - 1:30 PM. The Federal Communications Bar Association's (FCBA) Wireless Committee will host a luncheon panel discussion titled "Debate on Licensed vs. Unlicensed Models for Spectrum Management". The speakers will be Thomas Hazlett (Manhattan Institute), and Michael Calabrese (New America Foundation). The price to attend is $15. For more information, contact lauren.vanwazer@fcc.gov. RSVP to wendy@fcba.org. Location: Sidley Austin, 1501 K Street, NW, 6th Floor.
Monday, November 10
The Intellectual Property Owners Association (IPO) will host a one-day conference on corporate IP management. Location: Washington DC.
Oral argument before the U.S. Court of Appeals (10thCir) in FTC v. Mainstream Marketing Service, No. 03-1429. This is the telemarketers' constitutional challenge to the FTC's do not call registry. See, October 8, 2003 order [24 pages in PDF] staying the District Court's opinion, and setting an expedited schedule. Location: Tulsa, Oklahoma.
Tuesday, November 11
Veterans Day. The FCC will be closed.
Wednesday, November 12
11:00 AM. The Cato Institute will host a book forum on Black Ice: The Invisible Threat of Cyberterrorism. Author Dan Verton will speak. See, Amazon page and Cato notice. Lunch will follow the program. Location: 1000 Massachusetts Ave., NW.
Deadline to submit comments to the U.S. Patent and Trademark Office (USPTO) regarding proposed changes to its rules of practice to support the implementation of the 21st Century Strategic Plan. The proposed changes include permitting electronic signatures on a number of submissions, streamlining the requirements for incorporation by reference of prior filed applications, and clarifying the qualifications for claiming small entity status for purposes of paying reduced patent fees. See, notice in the Federal Register, September 12, 2003, Vol. 68, No. 177, at Pages 53815 - 53859.
Deadline to submit comments to the Federal Communications Commission (FCC) in response to its Notice of Inquiry (NOI) regarding the impact that communications towers may have on migratory birds. See, notice in the Federal Register, September 12, 2003, Vol. 68, No. 177, at Pages 53696 - 53702. This is Docket No. WT 03-187, and FCC 03-205. The FCC adopted this NOI on August 8, 2003, and released it on August 20, 2003. See also, story titled "FCC Release NOI On Communications Towers and Migratory Birds" in TLJ Daily E-Mail Alert No. 723, August 21, 2003.
FCC Releases Report and Order Adopting Rules to Implement WRC Decisions
11/4. The Federal Communications Commission (FCC) released a Report and Order [99 pages in PDF] that amends Parts 2, 25 and 87 of the FCC's rules to implement various decisions made at World Radiocommunication Conferences (WRC).
The report and order contains this introductory summary: "By this action, we amend Parts 2, 25, and 87 of our Rules to implement domestically various allocation decisions from several World Radiocommunication Conferences ("WRCs") concerning the frequency bands between 28 MHz and 36 GHz, and to otherwise update our Rules in this frequency range. The following actions are the most significant to non-Federal Government operations: (1) implementation of generic mobile-satellite service ("MSS") allocations in the bands 1525-1559 MHz and 1626.5-1660.5 MHz ("L-band"); (2) allocation of the band 1164-1215 MHz to the radionavigation-satellite service ("RNSS"); (3) deletion of unused and limited fixed-satellite service ("FSS") and broadcasting-satellite service ("BSS") allocations from the band 2500-2690 MHz; and (4) upgrade of the Earth exploration-satellite service ("EESS") allocation in the band 25.5-27 GHz from secondary to primary. In addition, at the request of the National Telecommunications and Information Administration ("NTIA"), we implement various allocation changes for the space science services and the inter-satellite service ("ISS"), most of which involve spectrum primarily used by the Federal Government. These actions conform our Rules to previous WRC decisions and are expected to provide significant benefits to the American public."
The report and order addresses secondary mobile satellite service (MSS) use of the 14-14.5 GHz band. It states, at Paragraph 72, that "The band 14-14.5 GHz is allocated for FSS uplinks on a primary basis for non-Federal Government use. This band is heavily used by Very Small Aperture Terminals ("VSATs") for uplinking to geostationary satellites.138 These VSAT systems provide video and data communications and are widely deployed at business locations, ranging from the largest corporate headquarters to the smallest convenience stores."
It concludes, at Paragraph 76, that "We are allocating the band 14-14.5 GHz to the MSS, including AMSS (Earth-to-space), for non-Federal Government use on a secondary basis ..." It continues that "we believe that such use of the band appears to be technically feasible and would be helpful in meeting the growing demand for two-way broadband data and communications capabilities for commercial aircraft passengers and crew. Further, WRC-03 added a worldwide secondary AMSS allocation in this band. We find that conforming the US Table to this recent international allocation is desirable because it will facilitate an important new use of the 14-14.5 GHz band on a non-interference basis to other uses of the band."
This proceeding is titled "In the Matter of Amendment of Parts 2, 25, and 87 of the Commission's Rules to Implement Decisions from World Radiocommunication Conferences Concerning Frequency Bands Between 28 MHz and 36 GHz and to Otherwise Update the Rules in this Frequency Range Amendment of Parts 2 and 25 of the Commission's Rules to Allocate Spectrum For Government and Non-Government Use in the Radionavigation-Satellite Service". It is ET Docket No. 02-305. This report and order is FCC 03-269 in RM-10331. This report and order was adopted on October 31, and released on November 4.
Pascal Lamy Discusses EU FSC Retaliation
11/4. Pascal Lamy, Trade Commissioner of the European Commission, gave a speech titled "Trade Crisis?" at the European Institute in Washington DC. He addressed the Cancun ministerial, China, bilateral agreements, and U.S. EU trade disputes, such as FSC, beef and bananas, genetically modified foods, and steel.
One of the topics that he addressed in detail was the United States' Foreign Sales Corporation (FSC) and Extraterritorial Income (ETI) tax regimes, that the World Trade Organization (WTO) has held to constitute illegal export subsidies. The EU, which is entitled to impose retaliatory tariffs, has threatened tariffs on U.S. technology exports. The Congress is currently working on repeal and replacement legislation.

Lamy (at right) stated, "So the common denominator between the FSC and steel case -- or indeed their link with the bananas and hormone cases -- is not whether or not the EU is going to retaliate or not, which areas our retaliation will hit, when we are going to do it, and so on. The question to answer, as the US put it in the hormone and bananas cases back in 1999, or on GMOs, where the US has launched a case this autumn, is: when is the other side going to bring itself into conformity with the rules? On steel, when is the US going to lift the tariffs it imposed back in the spring of 2002? On FSC, when is the US going to pass the repeal legislation, which we have been eagerly awaiting for three years now, to end the illegal export subsidies which have been around for years and years. And you will understand that this has been my primary focus in discussions over the last couple of days."
He also stated that "For those who remain interested in the simpler question (whether or not we will retaliate), the answer is yes, if the US does not move to comply within the clearly recognised deadlines. Consider FSC, where we have been waiting for compliance since November 2000 when the WTO Appellate Body found against the FSC for compliance. We have said that retaliation will begin in the early part of next year if FSC is not repealed before the end of the year."
More News
10/31. The U.S. District Court (DC) issued a Scheduling and Case Management Order [9 pages in PDF] in USA v. First Data & Concord EFS, Inc., D.C. No. 03-2169 (RMC). Trial will begin on December 15, and continue for seven business days. See also, story titled "DOJ Sues to Stop Merger of PIN Debit Networks", also published in TLJ Daily E-Mail Alert No. 765, October 24, 2003.
10/31. The Office of the U.S. Trade Representative (USTR) published a notice in the Federal Register requesting comments regarding barriers to U.S. exports of goods, services and overseas direct investment for inclusion in the USTR's annual National Trade Estimate Report on Foreign Trade Barriers (NTE). The USTR seeks comments on, among other issues, lack of intellectual property protection, trade restrictions affecting electronic commerce, restrictions on the use of data processing, technology transfer requirements, limitations on foreign equity participation, and anticompetitive practices. See, notice in the Federal Register, October 31, 2003, Vol. 68, No. 211, at Pages 62159 - 62160. Comments are due by December 12, 2003.
11/4. The Federal Communications Commission (FCC) held an event titled "Rural Wireless Internet Service Provider (WISP) Showcase and Workshop". See, remarks [PDF] by FCC Chairman Michael Powell, and agenda [PDF].
11/4. The Federal Communications Commission (FCC) issued several documents intended to provide information to consumers about wireless local number portability (WLNP). The FCC has adopted rules that require wireless carriers to make WLNP available to consumers in the top 100 Metropolitan Statistical Areas (MSA) starting November 24, 2003. In other areas, wireless carriers must make WLNP available by May 24, 2004, or within six months of a wireless carrier's receiving a porting request from another carrier, whichever is later. See, FCC release [PDF], document [3 pages in PDF] titled "Wireless Local Number Portability: FCC Consumer Facts", Availability List [PDF], and Availability Map [PDF].
11/4. The Federal Communications Commission (FCC) released a report [50 pages in PDF] titled "Telephone Subscribership in the United States (Data Through March 2003)". It addresses telephone subscribership levels in the United States, and provides tables and charts with breakdowns by state, race, age, employment status, and income. The report estimates that 95.5% of all households in the United States have telephone service. See also, FCC release [PDF]. It was written by Alexander Belinfante of the Industry Analysis and Technology Division of the Wireline Competition Bureau.
11/4. The U.S. Patent and Trademark Office (USPTO) announced that the Trademark Trial and Appeal Board (TTAB) "has expanded the options for electronically filing documents in trademark disputes. Using the Electronic System for Trademark Trials and Appeals (ESTTA) system, parties to a dispute now can file more documents electronically with the TTAB, including requests for extension of time to oppose and notices of opposition. Parties also can use ESTTA to file motions and other documents in inter-partes cases." See, USPTO release.
About Tech Law Journal
Tech Law Journal publishes a free access web site and subscription e-mail alert. The basic rate for a subscription to the TLJ Daily E-Mail Alert is $250 per year. However, there are discounts for subscribers with multiple recipients. Free one month trial subscriptions are available. Also, free subscriptions are available for journalists, federal elected officials, and employees of the Congress, courts, and executive branch. The TLJ web site is free access. However, copies of the TLJ Daily E-Mail Alert are not published in the web site until one month after writing. See, subscription information page.

Contact: 202-364-8882; E-mail.
P.O. Box 4851, Washington DC, 20008.
Privacy Policy
Notices & Disclaimers
Copyright 1998 - 2003 David Carney, dba Tech Law Journal. All rights reserved.