Sen. Sanders and Others Urge FCC to Continue Ancient Newspaper Broadcast Cross Ownership Rule
December 3, 2012. Six Democratic Senators sent a letter [PDF] on November 30 to the Federal Communications Commission (FCC) urging perpetuation of the FCC's ancient regulatory regime for ownership of media. On December 3 the FCC solicited further comments, thus effectively postponing its adoption of new rules.
The focus of the letter is "large media companies" and their "mass consolidation" of media. However, they also lament the "extremely low levels of female and minority ownership".
They also wrote that "we understand that the FCC is again considering relaxation of its cross-ownership rules, which include limits on ownership of television stations and newspapers in the same market". Also, "It is our understanding that a vote on this latest round of proposed ownership rules can be expected before the end of the year."
They requested "that the FCC not proceed with its proposed rule changes without providing a clear, evidence based response" to their concerns.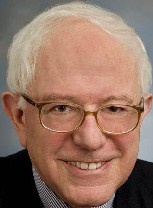 The letter was signed by Sen. Bernie Sanders (D-VT) (at left), Sen. Patrick Leahy (D-VT), Sen. Tom Harkin (D-IA), Sen. Barbara Boxer (D-CA), Sen. Patty Murray (D-WA), and Sen. Ron Wyden (D-OR).
The FCC adopted it latest rules on December 18, 2007, in its Report and Order on Reconsideration [124 pages in PDF]. It released these rules on February 4, 2008. It is FCC 07-216. However, on July 12, 2011 the U.S. Court of Appeals (3rdCir) issued its opinion [58 pages in PDF] in Prometheus Radio Project v. FCC in which it, among other things, vacated and remanded the FCC's newspaper/broadcast cross-ownership (NBCO) rules. See, story titled "3rd Circuit Issues Opinion Regarding FCC Regulation of Media Ownership" in TLJ Daily E-Mail Alert No. 2,256, July 12, 2011. That story also provides a review of FCC's and 3rd Circuit's proceedings over the last decade. On June 28, 2012, the Supreme Court denied petitions for writ of certiorari.
On December 22, 2011 the FCC adopted another NPRM [99 pages in PDF]. It is FCC 11-186 in MB Docket Nos. 09-182 and MB Docket No. 07-294.
The FCC has put off issuance of new rules. On December 3, 2012, the FCC issued a Public Notice (PN) that seeks comments on the FCC Media Bureau's November 14, 2012 report [121 pages in PDF].
The deadline to submit initial comments is December 26, 2012. The deadline to submit reply comments is January 4, 2013. (The December 3 PN is DA 12-1946. The November 14 report is DA 12-1667.)
Commentary. The genesis of the FCC's media ownership rules lies in a regulatory era that preceded the Department of Justice's (DOJ) Antitrust Division's, Federal Trade Commission's (FTC), and federal courts' development of economic analysis skills and legal precedents to promote competition and consumer welfare across all commercial sectors, including all news and information media. This genesis also preceded coaxial cable, fiber optics, satellite radio and TV, personal computing devices, the web, and broadband access.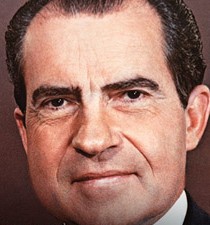 The NBCO rules date back to President Franklin Roosevelt's retaliation against newspapers for opposing some of his policies in the 1930s. Other politicians since, including former President Richard Nixon (at right), have also found FCC ownership regulation and broadcast licensing to be politically useful.
The DOJ, FTC and courts possess not only the tools, but also have the authority, to address competition in all interstate commerce. In contrast, the FCC applies outdated tools to only the limited industry sectors over which it holds regulatory authority, such as broadcast TV and radio, and newspapers via cross ownership.
A vast flood of new media based in internet protocol (IP) and new information technology (IT) devices and services not only lays beyond the regulatory control of the FCC, but has also rendered obsolete any antediluvian rationale that might have once existed for media ownership regulation.
Although, FCC Chairman Julius Genachowski may be grasping for a new regulatory rationale, and expanded authority, under the guise of the "Information Needs of Communities". See, July 2011 FCC report [468 pages in PDF].
Meanwhile, Sen. Sanders and others seek to preserve regulatory relics. They wrote, "While the Internet has matured significantly in recent years, it does not yet solve this problem."
(Published in TLJ Daily E-Mail Alert No. 2,484, December 6, 2012.)