House Rejects STEM Visas Bill in Suspension Vote
September 20, 2012. The House rejected HR 6429 [LOC | WW | PDF], the "STEM Jobs Act of 2012" by a vote of 237-180. Republicans vote 227-5. Democrats voted 30-153. See, Roll Call No. 590.
The House considered this bill under suspension of the rules, which meant that a two thirds majority was required for passage. This bill won a simple majority, but not a two thirds majority, and hence, failed to pass.
This bill would create a new program that would provide up to 55,000 visas per year to aliens with Ph.D.s, and then Masters degrees, in math, science engineering or technology (STEM). It would also eliminate a comparably sized diversity lottery visa program. See, stories titled "House to Consider STEM Visa Bill" and "Rep. Lofgren Introduces Alternative STEM Visa Bill" in TLJ Daily E-Mail Alert No. 2,448, September 14, 2012, and "STEM Visa Bills Update" in TLJ Daily E-Mail Alert No. 2,451, September 19, 2012.
While this vote may suggest that Republicans support creating a STEM visas program, while Democrats tend to oppose this, there were also other issues and political strategies that affected members' votes.
For example, Rep. Zoe Lofgren (D-CA) represents a Silicon Valley District where many companies would benefit from employment of aliens with STEM visas. She stated in the House that she supports the concept of a STEM visas program, but opposed HR 6429, in part, because it would terminate the diversity lottery visa program.
On September 14, she introduced her own bill that would create a similar STEM visas program, but maintain the diversity visa lottery. Her bill also differs with HR 6429 on other matters not related to STEM visas. See, HR 6412 [LOC | WW | PDF], the "Attracting the Best and Brightest Act of 2012".
Also, House Republicans leaders made the decision to bring this bill to the floor under suspension of the rules. Had this bill been considered pursuant to a simple majority vote, it would have passed. Suspension of the rules prevents the offering of amendments. Rep. Lofgren might offered her bill as an amendment in the nature of a substitute. But, the House Republicans decided not to permit this course of action.
Moreover, the House Republican leadership could have brought HR 6429 to the floor pursuant to a closed rule that would have provided for a simple majority vote, but still made no amendments in order. Had they done this, HR 6429 likely would have passed.
House Republican leaders pushed HR 5949 [LOC | WW], the "FISA Amendments Act Reauthorization Act of 2012", through the House last week, pursuant to such a closed rule. There was a substantial risk that if certain amendments had been allowed, such as to shorten the term of the extension, or to provide for more oversight, they would have passed.
The House Republicans have not achieved passage of a STEM visas bill in the House. However, they have achieved a roll call vote demonstrating overwhelming Republican support for a STEM visas bill, and overwhelming Democratic opposition. Republican candidates, party committees, and fund raisers now have the opportunity to position the Republican party as the pro technology, pro innovation, and pro economic development party on this issue.
However, the Republican leadership may have been more interested in using this vote to posture and position, and reap the fund raising and electoral results that might result therefrom, than to implement policies that would actually provide US companies, workers, and consumers the innovative and economic fruits of such policies.
Also this week, Sen. Charles Schumer (D-NY) introduced S 3553 [LOC | WW, the "Benefits to Research and American Innovation through Nationality Statutes Act of 2012" or "BRAINS Act". While this bill would create a STEM visas program, it would only last for two years. See also, Sen. Schumer's release.
Technology groups rushed this week to endorse the concept of creating a STEM visas program, whatever the vehicle might be.
For example, the Computer and Communications Industry Association (CCIA) praised the STEM visas components of all three bills. Ed Black, head of the CCIA, stated in a release that "The gridlock on skilled immigration has amounted to unilateral disarmament in the global competition for talent. Continuing to limit our nation's economy's access to this foreign-born talent makes no sense. We look forward to responsible leaders in both parties reaching agreement to move forward with a STEM visa bill that can be passed by both chambers of Congress this year."
Similarly, the Information Technology Industry Council (ITIC) endorsed all three proposals to create a STEM visas program. The ITIC's Andy Halataei stated in a release that these proposals would "halt the practice of educating and then sending abroad our best STEM students to compete against us".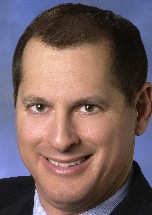 While most tech groups endeavor never to criticize either political party, the Consumer Electronics Association (CE), and especially its leader, Gary Shapiro (at right), has a history of speaking freely and frankly.
Shapiro stated in a release after the vote on HR 6429 that "we are disappointed that today one party put attracting the best immigrants and innovation second to some concept of random immigration. But, I appreciate the support of the 30 Democrats who voted for this bill."
Shapiro added that "Many of the world's top students come to the U.S. to obtain advanced degrees in science, technology, engineering and math. The STEM Jobs Act would have allowed these individuals to use their knowledge and skills to create jobs here in America. Defeat of this bill means we are continuing to train foreign-born students only to force them to work for our global competitors."