Rep. Stearns and Rep. Matsui Introduce 1755-1780 MHz Band Bill
April 26, 2012. Rep. Cliff Stearns (R-FL) and Rep. Doris Matsui (D-CA) introduced HR 4817 [LOC | WW], the "Efficient Use of Government Spectrum Act", a bill that require that the Federal Communications Commission (FCC) to pair the 1755-1780 MHz block and the 2155-2180 MHz block, which is already set for auction, for reallocation and auction for commercial wireless use.
The two issued releases that state that when the Congress enacted its spectrum bill in February, "at the last minute, the 1755-1780 spectrum block was pulled from the law". See, Rep. Stearns' release and Rep. Matsui's release.
Then, on March 27, 2012, the National Telecommunications and Information Administration (NTIA) released its report [155 pages in PDF] titled "An Assessment of the Viability of Accommodating Wireless Broadband in the 1755 - 1850 MHz Band".
The NTIA report states that "it is possible to repurpose all 95 megahertz of the band. The challenges still to be met include the high cost and long timeline of the undertaking, estimated to be approximately $18 billion over 10 years, assuming relocation of most existing federal users, not including costs to incumbent systems in comparable destination bands. However, the extent to which the spectrum can be made exclusively available to commercial interests requires further investigation, as some federal systems could remain in the band indefinitely." (Footnote omitted.)
The NTIA report also states that compared to the reallocation of the 1710-1755 MHz band, "the 1755-1850 MHz band presents significantly greater challenges". See also, story titled "NTIA Releases Report on 1755-1850 MHz Band" in TLJ Daily E-Mail Alert No. 2,358, March 27, 2012.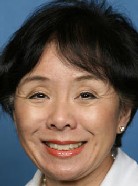 Rep. Matsui (at right) stated in her release that "We are faced with a spectrum crunch in our country and consumers continue to demand the latest smartphones and devices, which will only increase demand."
She said that "This bipartisan legislation moves us a step closer to bringing an additional 25MHz of federal spectrum to auction for commercial wireless services. This bill also seeks to provide the necessary and responsible safeguards for DoD and other federal agencies to relocate, if necessary, by following the recommendations set forth in the March 2012 NTIA Report."
In addition, "the proceeds from the auction will go either toward building out our nation's public safety interoperability network, or to the U.S. Treasury."
Jot Carpenter of the CTIA stated in a release that "Reallocation of the 1755 to 1780 megahertz band is a high priority for CTIA and its members and so we welcome introduction of the Stearns-Matsui bill. We hope that this and other bands currently occupied but often underutilized by federal users will be made available for commercial use as expeditiously as possible. Freeing spectrum like the 1755 to 1780 megahertz band is key to helping ensure that the U.S. remains the world's leader in the deployment of wireless broadband services."