Senate Commerce Committee Approves Distracted Driving Prevention Act
June 9, 2010. The Senate Commerce Committee (SCC) held an executive session at which it approved S 1938 [LOC | WW], the "Distracted Driving Prevention Act of 2009". The SCC approved an amendment in the nature of a substitute [16 pages in PDF], and the bill as amended.
The exercise of police powers, including enacting and enforcing criminal and traffic laws, is predominantly a matter of state activity. Moreover, many states have already enacted legislation pursuant to their police powers to prohibit individual conduct while driving that many cause distraction.
In contrast, the Congress's primarily tool for regulating telecommunications is to regulate the activities of the commercial enterprises that provide communications services and equipment.
S 1938 goes to state police power regulation of individual conduct, not federal regulation of interstate commerce. Rather than attempting to create a federal regime, this bill reflects an attempt to incent the states to enact legislation as directed by this bill, by giving or withholding grant funding.
The SCC held a held roll call vote that broke down along partisan lines. The vote was 17-8, with almost all of the votes in favor cast by Democrats. Sen. Kay Hutchison (R-TX), the ranking Republican, was one of the Republicans who voted yes.
No one argued that distracted driving is not a problem to be addressed by government. No one opposed the principle of federal legislation directed at curbing distracted driving. Sen. Roger Wicker (R-MS), for example, said during debate that he supports legislation, but opposes this bill "in the name of federalism". He said that "we need to work on a federal approach" that does not instruct the states how to write their statutes.
Sen. John Rockefeller (D-WV), the Chairman of the SCC, responded that the bill is more like a carrot than an stick.
Sen. Rockefeller also read an opening statement. He said that "In 2008, distracted drivers killed nearly 6,000 people and injured 515,000 people. This is very much an emerging public health epidemic and we have to do something about it."
He summarized the bill. It "includes a grant program for states that enact laws to prohibit texting and hand-held cell phone use while driving and requires the Transportation Secretary to issue new regulations for commercial drivers and bus drivers to reduce distracted driving. We added a new provision in the substitute amendment that would prohibit automakers from installing entertainment screens in view of the driver."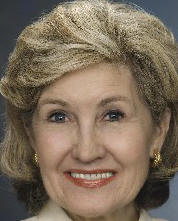 Sen. Hutchison (at left) stated that "All would agree that driving while distracted poses serious safety risks not only to the drivers, but to passengers, pedestrians, and anyone sharing the road. Unfortunately, studies have shown that while people are aware of the safety risks caused by using cell phones and texting devices while driving, they still participate in this behavior. The National Transportation Safety Board (NTSB) reports that in 2008, almost 6,000 people died from crashes resulting from distracted driving, accounting for 16% of all traffic fatalities."
The CTIA, which represents wireless service providers, and the National Safety Council (NSC), announced in a release on June 14, 2010, that they have created and distributed a sixty second radio public service announcement (PSA) as a part of their education program titled "On the Road, Off the Phone".
The bill, as amended, would create a distracted driving grant program, to be administered by the Department of Transportation (DOT). States would only be eligible for grants if they enacted, or modified, distracted driving statutes to meet the requirements of the bill.
The bill would require a statute that "prohibits a driver from holding a personal wireless communications device to conduct a telephone call while driving", with exceptions for contacting emergency services, using hands free devices, and other things.
The bill would further require a statute that "prohibits the use of a personal wireless communications device by a driver for texting while driving". The state statute must also meet the bill's requirements regarding levels of offense and fines.
The bill would also provide for direct regulation by the DOT of any operator of a "commercial motor vehicle" or "school bus".
This bill would also provide for certain direct regulation by the DOT of vehicle manufacturers. It would require the DOT to "initiate a rulemaking proceeding to prescribe a Federal motor vehi1le safety standard that would prohibit electronic screens from displaying broadcast television, movies, video games, and other forms of similar visual entertainment that is visible to the driver while driving."
Sen. Rockefeller introduced S 1938 on October 27, 2009. The SCC held a hearing on October 28, 2009. See, SCC web page with hyperlinks to prepared statements and video.
There is a related bill in the House, HR 3994 [LOC | WW], the "Distracted Driving Prevention Act of 2009". Rep. Eliot Engel (D-NY) introduced that bill on November 3, 2009. It has been referred to both the House Commerce Committee (HCC) and the House Transportation and Infrastructure Committee (HTIC). Neither Committee has taken any action. HR 3994 and S 1938, as introduced, were substantially identical.