Obama Signs Satellite TV Bill
May 27, 2010. President Obama signed into law S 3333 [LOC | WW], the "Satellite Television Extension and Localism Act of 2010", or "STELA". See, White House news office release.
This bill reauthorizes the Satellite Home Viewer Extension and Reauthorization Act of 2004 (SHVERA). It was enacted in 108th Congress, in late 2004, as one component of HR 4818, an omnibus appropriations bill. It became Public Law No. 108-447. The SHVERA contains statutory licenses that permit satellite television service providers to retransmit distant television broadcast station signals. These compulsory copyright licenses are codified at 17 U.S.C. § 119.
The statutory licenses in the SHVERA expired at the end of 2009. However, the Congress enacted a series of short term extensions. First, HR 3326 [LOC | WW], the "Department of Defense Appropriations Act, 2010", enacted in December of 2009, provided a two month extension, through February 28, 2010. Second, HR 4691 [LOC | WW], the "Temporary Extension Act of 2010", provided for a one month extension, through March 28, 2010. See, story titled "House and Senate Provide One Month Satellite Television Extension" in TLJ Daily E-Mail Alert No. 2,054, March 3, 2010. Third, S 3186 [LOC | WW] provided for another one month extension, through April 30, 2010. See, story titled "Satellite Licenses Extended for One Month" in TLJ Daily E-Mail Alert No. 2,066, March 29, 2010.
Sen. Patrick Leahy (D-VT), Chairman of the Senate Judiciary Committee (SJC), introduced S 3333 on May 7, 2010. However, this bill is built upon earlier bills introduced by members of the House and Senate Judiciary and Commerce Committees, and over a year of hearings, markups, and negotiations. The Senate passed this bill by unanimous consent on May 7. the House passed the bill without amendment by voice vote on May 12.
Sen. Leahy stated in the Senate on May 7 that "This legislation modernizes and extends important statutory copyright licenses that allow cable and satellite companies to retransmit the content transmitted by television broadcasters. STELA also includes important Communications Act authorizations that allow for the retransmission of broadcast television signals by satellite and cable providers." See, Congressional Record, May 7, 2010, at Page S3435.
S 3333 also provides incentives for satellite television service providers to provide local broadcast programming in all 210 markets in the US.
Rep. Rick Boucher (D-VA), the Chairman of the House Commerce Committee's (HCC) Subcommittee on Telecommunications, Technology and the Internet, stated in a release that "My major goal in reforming the Satellite Home Viewer Act has been to bring to all 210 local television markets across the nation what we call local-into-local television service through which local TV signals are transmitted by satellite to homes in the market where the TV stations are located. At present, 28 rural local markets do not have this service. Today, we have taken the final step in achieving this long held goal, and as a result, satellite TV subscribers everywhere will be able to receive both national programming and the local TV stations that serve their area".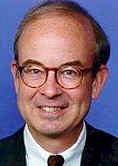 Rep. Boucher (at right), who represents a rural district at the western end of the state of Virginia, also noted that Echostar, which operates the Dish Network, will provide local television signals in all 210 markets nationwide. He added that "on June 3 Dish Network will begin serving the many rural markets that lack vital local TV signals. I want to commend the leadership of Dish Network for making this commitment. Millions of homes in America's most rural regions will be the beneficiaries".
Prior to enactment of S 3333, the Dish Network was not permitted to use the Section 119 satellite license. It can now use the Section 119 license, but only if it provides local programming in every single market.
Sen. John Rockefeller (D-WV), Chairman of the Senate Commerce Committee (SCC), stated in a release that "All American families should have access to their local news, weather, sports and community programming -- anything less is unacceptable in the 21st century. This is about fairness and leveling the playing field. That's why I fought for greater competition and access to quality programming for consumers, especially those living in rural areas, like in my home state of West Virginia ... The enactment of this bill into law will preserve and improve consumer access to quality programming no matter who they are, or where they live."
S 3333 also revises the cable license codified at 17 U.S.C. § 111, which pertains to the retransmission of both local and distant programming by cable providers.
S 3333 also addresses the phantom signal problem in the cable license. Sen. Leahy explained in the Senate on May 7 that "One other important way that STELA will preserve and improve existing service for consumers is by correcting a flaw in the statutory copyright license for the cable industry. An unintended result of current law is that the cable license requires the cable industry to pay copyright holders for signals that many of their subscribers do not actually receive. This is often referred to as the phantom signal problem. The effect of this anomaly in the law is that Comcast is required to pay copyright royalties based on their subscriber base across the northeast for the Canadian television content that is only provided to subscribers in Burlington, VT. The bill corrects this flaw by giving the cable industry the flexibility to continue to provide signals that are tailored to local interests -- signals that might otherwise have been pulled from cable line-ups."
Kyle McSlarrow, head of the National Cable and Telecommunications Association (NCTA), stated in a release that "We're pleased that the Satellite Television Extension and Localism Act of 2010 is now law. This five-year extension provides certainty that will enable the multichannel video marketplace to keep investing, innovating and delivering the robust services that 100 million American consumers enjoy."
S 3333 also addresses the separate satellite license codified at 17 U.S.C. § 122, which pertains to local into local programming. It also addresses multicasting. It also provides an audit right for copyright owners.