Genachowski Proposes Public Safety Use of Entire 700 MHz Band
February 25, 2010. Federal Communications Commission (FCC) Chairman Julius Genachowski gave a speech at the FCC regarding public safety and the FCC's forthcoming national broadband plan (NBP). Among others things, he said the the NBP will propose moving forward with the D Block auction, and also mandating that public safety entities have access to "the entire 700 MHz band through roaming and priority access arrangements".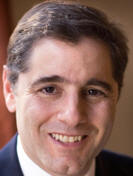 Genachowski (at left) said that "Public safety must have consistent and prompt access to secure, robust networks of the highest quality and first responders should be equipped with state-of-the-art devices and applications that are 100 percent interoperable and easy to use."
He said that the public safety portion of the NBP "will address three general areas relating to public safety and homeland security." It will "Recommend concrete steps for the deployment of a nationwide interoperable wireless broadband network for public safety", "Focus on increasing cybersecurity and critical infrastructure survivability of broadband networks", and "Propose measures to advance Next Generation 9-1-1 services and new public alerting initiatives that leverage broadband technology".
Regarding an interoperable broadband network for public safety, Genachowski said that NBP "Ensures that broadband wireless communications for public safety will be fully interoperable across all geographies and jurisdictions", "Ensures nationwide coverage", "Provides for funding for the construction, operation and evolution of the public safety network", "Provides for reserve capacity and needed redundancy and reliability through roaming and priority access on commercial broadband networks", and "Ensures that public safety will have available to it cutting-edge technology, including handsets, at consumer electronic prices".
He added that the NBP calls for the "creation of an Emergency Response Interoperability Center (ERIC)".
Also, the NBP will recommend that the "Congress consider significant public funding -- $16-18 Billion over 10 years -- for the creation of a federal grant program to help support network construction, operation and evolution of the pubic safety broadband network".
He continued that the "private sector simply is not going to build a nationwide, state-of-the-art, interoperable broadband network for public safety on its own dime".
Previously, the FCC tried, but failed, in an attempt to structure spectrum usage in a way that would lead to a privately built interoperable public safety network, in the D Block component of the 700 MHz auction in 2008.
The D Block is 10 megahertz of paired spectrum (758-763 MHz and 788-793 MHz). It was to have been auctioned in the 700 MHz auction (the FCC's Auction No. 73) as one nationwide license, subject to a Public/Private Partnership. The plan was for a commercial licensee to build a nationwide broadband interoperable network for use by public safety entities. This licensee would then have had preemptible secondary access to the spectrum. The FCC closed this auction on March 18, 2008. However, no bidder bid the reserve price for the D Block.
Genachowski then continued that the NBP recommends "that we move forward with a D Block auction. And in order to ensure sufficient reserve capacity for the network, as well as redundancy and resiliency, the Plan envisions that public safety will be able to access not just the D Block spectrum, but the entire 700 MHz band through roaming and priority access arrangements."
James Barnett, Chief of the FCC's Public Safety & Homeland Security Bureau, also spoke at the same event. He wrote in his speech that this proposal would authorize "public safety broadband users to roam on commercial networks and obtain priority access on terms that are reasonable and affordable".
"Rather than solely focusing on just the D-Block, through the Plan, public safety isn't limited to 10 or even 20 megahertz of spectrum, but could have access to as much as 80 megahertz under these arrangements", said Genachowski.
FCC mandated access to spectrum held by commercial licensees, at "terms that are reasonable and affordable", implies FCC regulation of both terms and prices, rather than market transactions. Moreover, the FCC has already completed the 700 MHz auction (except for the D Block) without imposing the restrictions on the auction winners that Genachowski and Barnett now propose.
Genachowski also announced that "we must ensure that the public safety community has access to a competitive environment to ensure the deployment of their network. To that end, our approach does not limit the public safety community to one potential partner. Instead, public safety can select any commercial operator it determines it is appropriate or, if it prefers, a systems integrator to partner with."