Bush Names McCallum Acting Deputy Attorney General
August 16, 2005. President Bush announced his intent to designate Robert McCallum to be acting Deputy Attorney General (DAG) at the Department of Justice. See, White House release.

The DAG is the number two position at the DOJ. McCallum (at right) is currently the Associate Attorney General, which position oversees many of the civil units of the DOJ, including six key divisions: Civil, Antitrust, Tax, Environment and Natural Resources, and Civil Rights. The Associate Attorney General also oversees many other units, but not the Solicitor General, the Office of Legal Counsel, or any of the crime related units. See, DOJ Organizational Chart.
McCallum was previously the Assistant Attorney General in charge of the Civil Division. Before that, he was a partner in the Atlanta office of the law firm of Alston & Bird. He focused on civil litigation, including appeals, commercial real estate litigation, insurance class action litigation and medical malpractice defense.
The designation comes now because of the departure of James Comey. President Bush nominated Timothy Flanagan to be the new DAG back in May, but the Senate has not confirmed him.
Comey is a career prosecutor. McCallum is not. Hi's background and experience is in several areas of civil law. Attorney General Alberto Gonzales is not a career prosecutor either. Until he came to Washington DC to work in the Bush White House, he had little experience related to federal criminal matters. In light of this, it may be significant that the position of Assistant Attorney General in charge of the Criminal Division is also vacant. President Bush has nominated Alice Fisher, but the Senate has not confirmed her. John Richter is the acting head of the Criminal Division.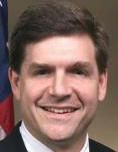 Richter (at left) is a prosecutor, who has also worked in the Atlanta office of the law firm of King & Spalding, on criminal law matters. This continues the Bush administration's tradition of placing a disproportionate number of attorneys from Georgia, and especially from the law firms of King & Spalding and Alston & Bird, in key positions at the DOJ. See, story titled "Atlanta Lawyers at DOJ" in TLJ Daily E-Mail Alert No. 711, August 5, 2003.
Thus, an acting Assistant Attorney General, who has not been confirmed by the Senate, is now the DOJ's senior person with expertise in criminal matters, including intellectual property crimes, cyber crime, electronic and online surveillance, FISA, and CALEA.
Richter's White House biography notes that he has experience in "drafting and presenting applications for Court-authorized electronic surveillance and physical searches in international terrorism-foreign counterintelligence investigations".