House Subcommittee Holds Hearing on IP Enabled Services
February 9, 2005. The House Commerce Committee's Subcommittee on Telecommunications and the Internet held a hearing titled "How Internet Protocol-Enabled Services are Changing the Face of Communications: A View from Technology Companies".
The Subcommittee heard from five CEOs of technology companies -- Edward Zander (Motorola), Patricia Russo (Lucent), Irwin Jacobs (Qualcomm), Andy Mattes (Siemens), and Michael Quigley (Alcatel). The witnesses reviewed developments in wireless and internet protocol (IP) enabled services. They also offered their recommendations for how the Congress can promote new services.
Jacobs said in his prepared testimony that the Congress can "Make more spectrum available for advanced wireless services by establishing in law a hard end date of December 31, 2006 to end the digital TV transition", "Maintain the current allocations of licensed wireless spectrum below 1 GHz", "Ensure that before unlicensed devices are permitted to operate in licensed spectrum that there is clear and convincing proof that they will not cause harmful interference to the licensed services", and "Encourage the FCC not to impose any regulatory barriers that impede the delivery of VoIP over PCS or cellular platforms".
Motorola's Zander said in his prepared testimony that "The Congress must act to preempt state regulation of VoIP." He also recommended "a light regulatory touch for IP-enabled services", and praised Rep. Chip Pickering (R-MS), Rep. Rick Boucher (D-VA0, and Rep. Clifford Stearns (R-FL) for their legislative efforts.
On January 4, 2005, Rep. Cliff Stearns (R-FL) and Rep. Rick Boucher (D-VA) introduced HR 214, the "Advanced Internet Communications Services Act of 2005". This is a reintroduction of a bill from the 108th Congress, HR 4757, the "Advanced Internet Communications Services Act of 2004". For a summary of the Stearns Boucher bill, see story titled "Rep. Stearns and Rep. Boucher Introduce VOIP and Internet Regulation Bill" in TLJ Daily E-Mail Alert No. 935, July 12, 2004.
Also, Rep. Pickering introduced HR 4129 in the 108th Congress. It is titled the "VOIP Regulatory Freedom Act of 2004". See, story titled "Sununu and Pickering Introduce VOIP Regulatory Freedom Bills" and story titled "Summary of VOIP Regulatory Freedom Bills", both published in TLJ Daily E-Mail Alert No. 872, April 8, 2004.
Zander also said that "The Congress must clarify the jurisdictional nature of IP-enabled services, beginning with VoIP, and establish a unified and rationalized regulatory paradigm for new advanced IP-enabled services that are agnostic to the platform. Such transformative transmissions should not be subject to each of the differing sets of legacy regulation that apply to each platform subset of the Seamless Mobility experience."
He elaborated that "a discrete communication that originates, traverses, and or terminates on a variety of different platforms such as wireless, broadcast, fiber, traditional telephone lines, or satellite, should not be subject to disparate and multiple regulatory treatments. With the advent of Seamless Mobility, the network supports the consumer not matter where they are -- the law should not impose artificial physical constraints either."
He also said that "we applaud the FCC's decision establishing federal jurisdiction for Vonage". See, story titled "FCC Adopts Order on Vonage's VOIP Petition" in TLJ Daily E-Mail Alert No. 1,015, November 10, 2004.
Siemens' Mattes said in his prepared testimony that "the overriding goal of any policy should be to promote the accelerated design, development, deployment and adoption of converged, packet-based broadband infrastructures, applications and services. The FCC's recent order exempting new fiber-based broadband networks from regulation is a good model to follow."
Second, said Mattes, "Voice over Internet Protocol is not a service, but a technology that enables multiple new services. Therefore, we recommend that this technology be exempt from traditional telecommunications regulation." He too praised Rep. Pickering, Rep. Boucher and Rep. Stearns.
Third, "new rules should be applied evenly across network platforms. Providers who are similarly situated should face the same rules when providing the same services. With this in mind, Congress should regulate down."
Lucent's Russo said in her prepared testimony that Congress should "ensure that sufficient allocations of cleared licensed spectrum are available on a timely basis to service providers that are rolling out powerful new 3G networks".
She also advocated "increased support for favorable R&D treatment and other mechanisms, such as increased government funding for advanced telecommunications research, to accelerate research into these new technologies."
Alcatel's Quigley said in his prepared testimony that "for IP technologies to flourish in the U.S., we need an environment that encourages services providers to invest in IP-based networks ... This also requires a level playing field in which all players have an equal opportunity to rapidly deploy IP technologies without unreasonable constraints or disincentives."
He also advocated engineering and science education.
Rep. Fred Upton (R-MI), the Chairman of the Subcommittee, presided. He argued for "deregulatory parity". He asked the witnesses about the consequences of applying current telecommunications regulation to new IP enabled services. The witnesses concurred that it would place consumers, their companies, and the U.S. at a competitive disadvantage.
Rep. Joe Barton (R-TX), the Chairman of the full Committee, wrote in his prepared statement that "Congress needs to act to ensure that all companies have the right incentives to invest and innovate. Congress has the opportunity to enact legislation as significant to the communications industry as the Communications Act of 1934."

"If we create the right rules for IP-enabled services, Congress will be paving the way for strong economic growth", said Rep. Barton (at left). "But if we permit regulators to stifle IP-enabled services and fail to adopt new legislation, we will have missed a significant opportunity to ensure that the United States remains the preeminent source of technological innovation."
Rep. Barton focused his questions to witnesses on why the U.S. is 13th in the world in broadband deployment. Some witnesses pointed out that population density is a factor. Rep. Barton also suggested, as did Rep. Pickering later, that federal preemption is necessary.
Rep. Ed Markey (D-MA), the ranking Democrat on the Subcommittee, pursued two main lines of questioning. First, he asked the witnesses whether they support or oppose allowing municipalities and public utilities to provide broadband services in their communities, provided that it is done on a competitive, equal, and non-discriminatory basis.
None of the witnesses expressed opposition. Russo, for example, said it would be appropriate, as Rep. Markey worded the question, but that the problem is "how do you assure that everything is equal". Quigley answered that it would be appropriate, if it were competitive, and not publicly funded. Mattes said that it would be appropriate, if there were a level playing field.
This panel of witnesses was comprised of companies that sell technology to service providers. The service providers that would have to compete against government run, government subsidized, or government favored broadband providers, were not represented on the panel.
Rep. Markey also asked the witnesses whether they support an open architecture model for IP enabled services. All of the witnesses expressed support. Zander said that "it is essential". Quigley said that it is the cornerstone of interoperability.
Rep. Markey also asked whether the government should subsidize broadband service, and whether the Carterphone decision should be revisited.
Rep. Stearns and Rep. Boucher used the hearing to promote the bill the they are cosponsoring, HR 214. One notable difference between their approach and that of Rep. Pickering is that their bill applies broadly to "advanced Internet communications service", while Rep. Pickering's bill applies to "VOIP applications".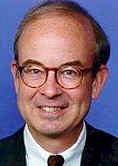 Rep. Boucher (at right) asked the witnesses whether they agree that Congressional legislation should encompass all IP applications, rather than just VOIP. None of the witnesses disagreed.
Rep. Boucher was less successful when he asked the witnesses whether they support prohibiting discriminatory treatment. That is, he argued that cable modem service providers and DSL service providers should not be able to discriminate in favor of their own products. Rep. Boucher made a plea for not interfering with the broad functionality of the internet, and consumers' access to web sites.
Several witnesses politely suggested that this is a complex issue which they would like to study further. None endorsed Rep. Boucher's notion of nondiscrimination.
For further discussion this issue, see story titled "Cato Study Opposes FCC Imposition of Network Neutrality" in TLJ Daily E-Mail Alert No. 816, January 15, 2004.
Several members of the Subcommittee who represent rural areas, including Rep. Barbara Cubin (R-WY) and Rep. Greg Walden (R-OR), raised the issue of universal service subsidies. Witnesses suggested that forthcoming IP based wireless services may enable providers to offer services in rural areas at reasonable prices. That is, Congress should look to new technologies, rather than taxes and subsidies.
Rep. John Shimkus (R-IL) advocated E911 services, and discussed an example of a VOIP subscriber who did not have E911 service. He also advocated reverse E911 services. He stated that reverse E911 occurs when public safety officials have the ability to contact people in a particular area to warn them of a threat.
Rep. Mike Ferguson (R-NJ), whose New Jersey district is the home to Lucent, and many Lucent workers, focused on what technology companies are doing to promote network security.
Rep. Jay Inslee (D-WA) quipped that new IP-enabled services have made it possible for constituents to chew out their Congressmen from anywhere at any time.