FCC to Seek Extension of Stay of DC Circuit Vacatur of TRO
March 31, 2004. All five of the Commissioners of the Federal Communications Commission (FCC) wrote a letter to telecommunications carriers and trade associations regarding the opinion [62 pages in PDF] of the U.S. Court of Appeals (DCCir) in USTA v. FCC, vacating parts of the FCC's latest rules (contained in the triennial review order) regarding the unbundling requirements of incumbent local exchange carriers (ILECs). The letter states that the FCC will seek an extension of the Court of Appeals' stay of its vacatur. The letter also encourages the incumbent and competitive carriers, and their trade groups, to use this time to negotiate. See, letter [PDF] sent to CompTel, and statement [PDF] released by the FCC.
The letters and statement announce that the FCC will petition the DC Circuit for a 45-day extension of the stay of its decision the triennial review order (TRO). That is, the March 2, 2004 opinion vacated key portions of the TRO that were challenged by the incumbent local exchange carriers (ILECs) pertaining to switching, and delegation to the fifty states of authority regarding impairment determinations.
The Appeals Court also wrote that "As to the portions of the Order that we vacate, we temporarily stay the vacatur (i.e., delay issue of the mandate) until no later than the later of (1) the denial of any petition for rehearing or rehearing en banc or (2) 60 days from today's date. This deadline is appropriate in light of the Commission's failure, after eight years, to develop lawful unbundling rules, and its apparent unwillingness to adhere to prior judicial rulings."
See also, story titled "Appeals Court Overturns Key Provisions of FCC Triennial Review Order" in TLJ Daily E-Mail Alert No. 848, March 3, 2004.
The FCC now seeks a 45 day extension of this 60 day stay. The FCC letters and statement further announce that the FCC urges telecommunications carriers and trade associations to use this time to engage in negotiations.
The three paragraph statement is set in full below:
"Today, we sent a letter to telecommunications carriers and trade associations urging them to begin a period of commercial negotiations designed to restore certainty and preserve competition in the telecommunications market. Ongoing litigation has unsettled the market. To address this uncertainty, we ask all carriers to engage in a period of good faith negotiations to arrive at commercially acceptable arrangements for the availability of unbundled network elements. We trust the parties will utilize all means at their disposal, including the selection of a third-party mediator, to maximize the success of this effort. The Communications Act emphasizes the role of commercial negotiations as a tool in shaping a competitive communications marketplace. After years of litigation and uncertainty, such agreements are needed now more than ever."
"To provide additional time for these negotiations, we intend to petition the D.C. Circuit for a 45-day extension of the stay of its decision vacating our unbundling rules. We likewise will request that the Solicitor General seek a comparable extension of the deadline for filing a petition for certiorari. The express, limited purpose of this request is to allow these negotiations to take place and for the parties to reach commercial agreements. We have asked the carriers to indicate to us by Tuesday, April 6 whether they will participate and will support a stay of the court's mandate."
"In the past, the Commission has been divided on these issues. Today, we come together with one voice to send a clear and unequivocal signal that the best interests of America's telephone consumers are served by a concerted effort to reach a negotiated arrangement. We call on all sides to commit to working in good faith toward a prompt negotiated resolution."
Commissioner Michael Copps released an additional statement, in which he wrote that "I join my colleagues in encouraging carriers to engage in negotiations in an effort to preserve competition in the telecommunications market. I support negotiations, provided they are conducted in good faith and on a level playing field. But the ground here is not naturally level. As a result, carriers will be doubly challenged to reach fair commercial agreements in a limited timeframe."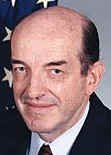 Copps (at right) added that "Consumers -- the people who pay America's phone bills -- don't have a seat at the negotiating table. They will rightfully feel left out in the cold if these negotiations only lead to higher phone rates. I commit to watching these discussions to ensure that consumers are protected in the months ahead. They deserve -- and expect -- no less."
U.S. Telecom Association (USTA) P/CEO Walter McCormick stated in a release that "We applaud Chairman Powell for his statesmanship, for his faith in the free market, and for his leadership in forging consensus among a majority of the Commission on a market-based approach to encouraging real competition, consumer choice, and rapid deployment of broadband technology. The FCC's call for commercial negotiations is consistent with the approach our companies have been taking in reaching out to their wholesale customers. In a world of competing technologies -- wireline, cable, wireless, powerline and satellite -- we are seeking to maximize the use of our networks by meeting our wholesale customers' unique business needs."
The USTA's membership includes ILECs. William Daley, President of SBC, an ILEC, stated in a release that "We're greatly encouraged that the FCC sees the value in business-to-business negotiations and mutually acceptable, commercial agreements as a preferable alternative to government-mandated and -managed competition for consumers. And we applaud Chairman Powell's leadership in bringing it about."
Daley, who was Secretary of Commerce in the Clinton administration, added that "Three weeks ago, SBC made an identical offer to our wholesale customers. Since then, we've been negotiating in earnest with a number of companies. ... We look forward to working with the commission and our wholesale customers to reach an acceptable, negotiated end to the bitter regulatory debates that have taken place for the past eight years, and to bring the promise of real, sustainable competition to consumers throughout the country."
CompTel/ASCENT CEO Russell Frisby wrote in a release that "CompTel/ASCENT accepts the FCC's request that the telecommunications industry enter into commercial negotiations for the purpose of reaching acceptable terms for UNEs. CompTel/ASCENT and its members are poised to enter these commercial negotiations in good faith, with the expectation of finding a mutually beneficial solution to the current issues in contention. Our hope is that the Bells come to the table with the same intentions and do not use this as a forum to exploit their exclusive control over critical portions of the public switched telecom network."
The CompTel/ASCENT's members include competitive local exchange carriers (CLECs). Frisby added that "it is vital that the process governing these negotiations is transparent, so that all competitive carriers -- large and small alike -- are afforded the same considerations in a non-discriminatory fashion. Without such a process in place, it will be difficult to avoid the problems that have plagued the industry during eight years of failed negotiations.
Frisby concluded that "The end result of any commercially negotiated agreements should be the transition to a true wholesale environment for local telecom services. In this scenario, which is not dissimilar to how the Bells are able to purchase wholesale long distance access, competitive local providers should be treated as wholesale customers with the ability to access critical facilities at just and reasonable rates."
The National Association of Regulatory Utiltity Commissioners (NARUC) issued a release in which it stated that "NARUC commends the Commission for its leadership and applauds the Commission's efforts to bring all the parties together on the terms of competition and to avoid disruption to the millions of consumers who rely on competitive carriers for their telephone service. A few State commissions, including Michigan and New York, have issued similar calls for commercial negotiations. A crucial element in creating this opening for further negotiation is the extension of the stay and appeal deadlines so that no party is required to forfeit its due process prerogatives to have a seat at the table.
The Federation for Economically Rational Utility Policy (FERUP), a coalition of state regulators that favor market oriented approaches, also issued a release praising the FCC's latest effort. It stated that it "commends the FCC for this timely proposal to encourage telecommunications carriers to reach commercially acceptable solutions. Likewise, FERUP is supportive of the FCC's impending petition for an extension of the D.C. Circuit's stay of its decision regarding the TRO to allow marketplace solutions to materialize in lieu of further litigation, delay, and uncertainty."
Greg Sopkin of the Colorado Public Utilities Commission stated in this FERUP release that "I applaud Chairman Powell and the entire FCC for preferring the path of arms-length negotiation over protracted litigation. It is high time that industry resources be rerouted from enriching lawyers and lobbyists for the purposes of delay and uncertainty, to enhancing consumer welfare and the economy through sustainable FCC rules and mutually agreed upon rates."