DC Circuit Upholds FCC's Data Roaming Rules
December 4, 2012. The U.S. Court of Appeals (DCCir) issued its opinion [30 pages in PDF] in Cellco Partnership v. FCC, rejecting a challenge to the Federal Communications Commission's (FCC) data roaming rules.
The Court of Appeals explained that "Roaming occurs when wireless subscribers travel outside the range of their own carrierís network and use another carrierís network infrastructure to make a call. Until the issuance of the rule challenged in this case, mobile carriers' obligation to permit roaming extended only to voice-telephone services."
This is a defeat for Verizon and AT&T.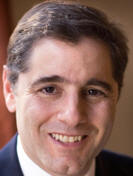 FCC Chairman Julius Genachowski (at left) asserted over broadly in a release that "This unanimous decision confirms the FCC's authority to promote broadband competition and protect broadband consumers."

On April 7, 2011, the FCC adopted and released a Second Report and Order [79 pages in PDF] that imposes common carrier like regulations for data roaming. The Commission divided 3-2, with Democrats Julius Genachowski, Michael Copps and Mignon Clyburn supporting the item, and Republicans Robert McDowell and Meredith Baker dissenting. The majority insisted nevertheless that these are not common carrier rules. And, the Court of Appeals today deferred to the FCC majority's assertion.

The FCC has long imposed voice roaming rules under Title II. The order under review provides that any "Commercial Mobile Data Service" is required to offer roaming arrangements on "commercially reasonable terms and conditions". It puts the FCC in the position of regulating rates. The order is FCC 11-52 in WT Docket No. 05-265.

See also, story titled "FCC Adopts Data Roaming Rules" in TLJ Daily E-Mail Alert No. 2,219, April 7, 2011.

The Court of Appeals concluded that "Title III of the Communications Act of 1934 plainly empowers the Commission to promulgate the data roaming rule. And although the rule bears some marks of common carriage, we defer to the Commission's determination that the rule imposes no common carrier obligations on mobile-internet providers."

Title II gives the FCC broad authority to regulate common carrier services. But, wireless data service is not a common carrier service. The FCC previously determined that wireless internet access is an information service.

On March 22, 2007, the FCC adopted a Declaratory Ruling (DR) that declares that wireless broadband internet access service is an information service. This DR is FCC 07-30 in WT Docket No. 07-53. See also, story titled "FCC Declares Wireless Broadband Is An Information Service" in TLJ Daily E-Mail Alert No. 1,556, March 26, 2007.

However, wireless carriers must comply with Title II common carrier requirements in providing voice service. The Court of Appeals wrote that the FCC "may not rely on Title II to regulate mobile data".

Title III gives the FCC limited authority to regulate mobile telephony. The FCC argued in its brief [136 pages in PDF] that it has authority under Title III and Section 706 to regulate mobile data.

Section 706 is codified at 47 U.S.C. ß 1302. This section contains the policy statement that the FCC and state commissions "shall encourage the deployment on a reasonable and timely basis of advanced telecommunications capability". See, story titled "FCC Files Brief with Court of Appeals in Challenge to Its Data Roaming Rules" in TLJ Daily E-Mail Alert No. 2,329, January 16, 2012. The Court of Appeals opinion acknowledges that the FCC argued Section 706, but is otherwise conspicuously silent regarding Section 706.

The FCC relies heavily on Section 706 in its defense of its December 2010 rules that regulate the network management practices of broadband internet access service (BIAS) providers. That order is also sometimes referred to as the "network neutrality" or "open internet" order. See, Report and Order (R&O) [194 pages in PDF]. The challenge to that order is now pending before the same Court of Appeals. See also, FCC brief [121 pages in PDF] and

story titled "FCC Files Brief with DC Circuit in Challenge to BIAS Rules" in TLJ Daily E-Mail Alert No. 2,445, September 11, 2012.

Also, in the pending challenge to the FCC's BIAS rules, the challenge is based in part on the First Amendment. The just released data roaming opinion does not address the First Amendment rights of service providers.

Rather, the Court of Appeals concluded in the present case that the FCC had authority to issue its data roaming rules under Title III. The Court of Appeals applied lenient Chevron deference to the FCC's interpretation of Title III. See, Chevron, U.S.A., Inc. v. Natural Resources Defense Council, 467 U.S. 837 (1984).

Reaction. Rep. Henry Waxman (D-CA) stated in a release that "Congress has tasked the FCC with protecting consumers and promoting competition in the 21st century communications marketplace -- and requiring reasonable terms for data roaming does just that ... We expect to be able to use our mobile broadband devices anytime and anywhere and regional wireless providers simply canít compete without offering nationwide service. Todayís decision from the D.C. Circuit is a victory for the American consumerís ability to access the wonders of mobile technology, no matter what wireless carrier they choose."

Rep. Anna Eshoo (D-CA) stated in a release that "I welcome the Courtís decision rejecting Verizonís challenge of the FCCís data roaming rules. These rules promote competition and the seamless availability of wireless services consumers have come to expect. Such rules are particularly important for smaller wireless carriers that often have little choice for roaming partners other than their largest rivals."

John Bergmayer of the Public Knowledge (PK) praised the opinion. He stated in a release that "The FCC's order protects consumers by allowing smaller wireless carriers to offer nationwide service, and ensures that customers of smaller providers can travel around the country without incurring high bills or losing service".

Bergmayer also wrote a piece titled "Common Carriage and the Open Internet after the DC Circuit's Data Roaming Decision" in which he addressed "what the implications of this decision are for the FCC's Open Internet rules".

He wrote that "Verizon is using many of the same legal theories in the Open Internet case that got shot down in the data roaming case"

He argued that the FCC's "fundamental basis for authority is different in the two cases. In the data roaming case the Commission's power to supervise the wireless industry under Title III of the Communications Act, which gives it authority over broadcasters, wireless carriers, and other entities that use the public airwaves, carried the day. The Commission, unfortunately, chose not to rely on such a clear basis for authority in the Open Internet rules, such as straightforwardly recognizing that broadband is a telecommunications service. While ultimately the Open Internet rules are legally sound the FCC's course of action has set it up for a number of legal attacks it could have avoided. However, given the language about common carriage in today's data roaming decision, that particular line of argument seems less likely to get traction."

This case is Cellco Partnership v. FCC, U.S. Court of Appeals for the District of Columbia, App. Ct. Nos. 11-1135 and 11-1136, a petition for review and appeal of a final order of the FCC. Judge Tatel wrote the opinion of the Court, in which Judges Garland and Griffith joined.

(Published in TLJ Daily E-Mail Alert No. 2,482, December 4, 2012.)