Michael Powell Biography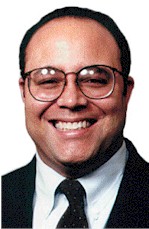 Michael Powell
Michael K. Powell is a Commissioner on the FederalCommunications Commission. He was sworn in as a member of the Commission on November 3, 1997.
Commissioner Powell, a Republican, was nominated by President William J. Clinton on July 31, 1997, and confirmed by the United States Senate on October 28, 1997. His term began on July 1, 1997, and ends June 30, 2002.
Mr. Powell previously served as the Chief of Staff of the Antitrust Division in the Department of Justice. In that capacity, he advised the Assistant Attorney General on substantive antitrust matters, including policy development, criminal and civil investigations and mergers. Prior to joining the Antitrust Division, Mr. Powell was an associate in the Washington, D.C. office of the law firm of O'Melveny & Myers LLP, where he focused on litigation and regulatory matters involving telecommunications, antitrust and employment law. Mr. Powell graduated from the Georgetown University Law Center in 1993 following which he served as a judicial clerk to the Honorable Harry T. Edwards, Chief Judge of the United States Court of Appeals for the District of Columbia Circuit.
Before attending law school, from 1988 to 1990, Mr. Powell served as a policy advisor to the Secretary of Defense on matters involving the United States-Japan security relationship. Mr. Powell's experience also includes military service as an armor officer in the United States Army. He spent the majority of his active service with the 3/2 Armored Cavalry Regiment in Amberg, Germany, serving as a cavalry platoon leader and troop executive officer. While on duty, Mr. Powell was seriously injured in a training accident and, after spending a year in the hospital, was retired from service. Mr. Powell graduated in 1985 from the College of William and Mary with a degree in Government.
Commissioner Powell is married to Jane Knott Powell. They live with their two children, eight year-old Jeffrey and three year-old Bryan, in Fairfax Station, Virginia.