TLJ News from July 26-31, 2013
---
People and Appointments
7/31. President Obama nominated France Anne Cordova to be Director of the National Science Foundation (NSF) for a term of six years. See, White House news office release. She was President of Perdue University from 2007 through 2012. She was Chancellor of the University of California at Riverside from 2002 through 2007. Her fields are physics and astronomy.
7/31. President Obama nominated Jo Emily Handelsman to be an Associate Director of the Executive Office of the President's (EOP) Office of Science and Technology Policy (OSTP). See, White House news office release. She is a professor at Yale University. Her field is microbiology.
7/31. President Obama nominated Kenneth Weinstein to be a Member of the Broadcasting Board of Governors for a term expiring August 13, 2014. See, White House news office release and release. This is the Kenneth Weinstein who is the head of the Hudson Institute, and not the Kenneth Wainstein who was Assistant Attorney General in charge of the Department of Justice's (DOJ) National Security Division (NSD), and Homeland Security Advisor to former President Bush.
More News
7/31. The U.S. Patent and Trademark Office (USPTO) released a report [122 pages in PDF] titled "Copyright Policy, Creativity, and Innovation in the Digital Economy". This report is a long and thorough review the nature, history, and legal status of most of the current issues involving digital and online copyright. It contains recommendations. However, most are non-controversial. This is not an advocacy piece. This report is issued under the names of Penny Pritzger (the recently appointed Secretary of Commerce), Cameron Kerry (DOC General Counsel), Teresa Rea (acting head of the USPTO), Lawrence Stricking (head of the NTIA). However, the report lists Shira Perlmutter, Garrett Levin, Molly Torsen Stech, and Ann Chaitovitz of USPTO as the "principal drafters", and John Morris, Aaron Burstein, Jade Nester, and Ashley Heineman of the NTIA as contributors. See also, reaction of the Computer and Communications Industry Association, and reaction of the Copyright Alliance.
---
CEA Study Finds Few People Rely on Over the Air Signals for TV
7/30. The Consumer Electronics Association (CEA) announced, but did not publicly release, a survey based report titled "U.S. Household Television Usage Update".
The CEA stated in a release that the percentage of U.S. households that rely solely on over the air signals for television programming continues to decline, and is now at 7 percent.
The CEA release states that the CEA conducted 1,009 interviews via landline and cellphone.
The CEA is a large trade group that represents companies that make consumer electronics equipment, including devices that enable broadband internet access and/or wireless voice communications. These companies want more spectrum allocated for use by the devices that they make.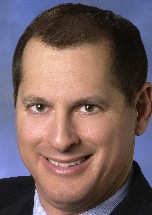 Gary Shapiro (at right), head of the CEA, stated in the release that "The vast majority of Americans no longer rely on over-the-air TV signals ... Consumers have moved away in droves from traditional broadcast television thanks to a surge in programming alternatives available through wired and wireless broadband connections."
He continued that "This is why Congress had it right when they authorized the FCC to hold voluntary broadcast spectrum incentive auctions to reallocate broadcast television spectrum to greater uses, like wireless broadband. This study provides yet another reason why it is time for broadcast spectrum to be reallocated, and quickly."
Dennis Wharton of the National Association of Broadcasters (NAB) stated in response that "CEA's findings strain the bounds of credibility, beginning with the fact that its alleged 'research' was conducted by CEA staff members rather than an independent firm. Contrast that with the recent independent study by GfK, a world-recognized consumer research firm, that found that 19.3 percent of homes rely exclusively on over-the-air television."
Wharton added that "We're confident that GfK's research is far more credible than that of a trade association with a track record of anti-broadcasting bias."
See, June 17, 2013 GfK piece titled "Confessions of a Cord Cutter Skeptic Revisted".
The CEA release also states that the percentage of consumers who pay for TV from cable, satellite or fiber to the home providers has declined in recent years. The CEA release attributes this decline to the use of non-TV consumer electronics devices, such such as laptops, desktops, tablets and smartphones, and internet connected TVs, to watch video programming, as well as increased access to internet sourced TV programming.
The GfK piece states that the percentage of broadcast only homes has increased in recent years. It discusses the weak economy, the DTV transition, and streaming video as possible reasons for the return to broadcast only, but offers no conclusions.
More People and Appointments
7/30. The Senate Commerce Committee (SCC) approved the nomination of Tom Wheeler to be Chairman of the Federal Communications Commission (FCC) for a term of five years from July 1, 2013. See, Congressional Record, July 30, 2013, at Page 6069.
---
Senate Confirms Comey to be FBI Director
7/29. The Senate confirmed James Comey to be Director of the Federal Bureau of Investigation (FBI) by a vote of 93-1. See, Roll Call No. 188.
The fixed term of office is ten years. Robert Mueller is the outgoing FBI Director. He has served since 2001. The 112th Congress enacted legislation in 2011 that enabled the President to extend his term by just over two years, until September 4, 2013. See, S 1103 [LOC | WW], and story titled "Senate Confirms Mueller for Two More Years" in TLJ Daily E-Mail Alert No. 2,272, July 28, 2011.
President Obama did not nominate Comey until June 21, 2013. However, the Executive Office of the President (EOP) disclosed the selection of Comey in late May. See, story titled "Obama May Nominate Comey for FBI Director" in TLJ Daily E-Mail Alert No. 2,568, May 31, 2013.
The Senate Judiciary Committee (SJC) held a hearing on July 9, 2013. See, SJC web page with hyperlink to the SJC's archived webcast. The SJC approved the nomination on July 18, 2013. See also, Comey's responses to the SJC's questionnaire, and his responses to written questions from SJC members.
Sen. Patrick Leahy (D-VT), the Chairman of the SJC, stated in the Senate on July 29 that Comey "has had a long and outstanding career in law enforcement. He worked for years as a front-line prosecutor on a range of cases fighting violent crime, terrorism, and white-collar fraud, all of which are at the core of the FBI's mission. He also served as the U.S. attorney for the Southern District of New York. He served as the Deputy Attorney General under President George W. Bush."
Sen. Leahy also stated that "I will continue to press him on the scope and legality of surveillance conducted by the government pursuant to the PATRIOT Act and other authorities under the Foreign Surveillance Intelligence Act. As I noted during his confirmation hearing, just because the FBI has the ability to collect huge amounts of data does not mean it should be collecting huge amounts of data."
Sen. Charles Grassley (R-IA), the ranking Republican on the SJC, stated in the Senate that "I recognize there is a level of concern associated with this nomination regarding the use of drones by the FBI. ... This needs to be addressed by the new director, and I have Mr. Comey's assurance he will review the policy. I will be monitoring this closely, but we need a director in place, and we need to confirm this nomination this week."
Sen. Grassley said too that the FBI has transformed from a law enforcement agency to a national security agency since the terrorist attacks of September 11, 2001. He added that now the FBI "must grow to combat the growing threat of cybercrimes that threaten our national security, our economy, and our infrastructure."
He also said that "The FBI has struggled to develop a working case management computer system", and that "Significant concerns about internal FBI policies dealing with whistleblower retaliation exist."
Sen. Rand Paul (R-KY) voted no. Sen. Paul had previously placed a hold on the nomination. His primary concern was FBI domestic use of aerial drones.
Sen. Ron Wyden (D-OR) and Sen. Jeff Merkley (D-OR) voted present. Sen. Jeff Chiesa (R-NJ), Sen. Heidi Heitkamp (D-ND), Sen. Lisa Murkowski (R-AK), and Sen. Marco Rubio (R-FL) did not vote.
Sen. Wyden wrote in a statement after the vote that "The head of the FBI is responsible for approving and overseeing a large number of surveillance activities, and it is an unfortunate fact that the FBI's surveillance authorities have been famously abused in previous decades. For this reason I have an obligation to assess Mr. Comey's views on surveillance before voting to approve his nomination, as I would for any nominee for this position."
He continued that "After reviewing the record of Mr. Comey's confirmation hearing and meeting with him in person, his views on surveillance policy and law remain unclear to me. I sent Mr. Comey a letter asking for written responses to several important questions on surveillance, including whether he believes warrantless wire tapping is legal, and whether he would commit to explain how much evidence the FBI needs to track Americans using their cell phone location data."
See, Sen. Wyden's letter to Comey of July 22, 2013. Sen. Wyden asked questions about the National Security Agency's (NSA) "bulk email records collection program", the NSA's "large-scale warrantless wiretapping effort", and the NSA's "ongoing dragnet collection of American's phone records".
He also asked questions about "the government's authority to track American's movements and whereabouts using cell-phone data or other geolocation information".
Comey did not respond. However, the acting head of the Department of Justice's (DOJ) Office of Legislative Affairs (OLA) sent Sen. Wyden a short non-responsive letter, citing "classification" of records.
Sen. Wyden wrote that "Mr. Comey could have answered most or all of these questions without disclosing any properly classified information, but the Justice Department informed me today that he will not be responding to any of them. I hope that Mr. Comey will turn out to be a wise and appropriate choice to head the FBI but without more information about his views on these important questions, I cannot vote to approve his nomination at this time."