TLJ News from June 16-20, 2013
---
Obama Nominates Two for Northern District of California Judgeships
6/20. President Obama nominated James Donato and Beth Freeman to be Judges of the U.S. District Court for the Northern District of California, a court which hears numerous patent, copyright, and other technology related cases. See, White House news office release and release.
Donato has been a partner in the San Francisco office of the law firm of Shearman & Sterling since 2009. His law firm biography states that "represents technology, Internet and manufacturing companies in matters involving antitrust, qui tam actions (False Claims Act), product liability and commercial disputes. He has represented Covidien, LG Electronics, Agilent Technologies, United Continental, and Dun & Bradstreet, Inc., among other leading companies." (Parentheses in original.)
This biography also states that his experience includes "Internet and equipment manufacturers in privacy cases for wiretapping, stored communications, Electronic Communications Privacy Act, Computer Fraud and Abuse Act, state privacy laws, and breach of privacy policies".
He worked a Cooley (previously Cooley Godward) from 1996 through 2009, where he was one of the attorneys who represented Sun Microsystems, for example, in Java related litigation against Microsoft. See, motion for preliminary injunction.
He was a Deputy City Attorney in the San Francisco City Attorney's Office from 1993 to 1996. And before that, he worked for the law firm of Morrison & Foerster.
Freeman has been a California state trial court judge since 2001, serving on the San Mateo County Superior Court. Before that, she was a long time employee of the San Mateo County Counsel's Office.
People and Appointments
6/20. President Obama nominated Jennifer Parker to be a Judge of the U.S. District Court for the Eastern District of North Carolina. See, White House news office release and release. She has worked in the Office of the U.S. Attorney for the Eastern District of North Carolina since 1999.
---
People and Appointments
6/19. The Senate confirmed Mike Froman to be the U.S. Trade Representative by a vote of 93-4. See, Roll Call No. 158. The four no votes, and one present vote, were cast by Democrats. Sen. Max Baucus (D-MT) stated in a release that "I'm looking forward to working with him to get Trade Promotion Authority done".
---
Mississippi AG Subpoenas Google Regarding Illegal Online Drug Sales
6/18. The Attorney General of the state of Mississippi, Jim Hood, announced in a release that he would issue subpoenas directed at Google to collect evidence of its profiting from the sale of prescription drugs without a prescription, and other illegal conduct.
Hood stated that "We in good faith invited Larry Page, Chief Executive Officer of Google, to have an open, honest and transparent conversation about these important issues that are putting consumers at risk and facilitating wrongdoing, all while profiting handsomely from this dangerous behavior".
But, "Google's lack of response leaves us no choice except to issue subpoenas to Google for possible violations of state consumer protection acts and other state and federal civil and criminal laws." Hood added that "Google is aiding and abetting criminal activity and putting consumers at risk."
He elaborated that Google blocks search results and/or removes content in other areas, such as child pornography, and Nazi party items in its Germany web site. So, Hood asked, "Why will Google not remove websites or de-index known websites that purport to sell prescription drugs without a prescription or provide pirated content? Content removal can be done, but it appears Google is unwilling to remove content related to the purchase of prescription drugs without a prescription or the downloading of pirated movies and songs."
This release notes, for example, that if a user of Google search types "buy oxycod", then Google's auto complete function will provide "buy oxycodone online no prescription cod" as one of the choices.
Also, "users can search for and view videos purporting to sell prescription drugs without a prescription and other illegal activities all while viewing paid advertisements. What steps is Google taking to address advertising in conjunction with illicit videos on YouTube?"
The Digital Citizens Alliance (DCA) released a report on June 10, 2013 titled "Google and YouTube and Evil Doers: Too Close for Comfort" that states that Google is allowing its YouTube website "to be exploited by those selling and promoting illegal narcotics, prescription drugs without a valid prescription, knock-off merchandise, and fake IDs, including driver's license and passports."
The DCA added that "When Google sells ads on YouTube videos promoting things like drugs, prostitution, and forged documents, it has effectively become advertising partners with bad actors that make the Internet unsafe. That is because when YouTube users click on those ads, Google's business model is to split the ad revenue with those video producers. It's hard to fathom why Google would knowingly run ads tied to videos promoting unsafe and potentially dangerous activities. While we all know that the price we pay for a free and open Internet will be things we may find objectionable, we are disappointed when a great company like Google profits from them."
The DCA states in its web site that its advisory board includes Sally Greenberg (Executive Director of the National Consumers League), Teri Schroeder (CEO of i-SAFE), Jonathan Zuck (head of the Association for Competitive Technology), and others.
Google stated in a release on June 18 that "we are making it increasingly difficult for these operators to effectively promote their rogue pharmacies online. A variety of websites and web services are refusing ads from suspected rogue pharmacies. Domain name registrars are removing suspect rogue pharmacies from their networks. Payment processors are blocking payments to these operators, and social networking sites are removing them from their systems too."
Google continued that "YouTube has implemented robust community guidelines governing uploaded content and user activity on YouTube. These guidelines prohibit spam, which includes the posting of large amounts of untargeted, unwanted, and repetitive content. YouTube's guidelines also prohibit the sale of illegal goods or promotion of dangerous activities."
Google added that "Our teams respond around the clock when such content is reported to us. To make the notification process as effective as possible, YouTube provides a flagging tool under every video on the site that lets users and law enforcement easily alert us whenever a video contains content that violates YouTube's policies regarding pharmaceuticals or illegal drugs."
Judicial Appointments
6/18. The Senate confirmed Luis Restrepro to be a Judge of the U.S. District Court (EDPenn). See, Congressional Record, June 17, 2013, at Page S4621.
6/18. The Senate confirmed Kenneth Gonzalez to be a Judge of the U.S. District Court (DNMex). See, Congressional Record, June 17, 2013, at Page S4621.
---
Supreme Court Holds Patent Reverse Payments Can Violate Antitrust Law
6/17. The Supreme Court issued its opinion [43 pages in PDF] in FTC v. Actavis, holding that a reverse payment, also known as pay for delay, settlement in a pharmaceutical patent infringement case can violate antitrust law.
The Supreme Court declined to hold such reverse payment settlements presumptively unlawful. Rather, Courts must apply the rule of reason.
The Supreme Court reversed the judgment of the Court of Appeals, and remanded. Justice Breyer wrote the opinion of the Court, in which Justices Kennedy, Ginsburg, Sotomayor, and Kagan joined. Chief Justice Roberts wrote a dissent, in which Justices Scalia and Thomas joined. Justice Alito did not participate.
Proceedings Below. In this case the Federal Trade Commission (FTC) filed a complaint [45 pages in PDF] in the U.S. District Court (NDGa) against the parties that had settled another action -- Solvay Pharmaceuticals, Actavis (previously known as Watson Pharmaceuticals), Paddock Laboratories, and Par Pharmaceutical. The FTC alleged violation of Section 5 of the FTC Act, which is codified at 15 U.S.C. § 45, not Section 1 of the Sherman Act, which is codified at 15 U.S.C. § 1.
The District Court dismissed for failure to state a claim. The FTC appealed. The U.S. Court of Appeals (11thCir) issued its opinion on April 25, 2012, affirming the dismissal of the FTC's complaint. That opinion is reported as FTC v. Watson Pharmaceuticals, 677 F. 3d 1298 (2012).
The DOJ's Office of the Solicitor General (OSG) filed a petition for writ of certiorari on October 4, 2012. See, story titled "Solicitor General Files Cert Petition in FTC v. Watson" in TLJ Daily E-Mail Alert No. 2,459, October 5, 2012. See also, the DOJ's merits brief [131 pages in PDF] and story titled "DOJ Files Brief in Drug Patent Reverse Payments Case" in TLJ Daily E-Mail Alert No. 2,515, January 25, 2013.

Majority Opinion. Justice Breyer (at left) wrote this summary of the facts. "Company A sues Company B for patent infringement. The two companies settle under terms that require (1) Company B, the claimed infringer, not to produce the patented product until the patent's term expires, and (2) Company A, the patentee, to pay B many millions of dollars. Because the settlement requires the patentee to pay the alleged infringer, rather than the other way around, this kind of settlement agreement is often called a ``reverse payment´´ settlement agreement."
The opinion of the Court adds that "most if not all reverse payment settlement agreements arise in the context of pharmaceutical drug regulation, and specifically in the context of suits brought under statutory provisions allowing a generic drug manufacturer (seeking speedy marketing approval) to challenge the validity of a patent owned by an already-approved brand-name drug owner." (Parentheses in original.)
The Court concluded that "a reverse payment, where large and unjustified, can bring with it the risk of significant anticompetitive effects; one who makes such a payment may be unable to explain and to justify it; such a firm or individual may well possess market power derived from the patent; a court, by examining the size of the payment, may well be able to assess its likely anticompetitive effects along with its potential justifications without litigating the validity of patent disputes without the use of reverse payments. In our view, these considerations, taken together, outweigh the single strong consideration -- the desirability of settlements -- that led the Eleventh Circuit to provide near-automatic antitrust immunity to reverse payment settlements."
Rule of Reason. The Court noted that "The FTC urges us to hold that reverse payment settlement agreements are presumptively unlawful and that courts reviewing such agreements should proceed via a ``quick look´´ approach, rather than applying a ``rule of reason.´´"
The Court, citing California Dental Association v. FTC, 526 U. S. 756 (1999), stated that "abandonment of the ``rule of reason´´ in favor of presumptive rules (or a ``quick-look´´ approach) is appropriate only where ``an observer with even a rudimentary understanding of economics could conclude that the arrangements in question would have an anticompetitive effect on customers and markets.´´ ... We do not believe that reverse payment settlements, in the context we here discuss, meet this criterion." (Parentheses and internal quotations in original.)
"That is because the likelihood of a reverse payment bringing about anticompetitive effects depends upon its size, its scale in relation to the payor's anticipated future litigation costs, its independence from other services for which it might represent payment, and the lack of any other convincing justification. The existence and degree of any anticompetitive consequence may also vary as among industries. These complexities lead us to conclude that the FTC must prove its case as in other rule-of-reason cases."
But, the Supreme Court decided to "leave to the lower courts the structuring of the present rule-of-reason antitrust litigation".
Dissent. Justice Roberts wrote in dissent that "A patent carves out an exception to the applicability of antitrust laws."
He argued that "The correct approach should therefore be to ask whether the settlement gives Solvay monopoly power beyond what the patent already gave it. The Court, however, departs from this approach, and would instead use antitrust law's amorphous rule of reason to inquire into the anticompetitive effects of such settlements. This novel approach is without support in any statute, and will discourage the settlement of patent litigation."
"The point of antitrust law is to encourage competitive markets to promote consumer welfare. The point of patent law is to grant limited monopolies as a way of encouraging innovation. Thus, a patent grants ´´the right to exclude others from profiting by the patented invention.´´" Chief Justice Roberts continued that "In doing so it provides an exception to antitrust law, and the scope of the patent -- i.e., the rights conferred by the patent -- forms the zone within which the patent holder may operate without facing antitrust liability.
He argued that "under our precedent, this is a fairly straightforward case. Solvay paid a competitor to respect its patent -- conduct which did not exceed the scope of its patent. No one alleges that there was sham litigation, or that Solvay's patent was obtained through fraud on the PTO. As in any settlement, Solvay gave its competitors something of value (money) and, in exchange, its competitors gave it something of value (dropping their legal claims). In doing so, they put an end to litigation that had been dragging on for three years. Ordinarily, we would think this a good thing." (Parentheses in original.)
This case is FTC v. Actavis, Inc., Supreme Court of the U.S., Sup. Ct. No. 12-416, certiorari to the U.S. Court of Appeals for the 11th Circuit, App. Ct. No. 10-12729-DD. The Court of Appeals heard an appeal from the U.S. District Court for the Northern District of Georgia, D.C. No. 1:09-CV-00955-TWT.
Reaction to the Actavis Opinion
6/17. Several members of Congress praised the Supreme Court's June 17 opinion [43 pages in PDF] in FTC v. Actavis, holding that a reverse payment settlement in a pharmaceutical patent infringement case can violate antitrust law.
Rep. Henry Waxman (D-CA) stated in a release that "the over-arching goal of Waxman-Hatch is to foster competition in the pharmaceutical industry. The type of collusive agreement at issue in this case represents a total perversion of the spirit of this law. This is a significant victory for consumers. But I will continue to vigilantly watch to ensure that Waxman-Hatch patent settlements are pro-competitive and pro-consumer in the future."
Sen. Amy Klobuchar (D-MN) stated in a release that "The Supreme Court's opinion confirms what we have been saying all along -- that pay for-delay deals are anti-consumer, anti-competitive and are in contrast to antitrust law. Brand companies win by thwarting competition, generic companies win by getting huge payments to stay off the market, and consumers lose out on billions of dollars in cost savings from cheaper generic drugs."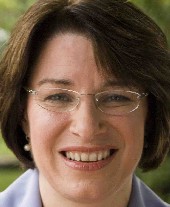 Sen. Klobuchar (at right) continued that "The Court goes a long way towards addressing these concerns, but our legislation goes even further to ensure Americans have access to the drugs they need at the prices they can afford, and I'll continue push to ensure consumers have access to a competitive prescription drug marketplace."
Sen. Charles Grassley (R-IA) stated in this release that this opinion "is a good step toward putting an end to this kind of anti-competitive behavior. ... In the meantime, we'll continue to push our legislative remedy to put consumers first". Sen. Klobuchar introduced S 214 [LOC | WW], the "Preserve Access to Affordable Generics Act", on January 17, 2013. Sen. Grassley is one of five cosponsors.
Sen. Leahy, who is not a cosponsor of S 214, released a statement in which he said that "In early 2007, I chaired a hearing raising concerns about reverse-payment settlements between brand-name and generic pharmaceutical companies that are harming consumers and raising health care costs. In each of the last three Congresses, the Senate Judiciary Committee has reported bipartisan legislation to protect consumers from anticompetitive drug settlements. I am pleased that the Court today recognized that antitrust policies play an important role in protecting consumers even when patents are at issue. Today's decision should caution drug companies against making payments to delay competition and harm consumers."
Edith Ramirez, Chairman of the FTC, stated in a release that "The Supreme Court's decision is a significant victory for American consumers, American taxpayers, and free markets. The Court has made it clear that pay-for-delay agreements between brand and generic drug companies are subject to antitrust scrutiny, and it has rejected the attempt by branded and generic companies to effectively immunize these agreements from the antitrust laws. With this finding, the Court has taken a big step toward addressing a problem that has cost Americans $3.5 billion a year in higher drug prices."
She added that "We look forward to moving ahead with the Actavis litigation and showing that the settlements violate antitrust law."
Commentary: Potential Impact of the Actavis Opinion on Other FTC and DOJ Antitrust Actions
6/17. FTC v. Actavis was an action brought by the Federal Trade Commission (FTC) under Section 5 of the FTC Act that alleged, at bottom, that a settlement in a separate private patent action violates antitrust law. The Court created an exception to the exception to antitrust liability in patent infringement actions.
Although, the facts of this case are complexly based in the processes established by the Hatch Waxman Act.
Nevertheless, the question arises, what other types of potential antitrust actions, whether brought by the FTC or the Department of Justice's (DOJ) Antitrust Division, and whether under the FTC Act, Sherman Act, or Clayton Act, might be affected by this opinion.
Justice Breyer, who wrote for the majority, offered no dicta on this question.
It might be argued that this opinion does have implications for a broader range of scenarios than just reverse payment settlements in pharmaceutical patent litigation. Consider, for example, settlement of patent infringement cases involving standards essential patents (SEPs), for which the original holder made fair, reasonable, and non-discriminatory (FRAND) commitments to a stand setting organization (SSO), which patents were subsequently transferred to a patent assertion entity (PAE), which then filed patent infringement actions against producers of products covered by that standard and which practice the SEPs.
Unlike the original holder who made the FRAND commitments, the PAE may not have a reputation to protect, and may not fear retaliatory patent infringement actions. Moreover, if the original holder transferred the SEPs to a PAE, subject to a covenant not to sue the original holder or its customers (but with no restriction on suing competitors of the original holder and its customers), and for the purpose of raising the costs to users of the competitors' products, one might argue that the facts giving rise to the Actavis opinion are somewhat analogous.
In both Actavis and the above SEP/FRAND hypothetical, there exist valid patents, standing to sue on those patents, arms length settlement of those suits, and the patent exception to antitrust liability. In Actavis the Court found an exception to the patent exception, in part, because the settlement had an anti-competitive effect, and because it was unjustified.
In the above SEP/FRAND hypothetical, transferring SEP patents to a competitor to drive up costs to customers of that competitor may harm competition. Moreover, since the industry adopted the standard that incorporated the SEPs in reliance upon the FRAND commitments, the subsequent PAE actions are arguable unjustified. Hence, the argument would go, under the Actavis holding, the FTC should have an action under Section 5 of the FTC to against the PAE and/or original holder.
Similarly, a competitor might rely upon the holding of Actavis in bringing a private right of action under the Sherman Act against the original holder and/or PAE assignee.
Senators Move Closer to Conflict Over Obama's Plan to Pack the DC Circuit
6/17. On June 17, 2013, Sen. Patrick Leahy (D-VT), the Chairman of the Senate Judiciary Committee (SJC) announced that he will attempt to rapidly move President Obama's three latest nominees for the U.S. Court of Appeals (DCCir) through the SJC.
President Obama nominated Patricia Ann Millett, Cornelia Pillard, and Robert Wilkins on June 4. Sen. Leahy stated on June 17 that "I plan to notice the first hearing for July 10", for Millett.
As a general matter, when Senators seek to block a Court of Appeals nominee, they usually try to delay, in order to enable their staffs allied outside groups to thoroughly investigate the nominee, and to give outside groups time to develop campaigns to build Senate and grass roots opposition to the nominee. Conversely, the Senators who seek to win confirmation of a controversial nominee try to accelerate the confirmation process, to deny the opposition time to organize.
The SJC holds a hearing on every nominee for an Article III court. However, the SJC typically holds one hearing for several nominees at a time. The SJC later votes on every nominee at an executive business meeting. Republicans on the SJC can do little to delay judicial nominees in the SJC.
The full Senate another matter. It is likely that Senate Republicans will filibuster these three nominees. If Republicans maintain solidarity, there are not enough Democratic votes to over the filibusters.
To address this, Sen. Harry Reid (D-NV), the Senate Majority Leader, may act to change the Senate rules. On June 12, 2013, Sen. Charles Grassley (R-IA), the ranking Republican on the SJC, spoke in the Senate regarding President Obama's plan and the Senate filibuster rules.
Basically, he said the is Sen. Reid attempts to change the Senate Rules, he will break a promise that he made to Senate Republican on the Senate floor on January 24, 2013. Sen. Mitch McConnell (R-KY), the Senate Minority Leader, Sen. Reid and others engaged in a colloquy regarding the deal struck for Senate rules for the 113th Congress. Sen. McConnell stated, "Finally, I would confirm with the majority leader that the Senate would not consider other resolutions relating to any standing order or rules this Congress unless they went through the regular order process?" Sen. Reid responded, "That is correct. Any other resolutions related to Senate procedure would be subject to a regular order process including consideration by the Rules Committee." See, Congressional Record, January 24, 2013, at Pages S272-273.
Just one day later, on January 25, the DC Circuit issued is opinion [PDF] in Canning v. NLRB., striking down several of President Obama's purported recess appointments. It is that opinion that prompted President Obama to decide to pursue a court packing strategy, to keep other executive actions from being overturned.
For more TLJ coverage of this topic, see:
"Obama Launches Effort to Pack the DC Circuit" in TLJ Daily E-Mail Alert No. 2,570, June 4, 2013.
"Sen. Grassley Condemns Obama's Plans to Pack DC Circuit" in TLJ Daily E-Mail Alert No. 2,569, June 3, 2013.
"Obama Wants to Appoint Three More Judges to DC Circuit" in TLJ Daily E-Mail Alert No. 2,566, May 23, 2013.
"Future Nominees for the DC Circuit May Face Republican Opposition" in TLJ Daily E-Mail Alert No. 2,562, May 15, 2013.
Pai Advocates Amending Definition of Circumvention to Exclude Wireless Device Unlocking
6/17. Federal Communications Commission (FCC) Commissioner Ajit Pai gave the opening speech at a luncheon hosted by the Tech Freedom and Competitive Enterprise Institute (CEI) titled "What Should Congress Do about Cell Phone Unlocking?"
He said that "President Obama, Senators and Representatives, FCC Commissioners, and the American people are reaching a consensus on a simple proposition: Consumers should be allowed to unlock their cellphones and switch wireless carriers without being labeled scofflaws."

Pai (at right) offered this solution: a Congressional bill that amends the definition of "circumvention" in the Digital Millennium Copyright Act (DMCA) to exclude "circumvention initiated by or on behalf of the owner of a wireless communications device solely to connect that device to a wireless communications network."
He elaborated with six points.
First, he said, "we shouldn't just kick the can down the road. Let's fix this problem permanently."
This is the proposal that is embodied in S 517 [LOC | WW | PDF], the "Unlocking Consumer Choice and Wireless Competition Act", introduced by Sen. Patrick Leahy (D-VT) on March 11, 2013, and HR 1123 [LOC | WW], the companion bill in the House, introduced by Rep. Bob Goodlatte (R-VA) and others on March 13, 2013.
Those bills would restore the unlocking exemption that was in the Librarian of Congress's 4th triennial rules. See, story titled "Sen. Leahy Introduces Bill to Reinstate Librarian of Congress's Cell Phone Unlocking Exemption" in TLJ Daily E-Mail Alert No. 2,533, March 11, 2013, and story titled "House Judiciary Committee Members Introduce Cell Phone Unlocking Bill" in TLJ Daily E-Mail Alert No. 2,536, March 19, 2013.
Second, said Pai, "we don't need to give the FCC any additional authority".
This is the proposal embodied in S 481 [LOC | WW | PDF], the "Wireless Consumer Choice Act", which Sen. Amy Klobuchar's (D-MN) introduced on March 6, 2013.
That bill would direct the Federal Communications Commission (FCC) to write regulations. See, story titled "Sen. Klobuchar Introduces Bill to Authorize FCC to Direct Wireless Device Unlocking", in TLJ Daily E-Mail Alert No. 2,533, March 11, 2013.
Third, said Pai, "we shouldn't interfere with the freedom of contract". Thus, phone companies should remain free to sell subsidized phones tied by contract to a fixed term for wireless service. The remedy of the service provider would be limited to contract remedies, such as early termination fee provisions, and not extend to DMCA remedies.
Fourth, he said that "we should also protect those who help consumers unlock their phones". Although, he did not elaborate.
Fifth, "the DMCA cuts a much wider swath". Pai said, "Let's make sure all wireless communications devices are included in the fix". However, Pai did not go so far as to advocate allowing unlocking in the context of all technological protection measure based locking, in any industry sector, that is not directed at limiting piracy.
Sixth, he said that the Congress should pass a simple bill, without addressing at the same time "broader reform of our copyright laws".
The anti-circumvention provisions are codified at 17 U.S.C. § 1201.
The Copyright Office's (CO) fourth triennial rules contained exemptions related to unlocking. See, story titled "Copyright Office Releases 4th Triennial DMCA Exemptions" in TLJ Daily E-Mail Alert No. 2,115, July 30, 2010. The CO's fifth set of rules, now in effect, ended the exemption for unlocking phones at the end of January of 2013. See, story titled "Librarian of Congress Adopts 5th Triennial § 1201 Exemptions" in TLJ Daily E-Mail Alert No. 2,467, October 24, 2012. Hence, there is now no exemption.
See also, story titled "Obama Administration Urges Creation of DMCA Anti-Circumvention Exemption for Unlocking Cell Phones" in TLJ Daily E-Mail Alert No. 2,530, March 5, 2013.
Ramirez Makes Appointments at FTC
6/17. Federal Trade Commission (FTC) Chairman Edith Ramirez announced appointments to senior positions at the FTC.
Ramirez named Deborah Feinstein Director of the Bureau of Competition (BOC), the antitrust component of the FTC. She is a partner in the Washington DC office of the law firm of Arnold & Porter, and head of its US antitrust practice.
Feinstein represented General Electric (owner of NBC Universal) in the Comcast NBC Universal transaction. See, stories titled "Comcast and GE Announce Joint Venture for NBC Universal", "Comcast Offers Commitments to Regulators Regarding GE Joint Venture", and "Reaction to Proposed Comcast GE Transaction" in TLJ Daily E-Mail Alert No. 2,020, December 3, 2009.
Ramirez named Jessica Rich Director of the Bureau of Consumer Protection (BCP). She is a career FTC attorney who is currently Associate Director in charge of the Division of Financial Practices. Before that, she was a Deputy Director of the BCP. She has also been acting Associate Director and Assistant Director of the BCP's Division of Privacy and Identity Protection (DPIP).
Ramirez named Jonathan Nuechterlein General Counsel. He is a partner in the Washington DC office of the law firm of Hale & Dorr, and Chair of its Communications, Privacy and Internet Law Practice Group.
He one of the scheduled speakers at an event at 9:00 AM on June 18 hosted by the American Enterprise Institute (AEI) titled "The Next Digital Crossroads: Regulating Competition in the Internet Ecosystem". The event will also be webcast. See, notice.
Ramirez named Heather Hippsley Chief of Staff. She is a long time FTC employee.
Ramirez also announced that Andrew Gavil will continue as Director of the Office of Policy Planning, that Randolph Tritell will continue as Director of the Office of International Affairs, and that Jeanne Bumpus will continue as Director of the Office of Congressional Relations.
---