TLJ News from March 11-15, 2011
---
House Commerce Committee Approves HJRes 37
3/15. The House Commerce Committee (HCC) approved HJRes 37, a resolution disapproving the Federal Communications Commission's (FCC) rules regulating broadband internet access service (BIAS) providers. The vote was 30-23.
Rep. Greg Walden (R-OR), the Chairman of the HCC's Subcommittee on Communications and Technology, wrote in his statement on March 14 that this is "a simple resolution that would nullify the FCC's launch of a government takeover of the Internet."
See, full story.
FTC Workshop to Address Use of Facebook and Other New Technologies for Debt Collection
3/15. The Federal Trade Commission (FTC) announced that it will hold a workshop on April 28, 2011, titled "Public Workshop: Debt Collection 2.0: Protecting Consumers as Technologies Change". It also requested public comments.
See, FTC's March 10 release, and notice in the Federal Register, March 15, 2011, Vol. 76, No. 50, at Pages 14010-14014.
The FTC will examine the application of the Fair Debt Collection Practices Act (FDCPA), which is codified at 15 U.S.C. §§ 1692-1692p, to the use of new information, communications, and payment technologies, including electronic databases, social networking web sites, instant messaging, texting, and electronic payments systems.
The FDCPA was written when debt collectors used person to person phone calling, and USPS mail. The FTC's request for comments propounds 21 multipart questions. Most pertain to the uses being made of new technologies.
The FTC also asks "How do current federal and state laws apply to debt collectors' use of post-FDCPA information technologies? How, if at all, should the law be changed to take into account the costs and benefits of these technologies to consumers and collectors?" The FTC also asks similar questions for new communications and payment technologies.
The FTC also asks whether new information, communications and payment technologies when used in the context of debt collection "create different risks of deception, unfairness, or abuse, compared to those associated with traditional technologies?"
The FTC wrote that "Facebook, which did not become available to the general public until 2006, now has approximately 150 million users in the United States, and some debt collectors are using it to find and contact debtors. The technology that debt collectors use to obtain, store, and manage information about consumers also continues to evolve." (Footnotes omitted from this and other quotations.)
"These trends call for a discussion of the relative costs and benefits to consumers and the debt collection industry of these technologies and correspondingly, whether there is a need for action, including changes in law, policy, or industry practice."
The FTC continues that "The Internet, through public search engines and proprietary commercial platforms, allows access to large quantities of information about consumers in a consolidated and searchable format. Web-based social media channels also contribute to the available pool of data, as they allow consumers to post information about themselves online, including the identities of friends and family members, whom collectors could approach for certain information. Further, a variety of database platforms now exist that purport to aid debt collectors in maintaining and updating information about consumers. All of these technologies may enhance collectors' ability to locate or skip-trace consumers and verify the accuracy of their information. At the same time, however, the collection and retention of what may be sensitive personally identifiable information may raise privacy concerns for consumers."
The FTC notice also states that new communications technologies, including social networking web sites, "raise potential consumer protection concerns as well, including the security of electronic communications, whether such communications satisfy the FDCPA's written notice requirements, and how they implicate the FDCPA's prohibition against contacting consumers at inconvenient times or places."
The workshop will be held on April 28, 2011, from 8:30 AM to 5:30 PM in the FTC's Satellite Building Conference Center, at 601 New Jersey Avenue, NW.
The deadline to submit comments that will be reviewed by the FTC prior to the workshop is April 7, 2011. All other comments are due by May 27, 2011.
Powell to Lead NCTA
3/15. The National Cable and Telecommunications Association (NCTA) announced that it has hired Michael Powell to be its President and CEO, effective April 25, 2011.
Powell (at left), who currently works for Providence Equity Partners, was a member of the Federal Communications Commission (FCC) from 1997 through 2005, and its Chairman from 2001 through 2005.
Powell stated in an NCTA release that "Cable is a dynamic and highly innovative industry, providing cutting edge services and content that Americans love ... The broadband platform the industry has deployed is a critical part of the infrastructure needed to realize our national ambition to be a great nation in the Information Age. I am excited to help lead companies committed not only to their businesses, but to improving U.S. competitiveness and supporting invaluable programs in important areas such as education."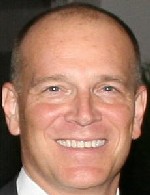 Powell will replace Kyle McSlarrow (at right), who has been named President of Comcast/NBC Universal.
FCC Commissioner Meredith Baker wrote in a statement that "With Michael, we are all lucky to have someone of his caliber back in the policymaking world on a day-to-day basis. Congratulations also to NCTA on doing the near impossible, finding a worthy successor to Kyle McSlarrow. I look forward to working with Michael and Kyle in their new capacities."
See also, Michael Copps' statement and Robert McDowell's statement. Both congratulated Powell.
Former Sen. Gordon Smith, head of the National Association of Broadcasters (NAB), stated in a release that the "NAB salutes the NCTA for its outstanding choice of former FCC Chairman Michael Powell as its new president and CEO. I got to know Michael well during my tenure on the Senate Commerce Committee, and always found him to be thoughtful, engaging and a tremendous public servant. Though NAB and NCTA do not always agree on every issue, we look forward to working with Michael in the months ahead on public policy issues where we might find mutual agreement."
Matthew Polka, head of the American Cable Association (ACA), congratulated Powell in a release, and added that "Everyone in the independent cable community wishes Michael the very best in his new position, and we look forward to working with him on the issues that are important to both large and small cable operators."
Craig Aaron of the Free Press (FP) stated in a release that there is a "furiously spinning revolving door between industry and the FCC", and that Powell "looked out for the interests of companies like Comcast and Time Warner during his tenure at the Commission". The FP is a Washington DC based interest group that lobbies for more regulation of broadband internet access service (BIAS) providers. It is frequently at odds with the NCTA.
In contrast, Gigi Sohn, head of the Public Knowledge (PK), and another proponent of increased BIAS regulation, wrote graciously about Powell's appointment in a PK release.
Espinel Offers 20 IP Legislative Recommendations
3/15. Victoria Espinel, the U.S. Intellectual Property Enforcement Coordinator, offered twenty legislative recommendations to Congress regarding intellectual property law.
Ten of these recommendations pertain to penalties. Two would increase the maximum sentence for certain intellectual property crimes; five would increase the sentencing guidelines range for various intellectual property crimes; and three would provide for increased Department of Homeland Security (DHS) Customs and Border Protection (CBP) administrative penalties.
Five pertain to combating counterfeit drugs, and would not impact information technology.
Espinel also proposed that "in appropriate circumstances, infringement by streaming, or by means of other similar new technology" be made a felony.
See, full story.
More People and Appointments
3/15. Rep. Henry Waxman (D-CA) announced that Donna Christensen will serve on the House Commerce Committee's (HCC) Subcommittee on Oversight and Investigations and Subcommittee on Communications and Technology. See, release. See also, Christensen's release of March 9.
3/15. Sarah Morris joined the New America Foundation (NAF) as a Policy Analyst. See, NAF release. She previously worked for the Media Access Project (MAP).
---
People and Appointments
3/14. President Obama reappointed Dan Arvizu (head of the Department of Energy's National Renewable Energy Laboratory) and Alan Leshner (CEO of the American Association for the Advancement of Science) to be members of the National Science Foundation (NSF) National Science Board (NSB), for terms expiring on May 10, 2016. See, White House news office release.
3/14. The Senate confirmed James Boasberg to be a Judge of the U.S. District Court (DC) by a vote of 96-0. See, Roll Call No. 39, and Congressional Record, March 14, 2011, at Page S1611.
---
People and Appointments
3/11. Colin Rhinesmith joined the New America Foundation (NAF) with the title of "Google Policy Fellow". The NAF stated in a release that he will work on "issues related to the digital divide".
---