News from November 6-10, 2004
---
PeopleSoft Board Rejects Oracle's $24 Per Share Offer
11/10. PeopleSoft announced in a release that "its Board of Directors voted unanimously to recommend that PeopleSoft stockholders reject Oracle Corporation's ... amended unsolicited offer to purchase all PeopleSoft shares for $24.00 per share", and that the Board "recommends that PeopleSoft stockholders not tender their shares to Oracle".
In addition, PeopleSoft Ch/CEO Dave Duffield stated in the same release that "The Board concluded that PeopleSoft is worth substantially more than Oracle's latest offer."
On November 1, 2004, Oracle made an offer of $24 per share, up from its previous offer of $21 per share. Oracle's CEO Larry Ellison and Chairman Jeff Henley wrote in a letter to PeopleSoft on November 1. They stated that "For almost 17 months the owners of PeopleSoft -- the stockholders -- have been denied the opportunity to consider our offer, while we have fought our way through a variety of regulatory obstacles actively promoted by the PeopleSoft Board of Directors. Those obstacles no longer exist. Last week the European Commission voted to clear Oracle's bid for PeopleSoft. This decision, coupled with the decision of the U.S. Department of Justice not to appeal Judge Walker's decision, means that now the PeopleSoft Board of Directors is the only obstacle to stockholder consideration of our offer."
Ellison and Henley concluded that "Although our $24 price is final and non-negotiable, we are ready to negotiate the other terms of a merger agreement with you". See, Oracle release and letter.
WTO Panel Instructs Congress to Amend Wire Act to Legalize Internet Gambling
11/10. A Dispute Resolution Panel of the World Trade Organization (WTO) released its report [287 pages in PDF] on Antigua and Barbuda's complaint that U.S. laws affecting internet gambling violate U.S. treaty obligations. The panel held that various federal laws, including the Wire Act, and various state laws, violate the General Agreement on Trade in Services (GATS).
The report, which is titled "United States -- Measures Affecting the Cross-Border Supply of Gambling and Betting Services: Report of the Panel", finds that these laws violate the U.S.'s market access commitments for gambling and betting services.
The report therefore directs the U.S. Congress and various states to amend their statutes to legalize the placing of bets in the U.S., and international money transfers and payments, that facilitate internet gambling provided in Antigua and Barbuda.
Antigua and Barbuda is a nation comprised of two tiny sparsely populated islands located in the Caribbean, east southeast of Puerto Rico, at 17 03 N, 61 48 W. The economy is primarily service based, with tourism accounting for more than half of the GDP. Antigua and Barbuda is also a "drug money laundering center" (The World Factbook, CIA, 2003, at page 20), and an internet based gambling center.
Richard Mills, the spokesman for the Office of the U.S. Trade Representative (USTR), stated in a release that "This panel report is deeply flawed", and that "We will vigorously appeal this deeply flawed report to the WTO Appellate Body and remain confident in the basis for reversing this panel report."
He elaborated that "In 1995, the Clinton Administration clearly intended to exclude gambling from U.S. services commitments when the Uruguay Round negotiations were completed. Throughout our history, the United States has had restrictions on gambling, like many other countries. Given these restrictions, it defies common sense that the United States would make a commitment to let international gambling operate within our borders. Antigua is arguing for a result that was never imagined, much less bargained for, in the Uruguay Round negotiations."
He added that "contrary to what the panel asserted, there is no obligation for WTO members to conduct international consultations before taking action to protect public morals and public order and enforce criminal laws. WTO members were already restricting gambling and other activities affecting public morals and public order long before they created the WTO. The WTO agreements confirmed the rights of Members to protect public morals and public order. Nothing in any WTO agreement requires Members to seek approval from their trading partners before exercising those rights. Indeed, on these grounds alone, this panel report should be of great concern to every single WTO member."
Bush Picks Alberto Gonzales to be Next Attorney General
11/10. President Bush announced that he will nominate Alberto Gonzales to be the next Attorney General. He will replace John Ashcroft.

Gonzales (at right), is currently White House Counsel. Before that, he served on the Supreme Court of Texas. Before that, he was Secretary of State of Texas, and General Counsel in the office of then Governor George Bush.
President Bush stated at a White House event that "His sharp intellect and sound judgment have helped shape our policies in the war on terror -- policies designed to protect the security of all Americans, while protecting the rights of all Americans. As the top legal official on the White House staff, he has led a superb team of lawyers and has upheld the highest standards of government ethics." See, transcript.
Sen. Orrin Hatch (R-UT), the outgoing Chairman of the Senate Judiciary Committee, stated in a release that "President Bush made an excellent choice by selecting Judge Alberto Gonzales as the next Attorney General of the United States. I have had the pleasure of working closely with Judge Gonzales throughout President Bush's administration. Judge Gonzales' record in Texas and the White House are praise-worthy. His legal, military, government and professional experience has proven to be a great asset to our country during very trying times. I am confident that he will be promptly confirmed and make a superb Attorney General."
Sen. Leahy Comments on Gonzales Nomination
11/10. Sen. Patrick Leahy (D-VT), the ranking Democrat on the Senate Judiciary Committee, stated in a release that "I like and respect Judge Gonzales and look forward to our committee's consideration of his nomination."

Sen. Leahy (at right) continued that "The Justice Department in the first Bush term was the least accountable Justice Department in my lifetime. Meaningful oversight and accountability were thwarted for years. We will be looking to see if Judge Gonzales intends to change that."
He added that "These confirmation hearings will be a rare opportunity for the Senate and the public to finally get some answers on several issues for which the Administration has resisted accountability, including its use of the PATRIOT Act, the lack of cooperation with Congress on oversight, and the policies that have been rejected by the courts on the treatment of detainees."
More People and Appointments
11/10. Randy Barrett joined Warren Communications News. He will write for Communications Daily, and write for, and manage, Washington Internet Daily. He previously worked for Interactive Week, and as a free lance writer. He replaces Pat Ross, who became VP for Communications and External Affairs at the Progress & Freedom Foundation (PFF).
More News
11/10. The Internet Corporation for Assigned Names and Numbers (ICANN) announced that it approved the Asian Domain Name Dispute Resolution Centre (ADNDRC) and the National Arbitration Forum (NAF) as independent dispute resolution providers for the Transfer Dispute Resolution Policy (TDRP). The ICANN stated that this policy is part of the Inter-Registrar Transfer Policy, which will go into effect on November 12, 2004. The ADNDRC is a joint undertaking between the China International Economic and Trade Arbitration Commission (CIETAC) and the Hong Kong International Arbitration Centre (HKIAC). See, ICANN release.
11/10. The Federal Communications Commission (FCC) and the NTIA announced that FCC Chairman Michael Powell and NTIA Administrator Michael Gallagher "met formally to plan and coordinate the efforts of the FCC and the National Telecommunications and Information Administration (NTIA) on spectrum policy issues. The meeting included senior spectrum policy teams from both organizations." See, FCC release, NTIA release, and picture.
11/10. The Department of Homeland Security (DHS) announced that it has "lowered the threat level for the financial services sector in New York City, Northern New Jersey and Washington, D.C. from 'high' or Code Orange to 'elevated' or Code Yellow. Since the threat level was raised on August 1, 2004 state and local leaders as well as the private sector have worked hard to strengthen security in and around specific buildings and locations as well as throughout the financial services sector." See, DHS release.
11/10. Peter Allgeier, Deputy U.S. Trade Representative, gave a speech to the United States Asia Pacific Council in Washington DC. Among the many topics that he discussed were tariffs and non-tariff barriers by industry sector, including the information technology sector. He said that "We, the United States, and many counties in the Asia Pacific area believe that a formula should be complemented by a sectoral initiative that would be basically tariff elimination in key sectors. And we want to work with the countries of Asia Pacific on that. Among the sectors that there's been interest in this region are chemicals, gems and jewelry, capital goods and, of course, information technology goods". He added that "In addition to the formula and the sectoral initiatives, there are non-tariff barriers. Obviously you can eliminate tariffs and still find that you can't get into a market because of non-tariff barriers. Again, this is an area where there is a lot of opportunity for cooperation and work together with Asia and Pacific. ... we've done it ... to a certain degree, large degree, in information technology."
---
FCC Adopts Order on Vonage's VOIP Petition
11/9. The Federal Communications Commission (FCC) adopted, but did not release, a Memorandum Opinion and Order that addressed Vonage Holdings Corporation's Petition for Declaratory Ruling regarding its DigitalVoice service in the state of Minnesota. The FCC found that Vonage's voice over internet protocol (VOIP) service, which is named DigitalVoice, is an interstate service, and that Minnesota cannot regulate as it had proposed in a September 2003 order. However, the FCC's order leaves many VOIP related issued to be decided by other proceeding, and perhaps, court opinions and/or legislation. See, full story.
Reaction to the FCC's Vonage Order
11/9. The Federal Communications Commission (FCC) adopted, but did not release, a Memorandum Opinion and Order at its November 10 meeting that addresses Vonage Holdings Corporation's Petition for Declaratory Ruling regarding its DigitalVoice service in the state of Minnesota. The FCC found that Vonage's voice over internet protocol (VOIP) service, which is named DigitalVoice, is an interstate service, and that Minnesota cannot regulate as it had proposed in a September 2003 order.
This article provides a review of reactions to this order. See also, story titled "FCC Adopts Order on Vonage's VOIP Petition" in TLJ Daily E-Mail Alert No. 1,015, November 10, 2004.
Vonage CEO Jeffrey Citron stated in a release that "This forward-thinking decision from the FCC assures that competition from VoIP is here to stay. Now we can focus our resources exclusively on building an even better service -- rolling out E-911 for all our subscribers, innovating new features and new devices for VoIP, and expanding aggressively around the globe. Because the FCC has acknowledged the reality of the Internet -- which knows no state boundaries and no borders -- more people will enjoy the benefits of Internet phone service."
Michael Gallagher, Administrator of the National Telecommunications and Information Administration (NTIA), stated in a release that this order "is a big step forward for advanced communications in the United States. Voice communications over the Net have been cleared for takeoff. The FCC has acted to keep the Internet -- an inherently global network -- unburdened by costly state regulation. As a result, a rich variety of IP services benefitting U.S. consumers and businesses will be accelerated. Today's vote is going to keep the U.S. on the cutting edge of innovation."
Gary Shapiro, P/CEO of the Consumer Electronics Association, stated in a release that "It is clear that advancement of VoIP services is a key element in driving consumer demand and adoption of broadband. There is a unique synergy between VoIP and broadband that allows each to be used as a purchase incentive for the other. Today's action by the Commission is a strong step toward regulatory clarity, which is needed to advance VoIP services that will provide enormous benefits to consumers and the economy. We commend the FCC's leadership in taking action to avoid a patchwork of state regulations that would stifle the advancement of this new form of communication."
Cisco Systems stated in a release that "This FCC decision represents an important step in the process of enabling the growth of VoIP without unnecessary government regulation. The prospect that 50 different states could have had 50 different sets of regulation for VoIP service would have been crippling to the birth of this important new technology. Cisco is pleased that Chairman Powell and the FCC Commissioners have recognized that VoIP and a myriad of related new services portend a wealth of low cost, compelling consumer services which know no jurisdictional boundaries. This ruling allows for an environment that fosters innovation, which is vital to the growth of new consumer services and the technology industry's continued expansion."
Steve Largent, P/CEO of the Cellular Telecommunications and Internet Association (CTIA), which now also calls itself the Wireless Association, stated in a release that "We applaud the FCC for recognizing the fundamental interstate and international characteristics of IP-enabled services. Much like wireless, one of the primary benefits of IP-enabled service is its ability to deliver data to a consumer at anytime, in any place, from any location with broadband access. CTIA strongly agrees that such services should be free to develop under a single, unified regulatory framework, unencumbered by conflicting state public utility regulations. Furthermore, the competitive and innovative forces driving IP-enabled service to the marketplace will -- like wireless service -- provide consumers with more choices and lower prices."
"The FCC's action today recognizes the harm that a patchwork of state utility regulations can pose to the development and proliferation of inherently interstate services such as VoIP and wireless. By establishing a uniform, nationwide regulatory framework, IP-enabled services will avoid the costly inefficiencies that accompany a patchwork of inconsistent and varying regulatory schemes. This ruling is of great significance to the consumer seeking these new and innovative services in the most cost-effective manner possible", said Largent.
Robert Sachs, P/CEO of the National Cable & Telecommunications Association (NCTA), stated in a release that "By establishing a national framework for the regulation of Voice over Internet Protocol (VoIP) services, the FCC has taken a significant step towards promoting competition in enhanced voice services. As facilities-based VoIP providers, cable companies offer consumers sustainable, high quality voice services. We believe the Commission's decision will further incent companies to invest in this exciting new technology."
Walter McCormick, P/CEO of U.S. Telecommunications Association (USTA), stated in a release that this order "is a necessary step to ensure that innovative, borderless communications are not hindered by outdated, conflicting regulatory schemes from fifty-one different local jurisdictions. While this move acknowledges the tremendous changes in communications, in future proceedings the Commission must ensure that market-based competition thrives in an environment where all technologies compete under the same rules. The Commission must also set a competitive framework that encourages investment in the infrastructure and shares the responsibility for maintaining the networks."
Jonathan Banks of BellSouth stated in a release that "The FCC took a critical step towards encouraging the deployment of IP-enabled services, such as VoIP, by recognizing the inherent interstate nature of such services. The future of these and new, innovative IP-enabled services depends critically on investment in next-generation network facilities. The FCC must act to ensure that the investment these networks require will not be hampered by regulation."
"We encourage the commission to complete in short order the work it has started here by establishing a similar regime for all IP-enabled networks and services in its 'IP-enabled' rulemaking proceeding. Such a decision would go a long way toward eliminating uncertainty and allowing quicker introduction of new and more efficient services."
James Smith of SBC Communications stated in a release that "Consumers will clearly benefit from a national policy framework that eliminates regulatory roadblocks to the rollout of new generation networks and services. Today's ruling by the FCC appears to be another positive step forward in developing a national policy that ensures consumers will receive innovative and low-priced IP-based services. These innovative IP-based services could be delayed or stymied altogether if 50 states are permitted to saddle these emerging technologies with a hodgepodge of inconsistent and conflicting regulations."
FCC to Collect More Data with Form 477
11/9. The Federal Communications Commission (FCC) adopted, but did not release, a Report and Order regarding modifications to and extension of its Form 477 local competition and broadband data gathering program at its November 9, 2004 meeting.
Data collected in this form is the basis of the FCC's reports that measure broadband deployment in the U.S. The FCC issued a release [PDF] that states that the FCC "will require all facilities-based carriers to report, regardless of their size". Previously, small facilities based broadband providers (those with less than 250 lines in a state) were exempted.
The release also states that "broadband providers will be required to provide more detailed information on the speed and nature of their service. The rules also establish broadband-over-power line as a separate category in order to track deployment more closely. To better assess broadband availability, incumbent telephone and cable companies will be asked to report the extent to which their DSL and cable modem service is available where they they provide phone or cable television service."
The FCC release is otherwise silent on Form 477's definition of broadband. It is currently minimal -- 200 kilobits per second, in one direction. However, Commissioner Michael Copps discussed this in his separate statement [PDF]. He wrote that "move away from our passé 200 kbps benchmark for broadband. I have advocated for some time now that we update this standard. By dividing broadband services into speed tiers, we will have data more in line with the speeds available to end-users in our industrialized counterparts. This should help us better understand how we stack up against other countries, particularly the dozen which are ahead of ours in broadband penetration."
Another issue not addressed by the FCC release is the FCC's practice withholding state level data for confidentiality purposes. That is, if there are three or fewer providers in a state, the FCC does not publish the state level data that it has collected. Hence, the tables that set out state level data in the FCC's periodic reports on broadband deployment are full of asterisks. This is particularly the case for smaller and more rural states with few providers. This practice maintains confidentiality, but frustrates policy analysis.
FCC Chairman Michael Powell wrote in a separate statement [PDF] that "The information collected in our Form 477 program is a critical aid in demonstrating that first-generation broadband is being widely deployed throughout the nation."
FCC Commissioner Jonathan Adelstein also wrote a separate statement [PDF]. See also, the FCC's web page titled "Form 477 Reporting Requirements & Deployment Data". This item is FCC 04-266 in WC Docket No. 04-141.
9th Circuit Construes Meaning of Identity Theft for Sentencing Purposes
11/9. The U.S. Court of Appeals (9thCir) issued its split opinion [20 pages in PDF] in USA v. Melendrez, a criminal sentencing case. Melendrez stole social security numbers, and used a computer to create fraudulent identification documents. The police caught him, and he plead guilty to unlawfully producing more than five identification documents in violation of 18 U.S.C. § 1028(a)(1), (b)(1)(A)(i) and (ii), and (b)(1)(B).
At issue in this appeal is whether it was appropriate for the District Court to enhance his sentence, on the grounds that he committed identity theft, pursuant to the U.S. Sentencing Guidelines Manual, at U.S.S.G. § 2B1.1(b)(9)(C).
Melendrez asserted that there was no identity theft because he did not use the victims' names on the fake identification documents. The Court of Appeals rejected this argument, two to one. This case is U.S.A. v. Melendrez, App. Ct. No. 03-30221, an appeal from the U.S. District Court for the District of Oregon, D.C. No. CR-02-60133-1-ALA, Judge Ann Aiken presiding. Judge Raymond Fisher wrote the opinion of the Court of Appeals, in which Judge Procter Hug joined. Judge Margaret McKeown wrote a dissent.
GAO Reports That Governments Make Social Security Numbers Available for Identity Thieves
11/9. The Government Accountability Office (GAO) released a report [65 pages in PDF] titled "Social Security Numbers: Governments Could Do More to Reduce Display in Public Records and on Identity Cards".
It states that "We found that SSNs are widely exposed to view in a variety of public records, particularly those held by state and local governments, and appear in some public record nearly everywhere in the nation. Specifically, agencies in 41 states and the District of Columbia reported that SSNs are accessible in at least some of the public records they hold and a few reported this to be the case for as many as 10 or more different records."
The GAO also estimates that "more than three-quarters of U.S. counties hold at least one type of record that displays SSNs, which has implications for the 94 percent of the U.S. population that we estimate live in those counties. While we found SSNs displayed in a great variety of state and county records, they were most often displayed in court and property records. On the other hand, SSNs in records held by federal executive branch agencies are protected under the Privacy Act of 1974 and are, therefore, not generally available to the public. However, we found that SSNs are sometimes available in federal court records."
The report also found that some state and local government agencies that collect social security numbers "reported having no use for the number", but collect them anyway.
The report also addresses how documents containing SSN's are stored and accessed. "Public documents with SSNs are stored in a multiplicity of ways, and we found that public access methods are highly variable. State government offices tend to store such records electronically, while most such local government records are stored on microfiche or microfilm. However, for both levels of government, inspection of paper copies is the most commonly available method for public access. Few state agencies make records containing SSNs available on the Internet. However, we estimate that local government offices in as many as 15 to 28 percent of counties do make SSNs available through the Internet. Still, few state or local offices reported plans to put additional records on the Internet. Additionally, some state and local offices have begun restricting access to SSNs in public records overall. Moreover, at the federal level, the federal court system has recently taken action to restrict access to SSNs in their public records."
The report also discussed the display of SSNs on federal identification cards. "The display of nine-digit SSNs on such cards, which may need to be carried and must often be disclosed, puts cardholders at risk for identity theft due to the increased potential for accidental loss, theft, or visual exposure. Currently, this practice involves an estimated 42 million Medicare cards, 8 million Department of Defense identification cards, as well as some insurance cards, and 7 million Department of Veterans Affairs identification cards."
Attorney General Ashcroft Resigns
11/9. Attorney General John Ashcroft resigned, effective upon the confirmation of a successor. President Bush has not yet named a replacement. Confirmations for Attorneys General are often contentious, and protracted.
Ashcroft wrote in a message to Department of Justice (DOJ) employees on November 9 that "On November 2nd, I submitted to the President my intention to resign from the office of Attorney General of the United States, effective upon confirmation of my successor."
He also reviewed the DOJ's accomplishments. "For three years since the worst attack in our nation's history, and in defiance of all expectations, America has not endured another major terrorist attack. Violent crime is at its lowest rate in three decades. We have engineered double-digit reductions in the rates of sexual assault, robbery and assault. Gun crime prosecutions are at a record high and violent crimes committed with guns are at a record low. Drug use among the nation's youth is declining. Corporate criminals are facing justice, and integrity has been restored to the nation's marketplace. America's values, as set forth in our Constitution, reflected in our laws, and cherished in our hearts, have been honored and defended."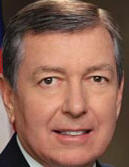 President Bush praised Ashcroft (at right) in a statement. He wrote that "During his four years at the Department of Justice, John has transformed the Department to make combating terrorism the top priority, including making sure our law enforcement officials have the tools they need to disrupt and prevent attacks." Bush also stated that "I appreciate his work to fight Internet pornography."
Sen. Orrin Hatch (R-UT), the outgoing Chairman of the Senate Judiciary Committee, stated in a release that Ashcroft "has served our country faithfully during one of our most challenging chapters in history. I enjoyed working closely with him. His courage and leadership are second to none."
AG Ashcroft also wrote in a summary of DOJ accomplishments that there has been "a nearly 100% increase in electronic surveillance (FISA) orders since 2001". Ashcroft added in his statement to DOJ employees that "it would be the height of arrogance to assume we achieved this alone. The Psalms remind us: ``Unless the Lord watches over the city, the watchman stands guard in vain.´´"
Anthony Romero, Executive Director of the ACLU, issued an angry release in reaction to Ashcroft's resignation. He asserted that Ashcroft has "an open hostility to protecting civil liberties and an outright disdain for those who dare to question his policies". He added that "The Administration has long known that John Ashcroft's unpopularity would make it harder to pursue its agenda -- but it is not enough to simply change the public face of the Department of Justice. Putting a fresh face on the Administration's old policy of violating civil liberties and human rights in the name of national security is not sufficient."
More People and Appointments
11/9. Federal Communications Commission (FCC) Chairman Michael Powell stated to reporters on his way out of the FCC's meeting on November 9, 2004 that he intends to stay on at the FCC. His term as a Commissioner expires in 2007. He serves in the capacity of Chairman at the will of the President.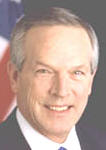 11/9. Secretary of Commerce Donald Evans (at left) resigned. President Bush wrote in a statement praising Evans that "He has been a valuable member of my economic team. Don has worked to advance economic security and prosperity for all Americans. He has worked steadfastly to make sure America continues to be the best place in the world to do business. To encourage job creation here at home, Don has worked closely with me to reduce taxes, open markets for American goods and services, and promote a level playing field abroad."
11/9. Patrick Ross was named VP for Communications and External Affairs at the Progress & Freedom Foundation (PFF). Ross previously worked for Warren Communications News, as manager of Washington Internet Daily, and as a writer for Communications Daily. Before that, he was the Washington Bureau Chief for CNET News. Before that, he worked at Warren. He also previously worked on the staff of Sen. Harry Reid (D-NV), who, following the election defeat of Sen. Tom Daschle (D-SD), will likely become the Senate Minority Leader in the 109th Congress. The PFF stated in a release that Ross "will also focus on intellectual property issues for the Foundation's Center for the Study of Digital Property." His new e-mail address is pross@pff.org.
More News
11/9. The White House press office announced in a release that "President Bush will attend the 12th Asia-Pacific Economic Cooperation (APEC) Leaders' Meeting in Santiago, Chile from November 20-21."
11/9. The Federal Communications Commission's (FCC) International Bureau presented a report at the FCC's October 9, 2004 meeting. The report pertains to the International Telecommunications Union's (ITU) World Telecommunication Standardization Assembly (WTSA), held on October 5, 2004. See, FCC release [PDF].
---
Microsoft Reaches Agreements with Novell and CCIA
11/8. Microsoft reached agreements with more entities that have complained to courts and regulatory agencies that Microsoft has violated competition laws. Microsoft reached a partial settlement of claims asserted by Novell, a competitor in the sale of software. Microsoft also reached an agreement with the Computer and Communications Industry Association (CCIA), a Washington DC based interest group.
Novell. Novell stated in a release that it reached "an agreement with Microsoft to settle potential antitrust litigation related to Novell's NetWare operating system in exchange for $536 million in cash." Novell also stated that "by the end of this week it will file an antitrust suit against Microsoft in the United States District Court in Utah seeking unspecified damages in connection with alleged harm to Novell's WordPerfect application software business in the mid-1990s."
Novell elaborated that "Under terms of the settlement, in exchange for the cash payment, Novell has agreed to a general release of claims that it has as of the date of the agreement, with certain exclusions that include patent claims and claims associated with Novell's WordPerfect business. The agreement also includes a release by Microsoft of claims that would have been compulsory counterclaims to the NetWare claims asserted by Novell. Finally, Novell has agreed to withdraw its intervention in the European Commission's case with Microsoft."
Novell also described the forthcoming lawsuit. "The WordPerfect suit that Novell will file seeks unspecified damages arising from Microsoft's efforts to eliminate competition in the office productivity applications market during the time that Novell owned the WordPerfect word-processing application and the Quattro Pro spreadsheet application. The suit is based in part on facts proved by the United States Government in its successful antitrust case against Microsoft. In that suit, Microsoft was found to have unlawfully maintained a monopoly in the market for personal computer operating systems by eliminating competition in related markets."
Microsoft added in its release that "Novell will also withdraw from participation in the European Commission's case with Microsoft and will no longer participate as an intervener on behalf of the European Commission in Microsoft's appeal of the Commission's March 24 ruling."

Brad Smith, General Counsel of Microsoft, stated at a press conference that "Our settlement with Novell covers all of the antitrust issues relating to Novell's Netware products as of today, as well as all of Novell's other current businesses as of today. This means that we have resolved Novell's claims under U.S. antitrust law."
He added that "While the parties were able to resolve all antitrust claims related to Novell's current businesses, including NetWare, they have not been able to reach agreement concerning Novell's antitrust claims related to its ownership of WordPerfect between June 1994 and March 1996. Novell retains the right to pursue those claims. In addition, both parties retain the right to pursue past or future patent claims." See, transcript.
CCIA. Microsoft stated in a release that it will give money to the CCIA. Microsoft stated that "The company will compensate the CCIA for certain legal-related expenditures it has incurred, in some cases over the past decade, and provide substantial institutional support for new and important policy undertakings on which CCIA will take a leadership role."
However, Microsoft did not disclose how much it will pay the CCIA. It stated that "Specific financial terms of the agreement are confidential."
Microsoft stated that, in return, the CCIA "agreed not to seek certiorari to the Supreme Court in its challenge to the District Court's Final Judgment in the United States v. Microsoft antitrust case. The Washington, D.C. based trade association has also agreed that it will no longer participate as an intervener on behalf of the European Commission in Microsoft's appeal of the Commission's March 24 Decision, and it will also withdraw its complaint with the European Commission filed in February 2003 on issues related to Microsoft Windows XP."
See also, CCIA release.
PFF Urges Supreme Court to Grant Certiorari in MGM v. Grokster
11/8. The Progress and Freedom Foundation (PFF) filed an amicus curiae brief [12 pages in PDF] with the Supreme Court in MGM v. Grokster, urging the Court to grant certiorari.
The PFF wants the Supreme Court to reverse the August 19, 2004 opinion [26 pages in PDF] of the U.S. Court of Appeals (9thCir) which affirmed the District Court's judgment that Grokster's and Streamcast's peer to peer (P2P) file copying networks do not contributorily or vicariously infringe the copyrights of the holders of music and movie copyrights.
See also, April 25, 2003, opinion of the U.S. District Court (CDCal), which the Appeals Court followed and praised.
The PFF argues in its brief that "Consumers have two strong interests: (1) Avoiding inhibitions on technological progress; and (2) Fostering the production of content by providing incentives to creators."
"These are complementary, not conflicting, because each is necessary to the other. Technological devices are useless without content, and content is pointless without means of delivery. But they must be reconciled, because, each taken to the limit of its logic, can do serious harm to the other."
It continues that "The Ninth Circuit focused totally on the need to avoid any inhibition on technology, and in so doing it lost sight of the other, equally important consumer interest in promoting content. It failed to recognize that no group of consumers, interested in maximizing its long-term enjoyment of music, would select a legal regime that allows the untrammeled operation of Grokster and similar programs. Such a regime would quickly distribute the existing stock of music, but would provide no incentives for future production, and would destroy any hope for the creation of legitimate Internet distribution systems that can provide continuing incentives to the creative community."
The PFF argues that this is an example of what economists and game theorists call the prisoner's dilemma [Wikipedia]. "Each consumer is better off if he or she has total access to unauthorized file-sharing while every other consumer pays for the music. But when everyone tries to free ride on everyone else, the whole system collapses."
The solution, writes the PFF, is for the Supreme Court to grant certiorari, and then solve the prisoner's dilemma that consumers face, by creating a new legal regime.
The brief does not site any authority for the proposition that the judiciary has the responsibility or power to solve prisoner's dilemmas.
The PFF's brief was written by James DeLong and Solveig Singleton. See also, PFF release.
On October 8, 2004, movie and music industry entities filed their petition for writ of certiorari. The petitioners include Metro Goldwyn Mayer Studios Inc., other movie studios, record companies, and music publishers and songwriters. The respondents are Grokster, Ltd. and StreamCast Networks, Inc. See, story titled "Movie and Music Industry Entities File Cert Petition in MGM v. Grokster" in TLJ Daily E-Mail Alert No. 994, October 11, 2004.
This case is Metro-Goldwyn-Mayer Studios Inc., et al. v. Grokster, Ltd., et al., Sup. Ct. No. 04-480, on petition for writ of certiorari to the U.S. Court of Appeals for the 9th Circuit.
Supreme Court Denies Cert in Larimer v. IBM
11/8. The Supreme Court denied certiorari in Larimer v. IBM, an ADA and ERISA case involving association disability. Thomas Larimer was employed by IBM as a salesman. IBM fired him shortly after his twin daughters were born, prematurely, and suffering serious medical conditions.
Larimer did not assert that he was disabled. Rather, he asserted that his daughters were disabled, and that he was fired because their disability would cause IBM to incur greater medical expenses. IBM asserted that he was fired because he did not sell enough Lotus software.
The Americans with Disability Act (ADA) provides, at 42 U.S.C. § 12112(b)(4), that employers are prohibited from discriminating against "a qualified individual because of the known disability of an individual with whom the qualified individual is known to have a relationship or association."
The U.S. District Court (NDIll) granted summary judgment for IBM. The U.S. Court of Appeals (7thCir) issued its opinion [9 pages in PDF] on June 3, 2004 affirming the District Court. See, 370 F3d 698. The Supreme Court's denial of certiorari lets stand the judgment for IBM.
Judge Richard Posner, writing for the three Judge panel of the Court of Appeals, reasoned that association disability can arise in one of three ways, "disability by association", "distraction", or "expense".
He wrote that "disability by association" exists in situations such as where an employee associates with a person with HIV and the employer fears that the employee too may become infected. But, Judge Posner concluded that premature birth is not communicative to the father, so there cannot be "disability by association".
Second, he wrote that "distraction" disability exists where an employee is distracted by the disability of another. But, he concluded that this is not present in this case because there is no evidence that Larimer was absent from, or distracted at, work.
Finally, he wrote that "expense" disability exists, for example, where the spouse of an employee has a disability that is expensive to the employer. But, Judge Posner concluded that this basis for association disability was not present because there was "no evidence that health benefits are in the budget of the unit of IBM that employed and discharged Larimer".
The District Court, and the Court of Appeals, also rejected Latimer's claims of prima facie employment discrimination and violation of the ERISA.
See, Order List [7 pages in PDF] at page 5. This case is Thomas Larimer v. International Business Machines, Corp., Sup. Ct. No. 04-330, a petition for writ of certiorari to the U.S. Court of Appeals for the 7th Circuit, App. Ct. No. 03-2256.
District Court Holds Copyright Registration Invalid on Technicality
11/8. The U.S. District Court (EDPenn) issued an opinion [17 pages in PDF] in Gallup v. Kenexa, a copyright infringement case in which the District Court granted summary judgment to an alleged infringer on the basis that the copyright registration was invalid because the attached copy of the work was not the original, but rather a slightly modified revision.
The opinion offers defense counsel for pirates and infringers additional arguments and authority for defeating or delaying copyright infringement actions based upon technical defects in the registration of the copyright. However, in the context of copyrights for web sites, blogs, web pages, and other digital works, this and related opinions are a bonanza for infringers.
Neither the Copyright Act, nor the Copyright Office's regulations, provide any clear guidance regarding what is required to register such works. Hence, any registration will be subject to the argument that it is technically deficient, and therefore invalid. There is no way of knowing at the time of registration whether the manner registration will ultimately be held to be invalid for technical defects.
This case is Gallup Inc. v. Kenexa Corporation, U.S. District for the Eastern District of Pennsylvania, D.C. No. 00-5523, Judge Lawrence Stengel presiding.
See, full story.
People and Appointments
11/8. The Department of the Treasury announced the departure of Brian Roseboro . He was Under Secretary of the Treasury for Domestic Finance. Before that, he was Assistant Secretary of the Treasury for Financial Markets. See, statement by Treasury Secretary John Snow.
11/8. Jill Luckett was promoted to SVP -- Program Network Policy at the National Cable and Telecommunications Association (NCTA). Luckett has worked on digital carriage issues and a la carte pricing. Also, William Check was promoted to SVP -- Science and Technology. Check is responsible for analysis and evaluation of technical issues, and worked on the 2002 plug and play digital TV agreement. See, NCTA release.
More News
11/8. The Supreme Court issued an order in two consolidated cases, Veneman v. Livestock Marketing Association (No. 03-1164 ) and Nebraska Cattlemen v. Livestock Marketing Association (No. 03-1165). The order states only that "The motion of the Acting Solicitor General for divided argument is granted." See, Order List [7 pages in PDF] at page 1. Oral argument in this case is scheduled for Wednesday, December 8, 2004. See, oral argument calendar [PDF]. These cases involve whether the Beef Promotion and Research Act of 1985 provision that requires that beef producers pay for generic advertising of beef and beef products violates the First Amendment. These cases involve beef and the Agriculture Department. However, the concept of compelled speech is also present in various debates over communications and technology related issues, such as forced access to cable facilities, must carry, equal time, free time for candidates, election campaign advertising disclosures, and truth in billing.
---