Sen. McCain Introduces Encryption Bill
(April 15, 1999) Sen. John McCain (R-AZ) introduced the "Promote Reliable On Line Transactions to Encourage Commerce and Trade (PROTECT) Act" on Wednesday, April 14. The bill would allow exportation of encryption of key lengths up to 64 bits, and allow for exportation of encryption above 64 bits to responsible entities and governments of NATO, ASEAN, and the OECD.
The bill also directs the National Institute of Standards and Technology (NIST) to complete the establishment of an advanced encryption standard (AES) by January 1, 2002.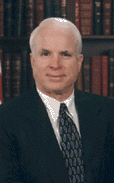 Sen. McCain
"This bill protects our national security and law enforcement interests while maintaining the United States leadership role in information technology," said Sen. McCain in a press release. "The PROTECT Act would establish a credible precedure for making encryption export decisions, while providing a national security backstop to make certain that advanced encryption products do not fall into the wrong hands."
Sen. John McCain (R-AZ), the sponsor of the bill, is the Chairman of the Senate Commerce Committee, which will have jurisdiction over the bill. The bill's initial cosponsors include Sen. Conrad Burns (R-MT), Sen. Ron Wyden (D-OR), Sen. Patrick Leahy (D-VT), and Sen. Spencer Abraham (R-MI).
"PROTECT reflects a number of discussions Chairman McCain and I have had this year about the importance of encryption in the digital age," said Sen. Burns in a press release. "Encryption is necessary to promote electronic commerce, secure our confidential business and personal information, and bolster our national security by protecting commercial information systems and electronic networks upon which America's critical infrastructures rely."
Sen. Burns
Sen. Burns has been a leader in the Senate for years in the effort to pass encryption legislation. In the 105th Congress he was the sponsor of S 377, the Pro CODE bill ("Promotion of Commerce Online in the Digital Era Act").
"We are encouraged that Senators Burns and McCain, two leaders on technology issues, are working together to move an encryption reform bill in this Congress," said Ed Gillespie, the Executive Director of Americans for Computer Privacy (ACP).
"The introduction of the PROTECT Act today indicates that the U.S. Senate has formally entered the debate on encryption export policy and intends to be an active and full participant on this important public policy initiative," said Robert Holleyman, President and CEO of the Business Software Alliance (BSA).