NTIA Opposes Mandatory Filtering for Schools Receiving E-Rate Subsidies
(April 13, 1999) NTIA head Larry Irving sent a letter to FCC Chairman William Kennard on April 7 in which he stated opposition to mandated filtering in the FCC's e-rate program. He wrote that "the Federal Government should not mandate a particular type of technology, such as filtering or blocking software." There are bills pending in Congress that would require all schools and libraries receiving e-rate subsidies to install and use software that filters out Internet porn.
The National Telecommunications and Information Administration (NTIA) is a part of the Commerce Department. Larry Irving, the head of the NTIA, stated in his letter that he merely wants schools and libraries to "have instituted policies" regarding Internet use. In contrast, bills pending in Congress are far more specific. Rather than allowing schools and libraries to institute their own policies, these bills set the policy: mandatory use of filtering software.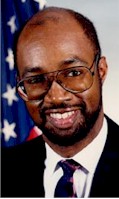 Larry Irving
The Federal Communications Commission (FCC) has authority to administer universal service programs under the Section 254 of the Telecommunications Act of 1996. It has promulgated regulations creating the e-rate program, citing its authority under Section 254. This program subsidizes computer networking, Internet access, and telephone service for schools and libraries. The FCC could promulgate new regulations governing access to Internet porn by schools and libraries which participate in the e-rate program.
Irving described his proposal as follows:
"Rather, we should encourage "acceptable use" policies by all public institutions that offer access to online resources, including the Internet. An acceptable use policy should, while being sensitive to local needs and concerns, offer reasonable assurances to parents that safeguards will be in place in the school and library setting that permit users to be empowered to have educational experiences consistent with their values.

The Commission can help promote this policy by adopting a requirement that all schools and libraries that receive Federal E-rate funds certify that they will implement acceptable use policies before such funds are awarded to them."
The NTIA is a subdivision of the Department of Commerce. It presently has no authority to mandate filtering. However, two bills introduced late in the 105th Congress would have transferred administration of the e-rate from the FCC to the NTIA.
The Children's Internet Protection Act is being sponsored in the House by Rep. Bob Franks (R-NJ) and in the Senate by Sen. John McCain (R-AZ). It would require that schools receiving e-rate subsidies use filtering software to protect child from Internet pornography. This bill would add a new subsection to Section 254.
The Senate version, S 97 IS, is sponsored by Sen. John McCain and Sen. Ernest Hollings (D-SC). The House version, HR 986 IH, is sponsored by Rep. Bob Franks. (Two earlier versions of the House bill are HR 368 and HR 543.)
The key part of the bill reads:
"To be eligible to receive universal service assistance ... an elementary or secondary school (or the school board or other authority with responsibility for administration of that school) shall certify to the Commission that it has (A) selected a technology for computers with Internet access to filter or block material deemed to be harmful to minors; and (B) installed, or will install, and uses or will use, as soon as it obtains computers with Internet access, a technology to filter or block such material."
Supporters of the Children's Internet Protection Act generally oppose proposals that allow schools and libraries to adopt their own Internet use policies on the grounds that some schools and libraries would adopt a policy that allows children unfettered access to Internet porn.