1/18. The Senate Judiciary Committee (SJC) held a hearing titled "Oversight of the U.S. Department of Justice". The witness was Attorney General Alberto Gonzales.
The Department of Justice (DOJ) released two statements. First, there is Gonzales' long statement, which is twenty numbered pages when printed on paper. He did not read this at the hearing. Second, there is Gonzales' short statement, which reflects his opening remarks.
Terrorist Surveillance Program. Sen. Patrick Leahy (D-VT), the Chairman of the SJC), Sen. Arlen Specter (R-PA), the ranking Republican, and many of the Democrats on the Committee praised the Bush administration's announcement on January 17, 2006, that it would not renew the Terrorist Surveillance Program (TSP).
The Bush administration announced that the National Security Agency (NSA) will henceforth obtain approval from the Foreign Intelligence Surveillance Court (FISC) to conduct terrorism related electronic surveillance where one party is in the U.S. and one party is outside of the U.S.
See, January 17 letter [PDF] from the DOJ to the U.S. Court of Appeals (6thCir) , and story titled "NSA to Obtain FISA Authority for Disputed Electronic Surveillance" in TLJ Daily E-Mail Alert No. 1,521, January 17, 2007.
At the January 18 hearing, Gonzales wrote in his short statement that "Court orders issued last week by a Judge of the Foreign Intelligence Surveillance Court will enable the government to conduct electronic surveillance -- very specifically, surveillance into or out of the United States where there is probable cause to believe that one of the communicants is a member or agent of al Qaeda or an associated terrorist organization -- subject to the approval of the FISA Court."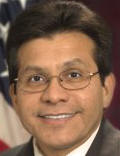 However, Gonzales (at right) declined to provide details about the FISC orders.
Gonzales' long statement contains a description of the TSP that appears to have been drafted prior to the January 17 announcement.
Sen. Leahy wrote in his opening statement, most of which he recited verbatim, that "This reversal is a good first step, but there are still several outstanding questions that remain. To ensure the balance necessary to achieve both security and liberty for our Nation, the President must also fully inform Congress and the American people about the contours of the Foreign Intelligence Surveillance Court order authorizing this surveillance program and of the program itself."
Data Retention Mandate. Gonzales wrote in his short statement that "I continue to hear from federal, state and local law enforcement that they need access to the information that will help us find online predators and child pornographers." He also repeated this line in his oral testimony.
Gonzales' long statement contains 14 paragraphs regarding online pornography and predators. However, it does not contain a request for new legislation.
Sen. Orrin Hatch (R-UT) raised the subject of child pornography. He first advocated the creation of a new commission to study the subject "with a particular focus on the internet". He added that "the internet is part of the problem".
AG Gonzales stated he would like to talk with Sen. Hatch about that. He added that "we need more resources".
Sen. Hatch (at left) also said that "You in the past have expressed the concern that investigators in child exploitation case sometimes hit dead ends because internet service providers have not kept data that would help determine the sources of images posted on the internet. How big a problem is this for law enforcement? And, is there something that Congress can do to help solve it?"
Gonzales responded, "Well it is a problem. You are right. We are engaged, we have encountered investigations, where the evidence is no longer available, because, there is no requirement to retain the data. Many ISPs do retain data for commercial purposes, and let me just say, most ISP companies are great partners for the law enforcement community, so I want to commend them for their efforts. However, for those few cases where we need that information, the question is, how do get, how do we maintain that evidence. And so, for that reason, I have had discussions with the ISP community, with victims' groups, with privacy groups, about whether or not it makes sense to have some kind of legislation to do data retention -- not data retained by the government, but data retained by ISPs -- that could be accessed with a court order, by the Department of Justice, from a court judge. And, I think, I would like to have a discussion with the Congress about that."
The DOJ sought legislation in the 109th Congress that would have imposed data retention mandates on internet services providers. Gonzales also gave several speeches on this subject. See for example, April 20, 2006, speech, and story titled "Gonzales Proposes Data Retention Mandate, Web Site Labeling, and Ban on Deceptive Source Code" in TLJ Daily E-Mail Alert No. 1,357, April 25, 2006. See also, story titled "Gonzales Says Foreign Governments Should Have Access to Information Collected under Data Retention Mandate" in TLJ Daily E-Mail Alert No. 1,365, May 8, 2006.
However, while the DOJ and others are building support for legislation mandating data warehousing, any bill might have to move through the House Commerce Committee's (HCC) Subcommittee on Communications and the Internet. Its Chairman is Rep. Ed Markey (D-MA). See, story titled "Rep. Markey Advocates Data Destruction Bill" in TLJ Daily E-Mail Alert No. 1,429, August 10, 2006.
On the other hand, Rep. Diana DeGette (D-CO), a member of the HCC, is a data retention mandate proponent. See, story titled "House Commerce Committee Considers Data Retention Mandate" in TLJ Daily E-Mail Alert No. 1,365, May 8, 2006.
Gonzales' long statement offers a description of the online activities of pornographers and predators. It states that "the Internet is increasingly used by sexual predators and abusers as a tool for exploiting and victimizing our children through both child pornography and cyberenticement."
"The Internet has contributed to a significant increase in the proliferation and severity of such images. It provides deviants with an easily accessible and seemingly anonymous means of accumulating and distributing vast collections of images of child sexual abuse."
It adds that "As the Internet and related technologies have grown and evolved, children are also increasingly at risk of being sexually solicited online by predators. Law enforcement is uncovering an escalating number of ``enticement´´ cases, where perpetrators contact children in chat rooms or through instant messaging and arrange to meet at a designated location for the purpose of making sexual contact."
Gonzales' long statement also contains some prosecution data. It states that "In 2006, federal prosecutors charged 1,638 defendants with child pornography or cyberenticement. Of these, 1,242 were sentenced to prison. This is up from 715 defendants charged in 2000. Over the last ten years, the FBI's Innocent Images National Initiative has gone from 68 defendants charged and convicted as a result of their efforts to 1,018 in 2006."
Internet Drug Sales. Gonzales wrote in his short statement that "I hope we can discuss an emerging problem -- the abuse of prescription drugs purchased over the Internet -- and the things we can do together to address this issue. Prescription drug abuse is now the second largest form of drug abuse in the United States and the only rising category of abuse among youth. Feeding this abuse is the proliferation of illicit websites that offer controlled substances for sale, requiring little more than a cursory online questionnaire and charging double the normal price. Make no mistake: these illicit websites are not about getting necessary medicine to those in need."
He added that "We must preserve legitimate access to medications over the Internet while preventing online drug dealers from using cyberspace as a haven for drug trafficking. I look forward to working with Congress to ensure that controlled substances are dispensed over the Internet only for legitimate medical purposes."
He also read this language verbatim at the hearing.
Intellectual Property. Gonzales' long statement reviews recent DOJ activities to enforce intellectual property rights (IPR). It also contains a statement regarding legislative proposals for the 110th Congress.
It states that "We will continue to seek legislation that would, among other things, increase penalties for intellectual property crimes, clarify that registration of a copyright is not required for a criminal prosecution, make attempts to commit copyright infringement a crime and increase the tools investigators have at their disposal to track potential intellectual property crimes."
Other Issues. Sen. Jon Kyl (R-AZ) praised the DOJ for prosecuting internet gambling cases.
Sen. Leahy, Sen. Specter, and criticized the practice of issuing Presidential signing statements. Gonzales defended the practice.
Sen. Dianne Feinstein (D-CA) complained, and asked questions, about the selection process for U.S. Attorneys.
Sen. Charles Grassley (R-IA) wrote in his opening statement that he wants "assurances that the Department of Justice is doing all it can to enforce antitrust laws". However, while he wrote that the DOJ's Antitrust Division should be "pro-active" in all industries, his main concern is agribusiness consolidation.
Several members raised the subjects of habeas corpus, sentencing guidelines, rendition, the anthrax investigation, and/or violent crime.
Some members of the SJC, such as Sen. Ted Kennedy (D-MA), focused on issues largely unrelated to the jurisdiction of the SJC, such as going to war with Iran. Gonzales said that he was unaware of any plans to go to war with Iran.
Richard Hertling and William Moschella sat immediately behind AG Gonzales at the hearing.