8/24. The U.S. Attorney for the Southern District of New York charged Javed Iqbal by criminal complaint [2 pages in PDF] with one count of conspiracy to violate the International Emergency Economic Powers Act (IEEPA) in connection with his providing to customers the satellite broadcasts of al Manar, a television station owned by Hizballah, which the U.S. government has designated as a terrorist entity.
The complaint alleges violation of 50 U.S.C. § 1705(b), which is the penalties section of the IEEPA, and 18 U.S.C. § 371, the federal conspiracy statute. Notably, the complaint does not allege violation of 18 U.S.C. § 2339B, which criminalizes providing material support to a foreign terrorist organization.
The two page complaint provides little information. It alleges that "On or about January 19, 2005, JAVED IQBAL, a/k/a ``John Iqbal,´´ the defendant, obtained a license from the Federal Communication Commission that, among other things, permitted him to broadcast satellite television transmissions to customers."
It continues that "On or about June 7, 2006, in a conversation with a confidential informant (the ``CI´´) at the offices of HDTV Ltd. in Brooklyn, IQBAL offered to provide the CI with access to Al-Manar television broadcasts."
The complaint also alleges that "On or about July 14, 2006, IQBAL caused a contractor to install a satellite television system in an apartment in Manhattan for the purpose of, among other things, viewing Al-Manar satellite television broadcasts."
§ 1705(b) merely states that "Whoever willfully violates, or willfully attempts to violate, any license, order, or regulation issued under this chapter shall, upon conviction, be fined not more than $50,000, or, if a natural person, may be imprisoned for not more than ten years, or both; and any officer, director, or agent of any corporation who knowingly participates in such violation may be punished by a like fine, imprisonment, or both."
The word "chapter" refers to Chapter 35 of Title 50 of the U.S. Code. This chapter, which consists of §§ 1701-1707, codifies the IEEPA. §1702 gives the President broad authority to block and prohibit certain conduct related to terrorism.
The complaint does not identify what "license, order, or regulation issued under this chapter" was violated by Iqbal. The complaint merely states that he violated "the regulations promulgated thereunder".
However, the Office of the U.S. Attorney submitted to the District Court an affidavit in support of its application for a search warrant. This 39 page document contains detailed factual allegations and legal arguments.
It identifies the underlying order as Executive Order 13224, signed by President Bush on September 23, 2006, and published in the Federal Register, September 25, 2001, Vol. 66, No. 186, at Pages 49079-49082.
This order states that "all property and interests in property of the following persons that are in the United States or that hereafter come within the United States, or that hereafter come within the possession or control of United States persons are blocked". It further orders that "any transaction or dealing by United States persons or within the United States in property or interests in property blocked pursuant to this order is prohibited, including but not limited to the making or receiving of any contribution of funds, goods, or services ..." It contains an attached list of affected entities.
This order does not reference communications, television, cable, or broadcasting. Nor does it reference al Manar or al Nour. However, it does authorize the Department of the Treasury (DOT) to designate further terrorist entities to be covered by Executive Order 13224
On March 23, 2006, the DOT designated both al Manar and al Nour as terrorist entities subject to Executive Order 13224. The DOT release announcing this designation states that a Manar is "a satellite television operation owned or controlled by the Iran-funded Hizballah terrorist network".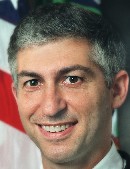 Stuart Levey (at right), the DOT's Under Secretary for Terrorism and Financial Intelligence, stated in that release that "Any entity maintained by a terrorist group -- whether masquerading as a charity, a business, or a media outlet -- is as culpable as the terrorist group itself".
The DOT release adds that "One al Manar employee engaged in pre-operational surveillance for Hizballah operations under cover of employment by al Manar."
Sen. Bill Nelson (D-FL) and other Senators and Representatives had urged the DOT to make this designation. See, Sen. Nelson's release of March 30, 2006.
The Foundation for the Defense of Democracy's (FCC) Coalition Against Terrorist Media (CATM) issued a release praising the DOT's designation. It added that "Since its founding in 2004, CATM has met with more than 800 government and private sector officials around the globe urging action against al-Manar", and that "CATM has been instrumental in removing al-Manar from eight satellites broadcasting into North America, South America, Europe, Asia, and Australia."
The criminal complaint is dated August 22, 2006. The DOJ stated in its release that Iqbal has been arrested. A spokesman for the Office of the U.S. Attorney (SDNY) told TLJ that his first court appearance was on August 24. This spokesman also declined to comment on whether this is the first broadcast content related anti-terrorism case brought in the U.S.
The affidavit in support of the application for the search warrant contains more details. It adds that there is probable cause to believe that there has been a violation of 18 U.S.C. § 2339B, which pertains to material support to a foreign terrorist organization. However, the complaint does not charge violation of this section.
This section provides, in part, that "Whoever knowingly provides material support or resources to a foreign terrorist organization, or attempts or conspires to do so, shall be fined under this title or imprisoned not more than 15 years, or both, and, if the death of any person results, shall be imprisoned for any term of years or for life."
The affidavit provides further information about Hizballah. It also states that "Within Lebanon, Hizballah owns and/or operates a media network, the Lebanese Media Group, which is the parent company to both (a) al Manar, a satellite television operation, and (b) al Nour, a radio operation. Al Manar and al Nour regularly broadcast messages from Hizballah's leadership, and the television and radio station are designed to increase support for Hizballah's activities and mission. These media outlets promote the message and image of Hizballah throughout the world, wherever the radio and television signals can be transmitted and received."
The affidavit states that an FBI confidential informant spoke with Iqbal about obtaining service, and Iqbal told him that he provided various satellite services that enable customers to receive al Manar broadcasts, as well as broadcasts of other Arab television stations, such as al Jazeera.
The affidavit also states that when Iqbal recently returned to the U.S. from a trip to Lebanon he showed customs officials "A card issued on or about January 19, 2005, by the Federal Communication Commission (``FCC´´) bearing IQBAL's photograph and FCC identification number. The card lists IQBAL's business as ``International Teleport Government and Private Media Broadcaster,´´ ..."
This is a Department of Justice (DOJ) criminal prosecution, and not a Federal Communications Commission (FCC) proceeding. The FCC is involved in the regulation of the content of broadcast and cable speech. It compels speech through must carry statutes and rules. It requires recipients of e-rate subsidies to block access to certain speech. (Pending bills would also require the FCC, through its e-rate program, to block access to social networking web sites.) And, it regulates broadcast indecency. However, while the FCC had disciplined broadcasters for the statements and activities of Howard Stern and Janet Jackson, it has not been involved with programming that advocates terrorism.
This case is United States of America v. Javad Iqbal aka John Iqbal, U.S. District Court for the Southern District of New York, D.C. No. 06 MAG 1187.