Gonzales Says Online Radicalization Must Be Contained
8/16. Attorney General Alberto Gonzales gave a speech in Pittsburgh, Pennsylvania titled "Stopping Terrorists Before They Strike: The Justice Department's Power of Prevention".
He said that "our strategy of prevention is built on four primary pillars of activity", one of which is "containment of the radicalization that leads to homegrown, al Qaeda-inspired terrorists."
He elaborated that this radicalization is taking place on the internet. However, he stopped short of identifying specific new policies or governmental powers that would enable the Department of Justice (DOJ) to contain this online radicalization.
Although, he did reference amending the Foreign Intelligence Surveillance Act (FISA) via legislation offered by Sen. Arlen Specter (R-PA). Also, he said that it is "essential that we continue to develop the tools we need to investigate their actions".
He did not reference mandatory data retention in the prepared text of his speech. Nor did he discuss censorship of online communications, or take down of web sites.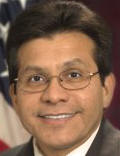 Gonzales (at right) said that "With advances in technology, such as the Internet, change is natural, of course, among successive generations. But the most dramatic change is the nature of the enemy our country today faces -- a stateless enemy sometimes hidden and nurtured here in our neighborhoods, taking advantage of the very laws they mock with their killing and destruction, as a shield from detection and prosecution."
He continued that "We've taken away the 'home base' for al Qaeda in Afghanistan. We've destroyed training camps, cut off funding channels, and disrupted means of communication. We have captured or killed many of al Qaeda's key leaders. This has weakened and fractured al Qaeda." But, he added, that this "has also driven al Qaeda to the Internet, where their ideology has inspired and radicalized others.
He said that "There are between 5,000 and 6,000 extremist websites on the Internet, each one encouraging extremists to cultivate relationships with like-minded people."
"These are the home-grown terrorists that you have heard about", said Gonzales. "This radicalization is happening online and can therefore develop anywhere, in virtually any neighborhood, and in any country."
He also said that "The threat of homegrown terrorist cells -- radicalized online, in prisons and in other groups of socially isolated souls -- may be as dangerous as groups like al Qaeda, if not more so. They certainly present new challenges to detection."
Gonzales also said that "It is therefore essential that we continue to develop the tools we need to investigate their actions and intentions with the help of our partners, and prosecute those who travel down the road of radicalization."
He made several recommendations for Congressional action. First, he wants the Senate to confirm Ken Wainstein and Alice Fisher to be the Assistant Attorneys General in charge of the Department of Justice's (DOJ) National Security Division and Criminal Division, respectively.
Second, he wants the Congress to enact legislation amending the Foreign Intelligence Surveillance Act (FISA). He said that "Senator Specter's legislation addressing that issue, as well as the terrorist surveillance program, should be passed."
See, S 3001, the "Foreign Intelligence Surveillance Improvement and Enhancement Act of 2006". See also, S 2453, the "National Security Surveillance Act of 2006".
Third, he said that "I am also optimistic that Congress will act soon to establish a solid statutory basis for the military commission process, so that trials of captured al Qaeda terrorists can move forward again and we can bring them to justice. We have been in ongoing conversations with Congress in recent weeks to establish such a system, and we are optimistic that we'll soon have legislation that protects the security of the United States while also affording detainees a full and fair process."
FTC Sues Movieland for Pop Up Ads Extortionate Tactics
8/8. The Federal Trade Commission (FTC) filed a complaint [25 pages in PDF] in U.S. District Court (CDCal) against Digital Enterprises, Inc., dba movieland.com, and others, alleging violation of Section 5 of the FTC Act in connection with their alleged distribution of software that produces pop-ups ads on consumers' computers, and their associated demands for payments from consumers to stop the stream of pop-up ads.
The complaint alleges that the defendants "have engaged in a nationwide scheme to use deception and coercion to extract payments from consumers. Defendants' putative business offers consumers membership to an Internet download service with content such as news, sports, games, and adult entertainment. This service supposedly uses software called a ``download manager´´ that, once installed on a computer, will allow access to Defendants' download service. Defendants purport to market the software and download service with a 3-day free trial."
The complaint continues that "Installation of Defendants' download manager is merely a smokescreen concealing Defendants' true purpose: to install software and other files onto consumers' computers that enable Defendants to launch pop-up windows on consumers' computers demanding payments to Defendants. These pop-up windows, which display both textual and audiovisual payment demands, significantly disrupt consumers' use of their computers. After Defendants cause these pop-up payment demands to display on a particular computer for the first time, they cause them to redisplay again and again with ever-increasing frequency. To get these pop-ups to stop appearing, many consumers give in to Defendants' extortionate tactics and pay the Defendants.
The complaint adds that "To ensure that consumers cannot free their computers ``Movieland.com´´, ``Moviepass.tv,´´ or ``Popcorn.net´´ and from the pop-up payment demands, Defendants install programs and computer code that prevent consumers from using reasonable means to uninstall Defendants' software."
The FTC stated in a release that the District Court denied the FTC's motion for a temporary restraining order.
This case is FTC v. Digital Enterprises, Inc., dba movieland.com, Triumphant Videos, Inc., dba popcorn.net, Pacificon International, Inc., dba Vitalix, Alchemy Communications, Inc., Accessmedia Networks, Inc., Innovative Networks, Inc., Film Web, Inc., Binary Source, Inc., dba moviepass.tv, Mediacaster, Inc., dba mediacaster.net, CS Hotline, Inc., Easton Herd, and Andrew Garroni, U.S. District Court Central District Of California, Western Division, D.C. No. CV06-4923 CAS (AJWx).
Washington Tech Calendar
New items are highlighted in red.
Wednesday, August 16
The House will next meet at 2:00 PM on Wednesday, September 6. See, Republican Whip Notice.
The Senate will next meet at 11:00 AM on Tuesday, September 5.
6:00 - 9:15 PM. Day two of a two day continuing legal education (CLE) seminar titled "Software Patent Primer: Acquisition, Exploitation, Enforcement and Defense" hosted by the DC Bar Association. For more information, call 202-626-3488. See, notice and notice. Location: D.C. Bar Conference Center, 1250 H Street NW, B-1 Level.
Monday, August 21
12:00 NOON - 1:00 PM. The U.S. Chamber of Commerce will host a lunch briefing for reporters to discuss its "Global Anti-Counterfeiting and Piracy Initiative". The speakers will be Caroline Joiner, Brad Huther, Michael Considine, and Jennifer Osika. For more information, or to register, e-mail press at uschamber dot com or call 202 463-5682. Location: U.S. Chamber, 1615 H St., NW.
Tuesday, August 22
8:30 AM - 4:30 PM. The U.S.-China Economic and Security Review Commission. will hold a hearing titled "China's Financial System and Monetary Policies: The Impact on U.S. Exchange Rates, Capital Markets, and Interest Rates''. See, notice in the Federal Register, August 15, 2006, Vol. 71, No. 157, at Pages 46978-46979. Location: Room 385, Russell Senate Office Building, Capitol Hill.
Deadline to submit comments to the U.S. Patent and Trademark Office (USPTO) regarding its "modified plan to remove the paper search collection of marks that include design elements from the USPTO's Trademark Search Facility and replace them with electronic documents. The USPTO has determined that the paper search collection is no longer necessary due to the availability and reliability of the USPTO's electronic search system." See, notice in the Federal Register, June 23, 2006, Vol. 71, No. 121, at Pages 36065-36068.
Wednesday, August 23
8:30 AM - 2:30 PM. The American Electronics Association (AeA) will host an event titled "AeA Annual Government - Industry Executive Interchange". See, notice. Prices to attend range from $195-$295. Location: The Spy Museum, 800 F St., NW.
9:30 AM - 4:30 PM. Day one of a two day meeting of the U.S.-China Economic and Security Review Commission to consider drafts of material for the 2006 Annual Report. The agenda includes discussion of export controls and China's WTO compliance. See, notice in the Federal Register, August 16, 2006, Vol. 71, No. 158, at Page 47328. Location: Conference Room 381, Hall of The States, 444 North Capitol St., NW.
12:00 NOON - 3:00 PM. The DC Bar Association will host a panel discussion titled "DR-CAFTA: The United States-Dominican Republic-Central America Free Trade Agreement A Roundtable with the Ambassadors". The speakers will include ambassadors to the U.S. from Dominican Republic, Guatemala, Honduras, Nicaragua, El Salvador, and Costa Rica. The price to attend ranges from $15-40. For more information, call 202-626-3488. See, notice. Location: Arnold & Porter, 555 12th St., NW.
1:30 - 3:30 PM. The Department of State will host a meeting to hear public views on issues related to the possible expansion of the mandate of the International Mobile Satellite Organization (IMSO) to include new oversight and regulatory responsibilities that may affect U.S. and non-U.S. mobile satellite services providers. See, notice in the Federal Register, August 10, 2006, Vol. 71, No. 154, at Pages 45897-45898. Location: Harry S. Truman building, 2201 C St., NW.
CANCELLED. Federal Communications Commission (FCC) Auction 67 is scheduled to begin. This is the 400 MHz Air-Ground Radiotelephone Service auction. See, FCC notice of cancellation [PDF] and notice of cancellation in the Federal Register, May 17, 2006, Vol. 71, No. 95, at Page 28695.
Diego Ruiz to Move from FCC to SEC
8/15. Diego Ruiz was named Executive Director of the Securities and Exchange Commission (SEC). He replaces Jim McConnell, who retired. He will be the SEC's chief operating officer, and will oversee the SEC's programs relating to budget planning and execution, preparation of the agency's financial statements, human resources and employee relations, and administration of agency facilities.
On February 2, 2006, Ruiz was named Deputy Chief of the Federal Communications Commission's (FCC) Office of Strategic Planning and Policy Analysis (OSP). See, FCC release [PDF]. Catherine Bohigian remains head of the OSP.
On June 28, 2006, Ruiz testified before the House Commerce Committee's Subcommittee on Oversight and Investigations regarding regulation and censorship of internet service providers and social networking web sites. He asserted then that the FCC's CALEA orders stand as authority for the proposition that the FCC has authority to implement "programs governing the transmission of content by ISPs." See, prepared testimony [6 pages in PDF].
Before his brief employment at the FCC, he worked for Univision Communications, Inc., a Spanish language media company, in a variety of positions, including as President/General Manager of Univision Online. See, SEC release.
More People and Appointments
8/15. President Bush announced his intent to appoint three people to be members of the Congressional Executive Commission on the People's Republic of China: Christopher Hill (At Large Representative), Franklin Lavin (Representative of the Department of Commerce), and Barry Lowenkron (Representative of the State Department). See, White House release.
8/15. President Bush announced his intent to appoint Marta Pérez to be Chief Human Capital Officer at the Department of Homeland Security (DHS). She is currently Associate Director of the Human Capital Leadership & Merit System Accountability Division at the Office of Personnel Management. See, White House release.
About Tech Law Journal
Tech Law Journal publishes a free access web site and subscription e-mail alert. The basic rate for a subscription to the TLJ Daily E-Mail Alert is $250 per year. However, there are discounts for subscribers with multiple recipients. Free one month trial subscriptions are available. Also, free subscriptions are available for journalists, federal elected officials, and employees of the Congress, courts, and executive branch. The TLJ web site is free access. However, copies of the TLJ Daily E-Mail Alert are not published in the web site until one month after writing. See, subscription information page.

Contact: 202-364-8882.
P.O. Box 4851, Washington DC, 20008.

Privacy Policy
Notices & Disclaimers
Copyright 1998 - 2006 David Carney, dba Tech Law Journal. All rights reserved.