Senate Committee Holds Hearing on Internet Gambling Bills
3/18. The Senate Banking Committee held a hearing on proposals to regulate illegal internet gambling. The hearing focused on HR 21 and S 627, both of which would attempt to bar internet gambling operations access to the U.S. financial services system by banning the use of credit cards, wire transfers, or any other bank instrument to fund gambling transactions. The two bills are not identical.
On March 13, the House Financial Services Committee approved the House version of the bill, HR 21, titled the "Unlawful Internet Gambling Funding Prohibition Act of 2003".
The Senate version of the bill, S 627, which is also titled the "Unlawful Internet Gambling Funding Prohibition Act", was introduced on March 13 by Sen. Jon Kyl (R-AZ), Sen. Dianne Feinstein (D-CA), and Sen. Richard Shelby (R-AL). See also, PDF copy of S 627.
Five Senators participated in the hearing. Sen. Shelby, the Chairman, presided. Sen. Paul Sarbanes (D-MD), Sen. Chris Dodd (D-CT), and Sen. Tom Carper (D-DE) all spoke and questioned witnesses. Sen. Kyl is not a member of the Committee, but testified as a witness.
Sen. Shelby said in his opening statement that "regulation of gambling has traditionally been a matter of state law. As a conservative Republican, I believe a federal response is appropriate to a social evil only to compliment state or local enforcement. But clearly, internet gambling poses such a problem. Off-shore internet casinos continue to proliferate and illegal internet gambling continues unabated, despite the fact that no state has yet authorized a virtual casino. The very nature of the internet gambling defies regulation at the state or local level. ... Clearly, the casinos themselves are out of the reach of even federal authorities, and can be expected to continue to flaunt U.S. Law. The only available means of effective interdiction is through the media by which the gambler and casino interface -- namely, through the internet service provider or ISP or the payment system provider."
Sen. Sarbanes, the ranking Democrat on the Committee, said in his opening statement the "Offshore Internet gambling could not attract U.S. customers without making use of our payments system. Every Internet gambler must use a credit card, fund transfer, or bank instrument to open and fund an account from which to gamble on a web site." He added that "I am prepared to work with the Chairman and other members on legislation to deal comprehensively with this important subject".
Sen. Dodd stated that "I think it's wise for Congress to consider banning the use of credit cards and other financial instruments in furtherance of online gambling transactions."
Sen. Sarbanes and Sen. Dodd also discussed what is socially responsible in the context of the internet. Sen. Sarbanes said that "The fact that new ways to attract potential gamblers, and facilitate their wagering, are clothed in the aura of the internet, should not change our ideas of what is lawful or socially responsible. This technology is being used to, sort of, cloak basic judgments and considerations of what is appropriate social behavior. So they say, ``well, you know, it is the internet´´. And all of a sudden, since it is the internet, somehow, it has some validity. ... It shouldn't change our ideas of what is wrong or socially responsible."
Sen. Dodd followed up on this. He commented about "this mystical quality, that if it is the internet it must somehow be good. ... But the idea that somehow being associated with it is somehow inherently going to be good, or inevitable, is troubling."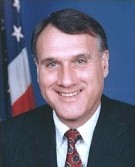 Sen. Kyl (at right) testified in support of his bill, S 627, which he said is "virtually identical" to the House bill. He said that internet gambling leads to money laundering and tax evasion. He also said that "anyone who gambles on the internet is making a sucker bet", referring to non payment of winnings, and tampering with the odds. See also, Sen. Kyl's release.
John Malcolm, a Deputy Assistant Attorney General in the Criminal Division of the Department of Justice (DOJ), provided testimony that mirrored the arguments of the Senators who support the bill. He discussed the problems associated with internet gambling, including gambling by children, involvement of organized crime, and money laundering. He also expressed concern about advertising of internet gambling, because it is giving some people the mistaken view that internet gambling is legal. See, prepared testimony.
Sen. Sarbanes later asked Malcolm for the DOJ's position on HR 21 and S 627. He responded that the DOJ has not yet taken a position, and that it has some concerns with the legislation. A stunned Sen. Sarbanes asked "When does the Department of Justice intend to get involved?". Sen. Sarbanes added, "I suggest that the Justice Department get to work".
Sen. Shelby added, "I can't imagine, this Justice Department, under any circumstances, headed by our former colleague, John Ashcroft, would oppose this legislation."
Former Sen. Ashcroft (R-MO) was a co-sponsor of Sen. Kyl's bill, S 474, the Internet Gambling Prohibition Act of 1997, in the 105th Congress.
Richard Fisher, an attorney with the law firm of Morrison & Foerster, also testified. He said that he has represented financial institutions and payment systems. See, prepared testimony. He said that "It is no small undertaking for payment system participants to block Internet gambling transactions even when they can be identified through coding systems". He added that "any effort to individually examine transactions would threaten the entire operation of the payment systems that all U.S. consumers rely on to conduct instantaneous transactions around town, across the country and throughout the world."
Fisher also said that "Because these systems rely on proper coding by merchants, the blocking may not be complete, for example, if Internet gambling operations miscode authorization messages ... Also, ... blocking payment card transactions may lead to the use of other payment methods and, therefore, may not solve the problem of illegal Internet gambling. In addition, ... some Internet gambling transactions will evade even the most sophisticated detection and blocking mechanisms. For these reasons, any legislation designed to address illegal Internet gambling by focusing on the responsibilities of payment system participants to identify and block such Internet gambling transactions must recognize that mechanisms for achieving this end will not be infallible and that some transactions inevitably will leak through."
Stewart Baker, a lawyer with the law firm of Steptoe & Johnson, testified on behalf of the U.S. Internet Service Provider Association. He offered several general criticisms. See, prepared testimony.
He said that "Internet gambling legislation must not require service providers to block customer access to Internet gambling sites not residing on their networks and not under their control. This type of regulatory scheme is unworkable and will disrupt ecommerce and speech on the Internet."
He also stated that "legislation should contain clear court-ordered notice and takedown procedures ..." He added that "notice and takedown procedures should also give websites an opportunity to appear to refute notices for illegal activity that may not reside on the service providers networks or may not be illegal."
He also said that "service providers should be given immunity from liability for good faith efforts to comply with a notice." Also, "Internet gambling legislation should contain language that clearly states that no service provider has any duty or obligation to monitor its networks for illegal activity, or disable or block customer access to websites not under the service provider's direct control or residing on its network."
Richard Blumenthal, Attorney General of the state of Connecticut, testified on behalf of the National Association of Attorney Generals. He said that legislation should "prohibit the use of credit or debit cards and other financial instruments for Internet gambling". He continued that legislation should have no exceptions, including any exception for state sanctioned gambling. See, prepared testimony.
William Saum, testified on behalf of the National Collegiate Athletic Association (NCAA). He said that "We believe that strong legislation is needed to prohibit gambling over the Internet". See, prepared testimony.
Frank Fahrenkopf, P/CEO of the American Gaming Association, also testified. His group represents brick and mortar and riverboat casinos. It opposes this legislation. See, prepared testimony. Frank Catania testified on behalf of the Interactive Gaming Council, which opposes the proposed legislation. See, prepared testimony.
Rosen Addresses Enforcement of Music Copyrights
3/17. Outgoing Recording Industry Association of America (RIAA) Ch/CEO Hilary Rosen gave a speech to the National Association of Recording Merchandisers in Orlando, Florida in which she addressed the RIAA's efforts to enforce music copyrights.
She began by stating that "The challenges we have faced as an industry with Napster and its clones are in many ways unprecedented in American commercial history. There we were rockin' along, producing and selling great music and producing enough revenue to not just support everyone, but also to grow the opportunities around the world for a bigger and bigger business. Then suddenly we wake up one day and everything we have worked so hard to build is being offered to consumers for free or for a scant dollar on the street corner. Not 10 percent off. Not reduced interest rates. Not negotiated payment schedules. Our product is suddenly being offered to consumers for absolutely nothing."
She added that "I am tired of those who suggest that because sometimes someone is a music fan or a technology innovator or even, god forbid, a teenager or a student that they have a right to steal. They don't. ... Copyright are the rules of the road that encourage and ensure that creators bring forward new art every day. The right to decide how and when to reproduce, perform and distribute your works."
Rosen said that the RIAA must act through business strategies, public education and, targeted enforcement. She addressed enforcement at length.
She reviewed recent litigation against street piracy, including stores that sell infringing CDs, flea markets, and those producing pirated CDs. She also discussed cooperative efforts with law enforcement agencies.
Finally, she addressed RIAA's efforts to fight illegal downloading occurring on peer-to-peer networks.
First, she said that record companies are engaging in two self help remedies, spoofing and CD protection technologies.
She elaborated that "Spoofing is the practice of flooding the peer-to-peer network with bogus files titled the same as the hits. The goal is to encourage the user to give up in frustration and go to a legitimate site to get the real thing. While individual companies and not the RIAA do this, we know that it is having a positive benefit on new releases."
She then said that "While the technology is apparently not quite ready, there is promise for some protective technologies, which would offer consumers use of their music on the computer and still prevent uploading onto the Internet. While there are no specific plans to release such products into the marketplace at this time, if they are produced, record companies will need to work closely with retailers to assure that the proper consumer education and labeling takes place."
Second, she reviewed two pending court cases. "The first is one we have jointly filed with the Motion Picture Association of America (MPAA) against Kazaa, Grokster and MusicCity. We are expecting a ruling from the judge soon about whether we win in summary judgment or whether we have to go to trial to prove that the provider of these services are contributing to copyright infringement similar to Napster."
The U.S. District Court (CDCal) issued an order and opinion on January 9 in MGM v. Grokster in which it denied Sharman Network's motion to dismiss for lack of personal jurisdiction. Sharman, which now owns the key assets of Kazaa, is organized in the offshore jurisdiction of Vanuatu, apparently for the purpose of evading the reach of U.S. courts. Sharman provides free software, known as the Kazaa Media Desktop (KMD), that can be downloaded and used to search for and exchange digital music, movies, and other mostly copyrighted works, using FastTrack file sharing technology. See, TLJ story titled "District Court Squeezes Sharman on Internet Based Personal Jurisdiction", January 9, 2003.
Rosen continued that "The second is a case against Verizon. We thought we had an agreement with the ISPs. If they help us identify the direct infringer, they won't be liable for infringement themselves. Verizon has unfortunately turned this case into a bogus claim to protect their members' privacy rights. Well first of all, there is no right to commit a crime in private. And second and more importantly, when you are on one of these p2p systems and have opened your hard drive and its contents to the network, you have given away your own privacy."
The U.S. District Court (DC) issued an opinion on January 21 in RIAA v. Verizon, ruling that copyright holders can obtain subpoenas pursuant to 17 U.S.C. § 512(h) that require Internet Service Providers (ISPs) to reveal the identities of their customers who infringe copyrights on peer to peer filing sharing systems. Verizon had argued that 512(h) subpoenas were only available with respect to infringers who stored infringing content on the servers of the ISP. See, TLJ story titled "District Court Rules DMCA Subpoenas Available for P2P Infringers", January 21, 2003.
Senate Finance Committee Addresses IT Modernization at IRS
3/18. The Senate Finance Committee held a hearing on the nomination of Mark Everson to be Commissioner of the Internal Revenue Service (IRS). If confirmed, he will replace Charles Rossotti. One of the issues addressed at the hearing was information technology.
Sen. Max Baucus (D-MT), the ranking Democrat on the Committee, said in his prepared statement [3 pages in PDF] that "the IRS is still in the technological dark ages". He added that "I realize that Commissioner Rossotti said it would take 10 years to complete the modernization projects, but Congress expected that more would be accomplished on the technology front during his tenure. I would like to know whether the modernization effort will be complete during your five-year tenure. I would also like to hear how you intend to keep systems modernization on track and make it a reality." Sen. Baucus concluded that "We want IRS representatives to have timely computer access to tax information so taxpayer assistance is quick and accurate. We want to reduce the paperwork and have more taxpayers filing electronically."
Sen. Charles Grassley (R-IA), the Chairman of the Committee, stated in his prepared statement [PDF] that "the Finance Committee expects progress in modernization".
Everson stated in his prepared testimony [PDF] that "If confirmed, I will work to support the information technology modernization efforts which have been underway for some years. Their success is badly needed in order to establish a more efficient and effective IRS. I would add that the information technology modernization program must be supplemented with other business process improvements which will allow the IRS to redirect scarce resources to operational priorities."
RIAA Notifies 300 Corporations of P2P Infringement on Their Networks
3/12. The Recording Industry Association of America (RIAA) sent a letter to about 300 corporations in the U.S. notifying them that their computer networks are being used to distribute copyrighted music on the internet, via peer to peer networks. The letter requests cessation of infringing activity.
The letter states that "Our recent investigations reveal that Internet Protocol (``IP´´) addresses assigned to your company have been used to log onto the FastTrack network (i.e., the online peer-to-peer network hosting KaZaA, Grokster and iMesh) to offer up copyrighted sound recordings owned by the RIAA's member companies for others to download for free. In short, your computer network and resources are being used to illegally distribute copyrighted music on the Internet." (Parentheses in original.)
The letter threatens that "These acts of infringement could expose your employees and your company to significant legal damages. Indeed, federal copyright law imposes stiff penalties for acts of infringement. For example, copyright owners can collect statutory damages of up to $150,000 per copyrighted work infringed as well as legal costs and attorneys' fees. Damages can also include all of the profits earned by an infringer plus the actual damages suffered by the copyright owner. In addition, infringers risk relinquishment of any equipment used in manufacturing the infringing copies. The consequences for not taking action, therefore, can be quite serious."
The letter concludes that "We strongly urge you to take immediate steps to prevent the continued infringement of our members' sound recordings on your corporate network. We also encourage you to adopt and fully implement employee policies and technical measures that prevent copyright infringement on your corporate network, as we will continue to monitor for infringing conduct and take any appropriate legal action necessary to protect our rights."
The RIAA did not reveal the names of the companies to which it sent the letter. However, it stated that "Approximately 20 percent of the letters went to companies in the medical-related field, 20 percent to manufacturing companies, and 35 percent to technology firms. The rest went to corporations in a variety of unrelated sectors."
People and Appointments
3/18. John Gannon was named Republican staff director for the new House Select Committee on Homeland Security. Gannon headed the Bush administration's transition team for the new Department of Homeland Security's Intelligence and Infrastructure Protection Directorate. Prior to that, he was Vice Chairman of Intellibridge. Before that, he was Chairman of the National Intelligence Council, which produces intelligence estimates for the President on national security issues and coordinates the work of the intelligence community. From 1998 through 2001, he was the Assistant Director of the Central Intelligence Agency (CIA) for Analysis and Production. From 1995 through 1997 he was Deputy Director of the CIA for Intelligence. And prior to that, he was an officer in the U.S. Navy.
3/18. Steven Cash was named Democratic staff director for the new House Select Committee on Homeland Security. He worked for the Senate Select Committee on Intelligence from 2001 through 2003. Before that, he worked for the Central Intelligence Agency (CIA) as Assistant General Counsel in the Litigation Division, and then as an Intelligence Officer in the Directorate of Operations. Before that, he worked in the New York County District Attorney's Office in New York City as an Assistant District Attorney in the Investigations Division, Rackets Bureau and the Trial Division from 1988 through 1992.
3/18. Lawrence West was named Associate Director of the Securities and Exchange Commission's (SEC) Division of Enforcement. He has worked for the SEC since 1994. He replaces William Baker III, who left in November of 2002. See, SEC release.
More News
3/18. The House Rules Committee adopted a rule for consideration of HR 975, the Bankruptcy Abuse Prevention and Consumer Protection Act of 2003. Sections 231 and 232 of the bill pertain to protection of personally identifiable information in bankruptcy proceedings. The House will likely take up the bill on March 19 or 20.
3/18. The House Judiciary Committee approved HR 1104, the Child Abduction Prevention Act, by a vote of 18-2. This wide ranging bill includes the "Amber Alert" bill. Section 201 would amend 18 U.S.C. § 2516 to expand the list of predicate offenses that may serve as the basis for the issuance of a wiretap order. Each new predicate relates to sexual exploitation crimes against children. Section 201 is similar to HR 1877 (107th Congress) which passed the House on May 21, 2002 by a vote of 396-11. See, Roll Call No. 175. The Senate did not pass the bill.
3/18. The General Accounting Office (GAO) released its February 14, 2003 letter [PDF] to Rep. Tom Davis (R-VA), the Chairman of the House Government Reform Committee, regarding federal contracting for information technology services. The letter concludes that "Federal spending on IT services almost doubled from fiscal years 1997 to 2001, increasing from $9 billion to more than $17 billion. While the Department of Defense (DOD) remained the single largest purchaser of IT services throughout the period, spending on IT services through the General Services Administration (GSA) greatly increased, mostly the result of spending by GSA's Federal Technology Service on behalf of other agencies. Spending on IT services through GSA's federal supply schedule program grew from about $405 million to $4.3 billion. The distribution of IT services spending in fiscal year 2001 was 14 percent to small businesses, 21 percent to medium-size businesses, and 62 percent to large businesses."
Wednesday, March 19
The House will meet at 10:00 AM for legislative business. The Supreme Court is in recess until March 23.
Day three of a three day conference titled "Open Source for National and Local eGovernment Programs in the U.S. and EU". See, agenda. For more information, contact Tony Stanco at 202 994-5513 or Stanco@seas.gwu.edu. Location: George Washington University, The Marvin Center Grand Ballroom, 800 21st Street, NW.
9:00 AM - 12:00 NOON. Day two of a two day meeting of the National Institute of Standards and Technology's (NIST) Visiting Committee on Advanced Technology. Pre-registration is required. See, notice in the Federal Register, March 4, 2003, Vol. 68, No. 42, at Pages 10205-10206. Location: Employees Lounge, Administration Building, NIST, Gaithersburg, MD.
9:00 AM - 5:00 PM. The Federal Communications Commission (FCC) North American Numbering Council will meet. Location: FCC, Room TW-C305 (Commission Meeting Room), 445 12th Street, SW.
9:00 - 9:30 AM. Commerce Secretary Donold Evans, Under Secretary of Commerce for International Trade Grant Aldonas, and Under Secretary of Commerce for Technology Phil Bond will host an event to announce "an eight-point ``Standards Action Plan´´ aimed at creating greater competition in the global marketplace and better coordination of Commerce standards programs and training". See, notice. For more information, contact Trevor Francis at 202 482-4883. Location: Department of Commerce, 14th & Constitution, Secretary's Conference Room, 5th floor.
9:00 - 11:00 AM. The Corporation for Public Broadcasting (CPB) will host an event to release and discuss a study titled "Connected to the Future," which documents internet use by American children over the last two years. RSVP to Jeannie Bunton at jbunton@cpb.org or 202 879-9687. Location: CPB, 401 9th Street, NW.
10:00 AM. The House Science Committee will hold a hearing on HR 766, the Nanotechnology Research and Development Act of 2003. The scheduled witnesses included Sen. George Allen (R-VA), Sen. Ron Wyden (D-OR), Richard Russell (Associate Director for Technology at the Office of Science and Technology Policy), Thomas Theis (IBM Research Division), James Roberto (Oak Ridge National Laboratory), Carl Batt (Nanobiotechnology Center at Cornell University), and Alan Marty (JP Morgan Partners). Location: Room 2318, Rayburn Building.
11:30 AM. The Center for Democracy and Technology (CDT) will hold a press conference via telephone conference call to announce and discuss a report titled "Why Am I Getting All of This Spam?". To participate, call 334 260-2557. The security code is 98704. The report will be published in the CDT web site.
Thursday, March 20
The House will meet at 10:00 AM for legislative business.
9:30 AM. The Senate Judiciary Committee will hold an executive business meeting. See, notice. Location: Room 226, Dirksen Building.
10:00 AM. The Senate Appropriations Committee's Subcommittee on Commerce, Justice, State, and the Judiciary will hold a hearing on the President's budget request for fiscal year 2004 for the Department of Commerce. Location: Room S-146, Capitol Building.
10:00 AM. Dane Snowden, Chief of the Federal Communications Commission's (FCC) Consumer & Governmental Affairs Bureau, will hold a media briefing to discuss the work of the bureau, including telemarketing reform, slamming rules, disability issues, tribal issues, and consumer outreach. RSVP to Rosemary Kimball at 202 418-05111 or rkimball@fcc.gov. Location: Conference Room CY B-511.
10:30 AM. The House Appropriations Committee's Subcommittee on Homeland Security will hold a hearing. Tom Ridge, the Secretary of Homeland Security, will testify. Location: Room 2359, Rayburn Building.
12:00 NOON - 1:30 PM. The Congressional Internet Caucus Advisory Committee will host a luncheon panel discussion titled "Government Pattern Analysis: Securing Terrorists While Preserving Privacy?" Peter Swire of Ohio State University will moderate. RSVP to rsvp@netcaucus.org or 202 638-4370. Location: Room HC-5, Capitol Building.
Friday, March 21
10:00 AM. The Senate Appropriations Committee's Subcommittee on Commerce, Justice, State, and the Judiciary will hold a hearing on President Bush's budget request for fiscal year 2004 for the Department of Commerce (DOC). Location: Room S-146, Capitol.
12:15 PM. Jim Bird (head of the Federal Communications Commission's Office of General Counsel's Transactional Team), Don Stockdale (FCC's Office of Strategic Planning and Policy Analysis), Walt Strack (FCC's Wireless Telecommunications Bureau), and Jim Barker (Latham & Watkins) will speak at a luncheon on FCC antitrust merger reviews. The Federal Communications Bar Association's (FCBA) web site states that "This meeting will be off the record". For more information, contact Lauren Kravetz at 202 418-7944 or lkravetz@fcc.gov. This event had originally been scheduled for February 19, but was postponed due to snow. Location: Willkie Farr & Gallagher, 1875 K St., NW.
Monday, March 24
The Supreme Court will return from recess.
4:00 PM. Polk Wagner (University of Pennsylvania Law School) will present a draft paper titled "Is the Federal Circuit Succeeding? An Empirical Look at Claim Construction". For more information, contact Robert Brauneis at 202 994-6138 or rbraun@main.nlc.gwu.edu. Location: George Washington University Law School, Faculty Conference Center, Burns Building, 5th Floor, 720 20th Street, NW.
Deadline to submit applications to the National Institute of Standards and Technology (NIST) for financial assistance for FY 2003 for its 2003 Summer Undergraduate Research Fellowships (SURF) in several areas, including electronics and electrical engineering and information technology. See, notice in the Federal Register, February 20, 2003, Vol. 68, No. 34, at Pages 8211-8226.
Tuesday, March 25
10:00 AM. The Senate Appropriations Committee's Subcommittee on Homeland Security will hold a hearing on the proposed budget for FY 2004 for the Department of Homeland Security. Location: Room 106, Dirksen Building.
About Tech Law Journal
Tech Law Journal publishes a free access web site and subscription e-mail alert. The basic rate for a subscription to the TLJ Daily E-Mail Alert is $250 per year. However, there are discounts for subscribers with multiple recipients. Free one month trial subscriptions are available. Also, free subscriptions are available for journalists, federal elected officials, and employees of the Congress, courts, and executive branch. The TLJ web site is free access. However, copies of the TLJ Daily E-Mail Alert are not published in the web site until one month after writing. See, subscription information page.

Contact: 202-364-8882; E-mail.
P.O. Box 4851, Washington DC, 20008.
Privacy Policy
Notices & Disclaimers
Copyright 1998 - 2003 David Carney, dba Tech Law Journal. All rights reserved.