FCC Approves Long Distance Applications for California, Florida and Tennessee
12/19. The Federal Communications Commission (FCC) approved SBC's Section 271 application to provide in region interLATA service in the state of California. See, FCC release [MS Word]. This is WC Docket No. 02-306. The FCC also approved BellSouth's Section 271 application for the states of Florida and Tennessee. See, FCC release [MS Word]. This is WC Docket No. 02-307.

California. The California decision was controversial, because the California Public Utilities Commission (CPUC) had opposed approval.

FCC Commissioner Kevin Martin dissented. He wrote that "the record does not demonstrate that SBC has satisfied all of the requirements of section 271 in California." He cited the opposition of the CPUC. "In this application, the CPUC, the regulatory entity most knowledgeable about the local conditions of competition in California, determined that SBC's application failed checklist items 11 and 14."

Martin noted that "The CPUC determined that Pacific Bell failed checklist item 14 for two reasons: (1) failure to comply with its resale obligation with respect to advanced services pursuant to § 251(c)(4)(A), and (2) including restrictive conditions in certain interconnection agreements in contravention of §251(c)(4)(B)."

FCC Commissioner Michael Copps wrote in a separate statement that, while he supported the FCC's decision, he considered the CPUC's opposition "troubling" -- "enough to give me pause".

Florida and Tennessee. The FCC's decision on the applications for Florida and Tennessee was less controversial. The FCC voted 4-0.

BellSouth has now received approval to provide long distance service in every state in its original territory. Duane Ackerman, Ch/CEO of BellSouth, stated in a release that "This is a watershed day for BellSouth and our customers as it represents almost seven years of hard work by our dedicated staff in proving that our markets are open to competition. We are pleased that the Federal Communications Commission has again affirmed this ... We will launch our long-distance offerings in Florida and Tennessee on Monday, December 30, with calling plans and other long-distance services that residence and business customers in our other states have found to meet their long-distance calling needs at rates that are competitive with other providers in the marketplace."
DOJ OIG Report Criticizes FBI Management of IT Resources
12/19. The Department of Justice's (DOJ) Office of the Inspector General released a report [178 pages in PDF] titled "Federal Bureau of Investigation's Management of Information Technology Investments". The report concludes that the "FBI has not effectively managed its IT investments because it has not fully implemented the management processes associated with successful IT investments." The report adds that "the FBI continues to spend hundreds of millions of dollars on IT projects without adequate assurance that these projects will meet their intended goals."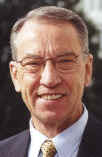 Sen. Charles Grassley (R-IA) (at right), a senior member of the Senate Judiciary Committee, which oversees the DOJ, stated in a release that "It looks like the FBI is playing with Lincoln Logs this Christmas season while everybody else is playing with X-Box and Play Station. The FBI's computers are a money pit, but they're so obsolete that we have little choice about spending more money to fix them so the FBI can do its job of protecting the American people. I'm not surprised about this latest example of the lack of institutional accountability at the FBI."
The report is a lengthy discussion of how the FBI is mismanaging its information technology. The report does not go into detail on what the FBI's information technology is. However, there is some discussion in vague terms, at pages 86-94, of its upgrade plans.
Nor does the report address how the FBI's IT deficiencies have impacted its ability to perform its law enforcement responsibilities.
The report notes that as of September 2000, "more than 13,000 of the desktop computers utilized by the FBI were 4 to 8 years old and could not run modern software", that "most Resident Agency offices were connected to the network at speeds equivalent to a 56k modem", and that "Special Agents were unable to reliably e-mail each other on case specific information and often resorted to faxes". The report is not specific regarding how much the FBI has improved its situation in the last two years.
The report also notes that "As of June 2002, the FBI had over 11,000 Special Agents and over 16,000 other employees ..." This is approximately 27,000 total employees. The report also notes that the FBI's budget authority for FY 2002 is about $4.371 Billion, and that $714 Million of this is allocated for information technology projects.
$714 Million divided by 27,000 employees comes to $26,444.44 per employee per year.
While this report focuses on failed management processes, the OIG has previously reported on other IT problems at the FBI. For example, in August 2002, the DOJ OIG released a series of reports on the control of laptop computers and weapons at five DOJ components. It reported that there were a total of 400 missing laptops, and 775 missing weapons. For the FBI, it reported that there were 317 missing laptops and 212 missing weapons. Moreover, the OIG found that the FBI does not know if sensitive data has been lost. See, Executive Summary [43 pages in PDF] and report titled The Federal Bureau Of Investigation's Control Over Weapons And Laptop Computers (Report No. 02-27). See also, TLJ story titled "FBI Loses 317 Laptops", August 5, 2002.
Defense Department Releases Report on Information Privacy
12/13. Defense Department's (DOD) ISAT Study Group on Security with Privacy wrote a report [23 page PDF scan] titled "Security with Privacy". It states that "Privacy of personal data is an absolutely essential element of any information system that carriers information about American citizens. But the challenge of privacy sharply increases as the use of information aggregation systems continue to grow -- both in commercial and governmental spheres. This study examines specific technological agendas for increasing privacy."

The report addresses the Defense Advanced Research Projects Agency's (DARPA) Information Awareness Office. It also urges the DARPA to pursue research in this area.

However, the report adds that "Some media sources have indirectly referred to this study as a review of DARPA Total Information Awareness program. These reports are not accurate. The ISAT study group did not attempt to review TIA or any other DARPA program. While these recommendations may help inform TIA (and other programs), the recommendations both go beyond the scope of TIA (for example, in considering commercial aggregation of data) and also do not address significant portions of TIA (for example, we do not consider data mining.)"

The Electronic Privacy Information Center (EPIC) published this report in its web site a. It was provided to EPIC by the DOD in connection with a Freedom of Information Act (FOIA) request for records, and associated lawsuit for enforcement of the FOIA. See, complaint [PDF].
DC Court Rules in USTR FOIA Case
12/19. The U.S. District Court (DC) issued its opinion [29 pages in PDF] in Center for International Environmental Law v. USTR, a Freedom of Information Act (FOIA) case. The requestors sought records pertaining to the just completed U.S. Chile Free Trade Agreement. The opinion contains a detailed analysis of two of the FOIA exemptions: inter-agency documents, and national defense documents.

5 U.S.C. § 522(b) provides, in relevant part, that "This section does not apply to matters that are -- (1)(A) specifically authorized under criteria established by an Executive order to be kept secret in the interest of national defense or foreign policy and (B) are in fact properly classified pursuant to such Executive order; ... (5) inter-agency or intra-agency memorandums or letters which would not be available by law to a party other than an agency in litigation with the agency".

The District Court ruled for the requesters on the inter-agency documents issue, but for the Office of the U.S. Trade Representative (USTR) on the national defense and foreign policy documents issue. The Court wrote that "Because the Court concludes that documents exchanged with the government of Chile are not "inter-agency" documents under Exemption 5 of the Freedom of Information Act, the Court directs USTR to release these documents to plaintiffs. It also directs USTR to identify and release any internal USTR documents that contain factual information relating to meetings or communications with Chilean officials. The Court concludes that documents withheld by USTR pursuant to Exemption 1 were properly withheld and need not be released. Finally, the Court concludes that defendants have not waived their right to assert privileges by publicly disclosing information similar to that contained in withheld documents."
8th Circuit Rules in Copyright Case
12/19. The U.S. Court of Appeals (8thCir) issued its unpublished opinion [3 pages in PDF] in Genick Bar-Meir v. North American Die Casting Association, a copyright infringement case.

Bar-Meir wrote a book titled "Fundamentals of Die Casting Design". Defendant North American Die Casting Association teaches courses on die casting. Bar-Meir alleges that the NADCA's course materials infringed his copyrighted book.

Bar-Meir filed a complaint in U.S. District Court (DMinn) against the NADCA and others alleging copyright infringement. The District Court granted defendants' motion for summary judgment. Bar-Meir appealed.

The Appeals Court affirmed in a very short opinion. It wrote that "the undisputed evidence shows defendants never possessed the materials Bar-Meir claims were infringing, and thus defendants could not be responsible for displaying or distributing the materials." Moreover, the Court wrote, "the course syllabus he alleges was derived from his book was not substantially similar, and thus was not infringing."
Cable and Consumer Electronics Companies Announce DTV Agreement
12/19. Fourteen consumer electronics companies and seven cable operators announced that they have entered into a Memorandum of Understanding (MOU) regarding a national plug and play standard between digital television (DTV) products and digital cable systems. Their proposal still requires implementation by the Federal Communications Commission (FCC).

See, document [78 pages in PDF] consisting of the MOU, proposed rules to be promulgated by the FCC, and a letter to FCC Chairman Michael Powell and others.

The parties to the MOU recommend a "set of technical standards for cable systems and ``cable ready´´ DTV products (and testing procedures to assure compatibility); a proposed regulatory framework for support of digital TV receivers, digital recorders with secure interfaces and other devices on cable systems; a draft security technology license to ensure that high-value content can be transferred securely in the home network by consumers; and ``encoding rules´´ to resolve pending copyright based concerns about home recording and viewing." See, NCTA release and substantially similar CEA release.

Powell stated that "``Plug and play´´ cable compatibility is a key piece of the digital television puzzle. In a ``plug and play´´ world, consumers will be able to plug their cable directly into their digital TV set without the need of a set-top box. ``Plug and play´´ will be good for the future of these industries, good for the digital transition, and most importantly, good for consumers."
Powell also said that "I commend the cable and consumer electronics industries for their extraordinary efforts in reaching this agreement. This shows what progress can be made when both sides are committed to finding solutions rather than jockeying for regulatory advantage."
Powell concluded that "The agreement contains certain requests for FCC action. We will act expeditiously on those requests after other interested parties have had the opportunity to comment."
Robert Sachs of the National Cable & Telecommunications Association (NCTA) stated that "This agreement will advance the digital TV transition by making it easier for cable consumers to access digital TV services, including HDTV. Additionally, it will provide cable companies with an important retail presence to compete with direct broadcast satellite".
Gary Shapiro of the Consumer Electronics Association (CEA) stated that "This recommendation to the FCC is good news for consumers. It represents a true leadership effort on the part of both the cable and consumer electronics industries to advance the digital TV transition ... A national portable, plug-and-play digital cable standard for high-definition TV receivers, recorders and other products is a laudable accomplishment."
The MOU applies to unidirectional products. However, the parties also agreed to begin working on standards for future interactive digital cable TV products.
Greenspan Addresses Monetary Policy and Technology
12/19. Federal Reserve Board Chairman Alan Greenspan gave a speech to the Economic Club of New York in New York City titled "Issues for Monetary Policy". He reviewed the successes of monetary policy in the last several decades in controlling inflation and promoting economic growth.

He also addressed the increasing resiliency of the U.S. economy. He argued that this is the result of liberalization of global trade, deregulation of communications, financial services, and other sectors, and increased use of information technology. He said that "the dramatic gains in information technology have markedly improved the ability of businesses to address festering economic imbalances before they inflict significant damage. This improved ability has been further facilitated by the increasing willingness of our workers to embrace innovation more generally."

Greenspan also said that "There is evidence that some corporate managers are beginning to tentatively venture out on the risk scale. New orders for capital goods equipment and software, after falling sharply over the preceding two years, have stabilized and in some cases turned up in nominal terms this year -- an improvement, to be sure, but not necessarily the beginnings of a vigorous recovery."
Friday, December 20
Deadline to submit comments to the Office of the U.S. Trade Representative (USTR) regarding its proposed free trade agreement (FTA) negotiations with Botswana, Lesotho, Namibia, South Africa and Swaziland. The proposed negotiations will address, among other things, electronic commerce, intellectual property rights (IPR), and access to telecommunications markets. See, notice in Federal Register, November 15, 2002, Vol. 67, No. 221, at Pages 69295 - 69297. See also, letter [PDF] from USTR Robert Zoellick to Sen. Robert Byrd (D-WV).
Tuesday, December 24
Christmas Eve.
Wednesday, December 25
Christmas Day.
People and Appointments
12/18. Ellen Weintraub was elected Chair of the Federal Elections Commission (FEC) for the year 2003. Bradley Smith was elected Vice Chair for 2003. Weintraub was just appointed to the FEC earlier this month. She is a Democrat. See, FEC release.

12/18. President Bush named David Hobbs Assistant to the President for Legislative Affairs. He will replace Nicholas Calio. President Bush also named Ziad Ojakli Deputy Assistant to the President and Principal Deputy for Legislative Affairs. Hobbs, who currently handles House legislation, is a former Chief of Staff to the outgoing House Majority Leader, Rep. Dick Armey (R-TX). Ojakli currently handles Senate matters. He previously worked for former Sen. Paul Coverdell (R-GA), Rep. Mark Souder (R-IN), and former Sen. Dan Coats (R-IN). See, White House release.

12/18. President Bush announced his intent to nominate Janet Hale to be Under Secretary for Management at the new Department of Homeland Security (DHS), and Clark Ervin to be Inspector General of the DHS. See, White House release.
More News
12/18. The Federal Communications Commission (FCC) extended until July 1, 2003 the implementation of several accounting and reporting requirement changes. The FCC released its Report and Order on February 6, 2002, as part of its biennial review of accounting requirements and Automated Reporting Management Information System (ARMIS) reporting requirements, adopting rule changes to take effect of January 1, 2003. The FCC now extends that implementation date, to allow the recently established Federal State Joint Conference on Accounting Issues to review changes. For more information, contact Jane Jackson, Associate Chief of the FCC's Wireline Competition Bureau at 202 418-1500. See, notice in the Federal Register: December 18, 2002, Vol. 67, No. 243, at Pages 77432 - 77433.

12/17. The Antitrust Division of the Department of Justice (DOJ) submitted its amicus curiae brief to the U.S. Court of Appeals (DCCir) in Covad v. Bell Atlantic, No. 02-7057. This case pertains to the applicability of the Telecommunications Act of 1996 and Section 2 of the Sherman Act, 15 U.S.C. § 2, to allegations that an incumbent local exchange carrier (ILEC) has monopolized or attempted to monopolize a market for local telecommunications services. The DOJ supports neither party.

12/17. The U.S. Court of Appeals (1stCir) issued its opinion in Second Generation v. Town of Pelham, a cell tower siting case.

12/18. Randyl Walter plead guilty in U.S. District Court (CDCal) to one felony count of manufacturing and distributing hardware devices designed to circumvent the encryption technologies of DirecTV and DISH Network. The USAO stated in a release that "The 6,000 devices manufactured and sold by Walter caused nearly $15 million in losses to one satellite broadcast company."

12/19. The General Accounting Office (GAO) released a report [21 pages in PDF] titled "Information Technology Services: Agencies Complying with Revision to Federal Acquisition Regulation". The report notes that the Congress recently passed legislation regarding federal agency IT services contracts because it was "concerned that minimum experience or education requirements included in agency solicitations for IT services were contributing to worker shortages by requiring contractors to use highly trained and educated workers to perform some services that could be done by less educated or experienced workers." The statute required that the Federal Acquisition Regulation (FAR) be amended to prohibit minimum personnel experience or education requirements in IT services solicitations that result in performance based contracts unless the contracting officer determines that the needs of the agency cannot be met without such requirements. Such a rule was promulgated. And now, the GAO report finds that agencies are complying with the new FAR.
About Tech Law Journal
Tech Law Journal publishes a free access web site and subscription e-mail alert. The basic rate for a subscription to the TLJ Daily E-Mail Alert is $250 per year. However, there are discounts for entities with multiple subscribers. Free one month trial subscriptions are available. Also, free subscriptions are available for law students, journalists, elected officials, and employees of the Congress, courts, and executive branch, and state officials. The TLJ web site is free access. However, copies of the TLJ Daily E-Mail Alert and news items are not published in the web site until one month after writing. See, subscription information page.

Contact: 202-364-8882; E-mail.
P.O. Box 4851, Washington DC, 20008.
Privacy Policy
Notices & Disclaimers
Copyright 1998 - 2002 David Carney, dba Tech Law Journal. All rights reserved.