FCC Announces Notice of Inquiry Re More Spectrum for Unlicensed Use
12/11. The Federal Communications Commission (FCC) announced, but did not release, a Notice of Inquiry (NOI) regarding "Additional Spectrum for Unlicensed Devices Below 900 MHz and in the 3 GHz Band". Unlicensed devices would include, among other things, 802.11.

The FCC did release a short press release [MS Word]. In it the FCC stated that the NOI "seeks comments on whether unlicensed operations should be permitted in additional frequency bands. Specifically, it seeks comments on the feasibility of allowing unlicensed devices to operate in the TV broadcast spectrum and locations and times when spectrum is not being used. It also seeks comment on the feasibility of permitting unlicensed devices to operate in other bands, such as the 3650-3700 MHz band, at power levels higher than other unlicensed transmitters with only the minimal technical requirements necessary to prevent interference to licensed services."

FCC Chairman Michael Powell said in a separate statement [MS Word] that "Technological advances now allow "smart" low power devices to communicate in spectral open spaces that were previously closed to development. These technological advances are great news for the American people. Our goal in today's item is to allow for the more efficient and comprehensive use of the spectrum resource while not interfering with existing services."

FCC Commission Michael Copps said in a statement [MS Word] that "we must find a way to balance the need to provide spectrum resources for innovators, entrepreneurs, and new technologies with the equally important need to avoid unacceptable levels of interference to incumbent users and consumers."

FCC Commissioner Kevin Martin wrote a more detailed statement [MS Word]. He wrote, on the one hand, that "I strongly support making more spectrum available for unlicensed devices. Unlicensed devices have been a huge success story, from cordless phones to wireless broadband connections, such as 802.11b and Bluetooth. I am hopeful that unlicensed operations will, as some have suggested, eventually provide a last-mile application to connect people's homes to the Internet, offering a real alternative to telephone wires, cable, and satellite connections. I thus believe the Commission should consider a range of additional allocations for unlicensed devices."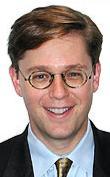 On the other hand, Martin (at right) dissented in part. He wrote that "While I support making more spectrum available for unlicensed use, I am concerned that opening this inquiry into the TV broadcast bands at this time may create additional uncertainty and potentially delay the digital transition."
Martin also suggested that the timing of this NOI is premature. He stated that "This item is based around several recommendations of the Commission's Spectrum Policy Task Force Report. We only recently put that Report out for comment, with comments not even due until January 9, 2003, and reply comments not due until February 10, 2003. It seems odd to me to initiate this proceeding before we even receive any comments on the Task Force's recommendations."
See also, statement [MS Word] of Commissioner Kathleen Abernathy. For more information, contact Hugh Van Tuyl in the FCC's Office of Engineering & Technology at hvantuyl@fcc.gov or 202 418-7506. This is OET Docket No. 02-380.
NTIA Director Victory Addresses Spectrum Management
12/10. National Telecommunications and Information Administration (NTIA) Director Nancy Victory gave a speech on spectrum management to a Department of Defense Spectrum Summit in Washington DC.

She listed and explained a number of goals of the NTIA. For example, she reiterated that "the U.S. government must work together as ``One Spectrum Team´´ in its approach to spectrum." Currently, spectrum management divided between the NTIA, which is responsible of spectrum allocated for government use, and the Federal Communications Commission (FCC), which is responsible for the private sector. In addition, the State Department has responsibilities with respect to international issues.

Victory (at right) also stated that "there is the need to modernize our spectrum policies so that they are forward looking. A concerted effort needs to be made to eliminate unnecessary government micromanaging of spectrum uses. This means taking a fresh look at legacy policies, rules and restrictions to assess their ability to accommodate emerging technologies or spectrum needs."
She elaborated that "Current practice requires users to seek permission from either NTIA or the FCC before changing the services offered over their licensed frequencies. This process can impose time consuming approval processes that can engender lengthy delays. We need to look at policies that permit flexibility. NTIA has supported the FCC's proposal to allow secondary leasing of spectrum to third parties. We will be exploring whether and to what extent this could work for government users."
Victory also said that another goal of the NTIA is to "develop spectrum policies that ensure the deployment of robust wireless networks that are prepared for the worst of crises and that are able to deliver the best of services to the government, defense and public safety communities as well as to the American people."
She then outlined the NTIA's plans for the coming year. First, she said, the NTIA "plans to address and enhance spectrum efficiency among government users. The first part of this initiative is to review just how government agencies are using their spectrum today. In this regard, NTIA will be conducting a study of the current and future use of the Federal land mobile spectrum in the Washington Baltimore area."
Second, the NTIA "will also be examining whether certain market based spectrum policies successful on the private sector side can be applied to the federal government to encourage efficient spectrum use. For example, could secondary leasing options be made available to government licensees to permit them to lease out a portion of their spectrum in non-emergency situations and recover it in the event of an emergency."
Third, the "NTIA also hopes to address spectrum rights relative to interference protection. Right now there is no standard formula or methodology for determining levels of acceptable interference." She added that the NTIA "plans to begin identifying the interference protection criteria for various radio services based on national and international sharing studies with the aid of the IRAC and public sector."
Finally, she said that "Receiver standards is another area that we hope to investigate since it has the potential to reduce interference and increase sharing."
Sen. Enzi Plans to Reintroduce Export Administration Act in 108th Congress
12/11. Sen. Mike Enzi (R-WY) announced in a release that he plans to introduce a revised version of the Export Administration Act when the 108th Congress convenes next year.

He sponsored S 149, the Export Administration Act of 2001, in the 107th Congress. The Senate passed the bill by a vote of 85-14, just prior to the terrorist attacks of September 11, 2001. The bill was also supported by the Bush administration.

Rep. David Dreier (R-CA) introduced HR 2568, an administration backed bill, in the House, on July 19, 2001. However, it did not pass in the House. Instead, HR 2581, sponsored by Rep. Benjamin Gilman (R-NY), which is a much different export bill that is not supported by the administration or Rep. Dreier, passed the House International Relations Committee on August 1, 2001. The House then took no further action on any export control bill.

S 149 would have modernized export control laws. It would have eased restraints on most dual use products, such as computers and software, but increased penalties for violations. It also would have eliminated the use of MTOPS based limits to control the export of high performance computers.

Sen. Enzi (at right) stated on December 11 that "S 149 was a good bill that would have put into place an effective framework for controlling exports and would have substantially increased penalties to deter illegal exports ... However, there are areas of the old bill that can be enhanced to create a new and improved EAA."
Enzi said the creation of the new Department of Homeland Security may have an affect on the final product, and that one area he would like to review is foreign availability and mass market status.
He also stated that "Investigating ways to incorporate foreign availability and mass market status as criteria for controlling goods on the Commerce Control List may help streamline the licensing process and save time and money".
Sen. Enzi won re-election in November. In contrast, Sen. Fred Thompson (R-TN), one of the leading critics of liberalization of export controls, retired from the Senate. Also, Sen. Phil Gramm (R-TX), who was the ranking Republican on the Senate Banking Committee, which has jurisdiction over the bill, retired. He had backed S 149. Also, Sen. Richard Shelby (R-AL), another critic of the bill, and a member of the Committee, remains in the Senate.
The current statutory basis for export controls is the Export Administration Act. It expired in 1990. Since then, Presidents have used a series of temporary emergency powers to continue the export control regime.
DOJ Official Comments on EchoStar DirecTV Merger
12/11. The Department of Justice's (DOJ) Hewitt Pate praised the decision of EchoStar Communications and Hughes Electronics to abandon their proposed merger. See, DOJ release.

EchoStar and Hughes both provide direct broadcast satellite (DBS) service via their Dish Network and DirecTV. The two companies reached this decision, in part, because the DOJ's Antitrust Division took action to block the merger.
Pate (at right), has been the Acting Assistant Attorney General in charge of the DOJ's Antitrust Division since the departure of Charles James.
Pate stated that "We welcome this decision to abandon the transaction. Had this merger gone forward, it would have eliminated competition between the nation's two most significant direct broadcast satellite services, Hughes's DIRECTV and EchoStar's DISH Network. It would have created a monopoly in those areas where cable television is not available, primarily rural areas, and would have reduced competitive choices from three to two for the tens of millions of households for whom DIRECTV, DISH Network, and cable now compete. Because the merger is being abandoned, America's consumers will continue to reap the benefits of competition in the multichannel video programming distribution business."
The Federal Communications Commission (FCC) declined to approve the transfer of FCC licenses associated with the merger based upon its own antitrust analysis.
Tenhula Named Director of FCC Spectrum Policy Task Force

12/11. The Federal Communications Commission (FCC) announced several changes in the leadership of its Spectrum Policy Task Force (SPTF). Peter Tenhula (at right), who is currently the Co-Director, will take over as Director. He will replace Paul Kolodzy, who will leave the FCC to become Director of the Center for Wireless Network Security at the Stevens Institute of Technology in Hoboken, New Jersey.

Fred Thomas, Chief of the Spectrum Coordination Branch in the Office of Engineering and Technology, will become a Deputy Director of the Task Force. He will retain his existing responsibilities in OET, including his role as FCC liaison to the Interdepartment Radio Advisory Committee (IRAC).

Lauren Van Wazer, who has been Deputy Director of the SPTF, will return to her duties as Special Counsel to the Chief of the Office of Engineering and Technology. Mary McManus, Senior Counsel in the Office of General Counsel, will be Special Counsel on the SPTF. See, FCC release [MS Word].
More People and Appointments
12/11. Federal Communications Commission (FCC) Commissioner Kathleen Abernathy named Jennifer Manner to be Senior Counsel for wireless and international issues. She will begin on January 13, 2003. Abernathy had previously announced her intention to hire Carolyn Groves, a partner at the law firm of Wilkinson Barker Knauer. However, Groves withdrew due to recusal issues. Manner has worked for WorldCom since 1996. Before that, she was an associate with the law firm of Akin Gump. And before that, she worked in the FCC's Common Carrier Bureau. See, FCC release [MS Word].

12/10. President Bush named David Leitch Deputy Counsel and Deputy Assistant to the President. Most recently, Leitch as worked in the Office of Management and Budget as the Counsel to the Transition Planning Office for the Department of Homeland Security. He was previously a partner in the law firm of Hogan & Hartson. He is also a former law clerk of Chief Justice William Rehnquist, and like Rehnquist, a veteran of the Department of Justice's Office of Legal Counsel. See, White House release.
Thursday, December 12
9:00 AM. The President's Council of Advisors on Science and Technology's (PCAST) Subcommittee on Federal Research and Development Investment and its National Benefits will hold an open public forum on federal technology transfer mechanisms. See, notice in the Federal Register. Location: RAND Washington Office, 1200 S. Hayes St., Arlington, VA, Room 4204 (which is accessible from the Pentagon City metro stop).

12:00 NOON. The Cato Institute will host a Capitol Hill briefing titled "Yellow Light on Total Information Awareness". The scheduled speakers include Wayne Crews, Robert Levy, and Charles Peña. See, notice and online registration form. Location: 1539 Longworth House Office Building.

The FCBA will host its annual Chairman's Dinner. See, registration form [PDF]. Location: Washington Hilton and Towers.

Day one of a two day conference hosted by the Practicing Law Institute and the FCBA titled "Telecommunications Policy and Regulation". At 12:15 PM FCC Commissioner Kevin Martin will deliver a keynote address. Location: Reagan International Trade Center.
Friday, December 13
9:15 - 11:30 AM. The American Enterprise Institute (AEI) will host a panel discussion titled "Intellectual Property: A Positive Side for Developing Country Business?". The speakers will be Michael Finger (AEI), Ron Layton (LightYears IP), and others. Location: AEI, 12th floor, 1150 17th St., NW.

9:30 AM. The U.S. International Trade Commission (USITC) will meet regarding the preliminary countervailing duty investigation regarding DRAMs and DRAM Modules from Korea (Investigation No. 701-TA-431). See, notice published in the Federal Register. Location: Main Hearing Room, ITC Building, 500 E Street, SW.

Day two of a two day conference hosted by the Practicing Law Institute and the FCBA titled "Telecommunications Policy and Regulation". Location: Reagan International Trade Center.

EXTENDED TO JANUARY 17. Deadline to submit reply comments to the FCC in response to its Notice of Proposed Rulemaking (NPRM) [15 pages in PDF] in its proceeding titled "In the Matter of Digital Broadcast Copy Protection". This NPRM proposes that the FCC promulgate a broadcast flag rule, and seeks comment on this, and related questions. This is MB Docket No. 02-230. See also, FCC release [PDF] and Order [PDF] of October 11, 2002 extending deadlines.
Monday, December 16
The Supreme Court will be in recess from December 16 through January 12.

12:15 PM. The FCBA's Professional Responsibility Committee will host a brown bag luncheon. For more information, contact Frank Montero at 202 663-8936. RSVP to wendy@fcba.org. Location: Arnold & Porter, 555 12th St., NW.

Deadline to submit comments to the National Institute of Standards and Technology (NIST) regarding its draft publication [90 pages in PDF] file titled "Security Metrics Guide for Information Technology Systems". This is NIST Special Publication 800-55. It was written by Marianne Swanson, Nadya Bartol, John Saboto, and Joan Hash in the NIST's Information Technology Laboratory's Computer Security Division. Send comments to marianne.swanson @nist.gov.
Tuesday, December 17
9:00 AM. The Securities and Exchange Commission (SEC) will hold a roundtable meeting to discuss the international impact of proposed rules to be promulgated under the Sarbanes Oxley Act of 2002 on auditor independence. Audio of the meeting will be web cast. See, SEC release. Location: SEC headquarters, 450 Fifth Street, NW.

10:00 AM - 12:00 NOON. The Department of State's (DOS) U.S. International Telecommunication Advisory Committee (ITAC) will hold a meeting to discuss matters related to the World Summit on the Information Society (WSIS) scheduled for December 2003. See, notice in the Federal Register, December 3, 2002, Vol. 67, No. 232, at Page 72018. Location: National Academy of Sciences, 2100 C St. NW.

1:30 - 3:30 PM. The FCC's WRC-03 Advisory Committee, Informal Working Group 7, Regulatory Issues and Future Agendas, will meet. Location: Boeing Company, Arlington, VA.

2:00 PM. The Securities and Exchange Commission (SEC) will hold a roundtable meeting to discuss the international impact of proposed rules to be promulgated under the Sarbanes Oxley Act of 2002 on attorney conduct. Audio of the meeting will be web cast. See, SEC release. Location: SEC headquarters, 450 Fifth Street, NW.
Wednesday, December 18
Deadline to submit comments to the FCC regarding AT&T's petition for declaratory ruling that its phone to phone Internet protocol telephony services are exempt from access charges. AT&T filed the petition on October 18, 2002. This is WC Docket No. 02-361. For more information, contact Kathy O'Neill at 202 418-1520 or Julie Veach at 202 418-1558. See, FCC notice [4 pages in PDF].
Thursday, December 19
Deadline for the FCC to rule on SBC's Section 271 application with the FCC to provide in region interLATA service in the state of California. This is WC Docket No. 02-306. See, FCC notice [PDF].

Deadline for the FCC to rule on BellSouth's Section 271 application with the FCC to provide in region interLATA service in the states of Florida and Tennessee. This is WC Docket No. 02-307. See, FCC notice [PDF].

1:00 - 4:00 PM. The U.S. Patent and Trademark Office (USPTO) will host a roundtable meeting. The USPTO has offered two descriptions of the purpose of this meeting. It stated in an October 28 notice in the Federal Register that the meeting will address small business views on foreign patent challenges. It stated in a December 9 notice that the meeting will address harmonization of patent laws. This roundtable, along with two others in Los Angeles and Chicago, are being held pursuant to a recommendation contained in a General Accounting Office (GAO) report [PDF] titled "Federal Action Needed to Help Small Businesses Address Foreign Patent Challenges". This report was released on August 22, 2002. See also, story titled "GAO Reports Foreign Patent Challenges Facing Small Businesses" in TLJ Daily E-Mail Alert No. 497, August 23, 2002. December 19 is also the deadline to submit written comments. To make reservations to attend, contact Velica Steadman at 703 305-9300 or velica.steadman @uspto.gov. Location: Crystal Park 2, 2121 Crystal Drive, Arlington, VA.
About Tech Law Journal
Tech Law Journal publishes a free access web site and subscription e-mail alert. The basic rate for a subscription to the TLJ Daily E-Mail Alert is $250 per year. However, there are discounts for entities with multiple subscribers. Free one month trial subscriptions are available. Also, free subscriptions are available for law students, journalists, elected officials, and employees of the Congress, courts, and executive branch, and state officials. The TLJ web site is free access. However, copies of the TLJ Daily E-Mail Alert and news items are not published in the web site until one month after writing. See, subscription information page.

Contact: 202-364-8882; E-mail.
P.O. Box 4851, Washington DC, 20008.
Privacy Policy
Notices & Disclaimers
Copyright 1998 - 2002 David Carney, dba Tech Law Journal. All rights reserved.