O'Neill Says India's Tech Sector Needs Less Regulation
11/22. Treasury Secretary Paul O'Neill gave a speech to the Confederation of Indian Industry and the American Chamber of Commerce in New Delhi, India. He praised the potential of India's high tech sector, but argued that to flourish, it needs less government regulation.

He started by pointing out that "India's high tech facilities, whether foreign, domestic, or jointly owned, demonstrate some of the highest productivity levels in the world. The leading technology and management institutes here are among the best, and students graduating from those programs are capable of unmatched productivity and value creation. Many often are lured away by top multinationals."

He added that "I am struck by the extraordinary potential of this nation". However, he pointed out that "entrepreneurs and engineers represent only a very small fraction of the population".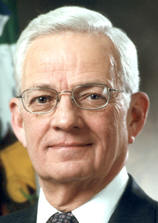 O'Neill (at right) offered his assessment of what is holding India back. He said that "the private sector is unable to attract the investment it needs to fund new ideas", and that "entrepreneurs and investors are intimidated by excessive regulation and corruption". He also said that "the government fails to effectively invest in the people".
Then, he offered his recommendations. He argued that "To unleash the potential for higher living standards and job creation, a nation's leaders must make an unflinching commitment to good governance, economic freedom, and investment in people."
He elaborated that "Government programs that achieve meaningful, clearly defined objectives efficiently and with the minimum intervention in the private sector generate greater value for each taxpayer dollar or rupee spent. Unproductive government programs waste money that could have been invested in job creation, sap private productivity with unnecessary and arbitrary interference, distort markets, and undermine public confidence in the nation's leadership."
On another matter, he said that the U.S. and India are "the two largest democracies in the world", and are "bound together by economic ties, in flows of products, investment, people, and ideas. We share a common language, common political ideals, much history, and today we share a common battle against the forces of terror ..."
Crichton Novel on Nanotechnology Goes on Sale
11/25. Michael Crichton's new book, Prey [Amazon], goes on sale on November 25. The Amazon review states, in part, that "In the Nevada desert, an experiment has gone horribly wrong. A cloud of nanoparticles -- micro-robots -- has escaped from the laboratory. This cloud is self sustaining and self reproducing. It is intelligent and learns from experience. For all practical purposes, it is alive. It has been programmed as a predator."

Phil Bond (at right), who is the Under Secretary of Commerce for Technology, and Chief of Staff, gave a speech on the federal government's National Nanotechnology Initiative (NNI) on May 23, 2002. He stated that "Nanotechnology is one of the rare and wonderful subjects in Washington where there is deep bipartisan agreement -- from President George Bush to Senate Leader Tom Daschle, from former President Bill Clinton to former House Speaker Newt Gingrich. This coalition helps explain why nanotechnology has enjoyed significant R&D funding increases."
Bond added that "The National Science Foundation estimates that global governmental spending on nano R&D is about $2.2 billion. Today the United States accounts for a little more than a quarter, Japan about one-third, and Western Europe about a fifth. Today there is excitement. We lead the world."
However, Washington's enthusiasm for nanotechnology is not shared by all. For example, there is Bill Joy, the Chief Scientist at Sun Microsystems. He wrote an article for the April 2000 issue of Wired Magazine titled "Why the future doesn't need us".
Joy (at right) wrote: "What was different in the 20th century? Certainly, the technologies underlying the weapons of mass destruction (WMD) -- nuclear, biological, and chemical (NBC) -- were powerful, and the weapons an enormous threat. But building nuclear weapons required, at least for a time, access to both rare -- indeed, effectively unavailable -- raw materials and highly protected information; biological and chemical weapons programs also tended to require large scale activities."
In contrast, wrote Joy, "The 21st century technologies -- genetics, nanotechnology, and robotics (GNR) -- are so powerful that they can spawn whole new classes of accidents and abuses. Most dangerously, for the first time, these accidents and abuses are widely within the reach of individuals or small groups. They will not require large facilities or rare raw materials. Knowledge alone will enable the use of them. Thus we have the possibility not just of weapons of mass destruction but of knowledge enabled mass destruction (KMD), this destructiveness hugely amplified by the power of self-replication."
Joy also suggested that "Given the incredible power of these new technologies, shouldn't we be asking how we can best coexist with them? And if our own extinction is a likely, or even possible, outcome of our technological development, shouldn't we proceed with great caution?"
He concluded that developing nanotechnology is a "Faustian bargain", in which "we run a grave risk -- the risk that we might destroy the biosphere on which all life depends."
Bruce Mehlman, Assistant Secretary of Commerce for Technology Policy, gave a speech on October 11, 2002, in which he stated that "the government's role in the research, development, and commercialization of nanotechnology includes ... [h]elping ensure consideration of the social, legal and ethical implications."
Mehlman continued, "That is not to suggest that Bill Joy is right, that the future does not need us and grey goo will take over the planet. But technology is neither good nor bad -- even nanotechnology. It can enable extraordinary things, and we all hope nanotech will allow for radical improvements in the human condition. Technology can also be misused or misunderstood. Nanotechnology innovations are most likely to enable progress when they are understood by the public and used responsibly, and the government can help here."
Recording Industry Plaintiffs File Contempt Motion Against Madster
11/20. The plaintiff music companies in the case captioned "In Re Aimster Copyright Litigation" filed a motion titled "Plaintiffs' Motion for Order to Show Cause Re Contempt", and an memorandum in support, in the U.S. District Court (NDIll). See, motion and memorandum [16 page PDF scan].

On September 4, 2002, the District Court issued its Memorandum Opinion and Order in the consolidated Aimster copyright litigation, granting a motion for preliminary injunction filed by various record companies and music publishers against the Aimster file sharing service, which is now known as Madster.

The plaintiffs now state that the infringement by Madster "continues unabated". They ask the Court to hold Madster in contempt for violation its November 4 injunction order. They also ask for appointment of a compliance officer, and for the assessment of fines.

The memorandum in support states that "the overwhelming majority of Plaintiffs' copyrighted works identified in their Complaints still are available on the Aimster System and Service." See also, Recording Industry Association of America (RIAA) release.

See also, story titled "District Court Finds Contributory and Vicarious Infringement by Madster" in TLJ Daily E-Mail Alert No. 502, September 5, 2002; and story titled "RIAA Files Proposed Injunction Order in Aimster Case" in TLJ Daily E-Mail Alert No. 513, September 13, 2002.
Thanksgiving Publication Schedule
The Tech Law Journal Daily E-Mail Alert will not be published on Wednesday, November 27, Thursday, November 28, or Friday, November 29.
Monday, November 25
9:30 A.M. The Electronic Privacy Information Center (EPIC) will host a briefing on Total Information Awareness and the civil liberties implications of the Homeland Security Act. Location: National Press Club, First Amendment Lounge, 529 14th St. NW, 13th Floor.

Deadline to submit comments to the The National Telecommunications and Information Administration (NTIA) regarding the product recall notices exception to the Electronic Signatures in Global and National Commerce (E-SIGN) Act. The Act provides, at §101, for the acceptance of electronic signatures in interstate commerce, with certain enumerated exceptions. §103 of the Act provides that "The provisions of section 101 shall not apply to ... (2) any notice of ... (D) recall of a product, or material failure of a product, that risks endangering health or safety". The Act also requires the NTIA to review, evaluate and report to Congress on each of the exceptions. See, notice in the Federal Register.
Tuesday, November 26
2:00 - 4:00 PM. The Bureau of Industry and Security's (BIS) National Infrastructure Advisory Council (NIAC) will hold a partly open, and partly closed, meeting. The NIAC advises the President on the security of information systems for critical infrastructure supporting other sectors of the economy, including banking and finance, transportation, energy, manufacturing, and emergency government services. The agenda of this meeting includes deliberation regarding comments received on the draft document titled "National Strategy to Secure Cyberspace". (Comments were due by November 18.) The scheduled speakers include Richard Davidson (Director of NIAC), Richard Clarke, and Kenneth Juster (Director of BIS). For more information contact Eric Werner at 202 482-7470. See, notice in the federal register. Location: Truman Room, White House Conference Center, 726 Jackson Place, NW.
Wednesday, November 27
The TLJ Daily E-Mail Alert will not be published, for a Thanksgiving break.
Thursday, November 28
Thanksgiving Day. The FCC will be closed. The TLJ Daily E-Mail Alert will not be published.
Friday, November 29
The TLJ Daily E-Mail Alert will not be published.

Deadline to submit comments to the Commerce Department's Bureau of Industry and Security (BIS), formerly known as the Bureau of Export Administration (BXA), in response to its request for comments on its foreign policy based export controls set forth in the Export Administration Regulations (EAR). This pertains to, among other things, high performance computers and encryption products. See, notice in the Federal Register, September 27, 2002, Vol. 67, No. 188, at Pages 61047 - 61049.
Tech Crime Report
11/22. A grand jury of the U.S. District Court (NDCal) returned an indictment [PDF] of Phillip White, a former CEO of Informix, a database software company, alleging securities fraud, mail fraud and wire fraud in connection with financial accounting practices. See also, USAO release.

11/22. The Superior Court of California (Los Angeles County) sentenced Lisa Chen to nine years in prison and ordered her to pay $11 Million in restitution to Microsoft and Symantec for her role in importing into the U.S. through Long Beach ports counterfeit copies of software products. The counterfeit items included Windows XP, Windows 2000 NT and Microsoft Office 2000 Pro software, along with manuals, user license agreements, decals for windows and bar code labels. See, District Attorney's release of November 21, and release of August 26. Charges against other members of the ring are pending in federal court.
People and Appointments
11/18. Charles Wang announced his retirement as Chairman and as a member of the Board of Directors of Computer Associates International, effective immediately. The Board elected P/CEO Sanjay Kumar to succeed Wang as Chairman. See, CAI release.

11/20. Avanex stated in a release that "company chairman Walter Alessandrini has been elected by the Board of Directors to the additional roles of chief executive officer and president of the company effective immediately. He succeeds Paul Engle, who had served as president and CEO since July 2001, and has resigned from the company to pursue other interests."

11/22. Herb Perone was named Deputy Director of the Office of Public Affairs at the Securities and Exchange Commission (SEC). He was previously Director of Media Relations & External Communications for the American Council of Life Insurers. See, SEC release.
More News
11/22. The International Telecommunications Union (ITU) announced that its will host an event titled "Workshop on Satellites in IP and Multimedia" in Geneva, Switzerland, on December 9-11. See, ITU release and registration form.

11/20. EchoStar Communications stated in a release that EchoStar and NBC "have settled their dispute over the Satellite Home Viewer Improvement Act and distant network channel transmission. That litigation, pending in Federal court in Florida, will be dismissed between EchoStar and NBC."
About Tech Law Journal
Tech Law Journal publishes a free access web site and subscription e-mail alert. The basic rate for a subscription to the TLJ Daily E-Mail Alert is $250 per year. However, there are discounts for entities with multiple subscribers. Free one month trial subscriptions are available. Also, free subscriptions are available for law students, journalists, elected officials, and employees of the Congress, courts, and executive branch, and state officials. The TLJ web site is free access. However, copies of the TLJ Daily E-Mail Alert and news items are not published in the web site until one month after writing. See, subscription information page.

Contact: 202-364-8882; E-mail.
P.O. Box 4851, Washington DC, 20008.
Privacy Policy
Notices & Disclaimers
Copyright 1998 - 2002 David Carney, dba Tech Law Journal. All rights reserved.