Rep. Barr Loses Primary Election
8/20. Rep. John Linder (R-GA) defeated Rep. Bob Barr (R-GA) in the Republican primary election for the Georgia 7th Congressional District. The two incumbents faced each other as a result of redistricting.
---
Rep. Barr has been active on a wide range of technology related issues, particularly matters pertaining to electronic privacy and Internet taxation. As a member of the House Judiciary Committee, and Chairman of its Subcommittee on Commercial and Administrative Law, he has been in a position to pursue his technology related agenda.
---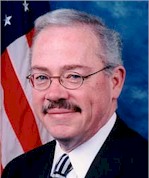 Electronic Privacy. Rep. Barr has been active in various debates regarding privacy. There are two distinct types of privacy rights. First, there are the privacy rights of individual consumers, patients, and web surfers as against the corporations and other private sector entities that collect data about them. Second, there are the rights of individuals as against the government entities that monitor, investigate, and prosecute them. Generally, Republicans and conservatives who take an interest in protecting privacy see government as the larger threat. Rep. Barr and Rep. Dick Armey (R-TX) have been among the most vocal members of this group. (Rep. Armey is also retiring.) In contrast, Democrats and liberals who take an interest in privacy tend to see businesses as the greater threat.
---
Rep. Barr gave a speech in April 1999 in which he discussed the National Security Agency's (NSA) signals intelligence activities, the FDIC's proposed "know your customer" regulations, the proposed national ID card, and roving wiretaps by law enforcement. See, TLJ story titled "Rep. Barr Encourages Privacy Advocates to Deluge Congress", April 6, 1999.
---
In late 2000, during the 106th Congress, Rep. Barr was active in the debate over HR 5108, the Electronic Communications Privacy Act of 2000. Rep. Barr offered an amendment that was approved by the Constitution Subcommittee that would have prohibited the government from using cell phones as tracking devices without probable cause. During full committee debate he argued for a bill that protects privacy, rather than increases law enforcement power. In the end, the Judiciary Committee did not approve the bill, and it lapsed at the end of the 106th Congress. See, TLJ story titled "House Committee Delays Adoption of Electronic Communications Privacy Act", September 22, 2000.
---
Rep. Barr is also the sponsor of HR 4561, the "Federal Agency Protection of Privacy Act". This bill would require federal agencies to include a privacy impact analysis with proposed regulations that are circulated for public notice and comment. See, story titled "House Subcommittee Holds Hearing on Federal Agency Privacy" in TLJ Daily E-Mail Alert No. 423, May 2, 2002.
---
Rep. Barr also worked to limit law enforcement surveillance powers contained in early versions of the PATRIOT Act, passed in late 2001.
---
Internet Taxation. Rep. Barr has also been a leading opponent of taxing the Internet. As Chairman of the Subcommittee on Commercial and Administrative Law, he shepherded HR 1552, the Internet Tax Nondiscrimination Act, through his Subcommittee, and the full Judiciary Committee. The bill extended the temporary moratorium on multiple or discriminatory Internet taxes, and taxes on Internet access. See, story titled "Subcommittee Approves 5 Year Extension of Internet Tax Freedom Act", in TLJ Daily E-Mail Alert No. 241, August 3, 2001. The full Committee and House ultimately approved a shorter extension than that backed by Rep. Barr. See, story titled "House Committee Votes 2 Year Extension of Net Tax Moratorium", TLJ Daily E-Mail Alert No. 284, October 11, 2001.
---
Rep. Barr has also supported HR 2526, the Internet Tax Fairness Act of 2001. The bill would limit the imposition of business activity taxes (BATs) on electronic and other interstate commerce by state and local taxing authorities. See, story titled "House Subcommittee Approves Bill to Limit Business Activity Taxes", in TLJ Daily E-Mail Alert No. 471, July 17, 2002.
---
During debate in the Subcommittee on Commercial and Administrative Law over HR 1410, the Internet Tax Moratorium and Equity Act, sponsored by Rep. Ernest Istook (R-OK), Rep. Barr raised privacy issues. The bill would have provided that state and local taxing authorities may require out of jurisdiction Internet sellers (and other remote sellers) to collect sales taxes. The U.S. Supreme Court ruled in Quill v. North Dakota, 504 U.S. 298 (1992) that state and local taxing authorities are barred under the Commerce Clause from requiring remote sellers without a substantial nexus to the taxing jurisdiction to collect sales taxes for sales to persons within the jurisdiction. However, the Court added that Congress may extend such authority. HR 1410 would provide such taxing authority. Rep. Barr argued that under the proposed legislation, retailers would need to collect data, including individuals' names, addresses, items purchased, and locations of purchases.
Sen. Enzi Wins Primary Election
8/20. Sen. Mike Enzi (R-WY) easily won the Republican primary in Wyoming. He is the sponsor and leading proponent of S 149, the Export Administration Act of 2001.
---
Sen. Enzi's bill would modernize export control laws. It would ease restraints on most dual use products, such as computers and software, but increase penalties for violations. The Bush Administration supports this version of the bill. The Senate passed it by a vote of 85-14, five days before the terrorist attacks of September 11, over the opposition of a small group of Senators who assert that it would harm national security.
---
The bill would also repeal provisions of the 1998 National Defense Authorization Act which require the President to use Million Theoretical Operations Per Second (MTOPS) to set restrictions on the export of high performance computers.
DOJ Clears eBay Acquisition of PayPal
8/20. PayPal announced in a release "that the waiting period under the Hart Scott Rodino Antitrust Improvements Act of 1976 expired without a formal request from the Department of Justice for additional information or documentary material, which is commonly referred to as a second request. The waiting period pertained to notices filed in respect of eBay's pending acquisition of PayPal."
---
On July 8 eBay and PayPal announced that eBay will acquire PayPal. eBay operates an auction web site. PayPal facilitates online payments. eBay stated in a release that "eBay will acquire all of the outstanding shares of PayPal in a tax free, stock for stock transaction using a fixed exchange ratio of 0.39 eBay shares for each PayPal share. Based on eBay's stock price on July 5, 2002, the acquisition is valued at $1.5 billion." Also, PayPal "will continue to operate as an independent brand". eBay also stated that "In view of the uncertain regulatory environment surrounding online gaming, eBay plans to phase out PayPal's gaming business after the transaction closes."
---
eBay's acquisition of PayPal still remains subject to approval by stockholders of PayPal.
FTC Sets Deadline for Comments on MSC Software Consent Agreement
8/20. The Federal Trade Commission (FTC) published a notice in Federal Register setting a deadline of September 13 for public comments on its proposed consent agreement with MSC Software Corporation. See, Agreement Containing Consent Order [22 pages PDF], and notice in the Federal Register, August 20, 2002, Vol. 67, No. 161, at Pages 53942 - 53945.
---
On August 14, the FTC issued an administrative complaint against MSC Software alleging violations of Section 5 of the Federal Trade Commission Act (FTCA) and Section 7 of the Clayton Act in connection with its 1999 acquisitions of Universal Analytics, Inc. (UAI) and Computerized Structural Analysis & Research Corp. (CSAR).
---
MSC sells simulation software, and related services and systems. The FTC stated that MSC was the dominant supplier of Nastran software, which is an engineering simulation software program used in the aerospace and automotive industries, with an estimated 90% of worldwide revenue; UAI and CSAR each had sales of about 5% of worldwide revenue. MSC then acquired UAI and CSAR.
---
Under the terms of the proposed agreement, MSC must divest at least one copy of its current advanced Nastran software, including the source code. The divestiture will be through royalty free, perpetual, non-exclusive licenses to one or two acquirers who must be approved by the FTC.
---
This proceeding is titled "In the Matter of MSC.Software". It is FTC Docket No. 9299.
People and Appointments
9/20. President Bush announced his intent to appoint Clay Davis, Gilbert Gonzalez, James House, Luis Luna, Roberto Salazar, and Christine Toretti to be Members of the Board of Directors of the Rural Telephone Bank. The Rural Telephone Bank was established in 1971 by an amendment to the Rural Electrification Administration Act as a source of financing for telecommunications companies and cooperatives eligible to borrow under the Act's telephone loan program. See, White House release.
Wednesday, August 21
Deadline for those persons requesting to testify at the Federal Election Commission's (FEC) August 28-29 hearing to submit comments to the FEC regarding its second Notice of Proposed Rulemaking (NPRM) [67 pages in MS Word] regarding the Bipartisan Campaign Reform Act of 2002 (BCRA), the recently enacted campaign finance reform legislation. This NPRM pertains to "electioneering communications". The proposed rules would exempt webcasts. See also, FEC release.
Thursday, August 22
RESCHEDULED FOR SEPTEMBER 5. 10:00 AM - 12:00 NOON. The Federal Communications Commission's (FCC) Advisory Committee for the 2003 World Radiocommunication Conference (WRC-03 Advisory Committee) will hold a meeting. See, notice in Federal Register, July 19, 2002, Vol. 67, No. 139, at Page 47549. See, notice in Federal Register, August 2, 2002, Vol. 67, No. 149, at Pages 50437 - 50438, rescheduling the meeting.
Tuesday, August 27
10:00 AM - 12:00 NOON. The State Department's International Telecommunication Advisory Committee (ITAC) will meet. See, notice in Federal Register, July 23, 2002, Vol. 67, No. 141, at Page 48241. Location: Room 1105, State Department.
---
TIME? The National Academy of Sciences (NAS) will host a one half day seminar titled "Review of the Patent Office's 21st Century Strategic Plan". Location: NAS, Lecture Room, 500 Fifth Street, NW.
---
Deadline to submit comments to the National Telecommunications and Information Administration (NTIA) in response to its request for comments on the effectiveness of Internet blocking and filtering technologies. § 1703 of the Children's Internet Protection Act (CIPA) [PDF] directs NTIA to initiate a notice and comment proceeding to evaluate whether currently available Internet blocking or filtering technology protection measures and Internet safety policies adequately address the needs of educational institutions. It also directs NTIA to make recommendations to Congress on how to foster the development of technology protection measures that meet these needs. See, notice in the Federal Register.
More News
8/20. The Federal Communications Commission (FCC) published a notice in the Federal Register describing its "broadcast flag" Notice of Proposed Rulemaking (NPRM) [15 pages in PDF]. The FCC adopted this NPRM at its meeting on August 8, 2002. It released the text of the NPRM on August 9, 2002. This notice confirms previously announced comment deadlines. Comments due by October 30, 2002. Reply comments are due December 13, 2002. See, Federal Register, August 20, 2002, Vol. 67, No. 161, Pages 53903 - 53909. This is MB Docket No. 02-230.
---
8/20. The Securities and Exchange Commission (SEC) announced in a release that it "has completed processing the sworn statements filed as of Aug. 14 by the CEOs and CFOs of the largest U.S. based companies and found that the overwhelming majority of CEOs and CFOs filed statements certifying the material accuracy and completeness of their companies' prior disclosure reports." See also, Statements by Company CEOs and CFOs.
About Tech Law Journal
Tech Law Journal publishes a free access web site and subscription e-mail alert. The basic rate for a subscription to the TLJ Daily E-Mail Alert is $250 per year. However, there are discounts for entities with multiple subscribers. Free one month trial subscriptions are available. Also, free subscriptions are available for law students, journalists, elected officials, and employees of the Congress, courts, and executive branch, and state officials. The TLJ web site is free access. However, copies of the TLJ Daily E-Mail Alert and news items are not published in the web site until one month after writing. See, subscription information page.

Contact: 202-364-8882; E-mail.
P.O. Box 4851, Washington DC, 20008.
Privacy Policy
Notices & Disclaimers
Copyright 1998 - 2002 David Carney, dba Tech Law Journal. All rights reserved.