Sen. Hollings Introduces Structural Separation Bill
8/3. Sen. Ernest Hollings (D-SC), the Chairman of the Senate Commerce Committee, and Sen. Conrad Burns (R-MT) introduced the Telecommunications Competition Enforcement Act of 2001. This bill would require structural separation of the Regional Bell Operating Companies (RBOCs) into wholesale and retail units.
---
Walter McCormick, the P/CEO of the USTA, and group which represents the interest of the RBOCs, stated that "This proposal to carry out a split of local telephone companies has been wisely and repeatedly rejected in the past for one reason: consumers are the biggest losers. If you force phone companies to unbundle the services they offer to consumers, you force the newly split companies to make up for these legislated inefficiencies by either increasing their prices or decreasing their quality of service." See, USTA release.
---
In contrast, Russell Frisby, P/CEO of CompTel, stated that "Given the Bells' refusal to honor their legal commitments to open their local networks as codified in the Telecommunications Act of 1996, there really is no other choice ... . CompTel has long maintained that separating the Bells into wholesale and retail units is the only way to ensure that Bells give up their local phone monopolies." See, CompTel release.
Computer Security Lacking at the Commerce Department
8/3. The House Commerce Committee's Subcommittee on Oversight and Investigations held a hearing titled "How Secure is Sensitive Commerce Department Data and Operations? A Review of the Department's Computer Security Policies and Practices." Witnesses from the General Accounting Office (GAO) and Department of Commerce (DOC) testified that the Department's systems are not secure.
---
Rep. Jim Greenwood (R-PA), the Chairman of the Subcommittee, said in his opening statement that the "GAO's team of ethical hackers identified and exploited vulnerabilities in the computer systems of these divisions to gain virtually unlimited access to them internally, from within the Department's network, and externally, from the Internet. Not only could these systems be accessed without authorization, but the information contained in them could be read, modified, or deleted at will – even with respect to the most sensitive systems and data files within these seven divisions. And with such access also comes the power to completely disrupt critical Department operations." See also, prepared statement of Rep. Billy Tauzin (R-LA), Chairman of the full Committee.
---
Robert Dacey of the GAO stated in his prepared testimony that "controls intended to protect information systems and critical data from unauthorized access are ineffectively implemented, leaving sensitive systems highly susceptible to intrusions or disruptions." He continued that "Commerce is not adequately (1) preventing intrusions before they occur, (2) detecting intrusions as they occur, (3) responding to successful intrusions, or (4) reporting intrusions to staff and management. Thus, there is little assurance that unauthorized attempts to access sensitive information will be identified and appropriate actions taken in time to prevent or minimize damage." Finally, he stated that "Commerce does not have an effective departmentwide information security management program to ensure that sensitive data and critical operations are adequately addressed and that appropriate security controls are in place to protect them".
---
See also, prepared testimony of Johnnie Frazier (DOC Inspector General) and prepared testimony of Samuel Bodman (DOC Assistant Secretary for Technology Policy).
Freedom of Information Limited by State Copyright
8/2. The U.S. Court of Appeals (2ndCir) issued its opinion in Suffolk County v. First American, a case involving state freedom of information law and copyright law. The Appeals Court held that states may assert copyright to prevent the dissemination of public records obtained under freedom of information laws.
---
First American and others published copies of official tax maps made by Suffolk County, without permission. Suffolk County has registered copyrights in these maps. Suffolk County filed a complaint in U.S. District Court (SDNY) against First American and others alleging copyright infringement. Defendants argued that New York's Freedom of Information Law prevents the County from asserting copyright. The District Court agreed, and dismissed the complaint. This appeal followed.
---
The Appeals Court ruled that states, and their political subdivisions, may possess copyrights; that the tax maps in question have sufficient originality to be copyrightable; that the tax maps in question are not in the public domain; that New York's state freedom of information law does not abrogate copyright interests; and that Suffolk County may pursue an infringement suit against defendants. Reversed and remanded.
More Court Opinions
8/3. The U.S. Court of Appeals (9thCir) issued its opinion [PDF] in Pool Water Products v. Olin, a private antitrust action brought under Section 5 of the Clayton Act.
---
8/2. The U.S. Court of Appeals (2ndCir) issued its opinion in Morris v. Business Concepts, a copyright infringement case involving registration requirements.
---
7/31. The U.S. Court of Appeals (10thCir) issued its opinion in Qwest v. FCC, a consolidation of petitions for review of the FCC's orders establishing a federal funding mechanism to support universal telecommunications services in high-cost areas. The Appeals Court reversed and remand the Ninth Order of the FCC "because it does not provide sufficient reasoning or record evidence to support its reasonableness." However, the Appeals Court upheld the Tenth Order, the FCC's computer model of the costs of providing service in a given area.
New Documents
Cannon: Music Online Competition Act, 8/3 (HTML, TLJ).
---
USCA: opinion in Suffolk County v. First American re state freedom of information law and copyrights, 8/2 (HTML, USCA).
---
USDC: opinion in NAB v. LOC re streaming music, 8/1 (HTML, TLJ).
---
USCA: opinion in Morris v. Business Concepts re copyright registration, 8/2 (HTML, USCA).
---
USCA: opinion in Pool Water Products v. Olin, 8/3 (PDF, USCA).
---
USCA: opinion in Qwest v. FCC re FCC universal service support orders, 7/31 (HTML, USCA).
---
GAO: GAO-01-1004T re weaknesses in information security at the DOC, 8/3 (PDF, GAO).
Reps. Cannon and Boucher Introduce Internet Music Copyright Bill
8/3. Rep. Chris Cannon (R-UT) and Rep. Rick Boucher (D-VA) introduced the Music Online Competition Act of 2001 (MOCA), a bill to amend several sections of the Copyright Act regarding music and the Internet.
---
The bill would expand the in store exemption to include playing music segments over the Internet, expand the software backup exemption to include copying digital music for backup or incidental purposes, and expand the ephemeral copy exemption by allowing broadcasters and webcasters to make multiple copies. It would also require record companies that license an affiliate to also license independent non affiliated distribution services. It would also amend the compulsory licensing section to address certain digitally delivered music.
---
The bill will go to the House Judiciary Committee, and its House Courts, Internet, and Intellectual Property Subcommittee, of which both Rep. Cannon and Rep. Boucher are members. However, a recent hearing of the subcommittee revealed that some other members, and some industry groups, do not favor some of the provisions contained in the bill.
---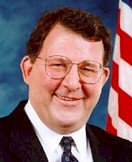 Rep. Cannon (right) said on August 3 that "The copyright law's present music licensing system is unique in its complexity and problems. The Internet has demonstrated a need for streamlining and clarification. Under current law, it is impossible for any online company - whether a behemoth like MusicNet or a small company like Listen.Com - to obtain the necessary licenses in a timely and efficient way." See, Rep. Cannon's statement.
---
Rep. Boucher stated that the bill will "promote a legitimate online music marketplace" by removing obstacles in the copyright laws. See, Rep. Boucher's statement and summary of the bill.
Summary of the MOCA
The bill was printed on 18 pages. It is organized in seven sections. Section 1 is the title of the bill.
---
Section 2 expands the in store exemption to infringement (17 U.S.C. § 110(7)) to include sampling over the Internet. Currently, it is not an infringement of copyright if a store plays music, if there is no admission charge, and "the sole purpose of the performance is to promote the retail sale of copies". Section 2 expands this exemption to include the playing of up to 30 seconds of a song (up to 60 seconds for long recordings) "by digital audio transmission, by or through a digital online service open to the public at large".
---
Section 3 makes changes to the emphemeral recordings exception to exclusive rights (17 U.S.C. § 112). Current law allows a broadcaster to make one copy "for purposes of archival preservation or security". Section 3 of the bill would allow broadcasters and webcasters to make "one or more copies". Rep. Boucher explained that the purpose of this is "to accommodate the need for different bit rates (e.g., dial-up, broadband), different formats (e.g., RealPlayer or Windows Media Player), and caching throughout the network to ensure efficient and timely delivery to consumers."
---
Section 6 expands the software backup exemption to infringement (17 U.S.C. § 117) to include digital music. Under current law the owner of a copy of a computer program is allowed to make a backup copy. Section 6 of the bill would expand this to include back up copies of music files acquired by digital delivery. The bill would also permit copying of digital music files that "is incidental to the operation of a device in the ordinary course of the use of a work", thereby permitting buffer copies to be made in the course of browsing or webcasting.
---
Section 4 changes existing law regarding licensing for transmission (17 U.S.C. § 114). It would, among other things, require record companies to license independent non- affiliated distribution services. It provides that "If the copyright owner of a sound recording licenses an affiliated entity the right to reproduce the copyrighted work, to distribute the copyrighted work to the public by means of a digital phonorecord delivery or to perform the copyrighted work publicly, the copyright owner shall make the licensed sound recording available on no less favorable terms and conditions to all bona fide entities that offer similar services".
---
Section 5 changes existing law regarding compulsory licensing (17 U.S.C. § 115) with respect to compulsory licensing of digital music. However, Rep. Cannon insisted that "RIAA has said that MOCA contains a compulsory license for performance rights. That is just not true."
---
Section 7 requires the Copyright Office to conduct an evaluation, and write a report that includes recommendations for further legislation by the Congress.
RIAA Reaction to MOCA
8/3. The Recording Industry Association of America (RIAA) opposes the bill, and promises to fight it. Hillary Rosen, the P/CEO of the RIAA had this to say: "A protracted legislative fight will not move us closer to where the music industry wants to be - delivering music to fans through a variety of different, innovative websites. Unfortunately, the Cannon/Boucher bill introduced today will divert time, energy and resources from achieving that goal. It is essentially a solution -- a very bad solution -- in search of a problem."
---
Rosen continued: "The bill substitutes government regulation for the marketplace. This is not only wrong, it is also inconsistent with the strongly held views of experts and the private sector that government regulation of the Internet would be a disastrous mistake. Many in the industry will fight this bill aggressively because we know that the marketplace is already moving in the right direction and that consumers will be served well by both the current and coming plans for online music services." See, RIAA release.
More New Bills
8/2. Sen. Joe Lieberman (D-CT) introduced S 1324, the Senate companion bill to the House bill to reform the Alternative Minimum Tax (AMT) treatment of Incentive Stock Options (ISOs). The bill would provide relief to some workers at high tech companies who exercised stock options before their companies' stock prices plummeted in 2000. The bill was referred to the Senate Finance Committee.
---
8/2. Sen. Maria Cantwell (D-WA) introduced S 1337, a bill to provide for national digital school districts. The bill was referred to the Committee on Health, Education, Labor, and Pensions.
---
8/2. Sen. Byron Dorgan (D-ND) and Sen. Ted Stevens (R-AK) S 1342, a bill to allocate H-1B visas for demonstration projects in rural areas. The bill was referred to the Senate Judiciary Committee.
---
8/2. Sen. Max Baucus (D-MT) and Sen. Robert Byrd (D-WV) introduced S 1347, a bill to establish a Congressional Trade Office. The bill was referred to the Committee on Governmental Affairs.
Court Upholds Copyright Office Rule on Webcasting Music
8/2. The U.S. District Court (EDPenn) issued its opinion in Bonneville v. Peters (also known at National Association of Broadcasters v. Copyright Office), regarding the Copyright Office's rules regarding webcasting music over the Internet.
---
The Copyright Office (CO) adopted new rules [PDF] on December 11, 2000. It determined that AM/FM broadcast signals transmitted simultaneously over a digital communications network, such as the Internet, are not exempted by Section 114(d)(1)(A) of the Copyright Act from paying royalties. Plaintiffs filed a complaint in U.S. District Court on January 25, 2001, against Marybeth Peters, the Register of Copyrights, seeking to have this rule overturned. On August 1, the District Court upheld the rule.
---
Edward Fritts, the P/CEO of the NAB stated that "Broadcasters, record companies and consumers have long enjoyed a symbiotic relationship whereby airplay on radio stations benefits all parties, along with generating enormous revenues for the record labels. We're disappointed that this unique relationship will be disrupted by the court ruling. Broadcasters currently pay in excess of $300 million annually in music licensing fees to compensate songwriters and music publishers. Any additional fee to compensate record companies would be unfair and unreasonable, and for that reason, we are reviewing our options." See, NAB release.
---
Hillary Rosen, P/CEO of the RIAA, had this to say: "We are pleased that the court upheld the rights of artists and record companies. We now look forward to working with the broadcasters for a smooth transition into this marketplace." See, RIAA release.
Monday, August 6
9:00 AM - 5:00 PM. The FCC's Consumer/Disability Telecommunications Advisory Committee will meet. Location: FCC, 445 12th Street, SW, Room TW-C305, Washington DC.
---
Deadline for FCC to file petition for rehearing before the U.S. Court of Appeals (DCCir) in NextWave v. FCC, in the never ending battle over cancellation of the bankrupt NextWave's spectrum licenses. See, June 22, 2001 opinion of the Appeals Court.
Tuesday, August 7
10:00 AM. The U.S. Court of Appeals for the Federal Circuit will hear oral argument in Xerox v. 3Com, No. 00-1464, a patent infringement case involving handwriting recognition software. Location: Courtroom 402, 717 Madison Pl., NW, Washington DC.
---
10:00 AM. The U.S. Court of Appeals for the Federal Circuit will hear oral argument in Taiwan Semiconductor v. ITC, No. 01-1060. Location: Courtroom 402, 717 Madison Pl., NW, Washington DC.
People and Appointments
8/2. The Senate Judiciary Committee, and then the full Senate, approved the nomination of William Riley to be U.S. Circuit Judge for the Eighth Circuit.
---
7/31. The law firm of Howrey Simon announced the addition of nine new partners in its Houston and Chicago offices, six of whom focus on intellectual property. Edward O'Toole, Richard Schnurr, Anthony Nimmo and Christine Dudzik joined the Chicago office from Marshall O'Toole Gerstein Murray & Borun. Michael Padden joined the Chicago office from Gardner Carton & Douglas. Stephen Lundwall joined the Houston office. See, HS release.
FCC NOI Re Video Competition
8/3. August 3 was the deadline to file comments with the FCC in its Notice of Inquiry [PDF] regarding video competition. On June 20, 2001 the FCC adopted a Notice of Inquiry (NOI) into the status of competition in the market for the delivery of video programming. The FCC stated in a release that "The NOI seeks information that will allow the FCC to evaluate the status of competition in the video marketplace, prospects for new entrants to that market, and its effect on the cable television industry and consumers. The NOI also solicits information regarding the extent to which consumers have choices among video programming distributors and delivery technologies." See, for example, comment submitted by Motorola and comment submitted by AT&T. Reply comments are due by September 5. See, CS Docket No. 01-129.
More News
8/3. The ICANN released an agenda for its September 9 meeting in Montevideo, Uraquay.
---
8/2. USTR General Counsel Peter Davidson gave testimony to the U.S.-China Security Review Commission regarding the PR China's imminent accession to the WTO.
---
8/2. The Department of Justice fined Unisys $1,430,000 for failing to disclose information to the government during 1990 contract negotiations. See. DOJ release.
---
8/3. Department of Defense (DOD), General Services Administration (GSA), and National Aeronautics and Space Administration (NASA) published a notice in the Federal Register that withdraws Federal Acquisition Regulation (FAR) case 2000-014, Signing and Retention of High-Technology Workers. This FAR, which was published in the Federal Register on December 28, 2000, proposed to explicitly make allowable signing and retention bonuses in order to recruit and retain workers that have critical technical skills. The August 3 stated that a reason for the withdrawal is that signing and retention bonuses were already permissible. See, Federal Register, Aug. 3, 2001, Vol. 66, No. 150, at Pages 40837 - 40838.
About Tech Law Journal
Tech Law Journal is a free access web site and e-mail alert that provides news, records, and analysis of legislation, litigation, and regulation affecting the computer and Internet industry. This e-mail service is offered free of charge to anyone who requests it. Just provide TLJ an e-mail address.

Number of subscribers: 1,927.

Contact: 202-364-8882; E-mail.
P.O. Box 15186, Washington DC, 20003.

Privacy Policy

Notices & Disclaimers

Copyright 1998 - 2001 David Carney, dba Tech Law Journal. All rights reserved.